Page 2 of 6
LITERARY

BEST FICTION BOOK
How to Save a Life, by Sara Zarr
In her fourth novel, the author of the National Book Award-nominated Story of a Girl continues to thwart simplistic attempts to diminish the emotional complexity of a work classified as "young adult literature." Her story of two wounded teen girls—Jill, grieving over the death of her father, and expectant unwed mother Mandy, coming to stay as Jill's mother plans to adopt the baby—explores characters who are simultaneously deeply sympathetic and full of mistrust of the people around them. The result is a story of healing that moves the spirit in unexpected ways. SaraZarr.com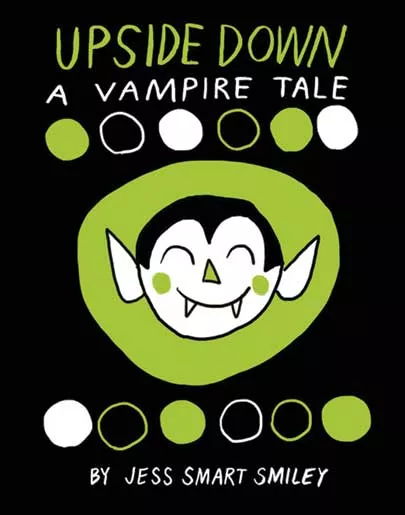 BEST GRAPHIC NOVEL/ZINE
Upside Down: A Vampire Tale, by Jess Smart Smiley

From the mind of artist Jess Smart Smiley, this debut graphic novel follows the story of a boy vampire who loses his teeth, leading him into an adventure involving the last witch on Earth and a mad scientist bent on destroying the world. Yes, the tale is quite preposterous—which is exactly what made it popular via online sketches and simple designs. Smiley's drawings in black, white and Halloween green give it a childlike appearance, but the story has the makings of a great series for all ages to enjoy.
JessSmartSmiley.wordpress.com
BEST NONFICTION BOOK
When Women Were Birds, by Terry Tempest Williams
Williams has already laid bare parts of her family history in her memoir Refuge, yet finds a new intimacy with this fascinating, haunting series of recollections. After her mother's death, Williams found that she had kept several journals—yet all were filled with nothing but blank pages. Her meditation on the meaning of that blankness travels through various moments in her life— family ties, religious rituals, sexual awakenings—repeatedly interpreting and reinterpreting what those empty pages convey. It is an experience both deeply human and ethereally poetic. CoyoteClan.com
BEST POETRY COLLECTION
Love, An Index, by Rebecca Lindenberg
Alfred, Lord Tennyson once famously noted, "Tis better to have loved and lost than never to have loved at all." Local poet Rebecca Lindenberg's debut novel-in-verse is an elegy told in a series of poems about her relationship with Craig Arnold, a respected poet who died in 2009 while hiking near a Japanese volcano. When it comes to dealing with the tragedy of loss, Lindberg's clear-eyed voice is poignant, beautiful and oftentimes humorous. McSweeneys.net
VISUAL ARTS
BEST PHOTOGRAPHY EXHIBITION
Josh Winegar @ Kayo Gallery
Winegar's attention to detail and stunning clarity in even the most eye-catching type of photography has made him a standout player in Utah photography circles. His 2011 Kayo showcase highlighted work from two different series: The Rapture Of, which featured bright lens flare within landscape shots; and Folds, where a series of individual portrait shots were folded over the people to create startling, disembodied apparitions among beautiful backgrounds. The show (which also featured works from Dan Christofferson) was one of Kayo's most attended in 2011, earning Winegar press and a wider audience to boot. JoshWinegar.com
NONLOCAL/TOURING EXHIBITION
Sundance New Frontier
Sundance may have been the big event in January, but it was New Frontier that stole the show during the 2012 festival. The Utah Museum of Contemporary Art exhibition showcased interactive electronic elements from virtual reality and video gaming to solid-state pieces and 3-D films. Some of the more popular elements included gaming kiosks such as McDonalds: The Game, where you had to run a successful business at any cost; the transmedia project Question Bridge: Black Males, about redefining black male identity in America, and Hunger in Los Angeles, which put you in the moment of the food crisis happening in California. Sundance.org
BEST PAINTING EXHIBITION
Steven Larson
@
Evolutionary Healthcare

The recent show of works by Larson was a reminder and a revelation by an artist who is a popular fixture in the Salt Lake City art community. Known for breezily intense drawings of communities and atmospheres, his painting was the focus at the Evolutionary Healthcare retrospective. Larson's imaginatively colored, expressively rendered city-scapes and unearthly tinted, filigree-lined large-scale maps were the reminder. The revelation came with the new paintings showing a stunningly beautiful organic evolution ("Intrinsue" is pictured). Each is an ebb and flow of elements, a movement of color and texture, an evocation of emotion and a product of pure expression.
StevenLarsonPaintings.com
BEST SCULPTURE/MIXED-MEDIA EXHIBITION
Amy Caron: Holotype
Who'd guess that an art show about algae would have captivated our readers in the sculpture/mixed-media category? But Amy Caron's Holotype—like her Waves of Mu performance piece about the neurology of the brain—was about investigating deeper implications and connections between different natural organisms and structures, and what an elementary organism like algae can teach us about nature and even ourselves. It doesn't hurt that the construction of the piece—of steel frames threaded with high-tech polymer plastic and mirror fragments—was visually stunning in its space at The Leonardo.
BEST ILLUSTRATION/ PRINT EXHIBITION
Nic Annette Miller: Horny
Nic (Nicole) Annette Miller had viewers by the horns with her prints mounted on woodcuts exhibited at Stolen & Escaped gallery in January. There is a lot packed into these pieces—animal faces, icons of local fauna, oversize renderings of imposing presences in the natural world as well as a commentary on gender—but they are also very wall-friendly. Her Horny Utah Dudes—with a bighorn sheep atop a deer standing on a moose perched on an elk on a buffalo—is kind of like the "turducken" of local big-game depictions. FriendsMakePrints.com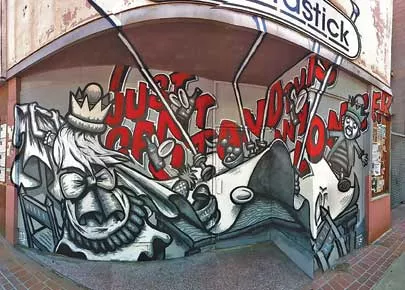 BEST GRAFFITI/PUBLIC ART
Trent Call

Perhaps you've seen his giant Alice in Wonderland-themed mural on the front door of what was once the Yardstick on 300 South in downtown Salt Lake City. And if you look in almost any of the other nooks and crannies of Salt Lake City, you'll more than likely find the beautiful works of multimedia artist Trent Call. He's undoubtedly one of the busiest artists in Utah. Besides back alleys, Call's work­—which resembles old Disney-esque characters hanging out inside an '80s Trapper Keeper—can also be found in local zines, bumper stickers and fine-art galleries.
Swinj.com
BEST SHORT FILM
Yellow Pill, by Chris Rodgers
Yes, it's almost certainly meant as an allegory, but this haunting film works on a visceral level as well as an intellectual one. Over the course of a single day, Yellow Pill—shown at the Utah Arts Festival's Utah Short Film of the Year competition—observes a man as he depends on the contents of his pill container to deal with every moment of his day, every bodily need, every variation of emotion. As expertly conceived as the idea was at distilling a culture of pharmaceutical dependence to one character, it also proved to be a creepy, darkly funny and visually mesmerizing piece of film craftsmanship.
BEST TATTOO ARTIST
Sarah de Azevedo
It's no surprise that de Azevedo would end up taking home back-to-back wins from the City Weekly readers, given that her work has become highly sought after. The Oni Tattoo Gallery artist has a fine attention to detail that fine-art illustrators would be jealous of, painstakingly getting the smallest accents on animals and flowers. She would even (if you so desire) craft an LDS temple on your arm. If you're looking for more than just a pretty heart and want an actual piece of art, de Azevedo is your best bet in Salt Lake City. 325 E. 900 South, Salt Lake City, 801-355-1885, OniTattooGallery.com