Page 4 of 6
BEST BACK STORY
Jacob T. Marley, by R. William Bennett
Ebenezer Scrooge's business partner, Jacob T. Marley, makes a brief but very powerful appearance in A Christmas Carol. After all, he's the one who announces to Scrooge he's got one last chance. Utah author R. William Bennett (known for The Christmas Gift)has put together a back story about what happened to Marley, both while on Earth and after death, which expands the story into new areas, providing a unique way to look at this classic story, while holding true to the beautiful Victorian writing style of Charles Dickens. It's a great read to keep on hand for every December. RWilliamBennett.com
BEST APOCALYPSE COUNTDOWN DEVICE
Copper Palate Press: 2012 Zombie Apocalypse Calendar
To commemorate humanity's final year on Earth—since the world will be consumed by hordes of the undead when the Mayan calendar resets or ends on Dec. 21—the talented print-slingers at Copper Palate Press issued a collaborative zombie-themed calendar that whipped local art enthusiasts into a hungry frenzy. Artists included Cameron Bentley, Emilee Dziuk, Sri Whipple, Tyler Densley, Trevor Dopp, Dave Styer and other local favorites. And since each gore-splattered print fits perfectly in an 11-inch-by-14-inch frame once the calendar portion at the bottom is detached, come January 2013, you'll have plenty of bloody-good art to brighten your bunker or bomb shelter. 160 S. 200 East, Salt Lake City, 801-960-2343, CopperPalatePress.com
BEST INSTANT MESSAGES
ARTbytes Community: Hidden
While perusing the many shelves of books at the Salt Lake City Main Library or Chapman branch, you may have been lucky enough to find a friendly salutation, wish, compliment or kind thought on a slip of paper tucked between the pages. Third- to sixth-grade youth of Neighborhood House hid the messages in hundreds of books throughout the libraries as a performance-art piece organized by the ARTbytes Community and the Utah Museum of Contemporary Art. A series of photographs by Christine Baczek on display at the Main Library, titled Hidden, documents the kids hiding the messages. The performance was a lovely reminder that even in our world of Facebook comments and text messaging, real human connection needs to be created and discovered. 210 E. 400 South, Salt Lake City, 801-524-8200, SLCPL.org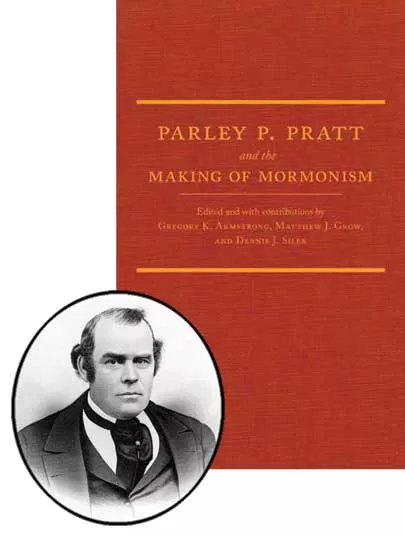 BEST BIOGRAPHY
Parley P. Pratt & the Making of Mormonism, edited and with contributions by Gregory K. Armstrong, Matthew J. Grow and Dennis J. Siler

A biography of Parley P. Pratt is timely because he's Mitt Romney's ancestor; interesting because he did more than anyone but Joseph Smith and Brigham Young to develop and explain Mormon theology; and completely entertaining because the middle P. in his name should have stood for "playa." PPP married 12 women, sometimes without telling his other wives, or even the husbands of the women he was marrying. He got into a fight with his brother over his womanizing while in the temple, and even Young said of him that "He whored." The theological ideas and personal story come together to make a riveting read.
University of Oklahoma Press, OUPress.com
BEST OASIS ARTISTRY
Utah Water Garden Club's Pond Tour
The Utah Water Garden Club must have missed the memo that says we live in a desert and all backyards should be covered with rocks, pebbles and drought-tolerant plant life. These pond enthusiasts are obsessed with creating backyard fountains, water gardens and ponds that bubble, ripple and trickle in and around rocks and over man-made waterfalls. Gently swimming among the aquatic greenery are brightly colored orange and white koi that eagerly approach at meal time to nibble food off your fingers. Members of the Utah Water Garden Club open up their backyards each August for an annual Parade of Ponds. Tickets and information are available at multiple sponsors including Cactus & Tropicals and Millcreek Gardens. PondUtah.com
BEST FOND FAREWELL
Charles Morey, Pioneer Theatre Company
The longtime artistic director of Pioneer Theatre Company stepped down this year, turning over the reins to Karen Azenberg. But before stepping out the door, he oversaw a top-notch season of some of his favorite works, including an encore production of his own charming backstage farce, Laughing Stock. Morey somehow also found time to direct four of the season's seven productions—including The Tempest, the world-premiere Find & Sign and Man of La Mancha—providing ample opportunity to remind local theater-lovers how much he has contributed to Salt Lake City over the years. PioneerTheatre.org

BEST LOCAL COMEDIAN TWITTER FEED
Christian Pieper
Dozens of Utah-based comedians have turned Twitter into a hilarious testing ground for material. But few nail their gags with more regularity than Utah County's own Pieper, whose pithy surrealism covers everything from his background ("Being raised Mormon in Kentucky is hard, because everyone's like 'you're the wrong kind of racist'") to parades ("like watching society's feces flow through our collective intestines"). He's the funniest guy ever to live-tweet the Dawson's Creek pilot ("Pacey realizes he misjudged his teacher's obvious attempts to rape him"). @cmpieper
BEST COLLECTIVE EXHIBITION
The Happy Accidents Project

It seems like a ridiculous concept, getting some of Salt Lake City's most prominent artists together to create two paintings ("Grandeur of Summer" is pictured; top by Chris Rudert, bottom by Lindsay Frei) under the skilled hand of Bob Ross, but that's exactly what took place one fine day in May. Eleven artists including Trent Call, Tessa Lindsey, Justin Carruth, Brad Slaugh and Sri Whipple gathered in an artspace along Broadway to paint two portraits from two episodes of the PBS classic The Joy of Painting. The works that came out weren't so much "happy accidents" as an interesting exercise in what happens when artists of different genres come together to paint the same thing.
HappyAccidentsProject.com
BEST INTRO TO SYMPHONY
Utah Symphony's The Magical Music of John Williams
Experiencing orchestral music live is exhilarating—but it's not always easy to entice a new generation of listeners into that world. In April, the Utah Symphony's Magical Music of John Williams program provided a wonderful entry point, as Abravanel Hall filled with families to enjoy familiar film music from Harry Potter, Star Wars, Jaws and Superman—with interludes introduced by conductor Vladimir Kulenovic to explore some of the works that may have influenced Williams. Add pre-show photo opportunities with Wookiees and Imperial Stormtroopers, and symphony never seemed so accessible to all ages. USUO.org
BEST DOWNTOWN MURAL
Korner Market Mural
If you've ever had the chance to cut through Exchange Place between 300 and 400 South you've probably been drawn like a moth to a flame to one of Kier Defstar's apocalyptic, spray-paint masterpieces running alongside the Korner Market and the Heavy Metal Shop. From the alien-like creature perched over the entrance to the Heavy Metal Shop, the UFO, the floating monk and the massive green goddess figure—complete with a beetle necklace and lightning shooting out of her eyes—Defstar's current piece grabs bystanders by the eyeballs and doesn't let go. 63 Exchange Place, Salt Lake CIty
BEST SLC DANCE FORUM
loveDANCEmore
There often really isn't much to a name, but Ashley Anderson's forum loveDANCEmore is titled like a direct challenge to the Salt Lake City community. According to Anderson, the whole point of LDM is to help generate "a new way to think about dance in Salt Lake City. It asks us what our dance practices are, what performance can be and, most importantly, how we can support one another." She does this through insightful online reviews, a biannual journal filled with essays, photos and commentaries, and a series of community events including regular performances like Mudson. LoveDanceMore.org
BEST TUTORIAL ON HOW TO SEE THE INVISIBLE
Salt Lake Design Week
Design is everywhere, but it's also considered to be a fairly invisible art—mainly because when it's done right, it often comes down to beautifully simplifying the complex. Apple has made its name on such feats. In November 2011, Salt Lake City held its first Design Week, illuminating such hidden art by gathering practitioners and enthusiasts together from various fields in the industry for open studio tours, exhibitions, lectures, workshops, receptions and forums held throughout the downtown area. SLDesignWeek.org
BEST PATRON OF THE ARTS
Utah Arts Festival Commissions
The annual Utah Arts Festival truly gets bigger and better every year, especially since it found a permanent venue at Library and Washington squares. But one of the best choices the festival has made in recent years is to become an active patron in the arts. This year, it commissioned a number of artists to create new work specifically for the festival, including a chamber ensemble by Timothy Kramer, a jazz piece by Henry Wolking and some choreography by Ballet West's Tom Mattingly. UAF.org