We hear it all the time: The arts are in trouble. Finances are tight; school arts programs are in decline. It's never easy to be an artist—but is it getting harder all the time?
The 2013 Artys issue comes at a time when the sky not only appears to be in no danger of falling, but may in fact be the limit. While we celebrate the state's great visual and performing artists, writers and craftspeople, there's evidence that we're still willing to support the infrastructure that makes art possible. Renovations at the Capitol Theatre will include a new home for Ballet West; plans were approved this year for the new performing-arts facility on the 100 South block of Main Street; vibrant spots like the Granary District provide focal points for creative folks. Over and over again, Utahns keep demonstrating—including with their votes for this issue—that the arts matter to them.
So, while this issue looks at the year in the arts just completed in handing out recognitions, this is also a great time to look forward. As this issue's cover design suggests, we're building something amazing here.
PERFORMING ARTS [READERS' CHOICE]
Best Community Theatre Group
Dark Horse Company Theatre
It's understandable when theater companies play it safe, staging familiar productions to appeal to the largest possible audience. When Dark Horse Company Theatre puts together a season, though, it goes with outside-the-box offerings like Stephen Sondheim's Assassins, a serio-comic tour through history's successful and would-be president-killers. Dark Horse productions consistently match gifted singers with terrific musical direction, and the company has brought its shows to stages from Park City to Ogden to Salt Lake City to show the whole state what they've got.
DarkHorseCompanyTheatre.com
Best Touring/Nonlocal Production
Jersey Boys
The songs are familiar to generations, but the story of their lives was less so. Audiences' eyes—and ears—adored the 2006 Tony Award-winning Best Musical about the rise to fame of Frankie Valli, Bob Gaudio, Tommy DeVito and Nick Massi, better known as The Four Seasons. Allowing each character to tell the story of the group's tensions and tragedies in his own voice gave the musical a unique dramatic structure, but the music—a collection of doo-wopping delights—and the gifted cast members really made it soar.
BroadwayInUtah.com
Best Opera/Classical Performance or Production
Utah Symphony: "Rhapsody in Blue"
Ira Gershwin's tunes have always provided the perfect musical bridge between classical and jazz; his music is hard to pin down as pure jazz because of its full-bodied string sections and classical structures, and it can't be categorized simply as classical, with its soaring saxophones and swinging jazz rhythms. Utah Symphony's version of audience favorites "Rhapsody in Blue" and "I Got Rhythm," featuring principal keyboardist Jason Hardink, were just the cherry on top of a program filled with other beloved Gershwin classics, including selections from Funny Face and Porgy & Bess, brought to life by Broadway veteran vocalist Lisa Vroman.
UtahSymphony.org
Best Individual Dancer
Adrian Fry
Originally from Omaha, Neb., Adrian Fry joined the ranks of Ballet West in 2010. This past season, as a soloist, he worked in Val Caniparoli's The Lottery and Nicolo Fonte's Bolero. Fry also played Herr Drosselmeyer in the annual Nutcracker, and even dressed in drag as one of Cinderella's cruel stepsisters. But perhaps most notable was the season finale, Innovations 2013, in which he not only stood out from the corps in fellow company member Christopher Rudd's Trapped and the world premiere of Jodie Gate's Mercurial Landscape but also choreographed an inventive original work, titled Spun.
BalletWest.org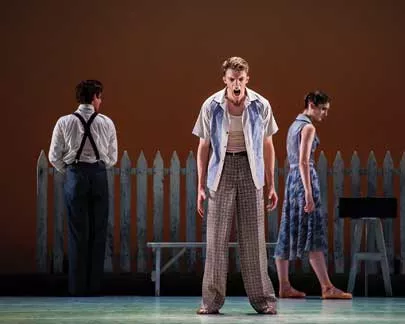 Best Dance Production/Performance
The Lottery [Ballet West]
Ballet West opened its season with
The Lottery
, a new commission choreographed by Val Caniparoli, designed by Sandra Woodall and scored by Robert Moran. Anyone familiar with the 1948 Shirley Jackson short story upon which the piece is based knows full well that the small-town lottery consists of someone getting stoned to death in the end. Caniparoli's brilliance was deciding that the drawing of lots would take place live onstage. Thus, any one of the 14 cast members had to be ready to step up and dance the finale, ultimately delivering a nervous energy that was electric and palpable from the seats.
BalletWest.org
Best Choreography
Charlotte Boye-Christensen, The Wedding [NOW ID]
Charlotte Boye-Christensen's newest artistic adventure, NOW ID—an internationally culled, interdisciplinary dance company created with her husband, architect Nathan Webster—began with "an exploration of the most public of private rituals." The Wedding was staged in the Salt Lake Masonic Temple, which saw a perfect marriage of Boye-Christensen's choreography—a combination of emotive duets and solos—and Webster's love of unique spaces. As far as the movement vocabulary goes, it's Boye-Christensen's keen ability to juxtapose sharp angularity with softer, more fluid gestures that imbued The Wedding with both its power and vulnerability.
NOW-ID.com
Best Stand-up Comic
Melissa Merlot
Melissa Merlot isn't just breaking stereotypes sometimes held about female comedians by narrow-minded audience members; she's breaking down the doors of what can be done in a smaller market. Merlot brings her A game to the stage every night, and she's irreverent, witty and unafraid to say something that might ruffle the feathers of a Utah crowd. And on the side, she helps comedians both established and on-the-rise with the Comedy Roadkill event at The Complex, providing an opportunity for people to see all-local comedians for cheap.
MelissaMerlot.com
Best Local Theater Production
Adam & Steve and the Empty Sea [Plan-B Theatre Company]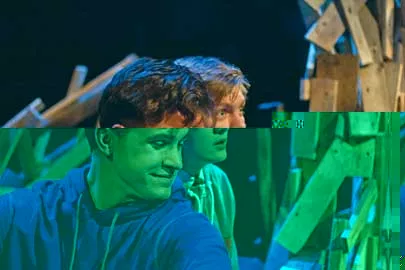 Best Original Play
Adam & Steve and the Empty Sea, Matthew Greene [Plan-B]
It may have been inspired by one of the most divisive political fights in recent history—California's anti-gay-marriage "Prop 8"—but Matthew Greene's challenging play explored those divisions with clear-eyed compassion for both sides. Following a years-spanning relationship between two childhood best friends—devoutly LDS Adam and openly gay Steve—the text dug into the thorny ways that core beliefs about God, love and the world can force people into conflict. Jason Bowcutt directed a gripping production in which simple lighting cues and the centerpiece figure of a tree allowed the performances to search for a common ground of shared humanity.
PlanBTheatre.org
Best Improv Troupe
Laughing Stock
They've been making it up on the spot since 1994—the same spot, no less. The Laughing Stock improv troupe has been performing at the Off Broadway Theatre for almost 20 years, making them the longest-running show on Main Street (insert joke and/or create sketch about panhandlers here), if not the entire state of presumably humorless Utah. Every Friday and Saturday night, Laughing Stock kicks out the improv jams and delivers the cleanest fun to be had in downtown Salt Lake City (south of City Creek, anyway).
272 S. Main, Salt Lake City, 801-355-4628, Facebook.com/LaughingStockImprovComedy
Best Local Theater Performance
Teresa Sanderson, Eric(a) [Plan-B Theatre Company]
In the movies, you might look at it as the kind of role almost too obviously built for awards: playing a different gender, and doing it in a one-person show. But in Matthew Ivan Bennett's Eric(a), Teresa Sanderson takes on a challenge perhaps even more unique than playing a female-to-male transgender: playing with confidence a character who defines himself by his lack of confidence. In a premise that finds Eric called on to give a speech at a conference, Sanderson captures someone so locked into his uncertainty—about how to stand, or whether a woman can love him—that he doesn't grasp how much courage he's showing right in that moment.
PlanBTheatre.org