Art begins, quite simply, with nothing: It is the writer's blank sheet of paper or computer screen, the painter's canvas, the filmmaker's empty camera hard drive, the choreographer's stillness contemplating an initial act of motion. Every new act of artistic creation begins with time—to some, it must feel like an eternity—when there is no idea whatsoever what will happen next. But then something does happen. Whether it's a muse or God, genius or dumb luck, the artist finds the moment when the path becomes clear. Or, at least,
clearer
.
Art is an act of bravery. And not just in the sense of putting often-soul-baring work out there to be judged—and sometimes rejected—by the world, but in the sense of being willing to face the blankness before creation, the wondering if the perfect creation might happen this time, even as it so rarely lives up to the vision in the artist's head. It's a leap off the edge of the world when you really don't know what will be at the bottom.
City Weekly's Artys Awards may only recognize a finite number of artists in any given year, but we see this as a way to celebrate creation wherever it's found in this state. We congratulate those honored by our readers and our contributing writers, but we also congratulate everyone who takes that leap. And we keep asking our readers to join them on those journeys.
Scott Renshaw
Arts & Entertainment Editor

PERFORMING ARTS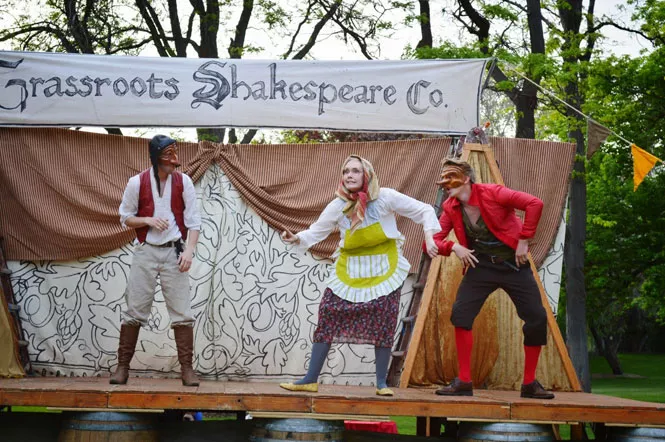 BEST COMMUNITY THEATER GROUP
Grassroots Shakespeare
This summer, Grassroots Shakespeare Company toured parks across the state, performing back-to-back productions of As You Like It and Henry V for crowds of all ages. They delighted audiences by building on Shakespeare's inherent wit with fast-paced staging, audience interaction and anachronistic quips. The company keeps its productions fresh by mimicking the conditions faced by actors in Shakespeare's day: working director-free, with minimal rehearsal time and makeshift costumes and props, on a bare outdoor stage. Add a few guitars, an accordion and the occasional slide whistle, and each play feels like a fast-pasted medieval romp you'll want to rewind and watch all over again.
GrassrootsShakespeare.com

BEST TOURING PRODUCTION
Wicked
You'd think from the crowds swarming to the Capitol Theatre that this was a first-time engagement, rather than a third. But Utah audiences still can't get enough of the award-winning musical about two witches in the land of Oz who form a friendship that isn't spoken of in L. Frank Baum's familiar stories. A wonderful touring cast—including Emma Hunton as a powerhouse Elphaba—gave those audiences another spectacular show that scores both when it's showing off grand set pieces and when it's all about the intimate, musical moments.
BroadwayAcrossAmerica.com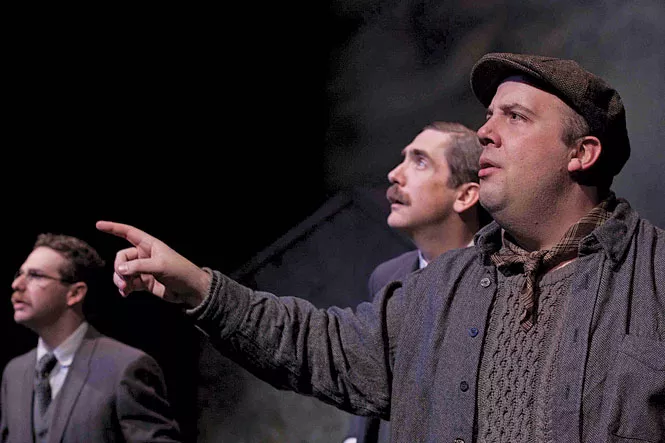 BEST THEATER PERFORMANCE/BEST THEATER PRODUCTION
Mark Fossen, Clearing Bombs (Plan-B Theatre Company)
Eric Samuelsen took one of theater's more popular tricks—speculating on an encounter between two celebrated real-life figures—and turned it into a tremendously entertaining primer on macroeconomic theory. Set in summer 1942, it posits an evening in which economists John Maynard Keynes (Mark Fossen, above center) and Friedrich Hayek (Jay Perry) served duty on the roof of King's College, watching for German incendiary bombs. Samuelsen's direction provided a burst of energy to a concept that easily could have become a dry lecture, while Fossen delivered a terrific interpretation of a celebrated scholar whose certainty creates more friction in the conversation, helping give debates over policy a surprisingly human face.
PlanBTheatre.org
BEST OPERA PRODUCTION
Turandot
Utah Opera's staging of Turandot in March was a risky venture, but it paid off, with sold-out shows during the short run. The show itself focuses on Princess Turandot and the Peking ruler who lays out a challenge to all suitors: Answer three riddles and you shall have her hand in marriage; fail and you shall die. Prince Calàf rises to the challenge, answering all the riddles and forcing Turandot into answering a riddle of his own to be allowed to deny the proposal. It was a masterpiece for those seeking a remarkable love story.
UtahOpera.org
BEST ORIGINAL PLAY
Eric Samuelsen,(Plan-B Theatre Company)
Plan-B Theatre Company's Season of Eric showed off the broad spectrum of Eric Samuelsen's talents (see also Clearing Bombs in this section), but came to a magnificent conclusion with this triptych of short plays about the struggles of Mormon women to project an image of placid perfection. Where it would have been easy to play some of their more uptight or apparently hypocritical actions for cheap punch lines, Samuelsen instead showed tremendous compassion for women facing the seemingly impossible-to-attain expectations of their culture.
PlanBTheatre.org
BEST MULTIMEDIA PERFORMANCE
The Pushers (SB Dance)
SB Dance's artistic director, Stephen Brown, has always used his company to expand the understanding of what dance is, staging evening-length musicals, theater, film projections and even a rock opera of sorts. The Pushers explored a time personal to Brown: the era of "The Gay Cancer" in New York City, when Brown was coming into his own as an artist. Far from being a somber dirge, the piece was designed as a party, even turning the Rose Wagner Center into a bar.
SBDance.com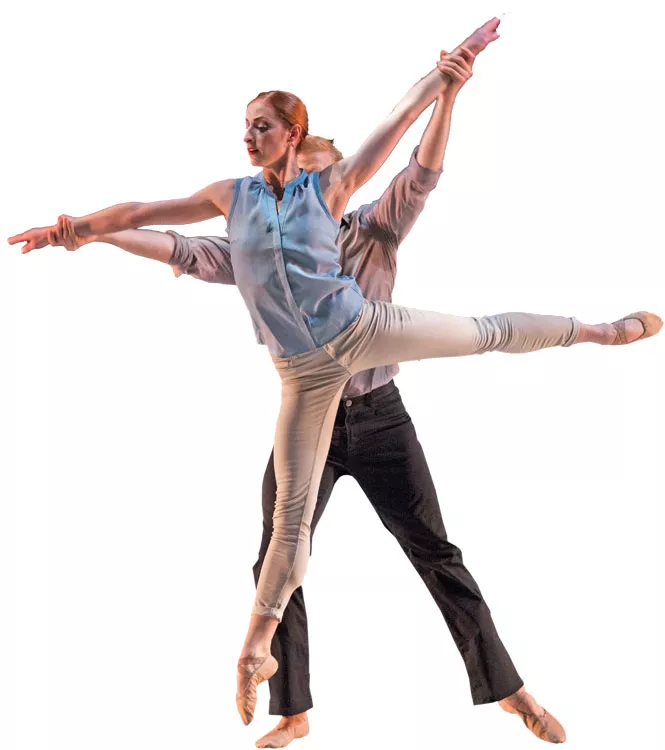 BEST DANCE PRODUCTION
Innovations (Ballet West)
Adam Sklute, Ballet West's artistic director, notes that he created Innovations, the company's annual spring show, specifically to push the artistic boundaries of the company while also helping to propel the art form itself into new territories. For the final show of the world-class company's 50th season, Ballet West included three works by current company members (soloist Christopher Anderson, artist Tyler Gum and soloist Emily Adams) alongside a world premiere by Philadelphia-based choreographer Matthew Neenan. But the jewel in the Innovation crown was Great Souls, a brand-new commissioned work by principal artist Christopher Ruud.
BalletWest.org
BEST DANCER
Tara Roszeen McArthur (Ririe-Woodbury)
Tara Roszeen McArthur has stood out on the Utah stage ever since she joined the illustrious ranks of Ririe-Woodbury Dance Company full time in 2010. With her unparalleled and energetic form, McArthur became an audience favorite during her time with the company. But, unfortunately for Utahns, she decided to leave RWDC after the past season. She's leaving on a high note, though, and also has plans to stick around Salt Lake City for a short time to pursue some of her own choreographic projects as well as various freelance ventures.
RirieWoodbury.com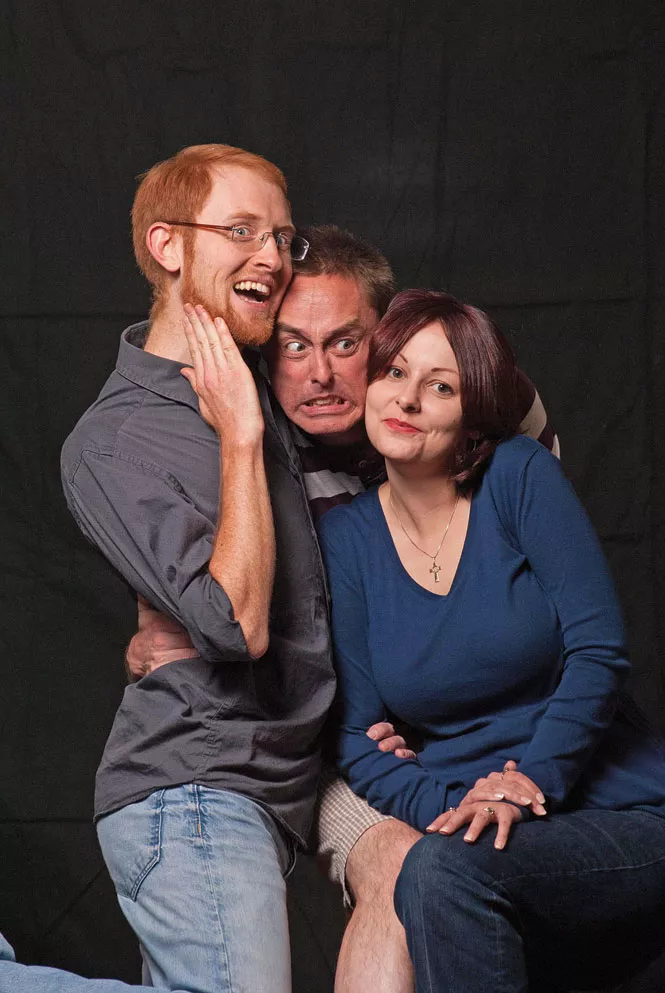 BEST IMPROV TROUPE
Laughing Stock
Laughing Stock has reached the milestone of celebrating two decades of hilarity this season. The Off-Broadway Theatre stalwarts have run through more shows than most theater companies, always working off a format that's entirely based on audience suggestion, and the troupe's lineup has evolved and grown to 19 performers. While some may mock improv shows, this group just keeps the laughs coming.
LaughingStock.us
BEST CHOREOGRAPHY
Charlotte Boye-Christensen, Feast (Now-ID)
With Feast, Now-ID—an interdisciplinary dance company with an international scope—really started to hit its stride presenting groundbreaking and thought-provoking site-specific work. Company founders Charlotte Boye-Christensen and Nathan Webster's second evening-length production took over the historic Great Saltair for a thematically diverse, one-night-only dance/theater event about appetites, tastes and desires that explored the act of consumption and how it affects the physical dimensions of the human body. Boye-Christensen's willingness to push her own movement vocabulary into new spaces and complex energies is what ultimately set the table for such a unique Feast.
Now-ID.com
BEST STAND-UP COMEDIAN
Jay Whittaker
He's been doing stand-up onstage for only three years, but California transplant Jay Whittaker has made his mark on the Salt Lake City comedy scene quickly. An imposing figure who more resembles an action-flick hero than your usual comedian, Whittaker's warmth and charm dispel any preconceptions instantly; his riffs on race, culture and nerdism (yes, his connection to the popular Geek Show podcast has definitely helped raise his profile) can turn from scathing to sentimental on a dime, and he wields the mic like a confident pro with years more stage experience. And, of course, dem jokes doe.
JayWhittakerComedy.com