Art begins, quite simply, with nothing: It is the writer's blank sheet of paper or computer screen, the painter's canvas, the filmmaker's empty camera hard drive, the choreographer's stillness contemplating an initial act of motion. Every new act of artistic creation begins with time—to some, it must feel like an eternity—when there is no idea whatsoever what will happen next. But then something does happen. Whether it's a muse or God, genius or dumb luck, the artist finds the moment when the path becomes clear. Or, at least,
clearer
.
Art is an act of bravery. And not just in the sense of putting often-soul-baring work out there to be judged—and sometimes rejected—by the world, but in the sense of being willing to face the blankness before creation, the wondering if the perfect creation might happen this time, even as it so rarely lives up to the vision in the artist's head. It's a leap off the edge of the world when you really don't know what will be at the bottom.
City Weekly's Artys Awards may only recognize a finite number of artists in any given year, but we see this as a way to celebrate creation wherever it's found in this state. We congratulate those honored by our readers and our contributing writers, but we also congratulate everyone who takes that leap. And we keep asking our readers to join them on those journeys.
Scott Renshaw
Arts & Entertainment Editor

PERFORMING ARTS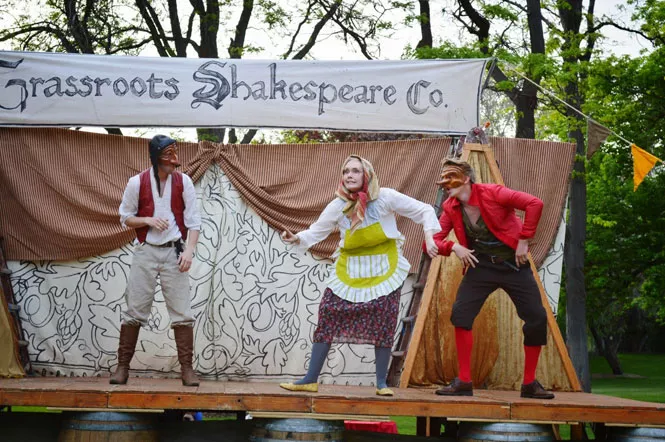 BEST COMMUNITY THEATER GROUP
Grassroots Shakespeare
This summer, Grassroots Shakespeare Company toured parks across the state, performing back-to-back productions of As You Like It and Henry V for crowds of all ages. They delighted audiences by building on Shakespeare's inherent wit with fast-paced staging, audience interaction and anachronistic quips. The company keeps its productions fresh by mimicking the conditions faced by actors in Shakespeare's day: working director-free, with minimal rehearsal time and makeshift costumes and props, on a bare outdoor stage. Add a few guitars, an accordion and the occasional slide whistle, and each play feels like a fast-pasted medieval romp you'll want to rewind and watch all over again.
GrassrootsShakespeare.com

BEST TOURING PRODUCTION
Wicked
You'd think from the crowds swarming to the Capitol Theatre that this was a first-time engagement, rather than a third. But Utah audiences still can't get enough of the award-winning musical about two witches in the land of Oz who form a friendship that isn't spoken of in L. Frank Baum's familiar stories. A wonderful touring cast—including Emma Hunton as a powerhouse Elphaba—gave those audiences another spectacular show that scores both when it's showing off grand set pieces and when it's all about the intimate, musical moments.
BroadwayAcrossAmerica.com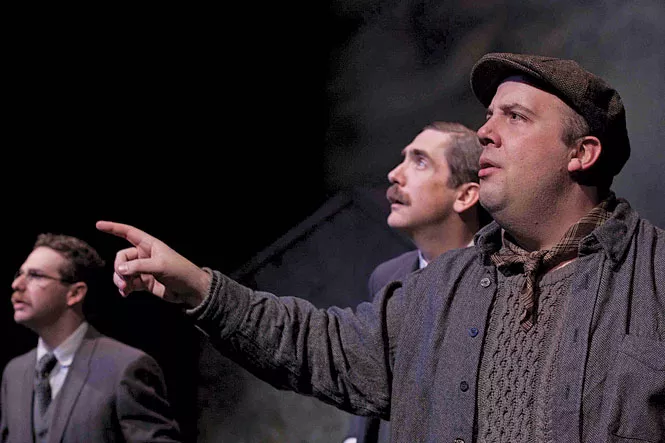 BEST THEATER PERFORMANCE/BEST THEATER PRODUCTION
Mark Fossen, Clearing Bombs (Plan-B Theatre Company)
Eric Samuelsen took one of theater's more popular tricks—speculating on an encounter between two celebrated real-life figures—and turned it into a tremendously entertaining primer on macroeconomic theory. Set in summer 1942, it posits an evening in which economists John Maynard Keynes (Mark Fossen, above center) and Friedrich Hayek (Jay Perry) served duty on the roof of King's College, watching for German incendiary bombs. Samuelsen's direction provided a burst of energy to a concept that easily could have become a dry lecture, while Fossen delivered a terrific interpretation of a celebrated scholar whose certainty creates more friction in the conversation, helping give debates over policy a surprisingly human face.
PlanBTheatre.org
BEST OPERA PRODUCTION
Turandot
Utah Opera's staging of Turandot in March was a risky venture, but it paid off, with sold-out shows during the short run. The show itself focuses on Princess Turandot and the Peking ruler who lays out a challenge to all suitors: Answer three riddles and you shall have her hand in marriage; fail and you shall die. Prince Calàf rises to the challenge, answering all the riddles and forcing Turandot into answering a riddle of his own to be allowed to deny the proposal. It was a masterpiece for those seeking a remarkable love story.
UtahOpera.org
BEST ORIGINAL PLAY
Eric Samuelsen,(Plan-B Theatre Company)
Plan-B Theatre Company's Season of Eric showed off the broad spectrum of Eric Samuelsen's talents (see also Clearing Bombs in this section), but came to a magnificent conclusion with this triptych of short plays about the struggles of Mormon women to project an image of placid perfection. Where it would have been easy to play some of their more uptight or apparently hypocritical actions for cheap punch lines, Samuelsen instead showed tremendous compassion for women facing the seemingly impossible-to-attain expectations of their culture.
PlanBTheatre.org
BEST MULTIMEDIA PERFORMANCE
The Pushers (SB Dance)
SB Dance's artistic director, Stephen Brown, has always used his company to expand the understanding of what dance is, staging evening-length musicals, theater, film projections and even a rock opera of sorts. The Pushers explored a time personal to Brown: the era of "The Gay Cancer" in New York City, when Brown was coming into his own as an artist. Far from being a somber dirge, the piece was designed as a party, even turning the Rose Wagner Center into a bar.
SBDance.com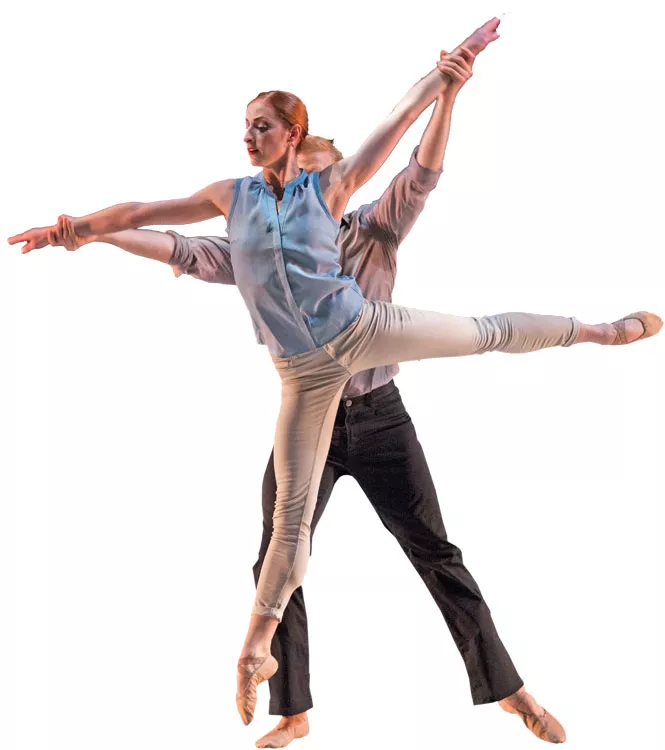 BEST DANCE PRODUCTION
Innovations (Ballet West)
Adam Sklute, Ballet West's artistic director, notes that he created Innovations, the company's annual spring show, specifically to push the artistic boundaries of the company while also helping to propel the art form itself into new territories. For the final show of the world-class company's 50th season, Ballet West included three works by current company members (soloist Christopher Anderson, artist Tyler Gum and soloist Emily Adams) alongside a world premiere by Philadelphia-based choreographer Matthew Neenan. But the jewel in the Innovation crown was Great Souls, a brand-new commissioned work by principal artist Christopher Ruud.
BalletWest.org
BEST DANCER
Tara Roszeen McArthur (Ririe-Woodbury)
Tara Roszeen McArthur has stood out on the Utah stage ever since she joined the illustrious ranks of Ririe-Woodbury Dance Company full time in 2010. With her unparalleled and energetic form, McArthur became an audience favorite during her time with the company. But, unfortunately for Utahns, she decided to leave RWDC after the past season. She's leaving on a high note, though, and also has plans to stick around Salt Lake City for a short time to pursue some of her own choreographic projects as well as various freelance ventures.
RirieWoodbury.com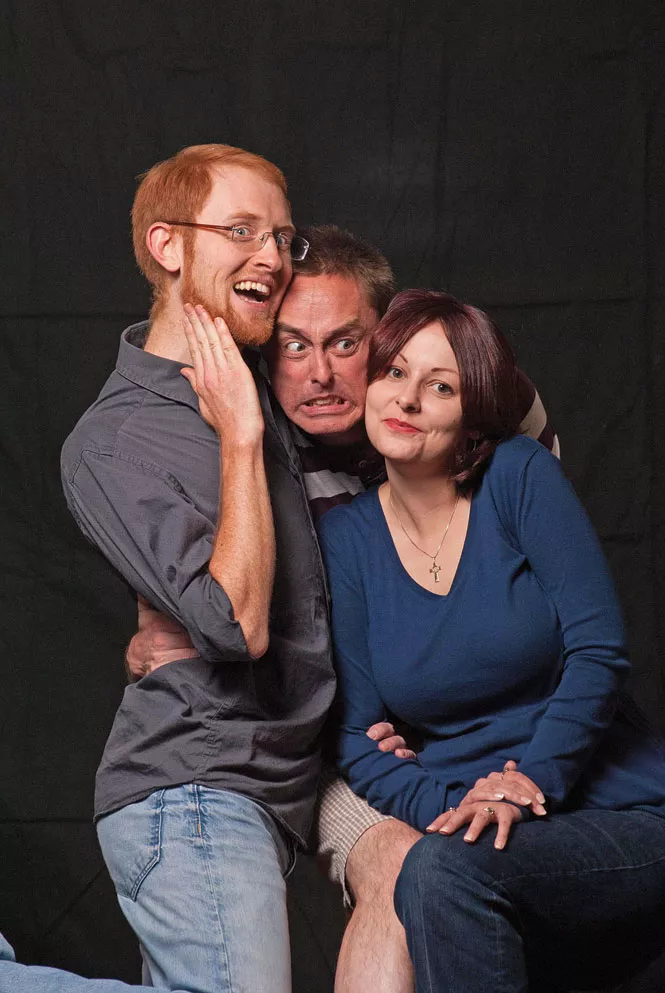 BEST IMPROV TROUPE
Laughing Stock
Laughing Stock has reached the milestone of celebrating two decades of hilarity this season. The Off-Broadway Theatre stalwarts have run through more shows than most theater companies, always working off a format that's entirely based on audience suggestion, and the troupe's lineup has evolved and grown to 19 performers. While some may mock improv shows, this group just keeps the laughs coming.
LaughingStock.us
BEST CHOREOGRAPHY
Charlotte Boye-Christensen, Feast (Now-ID)
With Feast, Now-ID—an interdisciplinary dance company with an international scope—really started to hit its stride presenting groundbreaking and thought-provoking site-specific work. Company founders Charlotte Boye-Christensen and Nathan Webster's second evening-length production took over the historic Great Saltair for a thematically diverse, one-night-only dance/theater event about appetites, tastes and desires that explored the act of consumption and how it affects the physical dimensions of the human body. Boye-Christensen's willingness to push her own movement vocabulary into new spaces and complex energies is what ultimately set the table for such a unique Feast.
Now-ID.com
BEST STAND-UP COMEDIAN
Jay Whittaker
He's been doing stand-up onstage for only three years, but California transplant Jay Whittaker has made his mark on the Salt Lake City comedy scene quickly. An imposing figure who more resembles an action-flick hero than your usual comedian, Whittaker's warmth and charm dispel any preconceptions instantly; his riffs on race, culture and nerdism (yes, his connection to the popular Geek Show podcast has definitely helped raise his profile) can turn from scathing to sentimental on a dime, and he wields the mic like a confident pro with years more stage experience. And, of course, dem jokes doe.
JayWhittakerComedy.com
VISUAL ARTS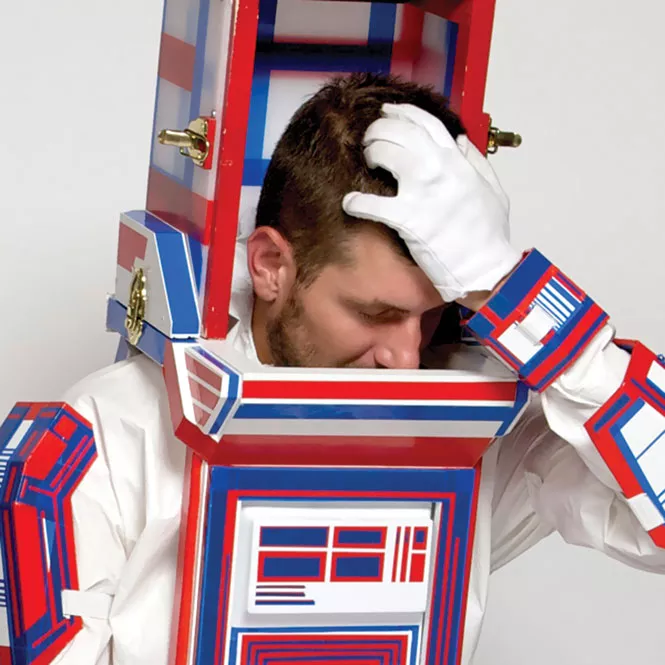 BEST SCULPTURE/ MIXED-MEDIA EXHIBITION
Christopher Kelly, God Complex (UMOCA)
In one of the most unusual sculpture/mixed-media exhibits the Utah Museum of Contemporary Art has ever produced, Christopher Kelly's God Complex turned the lens of science fiction inward on the human psyche. Using images, symbols and tropes from pop-culture icons like 2001: A Space Odyssey, he created an artistic persona employing the unlikely vehicle of a space suit. What happened in the video performances ranged from ironically playing with the mundane nature of life in "inner space" to the fullest manifestations of an existential dilemma.
UtahMOCA.org
BEST PHOTOGRAPHY EXHIBITION
Creation and Erasure: Art of Bingham Canyon Mine (UMFA)
Curated by Donna Poulton, this exhibit broke new ground for the Utah Museum of Fine Arts. Since 2012 and the announcement of the co-stewardship of Robert Smithson's Spiral Jetty, the museum has focused on exhibits related to land art, including Nancy Holt's Sun Tunnels. The subject of Creation and Erasure—a historical overview of photographic images from Utah's Bingham Canyon Mine—was unprecedented and monumental. Photographers included William Rittase, Andreas Feininger, Arthur Rothstein, Edward Burtynsky, David Maisel and Michael Light, who documented the history as well as the humanity of this immense and important Utah landmark.
UMFA.Utah.edu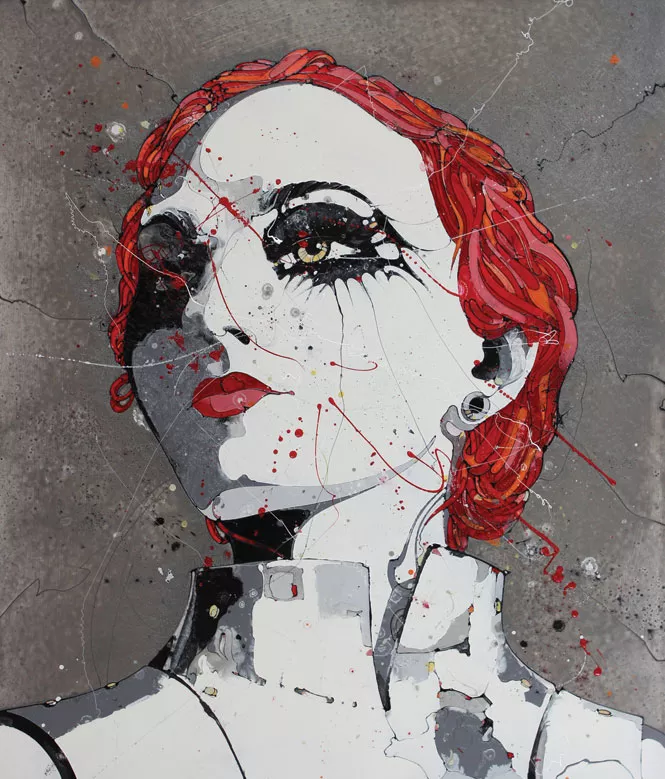 BEST PAINTING EXHIBITION
Jimmi Toro, Faces(Urban Arts Gallery)
In terms of sheer technical ability in addition to mastery of the expressive powers of paint, not much can touch the work of Jimmi Toro. For his solo show Faces at Urban Arts Gallery in spring 2014, he set himself a challenge of working with six local photographers to create interpretations of their work on the canvas, using the paintbrush like a sketch artist's pen. A video presentation, sketches and artistic experiments that provided insights into his methods and inspirations made this a must-see show of the gallery-stroll season.
JimmiToro.com
BEST ILLUSTRATION EXHIBITION
Pat Bagley (The Leonardo)
Pat Bagley is one of the highlights of The Salt Lake Tribune—and the newspaper industry as a whole—continuing to push buttons and bring smiles to readers' faces with his editorial cartoons. In May, the staff of The Leonardo decided that such thought-provoking work deserved a larger spotlight, and gave Bagley his own exhibition in the Lab @ Leo area on the ground floor. The show brought in thousands of fans over the course of a month to enjoy Bagely's giant mural of Utah luminaries, plus select editorial cartoons, and also gave people a chance to learn how to draw in Bagley's style.
TheLeonardo.org
BEST GRAFFITI ART/PUBLIC ART
SRIL Art
A humble giant in the Utah graffiti scene, SRIL (pronounced "surreal") has been a common fixture in and around Salt Lake City since 1996. His name is a nod to the Spanish surrealist Salvador Dali, which is appropriate considering that SRIL's art masterfully blurs the lines between graffiti burners and something oddly reminiscent of "Persistence of Memory." Besides his many murals, you can find his art on his latest run of T-shirts, like the BrBa tee, which features a blown-out version of SRIL's Breaking Bad mural, and portrays the show's main character, Walter White.
SRILArt.com
BEST JEWELRY DESIGN
Peach Treats
The great thing about gauged ears is you can stuff all kinds of crazy knick-knacks in there. But Tif Blue's handcrafted earrings aren't just for art lovers with holes in their ears so big they stretch down to their waists like a pair of ear suspenders. No, whether your ears are gauged to the extreme or not, Peach Treats' unique designs allow even the puniest of ear holes to express themselves with beautiful, original, locally made artwork. Whether it's tapers, fakers, weights, plugs, hoops, spikes, spirals or dangles, Peach Treats more than likely has it, or can custom-make it just for you and your lobe.
Etsy.com/shop/PeachTreats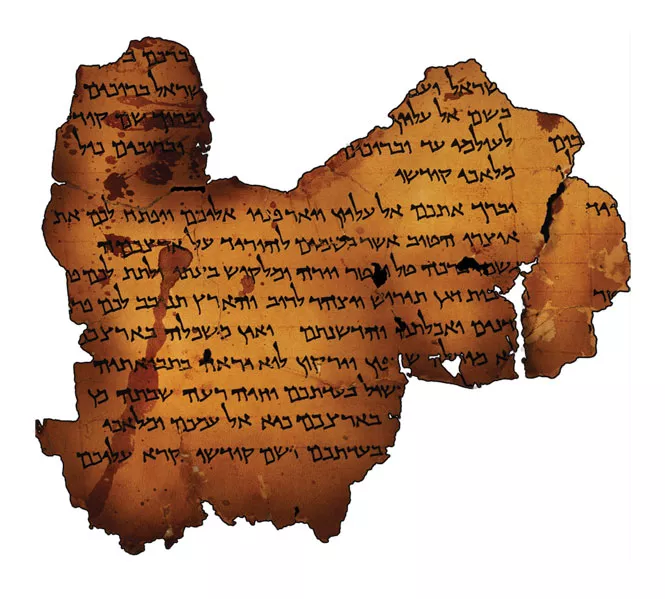 BEST TOURING EXHIBITION
Dead Sea Scrolls: Life and Faith in Ancient Times (The Leonardo)
The Dead Sea Scrolls have taught us much about the beliefs of the people in Israel before the time of Christ, and about their history as well. The traveling exhibit of the Dead Sea Scrolls at The Leonardo gave locals the chance to experience a text that most were only casually familiar with. More than 600 artifacts and a section of the Wailing Wall accompanied the scrolls and, along with lectures, gave viewers a picture of the life and the people of that pivotal historical period.
TheLeonardo.org
BEST TATTOO ARTIST
Gailon Justus (King of Swords Tattoo)
Gailon Justus is an artist waiting to inflict some beautiful old-school-style art on the canvas of your flesh. It's no surprise Salt Lakers have fallen love with Justus' sweet needle, given the artistry he displays in tats that emphasize bold black outlines and designs that say a lot without overdoing it. This is the ink-stabber to seek if you're looking for a design reminiscent of something adorning the biceps of a turn-of-the-century sailor or the chest of a '50s biker.
King of Swords Tattoo, 248 W. 900 South, Salt Lake City, 801-906-0192, Facebook.com/KingOfSwordsTattoo
BEST SHORT FILM
Torben Bernhard, Transmormon (KUER)
Eri Hayward's parents loved her and supported her enough to want to see her happy. That may not sound like a remarkable story—except when you consider that Eri was born Eddie Hayward, and that her parents are Mormons living in Orem. Torben Bernhard's wrenchingly emotional film—produced by KUER's RadioWest—addresses Eri's struggles, but it's most powerful when it gives her father a chance to speak, exploring how a faithful man tries to reconcile the reality of his child's identity with the teachings of his church. Stories of unconditional parental love don't get much better than this.
VideoWest.KUER.org/TransMormon
BEST FASHION DESIGN
Sorry Clementine
After relocating her by-appointment shop to the Sugar House area, Suzanne Clements has continued pushing her line of badass mashup fashion to the public. Recently, her tastes have gone more into the geeky side, and she's started creating new pieces out of retro T-shirts and giving them new life.
Facebook.com/SorryClementine
LITERARY ARTS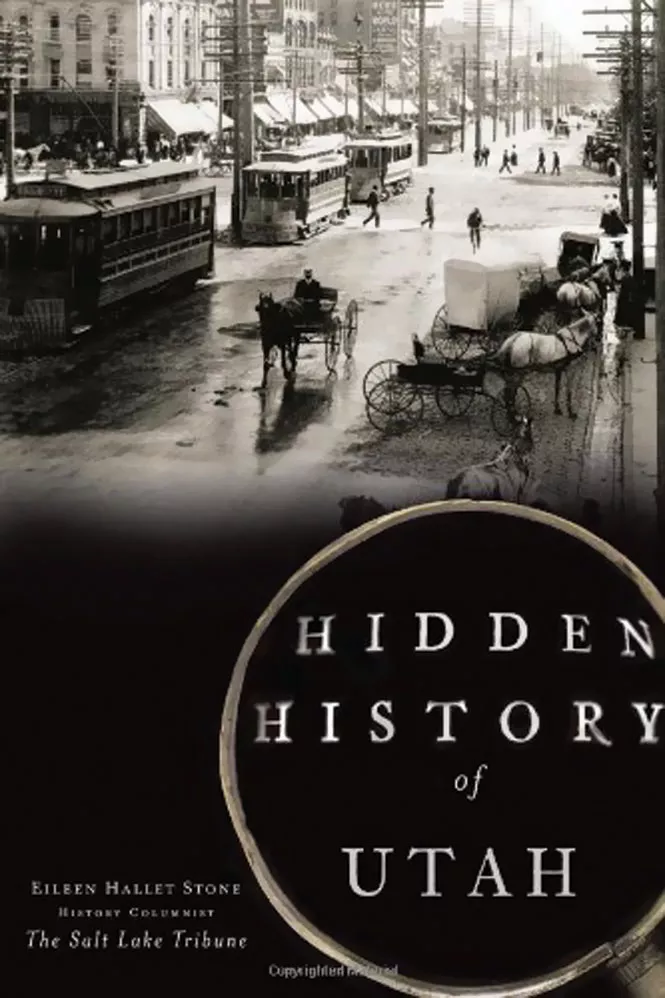 BEST NON-FICTION
Eileen Hallet Stone, Hidden History of Utah
Utah's history is made up of more than just handcart pioneers with plural wives and prominent neckbeards, as author Eileen Hallet Stone shows in this eye-opening read adapted from columns Stone wrote for The Salt Lake Tribune. The characters in her book didn't quite fit the Utah mold—hard-nosed, mine-owning, pistol-packing "Volga Vixen" Anna Rich Marks, for example, or 1880s inventor/hypnotist Dr. Sumner Gleason, who bred the wildly popular Elberta Peach. The book also takes a hard look at the inequities that religious and racial minorities faced in Utah's early history, from black miners forced to live in chicken coops to marginalized Chinese immigrants. A reader could open up to any chapter for a concise portrait of some of the strangest, bravest, most diverse lives and Utah stories they never learned about in history class.
HistoryPress.net
BEST FICTION BOOK
Shannon Hale, Dangerous
Rousing adventures are rare enough, yet it's even more exciting to find such an adventure built around the kind of protagonist you've literally never seen before. Sixteen-year-old Maisie Brown—the heroine of Shannon Hale's energetic science-fiction/action/superhero spectacle—is a nerdy, home-schooled girl, but she's also half-Latina. And she happens to have a disability—missing one arm since birth. While Maisie's unique qualities play a role in her efforts to save the earth from an extraterrestrial threat, this isn't a book about those qualities. It's simply a story making the unusual observation that people besides fully-abled white men can be heroes.
Squeetus.com
BEST POETRY COLLECTION
JulieAnn Carter-Winward, No Apologies
For the past six years, JulieAnn Carter-Winward has been roping in readers with Utah-centric erotica prose that keeps eyes trained on the page. Her poetry collection no apologies is no different; the poems are deeply personal, swerving between the heart-wrenching stuff of growing up and agitating against parents and Mormonism, and the titillating details of getting "slammed into" by a bouncer outside a club. In "if I could talk to my parents again," Carter-Winward riffs on the biting reality that there are some wrongs committed that can never be taken back: "I'd say I'm so, so sorry/ for ages 12-30./ I'd tell them/ that talking to them/ was the most comforting/ thing in the world./ I'd say thank you/ for loving me when I was/ unloveable.
JACarterWinward.com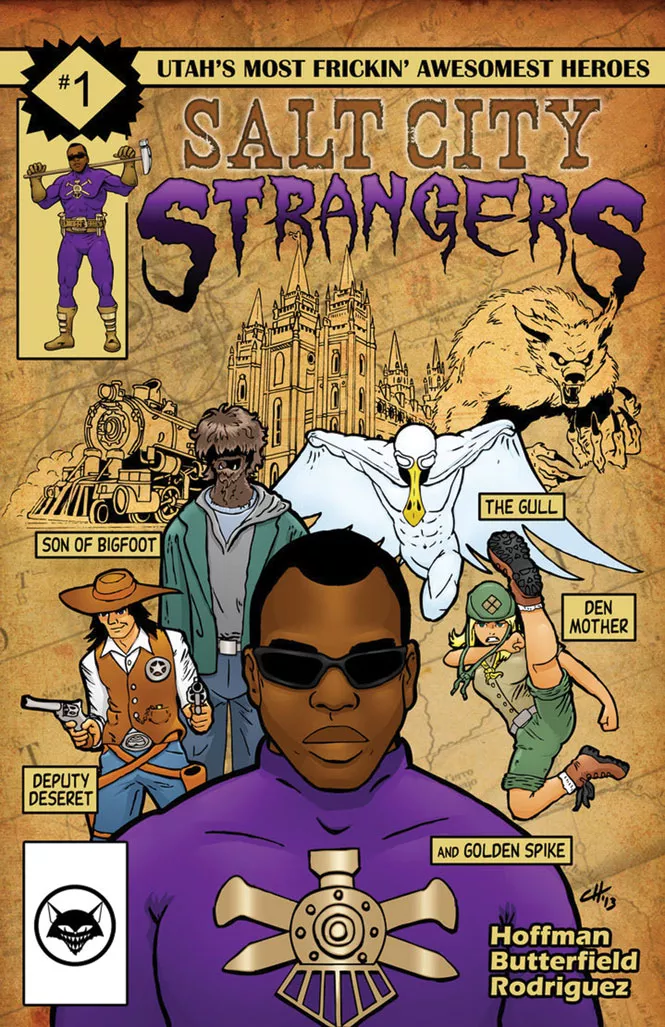 BEST COMIC BOOK
Salt City Strangers
Would you believe ... the intercontinental railroad was part of a demonic plan to engulf the planet in evil once the final Golden Spike was driven at Promontory Point? Fortunately, a group of heroes called the Salt City Strangers foiled the plot and have fought to keep Utah safe ever since. Chris Hoffman's sharply detailed comic is steeped in local LDS culture (Deputy Deseret slings Porter Rockwell's guns; Son of Bigfoot was discovered in Provo Canyon and raised Mormon; and then there's the Gull), but Salt City Strangers—now two issues in—is ultimately a classic story of Good vs. Evil. If there's anything Utahns love, it's a tall tale about the righteous taking on the wrong-teous.
SaltCityStrangers.com
BEST GOLDEN ANNIVERSARY
Ririe-Woodbury Dance Company
Ririe-Woodbury Dance Company is one of Utah's cultural mainstays, and the fact that it's reached the age of 50 puts it among the longest-lived performing arts organizations in the state. To properly mark that milestone, RWDC designed its anniversary season to be a series of programs that not only took a look back at the company's long and celebrated legacy, but also suggested the potential for another promising five decades. The brilliance of the season was the company's ability to beautifully juxtapose classic work by their celebrated founders with contemporary work by the likes of their new artistic director, Daniel Charon.
RirieWoodbury.com
BEST CUTLERY CREATIONS
Nektia Originals
Until the day when humans pop a magical nutrient pill each morning instead of sitting down to solid foods, spoon rings will never go out of style. Nektia Originals has expanded the concept beyond its rings—made from vintage forks as well as spoons—to charming necklaces crafted from forks. Twisted tines and cleverly punched holes turn a plain fork into an "elephork" or "fork-topus." The utensil's shape, the set of the eyes and the wiggliness of the trunk or tentacles imbue a unique personality into each fork necklace, available at shops like Unhinged in Salt Lake City and Provo.
NektiaOriginals.com
BEST TAP AMBASSADOR
Debby Robertson
Debby Robertson has taken it upon herself to wrestle tap back from the fringes and put all of its power slides and rhythm turns right onto the main stage where it belongs. Through her group SLC Tap, Robertson is dedicated to changing the perception of tap from the common association with little girls at recitals to the hip-thundering rhythmic ballet that a true tap artist can create. And Robertson now has a permanent home in the new west-side Sugar Space location to spread her passion for dance with regular classes, workshops and engaging, energetic performances.
SLCTap.com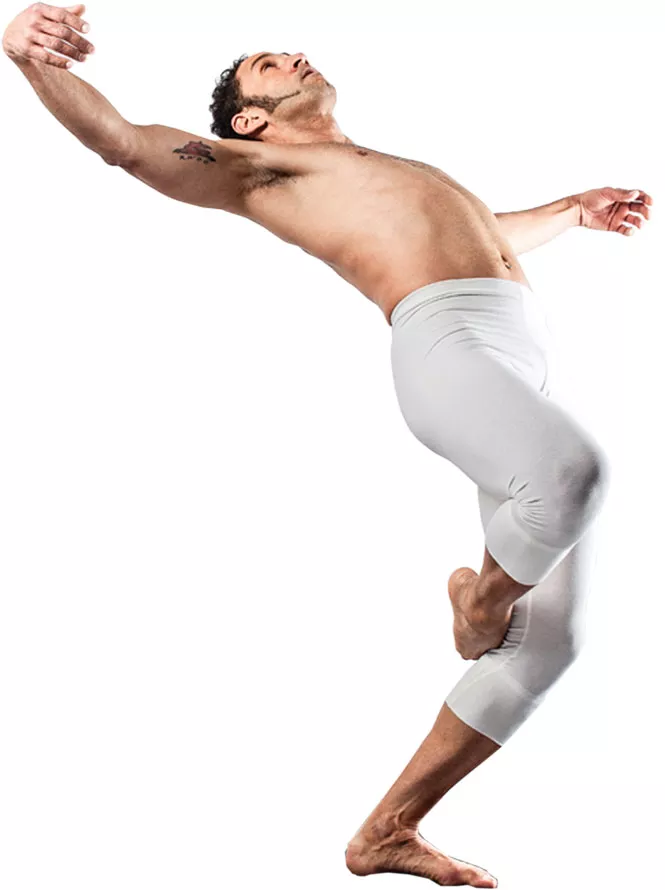 BEST ARTISTIC INTROSPECTION
Dance Theatre Coalition: Fieldwork
Dance Theatre Coalition regularly stages shows and performances in Salt Lake City that challenge artistic sensibilities and engage audiences. In many ways, it's that same drive to push into the artistic unknown that also drives the company's Fieldwork series. Designed as a workshop for artists by artists, the multi-week structure allows for development and growth through constructive criticism. One important aspect of the Fieldwork process is interdisciplinary interaction between the artists, an element seen as critical to artistic growth as it helps curb that sense of working in isolation.
DanceTheatreCoalition.org
BEST OPERATIC KIDNAPPING
The Abduction from the Seraglio (Utah Opera)
By staging the opera that helped put Mozart on the musical map, Utah Opera closed out its 2013-14 season in May on a lighter note than what laypeople might expect from opera—but with the intrigue taking place in the Turkish harem, not everything is as it appears. The production touched on all sides of musical emotion, including elements of tragedy, so it had something to please everyone and also managed to abscond with the audience's sympathy.
UtahOpera.org
BEST BON MOTS
Morgan Lund, Grant & Twain (Salt Lake Acting Company)
Elizabeth Diggs' play—about the friendship between the two celebrated 19th-century figures and Mark Twain's role in encouraging the publication of Ulysses S. Grant's memoirs—perhaps focused more on the beaten-down, introspective Grant. But, in Salt Lake Acting Company's production, it was Morgan Lund's boisterous performance as Twain that made the show engaging. Whether the words were Twain's own documented riting or speculative moments between the two main characters created by the playwright, Lund served them up with killer comedic timing that made the bigger-than-life man somehow seem even bigger.
SaltLakeActingCompany.com
BEST TWIST ON SUPERNATURAL ROMANCE
Bree Despain, The Shadow Prince
Young-adult fiction is full of love stories complicated by the fact that one of the lovers is a ghost, or a vampire, or a fairy—or something. There's nothing inherently wrong with such a setup—provided it's built with the kind of complexity Despain invests in this series-opener, built on the Orpheus and Persephone myth. Her "Underrealm" gets a rich, intriguing history, and the characters—protagonists Haden and Daphne, as well as their supporting cast—are wonderfully three-dimensional creations. It's going to be a pleasure following where Despain takes this story next.
BreeDespain.com
BEST BOTTLES OF BEER ON THE WALL
Squatters Anniversary Mural
In July, the Utah Museum Of Contemporary Art teamed up with Squatters Brewing to organize a mural competition to mark the brewery's 25th anniversary. Trent Call, Mackenzie Donovan, Richard Landvatter and Mike Murdock painted designs on the side of Squatters' downtown brewpub. On Aug. 4, Richard Landvatter was named the winner. His mural portrays a rainbow-hued man—a cross between Brigham Young and a bearded hipster, with facial hair resembling hops—clutching a pint of beer. The image will be featured on anniversary beer labels and T-shirts, and Landvatter's and the other artists' images add a hoppy splash of color to downtown.
147 W. 300 South, Salt Lake City, Squatters.com
BEST ATTEMPT TO TAKE ART BACK
Museum of Nobody
Ever since art could be debated, it has been, with questions such as, "What constitutes a piece of art?" and "Who gets to make art?" "Who gets to define it?" The point of the Museum of Nobody, a pop-up gallery created by an anonymous group referred to as the Bureau of Nobody, was to engage those questions by challenging the very foundation upon which the art world is built. For two nights, this temporary museum displayed heretofore unseen works under the guiding manifesto that, regardless of its providence, good art is good art, end of story.
MuseumOfNobody.com
BEST NSFW COMEDY TWITTER FEED
Jacob Leigh
Local comedian Jacob Leigh brings more than a little bit of an edge to his performances—and you can get a taste of that sensibility in his singularly demented Twitter contributions. No subject is particularly sacred, from bodily functions to ... well, other bodily functions. And there's even something that occasionally isn't gloriously gross, like his note on drowsy driving: "Driving and I closed my eyes for a few minutes, then woke up pulled over with a blanket on me, cops can be sweet."
Twitter.com/JakobLeigh
BEST EXPERIMENTAL FILM SERIES
Free Form Film Festival
In 2003, film professor and filmmaker Tyrone Davies started the Free Form Film Festival with several friends in San Francisco. Ten years later, in October 2013, Central Utah Arts Center celebrated the traveling festival's anniversary with a three-day extravaganza that included three programs of shorts and two nights of longer works. The weekend wrapped up with a documentary showcase by OHO Media and a 16mm presentation of James Benning's Deseret, an eccentric telling of the story of Utah. FFFF has been a sporadic but wonderful series over the years because it keeps "experimental" challenging yet fun—as Davies calls parts of it, "a media-history lesson hidden inside a deceptively humorous freak show."
FreeFormFilm.org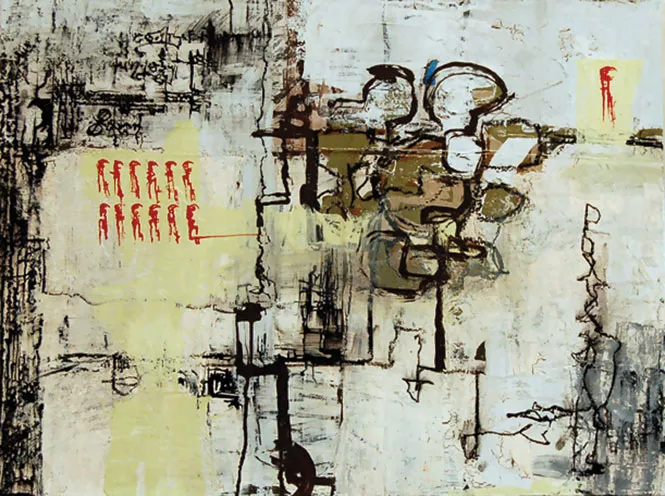 BEST ON-THE-RISE ABSTRACTIONIST
Alexander Hraefn Morris
It's always thrilling to meet a talented new artist, and Alexander Hraefn Morris' master's thesis work, shown at the Alvin Gittens Gallery this year, was truly exceptional. The abstract artist was clearly in tune with his process and the evolution of his art, which conveys a personal artistic language through bold lines and color fields. The show was a huge success, and Alderwood Fine Art now represents Morris, who has a show at Gallery at Library Square beginning Sept. 20. Oh, the places you'll go!
AlexanderHraefnMorris.com
BEST REGENCY SISTERS
Sense & Sensibility (Utah Shakespeare Festival)
Joseph Hanreddy and J.R. Sullivan's adaptation of Jane Austen's tale of two sisters and their markedly different journeys in search of love is a remarkably simple yet affecting rendition of a much-beloved text. While Eva Balestrieri's performance as Marianne Dashwood is a warm, flesh & blood portrait of a young woman blinded by her own passion, it's Cassandra Bissell's austere, precise sketching of Elinor that stays with you. Such is her restraint with the character that, by the time the play reaches its conclusion, the eruption of emotion she gives way to lingers in the mind as the perfect summation of the Austen heroine.
Bard.org
BEST RETROSPECTIVE FOR AN ODDBALL ARTISTIC HERO
Trent Harris, Echo Cave
The past year was a big one for local indie filmmaker Trent Harris. His 1996 book, Mondo Utah, inspired the Utah Museum of Contemporary Art's first Utah Biennial exhibition of Utah artists and those who've had an impact on the state (including a visit from Andy Warhol imitator Allen Midgette, who fooled a University of Utah audience in 1967). In January, UMOCA unveiled Echo Cave, a retrospective of Harris' work, including paintings, drawings, film stills and artifacts never seen before, including correspondence between him and avant-garde filmmaker Bruce Conner. The high point was a premier of his latest film, Luna Mesa, one of his most imaginative and poetic yet.UtahMOCA.org
BEST TIMELESS DESIGN
Katie Waltman Jewelry
Waltman has been hand-making jewelry in Salt Lake City for more than a decade, with her products featured in national magazines, but it wasn't until she opened her 9th & 9th boutique just a year ago that locals got a chance to ooh and ahh in person over her gorgeous framed-quartz pendants, glistening gold bracelets and delicate earrings. Affordable but high-quality, her pieces possess a timeless, eye-catching beauty. Long after trendy baubles—remember chokers, bubble necklaces and feather earrings?—make their way to kids' dress-up boxes, Katie Waltman creations will have permanent homes on wrists and in jewelry boxes.
962 E. 900 South, Salt Lake City, 385-227-8977, KatieWaltman.com
BEST DOOMED ROMANCE
Emilie Eileen Starr & JayC Stoddard, Grace (Utah Repertory Theatre)
Real love isn't an easy sell for actors; it's even harder when you're trying to convey that love as something akin to a religious experience. In Utah Repertory Theatre's production of Craig Wright's Grace, Emilie Eileen Starr plays a married Christian woman who drifts away from her unstable husband and falls for her physically and emotionally wounded neighbor (JayC Stoddard). The scene in which their connection becomes evident was an electrifying theatrical moment, the emotions so raw it was almost uncomfortable peering in on something that's so pure—yet, as we know from the play's outset, can never have a happy ending.
UtahRep.org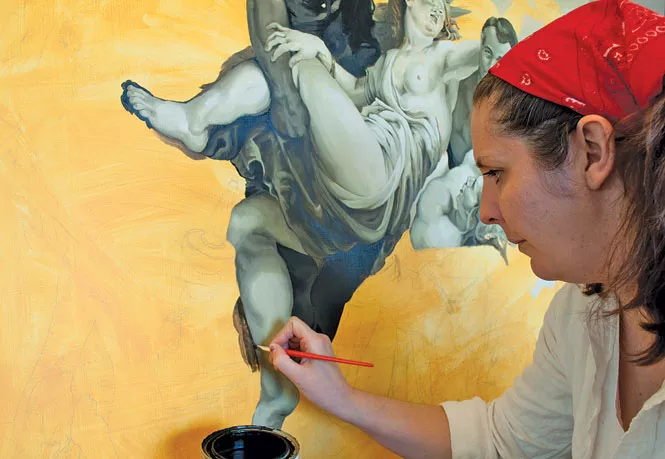 BEST PROVOCATIVE THEME
Heroes, Gods & Monsters (Studio Elevn)
Anne Cummings, former co-owner of Aperture Gallery, was thinking outside the box when she organized one of the largest group exhibits of the year at alternative art space Studio Elevn. Rather than overtly deal with themes of "social justice, critical thinking, activism and advocacy," she says, she sought works that use characters and subjects that've made epic impacts. In the end, the exhibition contained overwhelmingly powerful works, like Phillip Lambert's depiction of A-bomb creator J. Robert Oppenheimer, the frame tinged with blood-like tints, and Zeke Higham's oil painting "Saint Michael Slaying a Riot Cop." Benefiting Equality Utah, the show reminded us that some of the real local heroes are artists themselves.
StudioElevn.com
BEST TOUR OF SPACE & TIME
The Pavilion (Silver Summit Theatre Company)
Craig Wright's script starts in the moments just preceding the Big Bang. The stage is dark as narrators Brian Pilling and Julie Mylan Simonich guide the audience from the beginning of time through the formation of stars, galaxies and planets, past primordial sludge and the dawn of civilization, before coming to a screeching halt at a 20-year high school reunion. As trite as midlife crises at a high school reunion might sound, Silver Summit Theatre Company's production pulled the mundane into the grandeur of the universe, showing how one evening may be more monumental to a man's life than all the combined time and space beyond his reach.
SilverSummitTheatre.org
BEST "INSPIRED" PERFORMANCE
Ashley Horrocks, Agnes of God
Based on a true story, John Pielmeier's Agnes of God deals with the weighty subject matter of a novice nun who—having hidden her pregnancy—faces trial for asphyxiating her newborn child. In scenes depicting the character undergoing pre-trial psychological evaluation, Ashley Horrocks played Sister Agnes with an air of vulnerable naïveté that contrasted starkly with the allegations she faced. That, paired with the sweet cadence of her singing voice, meant that audiences didn't have to work to understand how Mother Superior might believe the girl to have been touched by God—and somehow, miraculously, innocent.
WestminsterCollege.edu/Theatre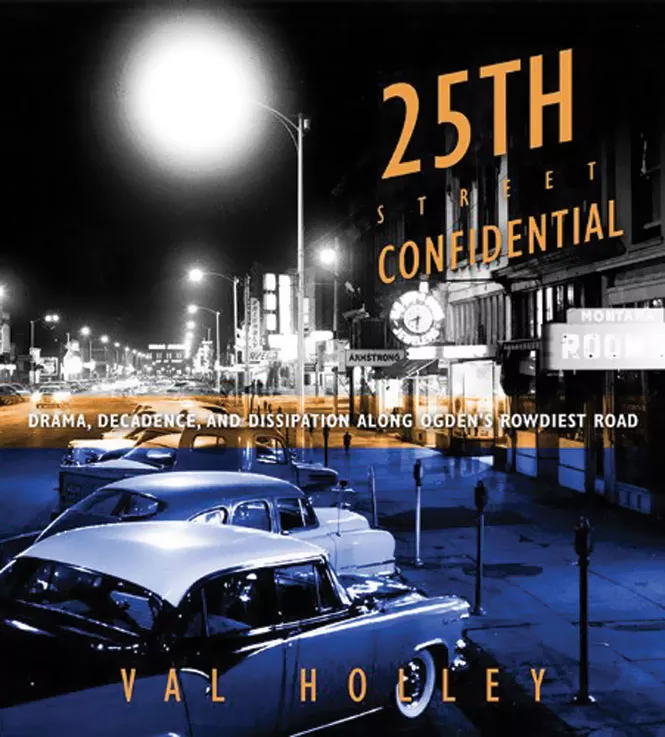 BEST WILD WEST HISTORY
Val Holley, 25th Street Confidential
The mythology of the Wild West may look like Utah's Monument Valley in classic Hollywood movies, but it may have been even wilder in one of Utah's cities. Weber County native Val Holley traced the fascinating history of Ogden from its days as a stopover on the transcontinental railroad through a boom period that gave the city a distinctive touch of decadence in 19th-century Mormon-settled Utah. It's a fascinating collection of anecdotes about clashes over permitting vice-based businesses, and one town's evolution into a microcosm of battles between religious and secular sensibilities.
BEST MODERN JANE
Melissa Leilani Larson, Pride & Prejudice
Even if you haven't read Pride & Prejudice, you've probably been exposed to one of the BBC/YouTube/Mormon/Bollywood adaptations. But what's innovative about Melissa Leilani Larson's script is that she uses the stage to make Jane Austen's masterpiece feel fresh without resorting to gimmickry. BYU's spring production opened on the Bennets posing as if for a family portrait and closed with Elizabeth and Darcy posing for a similar one. In between, Larson's script employed several theatrical devices to develop relationships, pulled the cleverest bits out of the text, and followed each of the Bennet sisters' journeys without stretching the play tothe length of a miniseries.
MelissaLeilaniLarson.com
BEST COMEDIC ENSEMBLE
SLC Comedy Carnivale
Several attempts have been made to launch a proper comedy festival in Salt Lake City, with mixed themes and mixed results. The Comedy Carnivale became a success by focusing on a single area: stand-up comedy. Christopher Stephenson curated a blend of local favorites and national acts—a combined 40 stand-up performances across three days. With a second festival on the way this September, it looks like a solid Salt Lake comedy fest is finally here to stay.
SLCComedyCarnivale.Wordpress.com

BEST ONSTAGE HEARTBREAK
The Last Five Years (Salt Lake Shakespeare)
The plot sounds simple: Aspiring actress Cathy and wunderkind writer Jamie alternate songs, giving their separate perspectives of their tumultuous five-year relationship. But the musical's unusual structure—Cathy starts at the end of the relationship and Jamie begins at the end of their first date—gives it complexity and pathos. With only two roles in the production, the success rests on the leads, and Salt Lake Shakespeare's pair nail it. Alternating nights, twins Austin John Smith and Taylor Smith gave Jamie the necessary humor and cockiness, while Sara Kae Childs and Tia Galanis shone as the wry, wounded Cathy. In just 80 minutes and 14 songs—some humorous, some heartbreaking—the intimate performance in the Babcock Theatre let audience members feel as though they'd been there for every minute of a very real couple's beautiful, painful relationship.
Theatre.utah.edu/productions/salt-lake-shakespeare/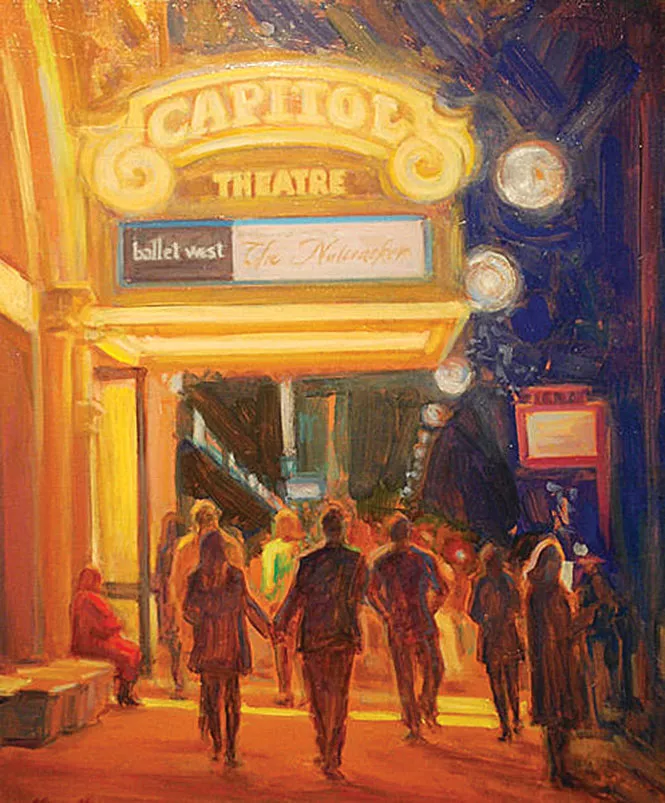 BEST IMPRESSIONIST PAINTINGS OF SALT LAKE CITY
Karen Horne, Night & Day
Artistic heritage runs in her family, but Karen Horne (great-granddaughter of Alice Merrill Horne) is a seasoned artist in her own right. Her art gallery, Horne Fine Art, features not only her own work, but also showcases innumerable community artists. With
Night & Day
, a blockbuster art event of the summer, Horne occupied the entire Gallery at Library Square with impressionist images of Salt Lake City events and landmarks. Horne's signature style of color and movement translated familiar city settings into uncanny scenes, frozen in atmospheric and spirited depictions of the present.
HorneFineArt.com
BEST GAME DESIGN
Tripleslash, Magnetic by Nature
Formed in 2012 by a collective of University of Utah students—artists, animators, musicians, writers and programmers—looking to turn their passions into their careers, SLC gaming company Tripleslash received national exposure when its first game, Magnetic by Nature, caught the eye of fellow independent companies at E3 and became one of the first games funded completely by crowdsourcing to hit the convention floor. Now, with the game set for release this fall and the company already working on its next title, Tripleslash is helping prove that Utah is a vibrant place for independent game companies.
TeamTripleslash.com
BEST VARIETY SHOWCASE
12 Minutes Max
Once a month, the Salt Lake City Library opens up its auditorium to an array of musicians, dancers, actors, poets, filmmakers and others for a free public performance. Borrowing from a successful series in Portland, Ore., 12 Minutes Max gives performers an opportunity to reach an audience with their best new work, crunched down into 720 seconds. Think of it as performance art for people with short attention spans.
SLCPL.org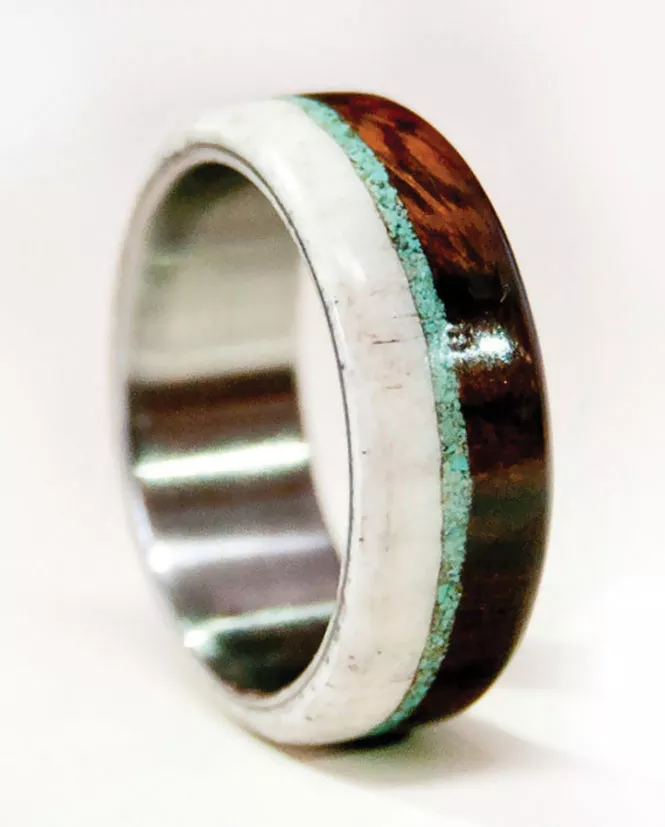 BEST WILD FINERY
Staghead Designs
Utahns are fortunate to live surrounded by an exceptionally beautiful landscape, and thanks to Brad Eaves of Staghead Designs, we can carry a bit of that beauty around with us. Based in Marriott-Slaterville, Eaves creates wedding and engagement rings for men and women, usually made with a combination of copper, naturally shed deer antler, turquoise or wood—either recycled local wood or ethically collected exotic hardwood—and durable titanium. With their harmonious bands of varying natural hues, polished to a glowing finish, the rings are stunningly beautiful in their simplicity. If you want to step even further off the beaten path of run-of-the-mill wedding rings, Eaves accepts custom orders for both rings and engravings, and all rings come in a clever box made from a chunk of a log.
StagheadDesigns.com
BEST RESPONSE TO AN OUTRAGED PATRON
Chris Lino (Pioneer Theatre Company)
In Utah, perhaps it shouldn't be shocking when a theater patron writes an angry letter because a play includes gay subject matter. But when one such audience member complained that Pioneer Theatre Company did not warn in advance that there was a gay kiss in Ira Levin's Deathtrap—thereby subjecting her teenage son to the spectacle—managing director Chris Lino responded publicly and gracefully on Facebook. While noting that such a revelation might have been considered a spoiler in the murder mystery, he also asked the aggrieved viewer, "You object to the kissing, but not to the fact that [the characters are] murderers?" It's good to have one's moral priorities straight.
PioneerTheatre.org
BEST ARTISTIC COLLECTIVE
Poor Yorick Studios' Open Studio
Poor Yorick Studios, a massive facility managed by artist Brad Slaugh, is a haven for independent artists of various disciplines and genres, where they can to create works in private studios throughout the year. But the real highlight of Poor Yorick is its biannual Open Studio event in March and September, a night that gives patrons a chance to engage with art and local creators, enjoy live music and entertainment, and take home a one-of-a-kind creation from a local artist. It's an artistic tour you need to take at least once.
PoorYorickStudios.com
BEST SHAKESPEARE VILLAIN
David Pichette, Twelfth Night (Utah Shakespeare Festival)
Many elements of David Iver's production of Twelfth Night at this year's Shakespeare festival stood out, like the three-piece band that beautifully executed pieces for Aaron Galligan-Stierle to sing with his soulful, moving tenor as the Clown; and Melinda Pfundstein's passionate, lustful Olivia. But it was David Pichette's grasping, lecherous Malvolio who stole the show. Pichette brought both acid and preening wit to his portrayal of the sorely abused admirer of his mistress, Olivia. Yet he found sufficient humanity in Malvolio's overweening ambition that by the end of his comeuppance, it's hard not to feel a twinge of sympathy for the character's plight.
Bard.org
BEST UTAH COUNTY CRAFT SHOWCASE
Bijou Market
Bijou Market has had a major influence on the craft scene in Utah County, hosting biannual markets in downtown Provo for artists to share their work and encouraging people to purchase locally made goods. Each event showcases 60 carefully chosen artists, who often sell out their stock over the two days of the market. It's only a matter of time before Bijou Market grows into its own annual festival.
BijouMarket.com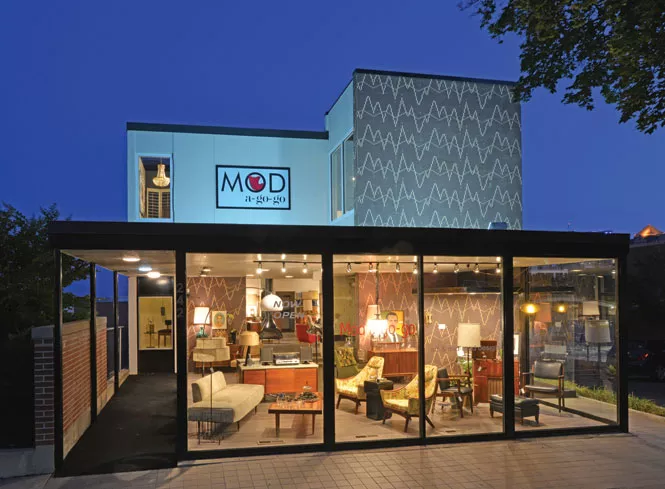 BEST NEW GALLERY
Mod a-go-go
Every month, Mod a-go-go owners Marcus Gibby and Eric Morley work with dozens of creative minds to create new exhibitions for the walls of their retro boutique/gallery, which sells furniture from the '50s and '60s. Mod a-go-go also hosts massive group exhibitions during Gallery Stroll, giving art lovers a sleek, stylish place to casually chill and get to know their local creators.
242 E. South Temple, Salt Lake City, 801-355-3334, ModAGoGo.com
BEST VENUE ARTIST
Daniel Overstreet
When you walk into the makeshift concert hall that is The Shred Shed, your eyes are immediately drawn to the woman in red on the east wall, flanked by the phrase "The Real Revolution Starts Within." The design is the work of Daniel Overstreet, whose colorful murals—found in alleys, venues and businesses—have become a vital part of Salt Lake City's downtown landscape.
Twitter.com/DaOverstreet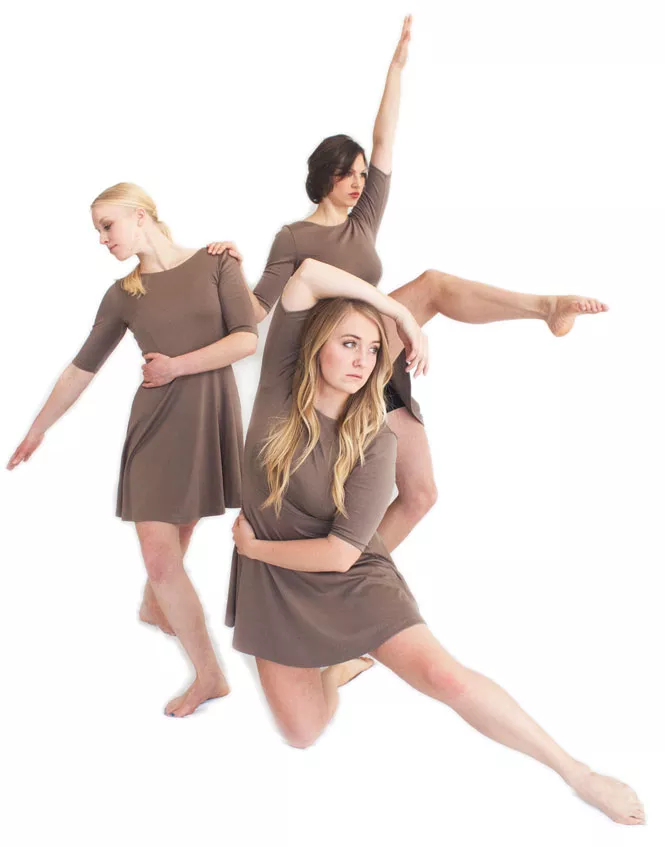 BEST INDIE DANCE LAUNCHING PAD
Wasatch Contemporary Dance Company
A Utah County stalwart for the past four years, Wasatch Contemporary Dance Company strives to give college grads a chance to perform in an independent dance environment. The performances are scheduled sporadically, but the company gives dancers a chance to see how an organization is run—from concept and planning all the way to final production. When these performers head off for bigger stages and brighter lights, they have a unique perspective on the business of creating art.
WasatchContemporary.com
BEST EXISTENTIAL HOUSES
Justin Wheatley
It was a year of hard work and rapid development for popular painter Justin Wheatley. His houses got bigger and more solid; his scenes of the city got larger, grander, starker and bleak. His canvases gave a sense of barrenness, with tiny houses or hills under massive skies. And Wheatley's subjects took off in rapid, exciting new directions, questioning reality with an existentialism that comes in as many shapes and sizes as his painted structures.
JustinWheatley.com
BEST PROFILE OF A UTAH SPORTS LEGEND YOU'VE NEVER HEARD OF
Billy McGill & Eric Brach, Billy "The Hill" & the Jump Hook
When Billy "The Hill" McGill was a senior at the University of Utah in 1962, he led the Utes to the Final Four while averaging an unbelievable 38.8 points per game, using an unblockable shot he invented called the "jump hook." McGill's autobiography describes both the adulation and discrimination he faced upon arriving in Salt Lake City in 1959 as the first African American player in U history. The story gets even more intriguing after he was the No. 1 overall pick in the 1962 NBA draft but never found his place in the pros and wound up homeless at 30. His story of battling back from that low point makes for an engaging read.
NebraskaPress.unl.edu
BEST COPPER COMMUNICATIONS
Elevate Jewelry
When you wear a handmade piece from Elevate Jewelry, you're not only making a bold fashion statement—you're also "tapping into the universe's mainframe system," according to creator Prescott McCarthy, thanks to the energy-conducting properties of copper, his favorite material. Whether a simple bracelet or a necklace featuring a pendant cut into the shape of a chevron, triangle, feather or state outline, these geometric pieces are plain but striking. The process by which McCarthy heats, cuts and cools the copper brings out the metal's subtle patina, and letters punched into the copper spell out mind-expanding entreaties such as "rise above" and "elevate," or self-descriptors like "warrior" or "dreamer"—or even your own custom-ordered message.
Elevate-Jewelry.com
BEST COMEDIC PODCAST
Consider Our Knowledge
Even the most dedicated NPR listeners need a little relief from serious news from time to time. Thank goodness, then, for Consider Our Knowledge, a weekly satirical podcast written and produced by local actors and writers with a passion for public radio. The show pokes fond fun at every aspect of NPR news reports, down to the sponsorships and reporter names. We can't wait to hear the new spin-off podcast: Political Yelling With Christian Goodchurch.
ConsiderOurKnowledge.com
BEST NEW FILM FESTIVAL
FilmQuest
One of the highlights of the recent inaugural FantasyCon event in July was the addition of the FilmQuest Film Festival, which kicked off three days before the convention and showcased smaller independent films—many by local filmmakers—revolving around sci-fi and fantasy. The films were shown at the Megaplex Gateway throughout the convention, and drew packed crowds. Though local movie buffs might be used to the vibe of the Sundance Film Festival, it doesn't have to be 20 degrees to hold a successful film festival in Utah.
FilmQuestFestival.com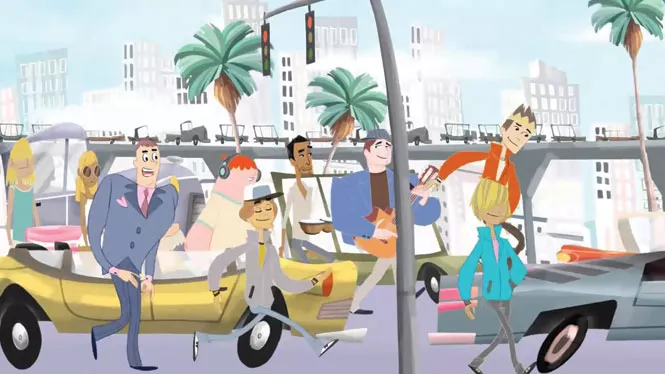 BEST ANIMATION STUDIO
Too Many Legs
The Aquabats Super Show, a cartoon series starring the popular ska group, has been in production since 2012. And the company behind the show is none other that the independent Salt Lake City studio Too Many Legs. Founded in 2010, Too Many Legs produces affordable animated shorts and commercials and brings awesome cartoons and sketches to the masses.
TMLAnimation.com
BEST JAZZY JAMS
SLC Jazz Festival
Jazz music fans are a passionate tribe, and they know how to support the opportunities for them to gather and celebrate that passion. The SLC Jazz Festival continues to provide a showcase not just for local artists like the Salt Lake City Jazz Orchestra and Wasatch Jazz Project, but national headliners like Sheila E and Ellis Hall. While the umbrella term for jazz can mean everything from Latin funk to big-band standards, the Jazz Festival gives audiences a way to sample a little bit of everything.
SLCJazzFestival.org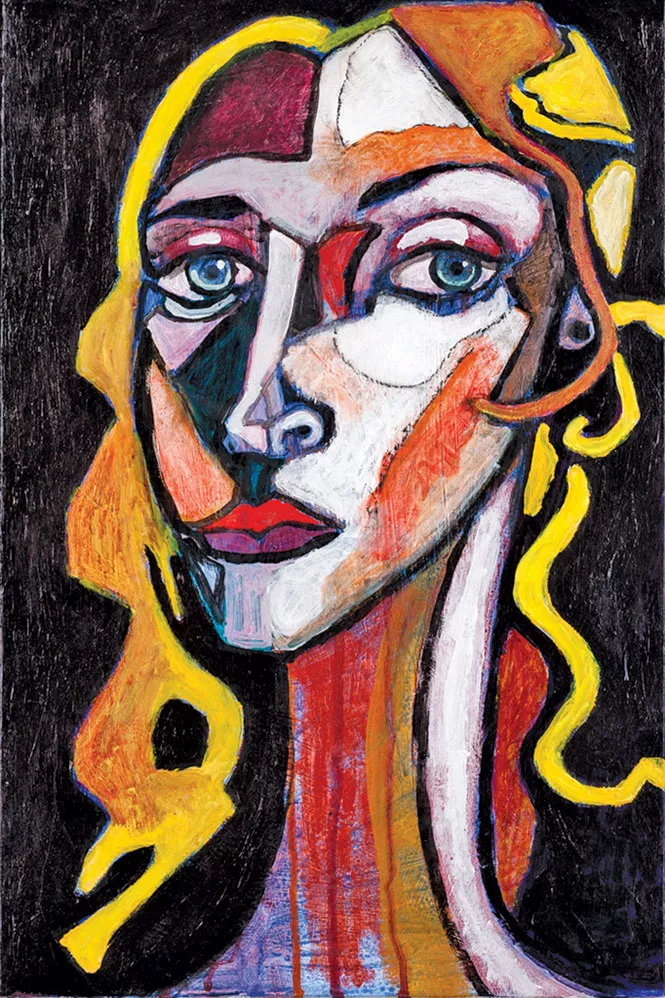 BEST "WEIRD" PORTRAITURE
Jeffrey Hale
His spring show at Finch Lane was a watershed moment for portrait artist Jeffrey Hale. He filled the gallery space with new paintings, then cut half of them. The atmosphere in Hale's side of Finch Lane was part frenzied and part subdued. People entered with curiosity and exited, asking, "Which is your favorite?" With this show, Hale proved his stamina and, above all, that he's a wellspring of creative, artistic genius.