Assimilate: Area 51 Goes Dark(er)
CW Club Matters homework assignment: watch any South Park episode with "The Goth Kids," study their dance and bust it out on Friday nights at Area 51 (451 S. 400 West). The end of the workweek now finds "Assimilate" at that venue—a dance night for "Industrial. Goth. Dark '80s" and people making some bad decisions involving eye shadow application via paint rollers.
Martini Hour: Kristauf's
Fourth Street Music's—and 2010 CWMA DJ of the year—Chase 1 2 has a new night spinning at Kristauf's Martini Bar (16 W. Market Street) on Thursdays. Kristauf's has some of the best martinis in town, and they pair perfectly with the selections that one of the best DJs in town provides.
Murphy's: A Step Down
Murphy's on Main Street (160 S. Main) is a self-proclaimed "Step Down In Social Clubs." That slogan has everything to do with the steps down the entrance to the bar and nothing to do with the clientele, however. Any night of the week will find classy people wandering the vibrant Main Street stretch between North Temple and 500 South, inevitably winding up at this bar. The food comes highly recommended—check out fare like fish & chips and Irish stew—and so does their Grapefruit Kamikaze–a "step up" in the kamikaze drink genre.
Try at Home: Murphy's-style Grapefruit Kamikaze
1 oz Grapefruit Vodka
Splash Triple Sec
Splash of cranberry juice
Splash of soda
Fresh lime juice
Shake with ice and garnish with fresh lime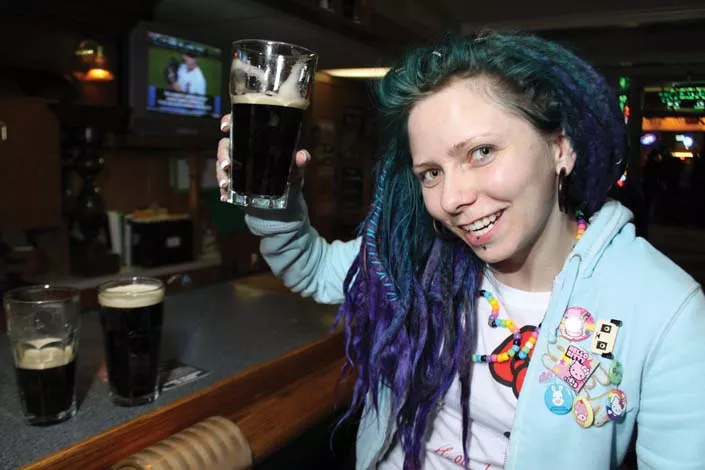 Murphy's Hotshots:
1. Kat Weeks
2. Murphy's Ryan Hayes with Grapefruit Kamikaze
3. Austin Prito, Wit LaRouge