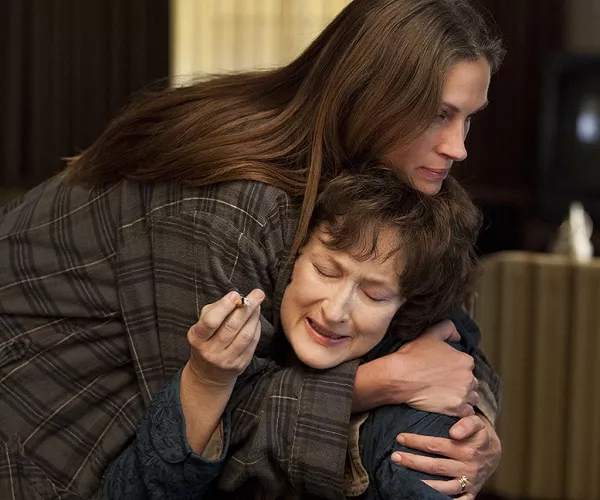 In all fairness, you should probably just ignore me when it comes to August: Osage County, since Tracy Letts' adaptation of his own Pulitzer Prize-winning play falls squarely in a category of drama that almost never works for me: theater of familial recriminations.

The family in question here is the Weston clan of titular Osage County, Okla., facing the sudden disappearance of patriarch Bev (Sam Shepherd). Reunited to help their pill-addicted/cancer-stricken mom Violet (Meryl Streep) deal with the situation are her three daughters: Barbara (Julia Roberts), coping with estrangement from her own husband (Ewan McGregor); Ivy (Julianne Nicholson), who's hiding her new romantic relationship; and Karen (Juliette Lewis), the free-spirited black sheep who brings her fiance (Dermot Mulroney) to the gathering.

There's plenty of solid dark humor strewn throughout Letts' text—directed by TV veteran John Wells—that gets at the needling interaction between family members, like the mockery of Barbara's teenage daughter, Jean (Abigail Breslin), for being a vegetarian.
Many of the supporting performances—Nicholson; Margo Martindale as Violet's sister, Mattie Fae; Chris Cooper as Mattie Fae's long-suffering husband—are effectively restrained, capturing the deep sadness of people who have lived in the shadow of bitter, unhappy loved ones.

But then, eventually, it's going to be time for everyone to start screaming and explaining in detail all the horrible things that were done to them over the years, or rationalizing the horrible things they did to others. And that gives Streep and Roberts in particular an excuse to capital-A Act to the balcony seats, hurling tableware and insults with equal ferocity and a virtual guarantee that their "Most Acting" will somehow be misinterpreted as "Best Acting." If there's a way for such furiously over-the-top histrionics to be entertaining, rather than aggravating, I'm not sure I've yet to discover it.

AUGUST: OSAGE COUNTY


Meryl Streep, Julia Roberts, Julianne Nicholson
Rated R

Twitter: @ScottRenshaw