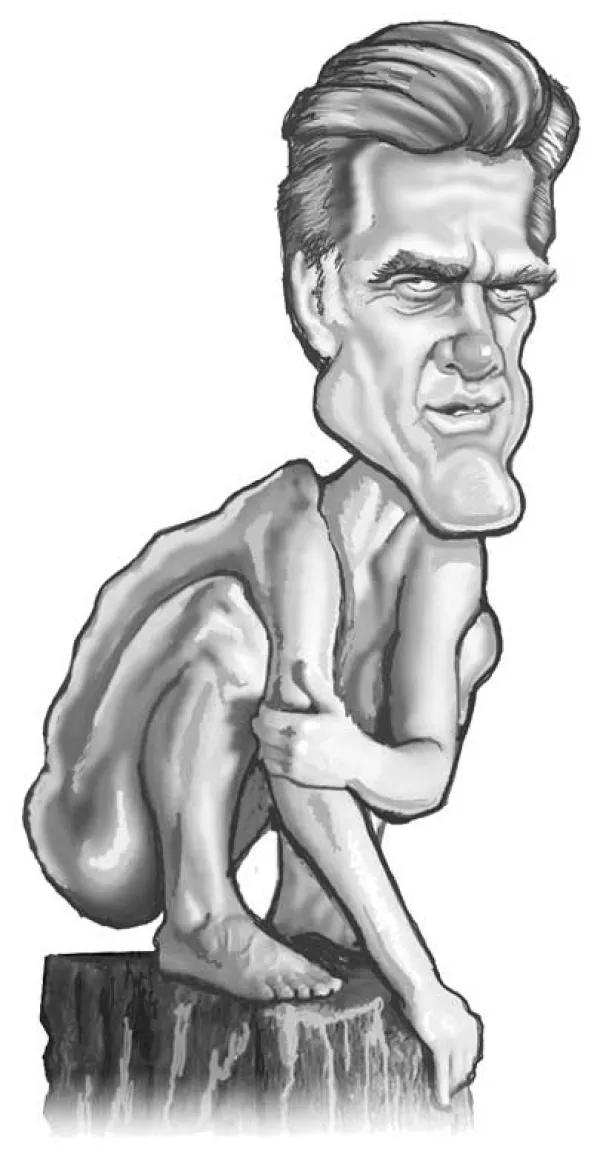 I've kept my close friend Mit Romney's biggest secret for a very long time, but now that he's come clean about his unusual boyhood, I feel free to provide some details about the many years he spent alone in the woods.
As everyone knows by now, Mit was inspired to go public with his long-held secret after the story about the German "forest boy" was revealed to be a hoax. (Speaking staccato English, the forest boy told Berlin authorities he had lived in the woods for years with his dad, whom he had to bury under a shady tree a couple of days earlier. Turns out the amnesiac forest boy was a 20-year-old native of the Netherlands named Robin Van Helsum, who was fingered by a disgruntled former girlfriend.)
In an emotional (at least for Mit) press conference, my former missionary companion told a startled audience that the story about the bogus forest boy caused memories of his own days in the woods to come flooding back.
"I hope that by coming forward, other forest boys who have lived under a cloud of shame will be able to tell their stories without being mocked by the nonforest population," said Mit in his staccato English. "In addition, it is my fervent wish that by coming forward with my improbable tale of growing up alone and naked in the forests of Michigan's Upper Peninsula, nonforest people might have a better understanding of why I am such a strange and unlikeable human being."
My heart goes out to the man I called "Elder Romney" for two years—the best two years of my life—when we labored together in the Paris, France, Mission for The Church of Jesus Christ of Latter-day Saints. I remember that I knew almost immediately that there was something different about the awkward and prickly boy from Michigan. Not only did he lack basic skills in human interaction, he stripped down to his birthday suit at every opportunity.
As long as Elder Romney could work from the scripted dialogues in the church's Uniform System for Teaching Investigators, he was pretty much recognizable as a member of homo sapiens. But in any situation requiring spontaneity, Elder Romney was at a loss. He made such situations more awkward by cringe-inducing attempts at humor, always accompanied by his metallic laugh.
This is something that has lasted a lifetime. It is now common on the campaign trail: He pretends to be goosed by a grandma during a photo shoot or pretends to gag on homemade cookies. Just recently, he yuk-yukked about chocolate doughnuts at a meet & greet with common folks at a neighborhood cafe, saying, "Can you see that one of those, um, uh, chocolate goodies finds its way to our ride?"
A lot of commentators assumed it was just another signature Romney cringer, yet another example of an oblivious patrician trying to show he was just a regular guy. I know better. Mit really doesn't know the word for "doughnut." On our mission, I thought at first he was just kidding when he would call a baguette a "crusty oblong edible substance." But soon I realized that Elder Romney didn't possess a conventional English vocabulary, the giveaway being a Saturday picnic with investigators in the Tuileries when he called Jell-O, famously a Mormon staple, "that yummy wiggly- jiggly stuff."
Mit's difficulty with English comes from his days as a forest boy, where he only spoke the original human tongue, which linguists generally agree was Reformed Egyptian, the language of the Nephites in the Book of Mormon. People made fun of Mit for referring to squirrels, rats and rabbits as "varmints," but that's the correct general term for those small mammals, as we learn in the Book of Helaman, Chapter 2, Verse 13.
It is often remarked that you can take the forest boy out of the forest, but you can't take the forest out of the forest boy. This explains Mit's baffling comment about how the trees are "just the right height" in Michigan. As a young forest boy in the Upper Peninsula, it was a matter of survival for Mit—"putz" in Reformed Egyptian—to find trees of just the right height to seek shelter under.
Now that he has come out of the closet as the original Forest Boy, Mit tells me he wishes he could take the final step and campaign in his birthday suit. "I'd feel a heap more comfortable, and folks would finally see the real me."
D.P. Sorensen writes a satire column for City Weekly.