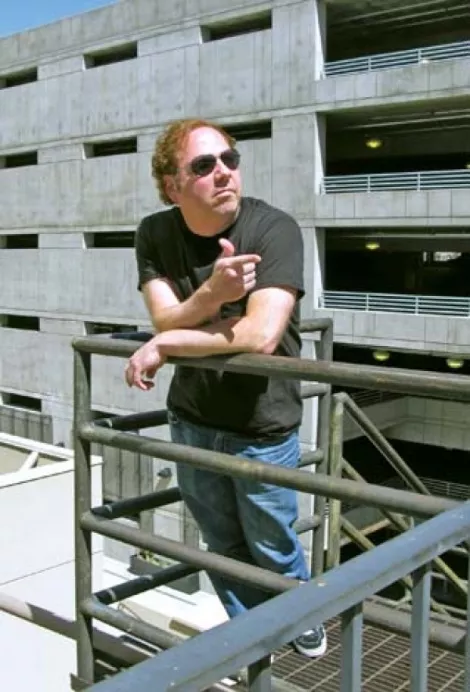 I began writing freelance music articles for the
Private Eye
in December of 1996; prior to that, my only professional "journalism" experience was with
SLUG
and a now-defunct X96 publication called
Grid
. Actually, since they never paid me,
SLUG
wouldn't count as "professional." In June 1997, I found out
The Private Eye
had been renamed
City Weekly
when I picked it up at a bar—no one consulted me, and I still think it's a lame idea.
Bar & Ho Weekly
would have been far more to the point.
Later that year, I learned that the copy editor position was going to become open, so—for the first of many, many times to come—I lied to Chris Smart and Ben Fulton and said, "Yeah, I can totally do that." I started full-time on Pioneer Day 1997. By late Pioneer Day 1997, Ben already could not stand me. Sometime around August, I think I spotted John Saltas in the office—the actual office, not Port O' Call, his "other" office.
In the old 400 South City Weekly HQ, the editorial room consisted of myself and Ben; Chris was down the hall in his own spacious 8x8 office. He might as well have been right next to us, though—the luxurious linoleum floors and bare walls carried every "Fuck!" he uttered (like, every other word) with pristine sound quality. Eventually, more reporters and editors were squeezed into the edit room, few of whom shared my appreciation for Clutch. This remains the case today, and I still refuse to wear headphones.
Chris threatened to go back to work for The Salt Lake Tribune once, then returned and said, "OK, I'm back, fuckers!" We shrugged and replied, "Uh, cool." Later, Chris did go back to the Trib and City Weekly hired some genius writer from out of state to replace him as editor. To this day, no one knows what he actually did besides go on vacation, clean his fedora and refuse to write anything, genius or otherwise. Ben was doing all of his work, anyway, so he stepped into the editor position when City Weekly finally sent The Genius on a permanent vacation.
I became "associate editor," which meant I kept track of the comic strips.
Sometime during all of this, I started a TV column—first called Tube Town, which eventually became True TV. It was syndicated for a time to the Las Vegas Weekly and a couple of other alt-weeklies but, being the visionaries the burnout hippies who run most alt-weeklies are, they all decided that no one watches TV and eventually dropped me. Everyone just goes to avant-theater productions about female circumcision every night of the week; I get it.
City Weekly moved to Main Street in 2004 after the 400 South office crumbled into a pile of linoleum and Crown Royal bottles. Ben eventually left, I assumed to lock himself in a basement far from human contact and write articles for The Economist. Not so much: He went on to to edit some local supermarket circular, and later became a Tribune reporter. Which is like Roger Federer shagging tennis balls at Liberty Park during kiddie practice, but whatever.
Sometime during all of this, Jim Rizzi became our publisher. I hope to meet him someday.
During my entire time at City Weekly, no publication has ever "head-hunted" me; unlike most everyone I've ever worked with in editorial, I've never been offered a job. Ever. They probably believe they can't afford me, or that my insatiable appetite for Asian hookers and illegally trafficked cheeseburgers would eventually lead to legal problems. Likewise, City Weekly passed me over for the Fulton-vacated editor position and handed it to ex-Salt Lake Tribune (again with the damned Tribune) columnist Holly Mullen. Since, unlike The Genius, she actually showed up once in a while and contributed some writing, she was cool with me.
Sometime during all of this, I became the "Digital Media Editor," which means I check in on our Website once in a while and chat with Asian hookers on Facebook all day. And still keep track of the comic strips.
Holly left after a year, which means the City Weekly editor position has about the same turnover rate as Applebee's manager (minus the perks). Thank god they passed me over again and hired Jerre Wroble, whom I also look forward to meeting someday.
Oh, I've also won a few Utah Society of Professional Journalists awards over the years. I place those on my résumé right below "Asian hooker aficionado."