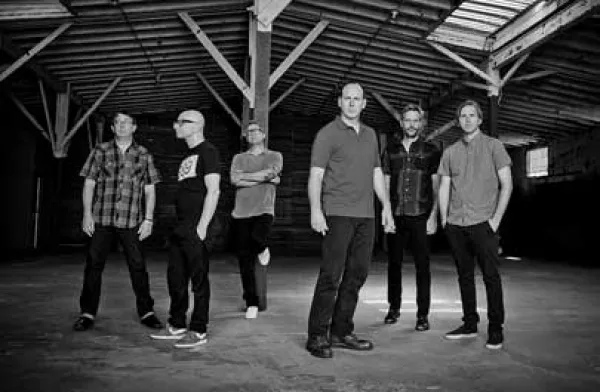 Brian Baker has played guitar in bands for 34 years—19 of those in Bad Religion. He was a founding member of esteemed punk bands Minor Threat, Dag Nasty, Government Issue and the notorious Meatmen after they relocated from Michigan. Baker reflects on these bands in Salad Days, an upcoming documentary about the Washington, D.C., punk scene—named, incidentally, for Minor Threat's posthumous 1985 EP. But there are a few stops along his career path that may surprise you.
Like Junkyard, an unsung—and pretty kickass—sleaze-rock outfit from the '80s that dwelled alongside Guns N' Roses, Mötley Crüe and Ratt on the Sunset Strip. It's not the kind of résumé item you'd expect from an ostensibly dyed-in-the-wool punk rocker. After all, the D.C. punk scene spawned some very serious bands with very serious political ideologies. And then there's Bad Religion, which Baker joined in 1994 when guitarist Brett Gurewitz left. Their music is famously heady and thought-provoking. Junkyard had songs about Hollywood, livin' on the streets and "Blooze."
"As a matter of fact, I'm still in Junkyard," Baker says. He even played with the band at the famed Whisky A Go-Go while Bad Religion was recording its current album, True North (Epitaph). "Whenever I'm out there for a while, if there's a way to get together, we will," he continues.
The connection "can all be explained by the Meatmen," Baker says. "Listen to War of the Superbikes." It's true; the Meatmen are a punk band with heavy-metal leanings, and Superbikes is full-on motorcycle metal— both lusty and pelvic-thrusty. "There's your Junkyard; it's right there."
Baker furthers that his musical epiphany was being mesmerized at age 7 by high school stoners playing "Smoke on the Water" over and over. Plus, there were the Beatles and AC/DC and "Let's not forget Van Halen I." Bottom-lining it, Baker says, "Being in a punk band and being a punk rocker are two different things. I'm still in a punk band, but I'm not a punk rocker. I'm 48. I never was worried about carrying the flag for personal politics. I listen to punk rock, but I listen to AC/DC, too."
So, too, did a lot of Baker's peers in the D.C. scene. "Everyone had an open mind about that stuff," he says. "We'd be on tour, cruising down the road listening to Ted Nugent. This was long before we learned he had very specific ideas about how the country should be run," he says, laughing. "Those were the happy, halcyon days when all he was talking about was a free-for-all. But I'm sure a lot of people don't understand that [Bad Religion vocalist] Greg Graffin is totally influenced by Yes and fuckin' prog rock. It was a huge thing for him. It still is. And I don't think of that as particularly punk. But whatever gets you to the end result, that's what you get. Maybe if anything speaks to the idea of punk, it's that punk is a place where different ideas are encouraged."
So that's why Baker—along with Minor Threat and Meatmen guitarist Lyle Preslar—was also a founding member of Samhain with Glenn Danzig. Alas, "I never got to play with them," Baker says. "I got fired." It also explains why Baker was offered a gig as R.E.M's touring guitarist in the mid-1990s. "I was totally flattered. I would have loved to play with them; they're one of the most important rock bands of the 20th century. But Bad Religion was a better fit."
Bad Religion is also Baker's longest gig. And the most satisfying "by far." Reflecting on having spent 19 years with the band, he says he "didn't think it would last 19 months." But it's as encouraging an environment as D.C. was back in the day. They're all best friends. Their families are friends. "It's more than a band; it's like our own little society. I'd say it's a lifestyle, but that would imply a 'deathstyle.' It transcends the idea of a band. I feel really lucky every day. Especially since they didn't kick me out when Brett came back."
BAD RELIGION
w/The Bronx, Polar Bear Club
In the Venue
219 S. 600 West
Thursday, April 11, 7:30 p.m.
$25 in advance, $30 day of show