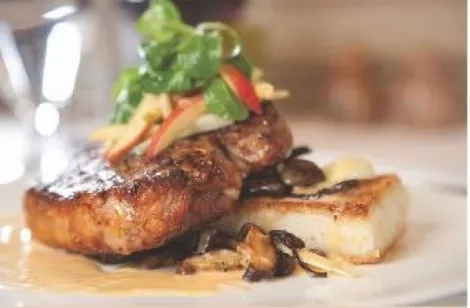 An all-new menu at Bambara completes the transition from former chef Dave Jones to current executive chef Nathan Powers, who has boldly stamped his culinary signature on the new Bambara dishes. Gone are most of the Asian and Southwestern influences that Jones relished, replaced, for the most part, by simpler preparations with fewer ingredients.
Powers speaks of being a child playing around with paints: By mixing a color or two, a new hue emerged. But mix too many colors together and the result was "mud." The point is to let quality, flavorful ingredients speak for themselves and not muddy things up too much in the kitchen.

So, Hawaiian tuna tartare is all about the sushi-grade tuna, which is simply enhanced with tangerine zest, fresh basil, creme fraíche and a sprinkling of pine nuts. I've eaten lots of mussels but never enjoyed any more than Power's roasted PEI mussels: tender, juicy, delicate mussels roasted with thin-sliced ginger, garlic and cilantro, served in their own "liquor," with a drizzle of ancho-chile creme fraíche and grilled ciabatta slices.

Powers' favorite dish on the new Bambara menu is mine as well: simple, classic steak frites, with the steak available as either a 10-ounce Angus flatiron or 12-ounce dry-aged New York cut. Both come with peppercorn jus and a timeless Béarnaise. The frites are delicious: thin cut fries imbued with an herbal essence. In the very last stage of frying, Powers tosses a handful of fresh rosemary and sage into the cooking oil. The result is marvelous.

Seared Virginia wild striped bass and a maple-brined pork Porterhouse chop were also notable highlights. The Bambara menu has gotten a fresh new makeover; look for the restaurant itself to get a face-lift late this summer.
BAMBARA
202 S. Main
801-363-5454
Bambara-SLC.com