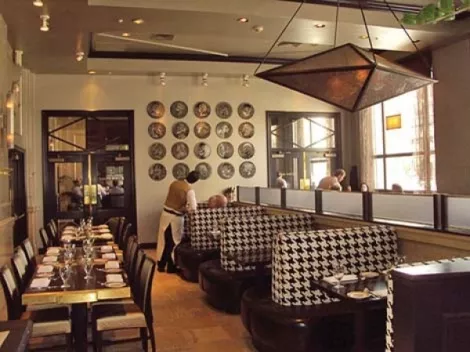 Spring is here, and many of us have chucked (or at least stored away) the winter garb for bright spring duds.
Bambara
restaurant is no exception. In conjunction with its 10th anniversary celebration, Bambara has a whole new look and some new menu items to go with its all-new 'do.
Manager Art Cazares and chef Nathan Powers beam a bit when talking about their new digs, and rightly so. Not that there was anything wrong with Bambara 1.0. It's just that, after 10 years, it was time for a new look. Do not adjust your sets: Bambara 2.0 is largely a black-and-white affair. The new décor is a nod to the historical building's history as a bank, including decorative safety-deposit-box artwork and a penny-adorned host stand.
The restaurant's new entry features bar-height communal tables, a buzzing spot to gather with friends and colleagues. And, while the exhibition kitchen is still intact, diners can now watch the chefs' cooking show from new elevated tables adjacent to the kitchen. Bambara manager Guy Wheelwright says, "Thanks to the higher seats and tables, now customers seated next to the kitchen don't have to stare at servers' butts."
Also updated is the "Chairman's Office," a quiet, cozy room for private dining and events. But, any seat in the stylish new restaurant would be a good one from which to sample new dishes such as Chef Powers' wonderfully light ricotta gnocchi, served in a shallow soup bowl with a smoky ham-hock broth, bright green spring peas, mint and Mascarpone. Another dish to signal the arrival of warm weather is seared diver scallops with asparagus risotto, tempura baby asparagus, mache and shellfish fumé.
New look, new menu items, but Bambara retains its decade-old service excellence. 
BAMBARA
202 S. Main
801-363-5454
Bambara-SLC.com