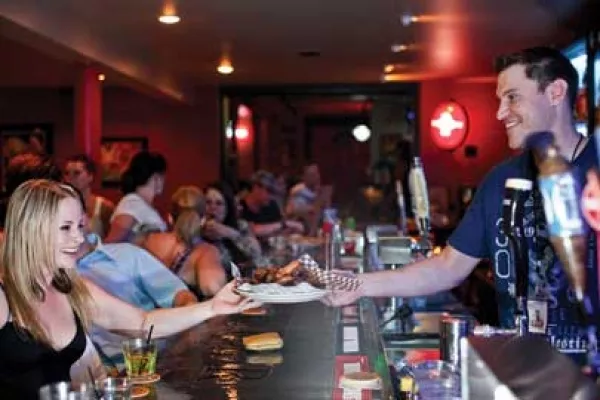 Whether you're in the mood for straight-up drinks, dancing or something new and daring, a Salt Lake City bar has a seat waiting for you. We've compiled a list of Salt Lake City's nightlife spots, organized by mood: Would you rather dance and hear the roar of live music instead of your buddy's latest sob story? We've got you covered. Or, if grabbing a drink and some quiet reflection or conversation is more your style, check out the list of fine SLC establishments where you can sit back and imbibe in a great atmosphere. And if you're in the mood to shake things up and try something more social, we've planned out an agenda to get you to a new bar every night for poker, competitions, karaoke, trivia and more "bar-tivities."
THE LIGHT & THE SOUND
Whether you prefer to shake your stanky leg to live bands or DJs, the following rundown of Salt Lake City's best clubs and bars is sure to get you out on the dance floor.
5 Monkeys
There's free pool seven days a week and karaoke every hump day, but Fridays and Saturdays are typically reserved for live music and DJs. Thursday nights mean free wings courtesy of Rob Sauce. While you're there, take advantage of the $3 wells or the signature Monkey Piss lager. 7 E. 4800 South, Murray, 801-266-1885, 5MonkeysClub.com
Area 51
There's a different themed party just about every night of the week that caters to all the children of the night. Thursdays are reserved for one of SLC's best '80s nights, every Friday is SL,UT Anthem night (Top 40 and techno) and Saturdays are where you'll find Alterna-Mash ('90s industrial and alternative rock). 451 S. 400 West, Salt Lake City, 801-534-0819, Area51SLC.com
Barbary Coast
This Murray hangout is SLC's quintessential biker bar. But it's also a great place to shake a leg to live bands, catch a Jazz game and fill up on quality pub chow like the massive Best Burger. When the weather warms up, the huge back patio and stage is a great place to sip on cheap domestics and hear national touring acts. 4242 S. State, Murray, 801-265-9889
Bar-X
This downtown landmark sports a classy upscale feel, local brews, specialty craft cocktails and live tunes from Joshua Payne Trio on Sundays and DJ Godina playing black-vinyl funk on Mondays. 155 E. 200 South, Salt Lake City, 801-355-2287, BarXSaltLake.com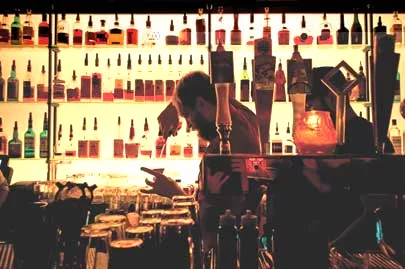 The Bears Den
Named after a giant stuffed bear in the corner of the room that the owner personally shot, this Magna club is a strip club for guys who like strip clubs. It's dressed with antique beer signs, lots of stuff that's been shot and, of course, scantily clad ladies. While you're there, sip on the cheap domestic drafts and try the signature Hump Day shot: Three Olive Birthday Cake vodka, pineapple juice and grenadine topped with whipped cream. 8785 W. 2700 South, Magna, 801-250-6616
The Bay
The building that houses The Bay is one of the oldest nightclubs in Salt Lake City. Inside, it's a clean, classy, 18-and-over nightclub. There's no booze, but there are plenty of energy drinks, hookahs and tunes by DJ Jarvicious. Students get $2 off the cover charge with a student ID; otherwise, it's $5 for ladies and $10 for guys. 404 S. West Temple, Salt Lake City, 801-755-7726, Facebook.com/TheBaySLC
Burt's Tiki Lounge
Alongside the abundance of oddball collectable knick-knacks, every band leaves its mark by way of sticker or concert poster on Burt's walls. It's a veritable smorgasbord for the eyes when you aren't headbanging to punk and heavy metal or being delighted by bluegrass and blues. 726 S. State, Salt Lake City, 801-521-0572
Canyon Inn
Known as a great après ski bar in the wintertime, Canyon Inn is a guaranteed wild night any time of the year, featuring a slew of live bands and DJs almost every night of the week. Take advantage of cheap Coors Light pitchers, well drinks and world-famous pizza. 3700 E. Fort Union Blvd., Cottonwood Heights, 801-943-6969, Facebook.com/The-Canyon-Inn
Circle Lounge
When the weekend rolls around, this downtown spot is consistently packed and offers two different ways to get loose. The massive back patio features private hookah booths and hip-hop video mixing with DJ J-Rock and DJ Jello; inside, party-goers can fuel up on sushi and cut it up to house and electro music with DJ Mad Mike and Nathan Thrills. Enjoy Red Bull vodkas and inexpensive Coors on draft. 328 S. State, Salt Lake City, 801-531-5400, Facebook.com/CircleLoungeSLC
Club 90
There's always some sort of hoodang going down at this huge club, featuring a great menu, karaoke and Monday Night Football. Weekends are Club 90's meat & potatoes, with local bands like Paid in Full, L.O.L. and Next Faze. 9065 S. Monroe St. (150 West), Sandy, 801-566-3254, Club90SLC.com
Duce's Wild
This small but charming bar bills itself as a Cheers-style watering hole with top-notch drinks specials and top-notch, er … pasties. Besides a small but adequate stripper stage, there are tables for pool and foosball. 2750 S. 300 West, Salt Lake City, 801-467-4600, DucesWildSLC.com
Fat's Grill & Pool
This Sugar House bar is a local favorite for pool, but Fat's is also a great place for tunes. On the weekends, Fat's opens its downstairs concert hall to live music of just about every make and model. If you prefer to party on the cheap, get down on the half-price appetizers, served daily from 4 to 7 p.m., and sip on the $1 PBRs and $3 well drinks. 2182 S. Highland Drive, Salt Lake City, 801-484-9467, FatsGrillSLC.com
The Garage
The centerpiece of this anyone-is-welcome bar is its massive back patio. As the weather warms up, the patio fills up with people playing cornhole or jamming to great live bands and occasional DJ parties. Plus, there's great dining—the chicken & waffles are legendary. 1199 N. Beck St., Salt Lake City, 801-521-3904, GarageOnBeck.com
The Green Pig Pub
Live bands and great local DJs frequent this downtown spot. It's also the only SLC bar with a rooftop patio. Every Sunday features a huge brunch buffet, with affordable mimosas and Bloody Marys. Come by around 7 p.m. on Wednesdays to check out Adult Trivia downstairs in the main room. 31 E. 400 South, Salt Lake City, 801-532-7441, TheGreenPigPub.com
Habits
Habits is one of the few classy clubs in the valley with a nice mix of the age spectrum. This is partially due to DJ Scotty B, who spins Top 40 and nonstop video mixing every weekend. Plus, there are cheap libations, excellent dining options and a huge heated outdoor patio. 832 E. 3900 South, Salt Lake City, 801-268-2228, ClubHabits.com
Hog Wallow
Hog Wallow is a choice spot for a drink and a bite to eat, especially if there's room on the gorgeous back patio. But this bar hangs its hat on outstanding live music every Wednesday through Saturday, featuring some of SLC's best local acts and touring bands, too. 3200 E. Big Cottonwood Canyon Road, Salt Lake City, 801-733-5567, TheHogWallow.com
The Hotel
This downtown spot is actually three different clubs in one. Every Friday features hip-hop sets in The Lobby, Latin Night in adjacent Club Elevate, and Hooked on House upstairs in the Opium Lounge. This multifloored party place also offers up cheap drinks, hookahs and, yes, go-go dancers. 155 W. 200 South, Salt Lake City, 801-478-4310, Facebook.com/TheHotelClubElevate
Huka Bar & Grill
Every Thursday, this Murray spot goes from mellow lounge to full-blown nightclub with the help of resident beat provider DJ Awdamaddix, sexy go-go dancers and, of course, some signature tasty cocktails, like the Mango Mojo Mojito and the Pear Fizz. Huka Bar also has a beefy draft-beer selection. 151 E. 6100 South, Murray, 801-281-4852, TheHukaBar.com
Jam
This LBGT-friendly dance club is open Tuesday through Sunday and is where one can find plenty of short-shorts dancing on pedestals and drag queens gettin' down to Top 40 and house music. With specialty drinks like the Grape Shet (a mystery vodka/grape concoction) and a nice selection of cheap drafts, Club Jam is worth a trip to the Marmalade district. 751. N. 300 West, Salt Lake City, 801-891-1162, JamSLC.com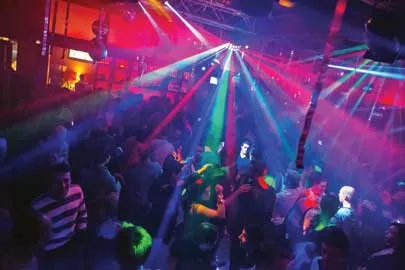 Karamba
Sundays at Karamba are Pechanga, when CJ Lara of JCL Promotions takes over this Sugar House spot and brings in celebrity-impersonating drag queens, a wide range of DJs, live graffiti artists and dancing models. A reasonable cover gets you into the gay-friendly, Latin-infused fiesta. 1051 E. 2100 South, Salt Lake City, 801-696-0639, Facebook.com/Club-Karamba
Keys on Main
If your girlfriend/wife complains that you never take her anywhere nice, Keys on Main will get you off the hook. Well drinks are made with quality liquor, food is good and the dueling pianos and live karaoke band will give her a reason to sing your praises. 242 S. Main, Salt Lake City, 801-363-3638, KeysOnMain.com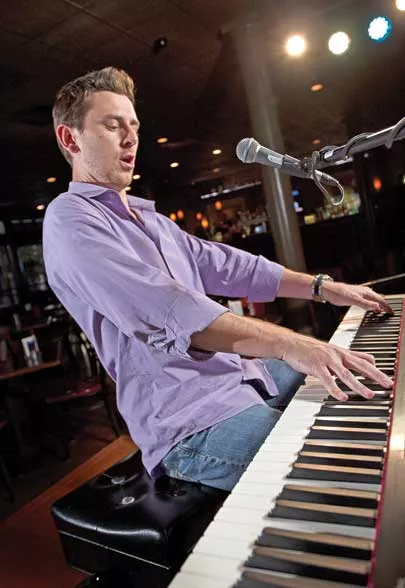 Kilby Court
There is not a better live-music moment than when a band performs their encore at Kilby Court's patio fire pit. And even if that doesn't happen at every show, there are magical moments of the I-saw-them-first kind aplenty at this garage-turned-venue. Bands like The Decemberists, Vampire Weekend and Death Cab for Cutie played Kilby on their first national tours, and the all-ages venue continues to attract up-and-coming bands of that caliber. Better still, shows end by 10 p.m., so weeknight concerts don't leave you dragging at work the next morning. 741 S. Kilby Court (330 West), Salt Lake City, 801-364-3538, KilbyCourt.com
Kristauf's Martini Bar
This downtown speakeasy is an upscale sippin' bar with more than 85 martini concoctions to appease even the choosiest cocktail snobs. Try the award-winning crisp pear martini or a classic martini with blue-cheese-stuffed olives. Plus, every Saturday, cut a rug with DJ James Ramirez. 16 W. Market St., Salt Lake City, 801-366-9490, MartiniBarSLC.com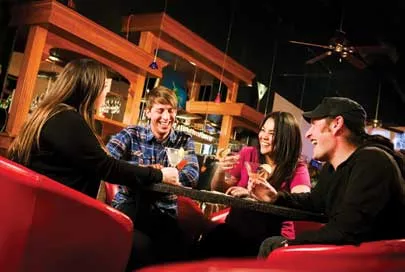 Lumpy's Downtown
One of the premier downtown sports bars, Lumpy's has more screens than your eyeballs can handle. The basement features an expansive game room with pool, foosball, darts and anything else that's good with a beer. Upstairs, local DJs run the dance floor on weekends. 145 Pierpont Ave., Salt Lake City, 801-883-8714, LumpysDowntownSLC.com

Lumpy's Highland
Like its sister locations (Lumpy's South and Lumpy's Downtown), this neighborhood sports bar is sure to have whatever game you're looking for and whatever appropriate appetizers to go with it. There's also a well-stocked game room in the basement. 3000 S. Highland Drive, Salt Lake City, 801-484-5597, LumpysBar.com
Maggie McGee's
Sports memorabilia lines the walls and the staff is outfitted in referee jerseys, but even if it's not your team's season, you can find something to root for (or against), thanks to nightly karaoke. 6253 S. Highland Drive, Salt Lake City, 801-273-9899, MaggieMcGees.com
Maxwell's East Coast Eatery Downtown
This downtown locale is a nice spot to grab some lunch or a slice of New York-style pizza after work. But every weekend, Maxwell's East Coast Eatery goes from a great place to eat to dance-club status, combining its famous pies served with cheap PBRs or fancy Maxaritas with the tunes of DJ Godina. 357 S. Main, Salt Lake City, 801-328-0304, Facebook.com/MaxwellsSLC
One Nightclub
Fridays and Saturdays are when One truly crushes it. The weekend success is partially due to resident dance floor landlord DJ Brisk, on top of the half-million-dollar light and sound system, Red Bull vodkas and cheap shots. 180 W. 400 South, Salt Lake City, 801-214-6180, Facebook.com/OneSLC
The Red Door
Every Friday night, DJ Ria does a smooth down-tempo set complete with wall projections, and there's always live jazz music on Saturdays. While you're there, sip on a Cocaine Lady or a spicy jalapeño-infused Wrath martini. 57 W. 200 South, Salt Lake City, 801-363-6030, BehindTheRedDoor.com
Southern X-Posure
Southern X-Posure is one of Salt Lake City's classiest joints. Every day of the week, there's a free gourmet lunch from 11 a.m. to 1 p.m., and a free stripper shuttle that picks up patrons and drops them off within the downtown area. Plus, most drinks are only $3, including the Fireballs. Multiple locations, 801-288-1488, Facebook.com/SouthernXShowClub
The Tavernacle
If you're into group-assisted singing, the dueling pianos at The Tavernacle are a best bet for a good night out. Thursdays are a great deal, with no cover, insanely cheap drafts and whiskey cokes and, of course, two pianists wailing away to Journey. 201 E. Broadway, Salt Lake City, 801-519-8900, Tavernacle.com
Trails Gentlemen's Club
This inviting downtown strip club's biggest evening is arguably Saturday, hosted by DJ Tyler Justice. While you're there, grab an economically priced steak dinner or a Jager shot and use the extra cash to tip your servers … and the dancers. 921 S. 300 West, Salt Lake City, 801-363-2871, TrailsClub.com
The Trapp
The Trapp is one of the city's LGBT granddaddy saloons. Fridays and Saturdays are dedicated to '70s and '80s dance tunes, hosted by video mixer DJ D, and every Monday is karaoke night on the massive back patio. While you're there, take advantage of the cheap domestics and mind erasers. 102 S. 600 West, Salt Lake City, 801-531-8727, TheTrappSLC.com
The Veranda
A great place to grab an authentic Italian dish, the Veranda also serves up a healthy dose of nightlife. Every Thursday is Patron Night with DJ Bentley, when tequila lovers can sip on Patron as well as domestic drafts. Plus, there's beer pong. 4760 S. 900 East, Murray, 801-268-1399, Facebook.com/TheVerandaNightClub
Wasted Space
Wasted Space lives up to the promise in its name by offering dirt-cheap shots and domestic steins. Weekends are hosted by DJ Squintz, who plays a blend of rock, dubstep and Top 40. Enjoy pool, electronic darts and a great jukebox. 342 S. State, Salt Lake City, 801-531-2107, Facebook.com/WastedSpace
The Woodshed
You can find something here to tickle your fancy every night of the week, whether that's raucous live bands, a huge patio, or free darts, foosball and cornhole and arcade games like Soul Caliber II, NFL Blitz, Mrs. Pacman and The Simpsons. 60 E. 800 South, Salt Lake City, 801-364-0805, TheWoodshedSLC.com
Zest Kitchen & Bar
This downtown spot is a tasty vegan hangout by day and a classy club by night. Fridays are hosted by DJ Flash & Flare, while Saturdays feature local house DJ Alastair. Take advantage of the late-night eats, spicy jalapeño margaritas, and cheap PBRs. 275 S. 200 West, Salt Lake City, 801-433-0589, Facebook.com/ZestSLC
GRAB A DRINK!
If yelling into your friend's ear, "What?! I have no idea what you're saying! It's too damned loud in here!" isn't something you're into, you probably prefer cozy booths over dance floors. The following bars are a few ideal spots to go grab a round.
A Bar Named Sue
Some say this bar is like your best friend's basement, which is true if your best friend has a plethora of flat screens, live music and finger-licking pub grub. Sundays feature a hangover-punching brunch that pairs nicely with NFL Sunday Ticket, while Mondays are reserved for the popular Geeks Who Drink pub trivia. 3928 S. Highland Drive, Salt Lake City, 801-274-5578, A-Bar-Named-Sue.com
Batters Up
Besides being a great sports bar, this friendly joint features a big patio, tasty eats, tons of flat screens and live music on the weekends. 1717 S. Main, Salt Lake City, 801-463-4996, BattersUpSportsBar.com
The Bayou
Utah's "Beervana" features a huge selection of local beers, both on tap and in bottles, as well as beers from all over the world. Pair an exclusive beer with some of The Bayou's Cajun-inspired food, then subscribe to the bar's newsletter to be kept up to date on when new beers arrive. The Bayou also features live jazz and blues three nights a week. 645 S. State, Salt Lake City, 801-961-8400, UtahBayou.com
The Beerhive
The bar here is iced to keep brews cold, and it stretches for miles—making The Beerhive the place to spend a few hours with friends or new acquaintances, trying new beers (there are more than 200 from around the world) or seeing how long you can nurse that still-cold one you ordered hours ago. 128 S. Main, Salt Lake City, 801-801-364-4268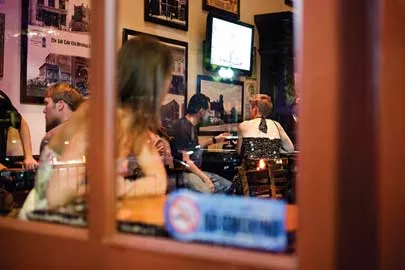 Bourbon House
This downtown underground hangout offers Thursday-night karaoke, live music every Saturday and funk & soul on Sundays. It's also a great spot to catch a Real Salt Lake game. If you haven't tried a Pickle Back—a shot of Jameson whiskey with pickle juice as a chaser—or the jalapeño-bacon-wrapped tater tots, then you need to get to the basement of the Walker Center, stat. 19 E. 200 South, Salt Lake City, 801-746-1005, BourbonHouseSLC.com
'Bout Time Pub & Grub
With seven locations across the state, this local franchise has made its success on giving fans what they want. Yeah, great food, like the Irish nachos, can be found here, but 'Bout Time is all about the sports. The bartenders keep the cold drinks coming and will know what channel your obscure game is on without you having to grab the remote. Various locations, BoutTimePub.com
Cheers to You
It's like a bar straight out of a movie—a Main Street hidey hole that's all polished wood, inconspicuous booths and low-key but understanding barkeeps, with pool tables in the back. Cheers sweetens the deal with low-cost cocktails on Wednesdays and free pool on Thursdays. 315 S. Main, Salt Lake City, 801-575-6400

Dick N' Dixies
A local favorite, this is the bar to bike to and surround yourself with Real Salt Lake fans. The neighborhood joint has cheap drinks like Dickel Whisky shots (served in a Dixie cup), $3 domestic tallboys and billiards. 479 E. Broadway, Salt Lake City, 801-521-3556
Fiddler's Elbow
Diehard college football and NFL fans occupy this Sugar House sports bar on the weekends, and for good reason—this place loves sports. There's plenty of seating, a comfy couch zone and, of course, classic game-day eats. 1063 E. 2100 South, Salt Lake City, 801-463-9393, FiddlersElbowSLC.com
Gracie's
This gastropub really has something for everyone, whether that's actual dinner-worthy food; cornhole or live music on the patio; shuffleboard, darts and pool in the designated game room; sports on huge screens; and some of the best mixed drinks around being served from one of the three (yes, three) bars. 326 S. West Temple, Salt Lake City, 801-819-7565, GraciesSLC.com
The Huddle
It's in a quiet little strip mall, but you've come to the right place. The inside is packed with huge TVs so you can keep track of all the games that affect your fantasy team while enjoying drinks. The Huddle also features $1 tacos and adult trivia on Tuesday nights. 2400 E. Fort Union Blvd. (7200 South), Cottonwood Heights, 801-438-8300, SkiSaltLake.com/TheHuddle.htm
Jackalope Lounge
This State Street watering hole prides itself on cheap drinks, good bar grub and a diverse clientele. Local legend DJ J2 spins funk and hip-hop every Saturday, and Jager and Jim Beam shots are easy on your wallet. 372 S. State, Salt Lake City, 801-359-8054, Facebook.com/JackalopeLounge
Johnny's on second
This downtown stalwart is a regular stop for the after-work crowd. There's plenty of pool tables, shuffleboard, a heated patio, late-night pub grub and plenty of flat screens for all you Jazz fans. It's hard to pick, but the best part might be the $2 beers and $2 shots. 165 E. 200 South, Salt Lake City, 801-746-3334, JohnnysOnSecond.com
Juniors
Its roots are in jazz, but Juniors is now a place to enjoy cheap drinks while surrounded by an eclectic mixture of after-work booze enthusiasts. There's pool, pinball and even a small outdoor patio. If you're hungry, order up a burger and fries next door at Rich's, and they'll bring it over. 30 E. Broadway, Salt Lake City, 801-322-0318, JuniorsTavern.com
Legends
If you're looking for a sports bar jammed with hockey memorabilia, flat screens and pool tables, Legends is your go-to joint. Known for top-notch wings and a nice draft selection, it's no wonder tons of sports fans occupy this bar come game time. 677 S. 200 West, Salt Lake City, 801-355-3598, WhyLegends.com
The Leprechaun Inn
This place has undergone a facelift over the past year, going from neighborhood bar to full-fledged sports bar. It's still has the same "good times" vibe but now features bigger TVs, a huge food menu and even an enclosed outdoor patio with fireplaces. 4700 S. 900 East, Salt Lake City, 801-268-3294, TheLeprechaunInn.com
Manny's
Manny's is located on a corner with three other drinkin' spots and features a really long bar—really long. Like, Pee-wee Herman could dance on it long. But seriously, Manny's is a great place to sip on a cold drink and shoot some pool. 1704 S. Main, Salt Lake City, 801-467-6289
Murphy's
There are a few leprechauns here, and Irish music occasionally blasts from the speakers, but at its heart, Murphy's is a comfy, jack-of-all trades downtown bar, where construction workers and businessmen meet for lunch or after-work beers to watch the game or catch up over fish & chips. 160 S. Main, Salt Lake City, 801-359-7271, MurphysBarAndGrillUT.com
Oscar's Social Club
Oscar's Social Club might as well be Midvale town hall. It's always packed, and there's always something to do. This neighborhood joint offers up free UFC fights, crowded dance floors, some seriously tasty barbecue and the signature Skittle shot. 8136 S. State, Midvale, 801-566-3222
O'Shucks
This little basement bar is the perfect juxtaposition to the glitz and glamour of City Creek Center, located across the street. Suck down a beer out of a giant stein or grab some sushi from Ahh Sushi, which shares the space. 22 E. 100 South, Salt Lake City, 801-596-8600
Poplar Street Pub
It looks humble on the outside, but Poplar boasts 6,000 square feet for drinking, eating (no bar food here—think gourmet pizzas and unique snacks like Scotch eggs), playing pool and socializing on the patio. Live music on the weekends starts around 9 p.m., so bring cash for a cover. 242 S. 200 West, Salt Lake City, 801-532-2715, PoplarStreetPub.com
The Republican
You won't find any egos at this neighborhood Irish bar, where the TV is always tuned to soccer and the jukebox spews traditional and punk Irish tunes. The bartenders are chill and will make you feel like a years-long regular after just one visit. Plus, on Wednesdays, they cook up bacon all day long and give it out for free. 917 S. State, Salt Lake City, 801-595-1916
Sugar House Pub
A cornerstone of the Sugar House bar scene, this friendly pub is located in the heart of the Sugar House shopping area and is a regular stop for locals. It's a small bar but makes up for that with a huge selection of beers on draft, a down-tempo atmosphere and billiards. 1992 S. 1100 East, Salt Lake City, 801-413-2857, Facebook.com/SugarHousePub
Twilite Lounge
A Salt Lake City stalwart since 1947, Twilite successfully walks that fine line between being the dimly lit bar where you go to lose yourself with a pint and a shot of whiskey, and the bar where you go for a rowdy night of pool and chatting with friends old and new. In keeping with the old-school vibe, Twilite is cash-only, but there's an ATM in the back. 347 E. 200 South, Salt Lake City, 801-532-9400, TwiliteLounge.com
The Vault (Bambara Bar)
Whether you're spending the night in the upscale Hotel Monaco or just posing, the building's beautiful first-floor bar is one of Main Street's ritziest hangouts. Order a cocktail before dining at Bambara, or park yourself on one of the classic barstools for a night of basking in the vintage atmosphere. 202 S. Main, Salt Lake City, 801-363-5454, Bambara-SLC.com