Heading out into the heart of a Saturday night may seem overwhelming. If you could use a few tips, we offer "a perfect night on the town," arranged by City Weekly's music critic. You'll just need your ID, some scratch and a sense of adventure (and a local cab company's phone number in your speed dial, in case it comes to that).


7 P.M.


The Tin Angel Café
This funky nook across the street from Pioneer Park has high-end, creative culinary flair that, thankfully, lacks any sense of pretentiousness. Opened in 2007 by three self-proclaimed Bohemian weirdos, Tin Angel has a community-based attitude that shows in everything they offer, including local food, art and music. The evening starts with a bottle of red vino from Tin Angel's oenophilic selection, which is paired with a delightful smattering of fearless dishes that include duck, wild boar and artisan cheeses. In the background are some acoustic tunes provided by local singer-songwriters.
365 W. 400 South, Salt Lake City, 801-328-4155, TheTinAngel.com


8:30 P.M.


The Garage
Not just another roadside attraction, this bar on the north edge of town is well worth the drive, although since we're bar hopping, it's a solid idea to get up and back early-ish. This bar/venue has a cozy, arcadian patio, contrasting with the odd backdrop of industrial refineries. Inside, the two hand-built bars and seats, made with reclaimed barn wood, give the place a unique charm. It's no wonder why this out-of-the-way roadhouse is quickly becoming the go-to bar for downtown dwellers.
1199 N. Beck St., Salt Lake City, 801-521-3904, GarageOnBeck.com


9:30 P.M.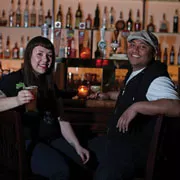 Bar X
The quest for the perfect libation ends at Bar X. Don't let the glittery signage out front fool you—this oak-y den is a haven for tweedy 20- and 30-somethings who desire handcrafted drinks redolent of yesteryear with the addition of some new, house-invented treats. Getting here just before 10 p.m. usually means you won't have to wait behind the velvet rope on 200 South for a cocktail. The Moscow Mule—vodka, muddled lime, housemade ginger beer—is a favorite, served in a copper mug.
155 E. 200 South, Salt Lake City, 801-355-2287


11 P.M.


The Urban Lounge
A bastion for the best live-music shows in town, The Urban Lounge presents a range of styles, from hipster-heavy indie tunes to alt-country to electronic dance. At times, the patrons on the dance floor become a sticky, sweaty, amoeba-like creature. But if dancin' ain't your thing, there's plenty of room on the periphery to sip a cheap brew. There's always a band onstage, and concerts here are geared for party people—they start late and end late.
241 S. 500 East, Salt Lake City, 801-746-0557, TheUrbanLoungeSLC.com


1:30 A.M.


Bay Leaf Bar & Grub
This comfort-food establishment is a new mainstay on Main Street and one of the town's few options to sop up a belly full of booze until 1 a.m.—and then sober up on the café's tasty grub as long as it takes. In fact, it's open 24 hours on the weekends. A cafe-turned-bar, it offers the best of two culinary worlds: the South (Alabama) and the East (Philippines). The trash plate, which has literally everything on the breakfast menu piled up and smothered in Southern gravy, is the perfect way to squelch the seeds of a hangover and go comatose after a night out.
159 S. Main, Salt Lake City, 801-359-8490, BayleafBarAndGrub.com