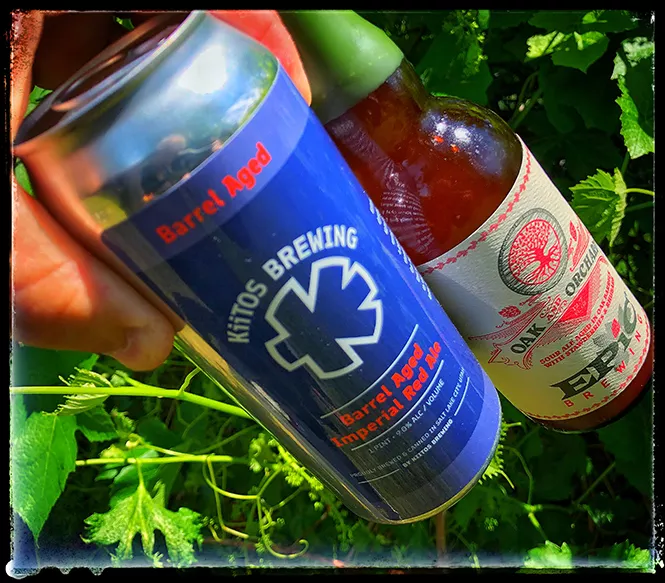 Last week, I wrote about two very "uncomplicated" beers that have recently hit the market. This week, I'd like to dive into the more complicated end of the pool. If there's one good way to take your average garage-band beer and turn it into multi-platinum superstar ale, your simplest tool is the used oak barrel. Just find a beer that will work well with the contents previously held in the oak, store it away for a few months and you'll soon find your mind blown. This week's selections are quite distinct from each other, and are perfect examples of how much fun barrel-aged beers can be.
Epic Oak and Orchard Strawberry Rhubarb: It pours a slightly hazy medium golden/yellow/light orange color, with a faint foamy cap that for the most part is ornamental. The aroma has a big lightly tart lemon, lime, strawberry, rhubarb, white wine, oak and musty/leathery funk. This complexity of scents could only come from a barrel-aged sour. The taste begins rather simply with lime, strawberry and rhubarb. However, once your tongue's sour receptors light up from the beer's barrel-aged tart base, those flavors explode into a fireworks display of sour fruits. Green apple and pear are the next flavors to emerge, while vinous pinot grapes wrap up the flavors at mid-palate. As we get to the back end, earthy oak, herbal grass, pepper and musty/leathery funk create a fine lingering dryness that is slightly tannic.
Overall: This 6.9 percent beer is an outstanding fruited sour ale. There's an all-around great complexity, robustness and balance of fruity/funky/acidic yeast, fruit, oak barrel and moderate malt flavors; it drinks very smooth, crisp and refreshing, with pleasant acidity and tartness. It's a brilliant balance between fruit, Brett and Lacto flavors, with great oak presence.
Kiitos Barrel Aged Imperial Red: This whiskey barrel-aged beer pours a surprisingly clear deep ruby/chestnut color with little in the way of haze. Its creamy, off-white head caps the beer with stubborn staying power. Expecting the more common aromas of toffee and grapefruit, I was instead met with the barrel's influences: Oak, bourbon, cherry, vanilla and a hint of toasted char. Hop aromatics are mostly restrained. Layers of toffee blanket the tongue with a mélange of malt spice cake and bourbon-soaked dark fruit that evokes notions of maple as the wood flavors pile on. Hints of rye whiskey begin to emerge midway through, really adding to the beer's groove asthe wood spices join forces. As we enter the end, grapefruit and orange peel pith add some resinous bittering; keeping the more cloying aspects of the malt at bay in the finish. Echoes of caramel, toast, oak and grapefruit trail into a medium-long linger.
Overall: I really enjoy the complexities that the barrel brings to this 7.8 percent beer, though sadly, the bright hop character of the red ale has been slightly diminished. However, the basic balance remains intact, just tweaked and rearranged. With all the pros and cons, I call this one a wash.
If you'd like an interesting education on how different barrel-aged beers can really be, I'd recommend adding these two beers to your syllabus. The complete contrast of these two well-made beers will show how the process of shaping a beer's flavor can continue into the aging process. As with all good things, these beers will not last forever, so get on them pronto. As always, cheers!