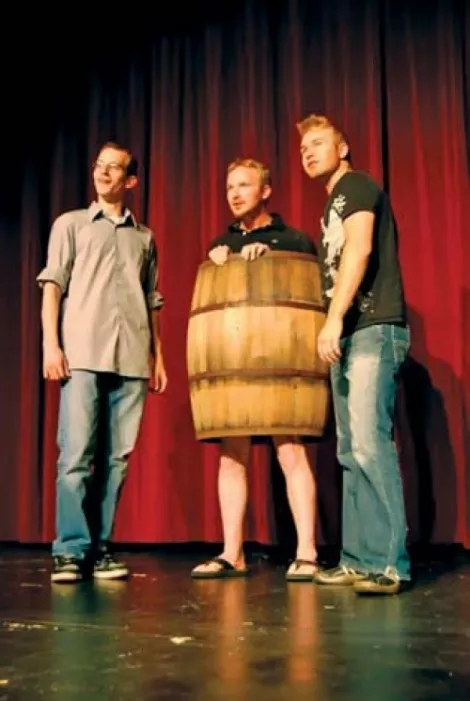 The whimsical and the zany are rewarded in Battle of the Improvs—where Mad Libs meets theatre. For its second year, Generation A will have Utah's best improvisational comedy troupes battling for prizes and bragging rights.
Short-form improv began gaining traction in the United States in the late 1990s with Drew Carey's Whose Line Is It Anyway? on ABC and is currently an underground sensation with YouTube's Improv Everywhere—where the cast performs skits in flash-mob fashion. In competition, improv comedy begins, by and large, with audience suggestions and the hosts' predetermined prompts, generally taken from theater-sports games. One example is "Word at a Time Story"—two improvers alternate saying one word each to create a somewhat cohesive, mostly silly, story. Propelled by the comics' imagination, improv is a place where there are three-pointers in skydiving and Nordic Vikings over for dinner.
No matter the subject, local seasoned veterans and up-and-coming troupes will be at the top of their game. Winners from 2009, The Thrillionaires, won't be back to defend their title, so it's up to Absoludicrous, And ... Go (pictured) the Antics, HiJinks, The Improvables, Jesters Royale, Mission: Improvible, Quick Wits and ToySoup to bring the big laughs. They hail from up and down the Wasatch front, varying in style, size and background. However, they all share quick wits and have their eye on the prize.

Battle of the Improvs @ Salt Lake Community College Grand Theatre, 1575 S. State, 801-957-3322, Sept. 18, 7:30 p.m., $8 adv./$10 door. Facebook.com/UtahBattleOfTheImprovs