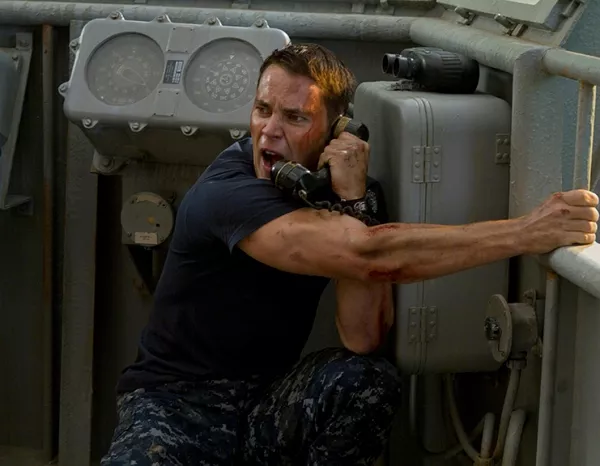 Space nerds send a signal to a distant star system that looks a lot like ours in Battleship—and, like, days later, here's the away team from Planet Facehugger come to steal all our bubblegum.

But it's cool. Turns out all we need to protect Earth is Taylor Kitsch, who goes from Loser to Lieutenant in the U.S. Navy in exactly the same amount of time it takes for the aliens to get our hello and come a-invadin'; apparently, you can be a felon who enlists in the military and become an officer in a snap. We don't need our best soldiers, and we don't need our best technology. All we need is a mothballed WWII battleship and a bunch of grandpas who probably haven't even forgiven Japan for Pearl Harbor yet.

Screenwriters Erich and Jon Hoeber—who, as a team, wrote Red, which is awesome; and Whiteout, which is not—had to bring in the mothballed battleship, because they were locked into "crafting" a movie around a mothballed board game. But they could have been more creative about it. For a few minutes early on, it seems as if they might be sending up these sorts of movies, but then they just give up and embrace the idiocy. They give us giant peg bombs. God help them, they came up with a way to have real warships—one of them alien—fight a battle on a grid.

But they have no new or even new-ish ideas to excite our sci-fi glands. (Powered armor? Seen it!) Nor does director Peter Berg have anything to add to the genre, and just took a few Michael Bay lessons before starting to shoot. So he drenches the destructo-porn in golden sunlight and fellates the military—though Bay is now kicking himself for not having thought of fetishizing a gen-u-wine veteran with two artificial cyborg legs before Berg did.

BATTLESHIP


Taylor Kitsch, Liam Neeson
Rated PG-13