When Augustin Espinoza and his older brother Mario came to Utah from Vera Cruz, Mexico, their dream was to fight.

Both were accomplished street fighters in Mexico. Augustin recalls a two-month school suspension after a fellow student stabbed him in the head with a pen. Augustin forced his attacker's arm straight, then jumped on it and broke it. "My dad was so mad," he says.

Mario recalls, in Spanish, coming out of a cantina when four men set on him, one with a belt. He says he beat them all down. "Up to five people I can dominate." But, he cautions, "The brave man lives until the coward wants."

The brothers lived near MMA promoter Mike Stidham's then-Kearns-based gym. When they saw Stidham saying, "If you want to fight, call this number," at the end of his weekly MMA TV show Ultimate Combat Experience, Stidham saying, they went to his gym. Although they had no training, they were immediately signed up to fight. All they needed was a negative HIV test and a license from the athletic commission. In exchange for fighting, they were paid $100.

Mario couldn't believe it. "They would pay me to hit someone?" he thought. Stidham told him if he had "valor y huevos," [courage and testicles], he wanted him to fight. "I never backed down," Mario says. "I can't say I'm the best, but I'm good. I am not afraid of anyone."

In February 2009, Mario had his first MMA fight; he went the three rounds, but lost on the judges' decision.

Augustin's first fight, two weeks later, he says, was against a man with four years of MMA experience. "I didn't know what I was doing in the cage," Augustin says. He had just quit smoking and could barely stand at the end of the fight, which he won nevertheless.

They trained with Stidham for several weeks at his gym, then started training at home. Augustin says fighting helps him unwind. "I've got a lot of stress here," he says. "Child support, bills, rent, not a good job. After a fight, I feel really, really relaxed."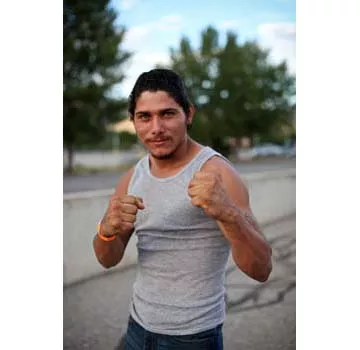 The Espinozas were grateful for the local TV exposure Stidham's show gave them. "Thanks to that, we got to be seen," Augustin says. But they wanted more than the $100 or $200 checks at the end of a Stidham fight, and both brothers signed with Joey Montanez as their manager. Montanez gets 10 percent of their earnings and they train at his Cottonwood Heights gym. "Joey is a better guy to take me to some career, to get better money," Augustin says. In return, Montanez added two more fighters to a growing stable he can draw on to fill fight cards as owner of fight promotion agency Fight Kings.

With eight wins and seven losses, Augustin, with a slim, wiry build, has developed a reputation as unpredictable fighter, still raw, but always determined, whose fights generally last one round. In August 2010 and March 2011, he switched fight styles and fought pro-boxer Jose Haro twice [see "Utah's Rising Son"], despite having no training in boxing. Nevertheless, he showed enough raw talent as a boxer to have one commissioner advise him to dump MMA for boxing. "I don't feel like it," Augustin says. "I like to kick, punch, the submission. Make it bleed."

Mario has developed a reputation as a promising fighter, with 11 wins and six losses, before he returned to Mexico for a year in March 2010.

Four months ago, he returned to Utah and Montanez put him on his card for a Fight King event called Fight for the Cops, held at the Fraternal Order of Police convention in mid-August at the Salt Palace convention center. Mario arrived wearing his customary pork pie hat, his calm, soulful gaze taking in the chaotic backroom activities as commissioners struggled to deal with two bouts being scratched because fighters had tested positive for drugs.

Commissioner Taylor Leavitt at ringside wondered aloud if Mario had developed "ring rust" from being away from the fight scene for a year. But in the two-round fight, Mario choked a fighter from the Payson-based Unbreakable gym into a tap-out submission. "It was a nice win," Leavitt says. "He has a winner mentality."

Augustin and Mario intend to compete in a MMA tournament in Wyoming this month. They want to bring back championship belts to Utah, even though, Augustin says, Utah "don't want to pay good money for fighters." But what ultimately motivates him, he says, isn't the money. "Lose, win, I still have fun."

Mario is more ambitious than his brother and has his sights set on fighting for the largest MMA organization in the world, Ultimate Fighting Championship. "I want to be big, for people to know who I am," he says.