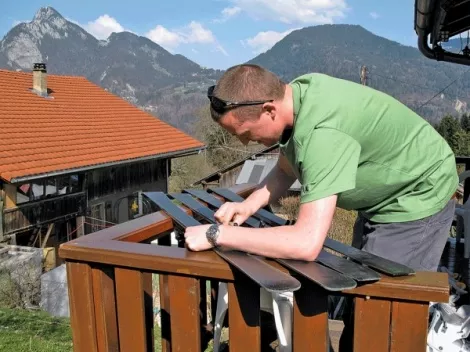 This is turning out to be an annual column because once again, I saw a snow buddy "hang it up" for the winter by tossing his gear into a corner of his garage. So, predicting the future: Once the lifts start running again, I will have to listen to him bitch about his crappy, totally unmaintained snowboard as I easily glide past him on my well-maintained, and thus much faster, skis. And I will hear him cuss out the zipper on his jacket, where the lining always gets caught in the zipper teeth, forcing his jacket to stay open above chest level.
Even though you might be outside enjoying the (occasional) sunny spring weather, you'll thank yourself later if you spend some hours taking care of your winter gear now. Start with the most important part: the riding surface of your skis or snowboard. The people who know the most—and are the most religious about base maintenance—are elite ski racers and freeskiers. They learn from experts like Ben Burns, the U.S. racing director at Rossignol, with national offices in Park City.

Burns says, "The most important thing is to make sure that when you finish skiing or riding, on the last day, you want to wipe down your gear, make sure it's completely dry." Rust on edges goes more than surface deep.

Experts know to clean their bases thoroughly to clear the pores and get rid of pollen and machine oil, as demonstrated by skier Keith Mason in the accompanying photo. Brush the bases to loosen any dirt, and then wipe it off with a soft cloth. If you don't have brushes, use liquid base cleaner. But remember, that stuff is extremely drying to the base. A dried-out base will make a snowboard or skis very slow; it'll be much harder to glide if you need to get across a flat section of the trail or pump up some speed for a trick. If stuff is put away without being cleaned, the bases will also dry out—and worse, the dirty goo from the snow will dry out and congeal on the base. Your gear will be a lot harder to handle after sitting around for half a year or more with the base just getting dryer.

That's why Burns says the next step is necessary: "You want to put a coat of wax on the skis or board. You don't need to scrape or brush it off, because the point of this wax is to seal the base so no dust or summer pollen dirties it up. Be sure to keep your gear in a cool dry space," he says. That also means keeping direct sunlight away. Don't leave gear in an often-open garage where direct sunlight can shine on it.

Now for clothing—those little annoyances that you always keep meaning to do something about, but never do. Like the string that's disappeared back into the hole on one side. To fix it, get a safety pin thin enough to fit into the hole and pin one end of the string to it. Next, pull the string totally out. Now, insert the safety pin into the hole and push it through to the other hole, dragging the string behind it.

For zippers that get caught in a lining: Pull the lining back and fasten it down with a sewing stitch, tied off. Do this about every inch along the part of the lining that keeps getting caught.

For really stubborn snaps: If one side of a snap has become even slightly bent or broken, it may be hard—sometimes impossible—to close or open. You can tack down a bit of Velcro to act as a snap, but it may be best to take the piece of clothing to a tailor and just have it replaced.

A word to the wise: The time to prevent next year's winter woes is right now, when they're still fresh in your mind. You don't want to have the pleasure of your return to the slopes ruined by remembering too late that you had meant to do something about an annoyance with your gear.