Page 3 of 7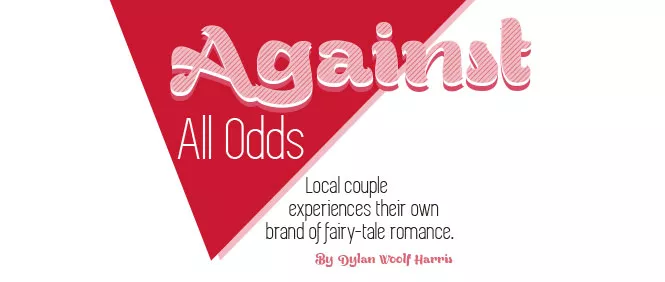 Baseball caps and hand-colored pictures adorn the walls of a modest apartment where John Beard and Misty Aragon watch an episode of SpongeBob SquarePants at mid-volume.
The upper-floor domicile is Beard's place, where the recently engaged couple sits on a calm February afternoon. Aragon rents a room in the same assisted-living facility. It's probably an atypical setting for a love story.
But if anything else, Beard, 44, and Aragon, 38, demonstrate how unconventional love stories are underpinned with universal experiences.
Their relationship ebbed and rose in a fashion that would be undeniably relatable to many—his first tepid approach, their glee in introducing the other to new hobbies and her being struck speechless with emotion.
Aragon was diagnosed with multiple sclerosis in her late teens, she says. She now moves about in a motorized wheelchair. And Beard is inflicted with a flesh-eating bacteria. Both receive disability services; had it been otherwise, their chance meeting and subsequent love might have never been.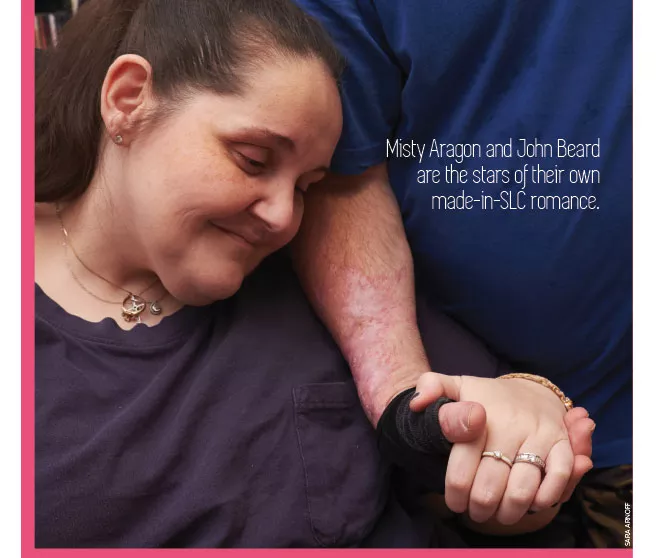 Beard's and Aragon's story started about three years ago at a rehabilitation center in Millcreek, where Beard had been living. He had recently woke from a six-week coma, induced because a pathogen had mercilessly attacked his body. The infection was so severe, Beard had to have his right leg amputated. "It basically ate my skin to the bone," he says.
At this point in his life, Beard says he was regarded as cantankerous and solitary. That would soon change.
On a fortuitous day, he laid eyes on a woman he had never seen before, donning a Chicago Bears sweater. This was one of his favorite football teams, too. Ah ha! A common interest, he thought.
He mosied over to chat her up. She told him she'd been a lifelong Bears fan "because that was my dad's team."
More prominent than the sports apparel, Beard spotted a shiny band on her finger. Already in a relationship, he lamented. But maybe not. "If she was taken, I would just be friends. If not, I would see if she was interested," he recalls. "I would respect her if she had a boyfriend or a husband, but if not, let's see what happens." In the coming days, he sent staff out on reconnaissance to gather intelligence.
Aragon thought it odd at first that a staffer was prying into her love life, but she, fiercely independent, replied, "No, no boyfriend. I don't need one." When Beard received the news, he was delighted.
The first date (the two disputed whether this was considered a date) took place a month or so later. On this particular day, the facility's scheduled activity was a trip to Olive Garden, and Beard saw an opportunity to invite Aragon along.
"I'll join you," she recalls saying, "but it's not a date."
A short disagreement followed because he insisted on paying for the meal, but the two soon after felt the faintest inkling of romance budding while playing trivia.
Eventually, they began pairing off frequently, grabbing a drink at Starbucks, a meal at Iceberg Drive Inn, or catching the sunset from a lawn. A yearlong courtship under their belts, they decided to date exclusively and two months after that, the two moved into an open room at the facility.
She got some early advice from a roommate: Be careful. Aragon was confident, despite this being her first serious relationship, that she could sharply navigate it. It helped that, in Beard, the spirit of chivalry is alive. "He is a wonderful gentleman," she confirms. Logically, he figured, the next step was engagement.
Beard's commitments made her heart flutter. Never before had she been the entity of unconditional adoration. "My whole life, everybody has made fun of me because I'm a heavy-set person," she says.
Knowing he couldn't yet afford a diamond ring, Beard gave her a "promise ring" inset with garnet, Aragon's birthstone. She says that would have sufficed. Beard wanted to "make it official," however. By then, his other leg was also amputated and he was nearing the end of his rehabilitation stay.
Last year, he was told he no longer needed skilled nursing services and that he would have to find another place to live. But before he left, he schemed to surprise her with a diamond.
It took about three months to find a place that matched his needs, location and price; eventually he settled on the Avenues Courtyard Assisted Living Community. One day, while visiting his girlfriend, Beard secretly slipped an engagement ring on her finger. Without words, Aragon knew what this meant.
"I couldn't talk," she says. "My whole body started shaking."
A couple of months later, Aragon moved to Avenues Courtyard.
Beard and Aragon don't have a date set and in fact might never get legally married because of the bureaucratic entangling of marriage and government. At the risk of altering their benefits, the two have decided to delay a wedding until they are confident this won't bar them from receiving disability subsidies that allow them to pay rent and get medical treatment.
"No matter if I marry him legally or not, I will always be by his side," she says.