Page 5 of 7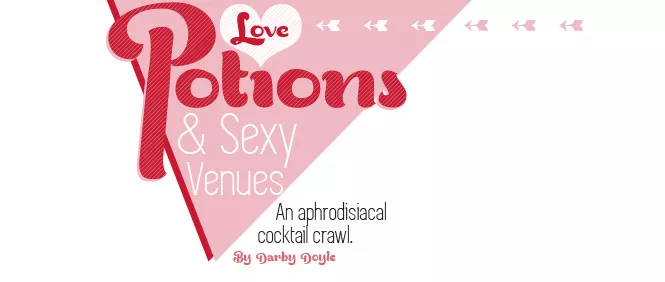 Gotta love it when science confirms what we'd like to believe anyway: Modern food chemistry asserts that ingredients identified in myth and legend as libido enhancers—while not certified kilt-lifters—were and are exceptionally nutritive nosh. Centuries before eggplant and peach emojis infiltrated our social media streams, vitamin- and mineral-packed foods like fruits, vegetables and eggs from just about every species—from caviar to emu—probably benefitted their consumers with better fertility and overall good health as a result of their consumption. This also held true for the legendary aphrodisiacal qualities of pretty much every creature pulled from the sea, especially zinc-rich oysters (linked to increased testosterone production). Aphrodite, the Greek goddess of love, beauty and sexuality, and her counterpart in the Roman pantheon, Venus, were both depicted rising naked from the ocean cupped in a seashell, underpinning the eroticism of shellfish. Also on the Top 10 list of Hot-to-Trot ingredients? Mint of every stripe. Even folks in the Dark Ages appreciated the effects of even cursory antimicrobial dental hygiene and the resulting fresh breath as a lead-up to business time.
But we may tend to be a little cynical about love, especially if we're semi-sober and observing the mating habits of fellow members of our species on a Friday night at our favorite bar. As the Scottish writer Compton Mackenzie opined, "Love makes the world go 'round? Not at all. Whiskey makes it go 'round twice as fast." So, for folks who'd like to have a slightly subtler bar game than ordering a 'sex on the beach' or 'screaming orgasm' in front of their date, consider these sophisticated options at certifiably swanky spots around town. Bonus? Although there's no proof behind any of these choices (because, actual science) they all contain ingredients considered to have aphrodisiacal qualities in folklore.
Worth a shot? We think so. Go get 'em tiger ... m'row.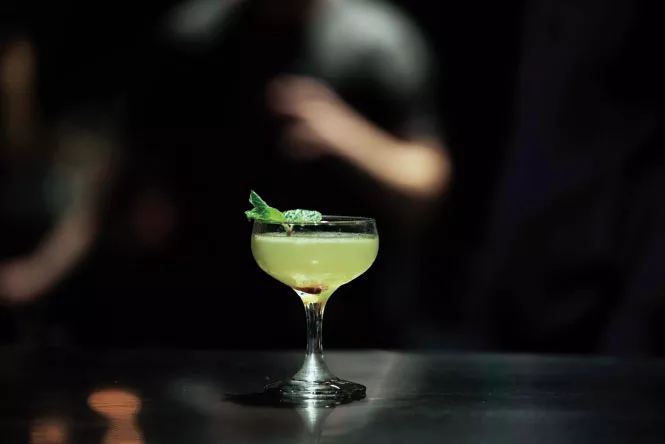 MCC
The Ruin
1215 Wilmington Ave., Ste. 120
ruinslc.com
Sugar Hood is looking better all the time for dark and dramatic bar spaces brimming with badass style, and The Ruin is a perfect example. Their motto quotes Oscar Wilde, "Work is the curse of the drinking classes," but we'd also like to credit the ever-witty Wilde with this observation: "The very essence of romance is uncertainty." Owner Amy Leininger and her team of talented drink-slingers have taken at least the uncertainty out of cocktail ordering with a perfect love potion: the MCC. "Grapefruit increases libido, mint is a sexual stimulant and, well, chocolate is simply orgasmic in and of itself," Leininger says. Tart and sweet with Lunazul tequila blanco, grapefruit, mint and both mole and Aztec chocolate bitters, it's as gorgeous as it is delicious.
The Parisian Lover
The Bar at Peery Hotel
110 W. 300 South, SLC
peeryhotel.com
Staying downtown for a little afternoon delight? The perfect spot to bask in that post-coital glow is a cozy table in the historic Peery Hotel bar. It's not on the menu, but barman Andrew Andreason will gladly shake up a Parisian Lover, his original brew of vodka, a touch of citrus, raspberry notes from Chambord, a bit of cream, and a nice lingering finish from chocolate liqueur. "It's got a little bite from the lemon, and evens out with a lovely sweet, fruity endnote," he says. Even better? You could certainly order two, but it's really a perfect cocktail to share before heading out for a romantic stroll down Broadway, after wrapping up your night on the town, or getting your strength up for Round 2.
The Wall Buster
HSL
418 E. 200 South
hslrestaurant.com
Although HSL bar manager Clifton Reagle hates making up names for drinks, this one is pretty apt given it features all kinds of (ahem) energizing ingredients. "Mezcal is a new spirit to many people," Reagle says, although it has long been considered in old Mexico as an especially potent aphrodisiac. Hell, the agave plant alone is a phallic message writ large on the arid landscape. "I think there's a romance to mezcal's flavor and aroma," he continues, adding that the concoction is a "south-of-the-border take on a French 75." That cocktail was made famous after WWI and eponymously christened after a particularly potent artillery gun. The Wall Buster features lime, Peychaud's bitters, smoky mezcal taking the place of traditional gin, a titch of saline and is topped with a bit of sparkling rosé. They're starting out with a bang with this bold and delicate cocktail that's all about romance in HSL's equally swoon-worthy space. It's an alcohol and atmosphere win-win.
The Baby Maker
Under Current Bar
279 S. 300 East, SLC
undercurrentbar.com
When I told her about my quest, bar director Amy Eldredge said: "The 'aphrodisiac cocktail experience' might as well describe our entire business model" [insert wink emoji here]. Bonus points and gold stars to UC for having oysters available any damn time to up the aphrodisiacal ante, and we're sold, babycakes. At Under Current (and next door restaurant, Current Fish & Oyster, where you'll definitely need reservations if your plans include dinner), there are plenty of Valentine's Day-specific treats in store. At the bar, order the frothy and fabulous Baby Maker—a beautifully balanced tart-sweet cocktail made in the tradition of a Fizz. Shaken with muddled strawberries, lime juice, Vermouth blanc, Bols Genever (the original Dutch gin), egg white, cream and simple syrup, it's a decidedly adult version of a strawberry milkshake. Eldredge has also been working in delicious collaboration with Current's pastry chef to develop custom-made chocolates featuring boozy ingredients to complement the bar's cocktail menu. Buy 'em by the box that night. Hell, buy two: one for sharing at the bar, another for breakfast. Nine months from now we'll be blaming SLC's population boom squarely on bar staff here.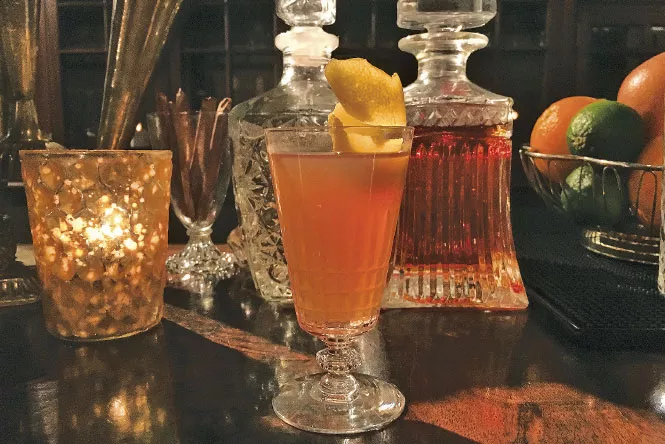 Sazerac
The Rest
331 S. Main, SLC
bodega331.com
The Rest inevitably ends up on our Top 10 spots for sexy atmosphere in the SLC, and if you're planning to dine there for V-day, you might want to make those reservations now. Their cocktail program is equally swank, with modern spins on drinks considered classic for a reason. Case in point: Their Sazerac, boozy with whiskey, stirred up with housemade NOLA-style bitters and a touch of aphrodisiacal anise in the form of absinthe. Want to really up your date's wow factor? Order the absinthe service for two, where the bartender will set up a traditional French absinthe fountain and give you the 411 on traditional technique for this ancient art of service. Oh la la!
All that Jazz
FINCA
327 W. 200 South
fincaslc.com
On Saturday, Feb. 11, and Tuesday, Feb. 14, Finca is pulling out all the stops with a six-course dinner that'll be a thing of gustatory glory: think oysters, charred octopus, roasted lamb, and some seriously sexy vegetarian selections. Start out early in the bar pre-meal, linger after your dinner, or just stop in for cocktails and dessert if you want to cut to the chase. In any case, bar manager Natalie Hamilton and her team will treat you right. She's designed two romantic cocktails named after classic jazz standards, both of which come with chocolate pairings. "So now you have cocktails, a beginning to your playlist, chocolate, flowers, nuts and almost every spice in the book," Hamilton says. "Top it off all with my two favorite spirits, actual flames and you've got a pretty decent Valentine's evening." Oh, Natalie, you had us at chocolate. Pick either drink, or both. Like most great relationships, they're even better together than standing alone.