Page 6 of 7
Music journalism leads you down some interesting roads. One day you discover that the former publicist for Metallica is doing PR for major porn studios and up-and-coming sex toy companies. And then you get an idea.
Have you ever made a mixtape for someone, choosing and sequencing every song in order to convey your desire? What if I told you there's a device that can help you create a mixtape that actually causes your intended to erupt into O-quakes? OhMiBod, a company out of New Hampshire, has a line of Bluetooth-enabled sex toys that, paired with your phone or other digital music device, vibrates with your music. Do you realize the implications? The convenience of using someone else's words, rhythms and melodies to express your feelings now extends to the bedroom. You can translate your otherwise useless knowledge of music—the sum of your hipster bullshit—into sexual competence!
Eager to assist in our research, the company sent over a review "unit" of their Freestyle W, a flexible, silicone behemoth that looks like Papa Smurf mated with a cactus. In addition to its musical capabilities, the W has seven programmed vibration patterns, or you can mix and match three speeds and four patterns. Using the music function is easy: You plug a transmitter into your phone, plug some headphones into the transmitter, pair the devices, and press play. It also works remotely, so your partner can control it from a high-back chair up to 25 feet away.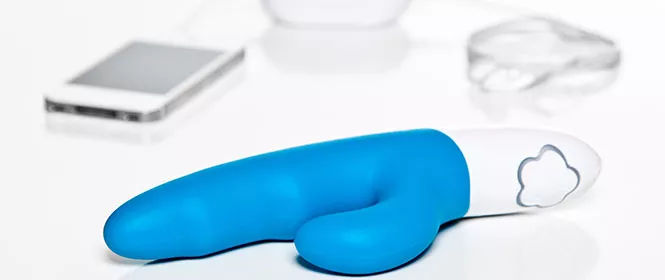 City Weekly sniffed out a Masturbation and Music Interpreter (MAMI) willing to accept a free $130 sex toy, use it according to very detailed instructions (including a hand-picked playlist) and call in the morning to give a report. It was like getting sanctioned strange, albeit with no more contact than it took to hand over a box and email a link to a YouTube playlist. It's a bit sad, but beggars can't be choosers.
Dazz Band—"Joystick"
CW: Baby, I'm your joystick. I can do anything that you want me to do. Yeah, yeah.
MAMI: "I love this song! It has so many little sound effects and a great bass line. There are a lot of buzz-pauses. It's interesting."
Enya—"Orinoco Flow"
CW: You're special, girl. You deserve ambience. Relax and let Enya's cloying, new-agey music sail away and wash over you.
MAMI: "It started vibrating on the commercial for Chips Ahoy! I don't like the Enya song, so I couldn't get into it."
Miss Nina—"Popcorn Popping on the Apricot Tree" (LDS Primary School Song)
CW: Let's take it up a notch, girl. Look out the window of your mind. Tell me what you see. Yeah, on the tree. Just pop-pop-poppin' right before your eyes. Sing along. I'll join in after a couple lines. We'll get us a nice round-robin goin'. Yeah, girl. You got a sweet spirit.
MAMI: "How was this supposed to get me hot?! Nothing. Whatsoever."
Toby Keith—"Courtesy of the Red, White & Blue"
CW: Yee-haw! We been goin' a whole lot longer than eight seconds—10 ... 11 ... I'm gonna light up your world like the Fourth of July. Whooooo! Tell me if you can feel the twang.
MAMI: "The Applebee's commercial had some bass! It started out really boring because there's not a lot happening in the a cappella part. I replayed the part with the helicopter sounds a few times. No, I did not feel the twang."
Badfeather—"Sweat"
CW: Here we go. Settlin' into a groove. Feel that descending bass line workin' its way down to your hips. Feel that marching groove? They're really in the pocket. Wink. This song sounds like porno music. What's your favorite website, tenderoni?
MAMI: "You're a dork. I listened to the whole song. Very good. My favorite part of the song is where it's just the drums and bass and keyboards and he's not singing. It sort of stutters, then has a long, strong vibration a few times in a row. I felt it in my toes."
Insatiable—"GPC's"
CW: You can't get enough, can you, skank? You see what I did, there? In ska, the way they dance is called skanking!
MAMI: "I remember dancing to this song at the Zephyr a long time ago. I just figured out that you can turn down the transmitter so you can feel different instruments instead of just the drums and bass."
Baby Gurl—"American Wet Dream"
CW: You wanna get kinky? These guys have no idea how—or even the inclination to—please a woman. But let's see if music transcends preference.
MAMI: "What, do you mean they're gay? This song really made the toy vibrate. I don't like heavy metal, but I liked the swinging feel."
Led Zeppelin—"Moby Dick" (drum solo only)
CW: Skip to the drum solo at 1:07 and just ride it out, sweet thang.
MAMI: "I couldn't feel it, so I had to play with the transmitter thing and go back to the start. He played for, like, 15 minutes! Sometimes he lost me when he slowed down, but the fast parts and the jazzy parts felt really good. I turned it upside-down so the clitorial stimulator hit me [someplace else]. I might be into drummers now."
Skrillex—"Bangarang"
CW: Oh, damn. It's hot in here, girl. You got any water?
MAMI: "A lot of this song just felt like the vibrator was on the normal setting, like constant vibration. It felt really good after I turned it down. The wub-wub-wub is nice."
Night Ranger—"Sister Christian"
CW: Skip to 2:30 for the guitar solo and big finish! "You're motorin'! Dundun-dunh! Dun-duh-duh-dunh!" Did you feel the drama in how the song builds?
MAMI: "I felt the build. The whole song would probably work for me. I might try it on my own time."
Final Thoughts: Our subject is a fan of the Freestyle W. "It's soft, but also firm, and it's not too big," she says. "I like the replay value of the music setting, but I will like it more when I get to use it by myself. And you should have included a song for afterglow. Ladies like that."