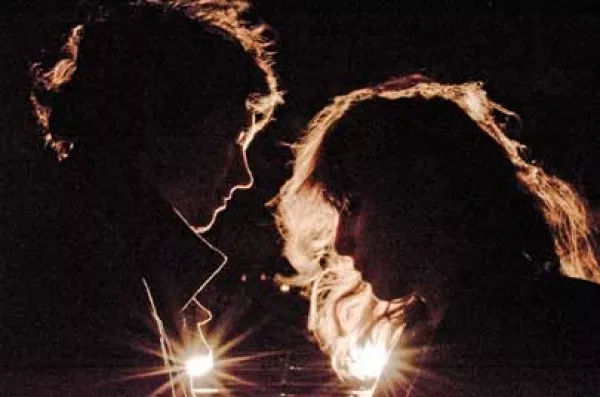 The first memorable post on Beach House's Tumblr page recently was a YouTube clip of Suzanne Ciani—a "crazy, synth-specialist lady from the '70s and '80s, who's clearly stoned out of her mind"—on David Letterman circa 1980.
The next—and actually more important—is the Baltimore twosome's latest publicity photo (shown above) with the caption: "Remember when there was mystery?"
And when you ask the guitar/keyboard player Alex Scally about "mystery" or the myth of the artist, you hear a fascinating diatribe that's part college-professor rhetoric and part artist tongue-in-cheek rant.
"We're in an era where everybody says everything about themselves, all the time, and it's so boring. Artists go on their Twitter and all their shit, and they're like, 'OMG, the bathroom at so and so's was disgusting,' " Scally says by phone, imitating a valley girl. "They're supposed to be an artist, and that is what they are saying to the world?"
Would we think of Neil Young as Neil Young, or David Bowie as David Bowie, if we knew that they drank a Frappuccino last Tuesday or went to Walmart today? These artists are untouchable, in a sense, which is part of their myth and legend, Scally muses.
The quest for creating a story-myth is essentially the shrouded, enigmatic temple that Beach House—Scally and vocalist/organist Victoria Legrand—have been building since their start in 2004. Their latest effort, Bloom, continues along that architectural framework with its construction of something tangible, yet greater than the sum of its parts, something that delivers more meaning and depth with repeated listens—think of, in a smaller, yet different, way, the great albums like Blonde on Blonde, Sgt. Pepper's Lonely Hearts Club Band or London Calling. It certainly can be transcendental when music is conceptual, or the viewer believes in the mystery.
"Art is on this realm so far above people's day-to-day banal bullshit," Scally says. "When we step onstage, or when we release an album, it's not me and Victoria. We're trying to transform ourselves into something far more interesting and exciting."
Legrand and Scally are, as he puts it, just some musicians who buy too many organs—"Our practice space, we thought was huge when we moved in three or four years ago, but now it's, like, filled with crap. It's like Katamari [Damacy, a video game, the object of which is to pick up objects from a cluttered room or city]." They sit around and search for inspiration. "That's not exciting," Scally says.
For the two, a concert is just like theater. And part of creating a mystique is the live experience and making "things that will mesmerize." After working as a carpenter for his father before Beach House became a full-time band, Scally knows his way around a hammer and nails. So, he and Legrand began building their first props, "light boxes," showcased locally at Kilby Court in 2008.
"We're very controlling people. We have a very specific idea of what our stage should look like and how our aesthetic should be, so we build everything ourselves," Scally says. "Otherwise, it would give up too much power."
This tour features lights and a design modeled after "an industrial complex," Scally says, "like when you see grates and fans on a misty night somewhere where you shouldn't be and you're 16 years old."
And that will meld with the Salt Lake City skyline at the 25th-annual Twilight Concert Series season opener. Beach House has notoriously turned down large venues because they believed that their live-show aesthetic wouldn't fit properly. Over the past two years, the Twilight show average was 33,000 visitors, peaking at 52,000.
However, new changes might curb attendance. "It has become too costly and too crowded to become a comfortable event," said Casey Jarman, Twilight Concert Series director, at a press conference May 11. "In order for the series to sustain its success, the series will now be charging a nominal fee of $5 per concert." Advance tickets can be purchased at 24Tix.com and Graywhale Entertainment locations; tickets will be sold for cash at the door.
"We've never played in front of that many people; that's kinda scary," Scally says, although he's willing to embrace the mystery.

BEACH HOUSE
w/ The Walkmen
Pioneer Park
300 S. 300 West
Thursday, July 5, 7 p.m.
$5