Ririe-Woodbury Dance Company Artistic Director Charlotte Boye-Christensen wants to demonstrate the company's formidable range, and offer audience members three distinct pieces that will challenge their perceptions of time and space. And, of course, she wants to entertain.

Ririe-Woodbury's 45th season is slated to end with a program—Surfaces—that features three vastly different works by three vastly different choreographers. Doug Varone's jubilant "Strict Love," (which features a song by The Jackson 5), Susan Marshall's poetic "Cloudless," and Boye-Christensen's stirring "Degrees of Separation," which is a meditation on human connection and loss.
The Thursday night premiere of Surfaces includes a tribute to Ririe-Woodbury alumni, featuring artists, cast members and other staff members whose association with the company spans the entire length of its existence.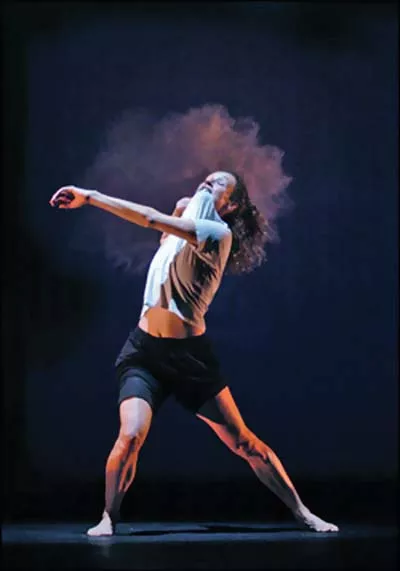 "This company has done so much education and outreach, and it has been integrated into the community for multiple decades. We really want to celebrate that," Boye-Christensen says. Surfaces features a slightly modified, abridged version of an existing work by New York City-based choreographer Marshall. In 2000, Marshall received a MacArthur "genius grant" for her innovative, accessible dances.

The MacArthur Foundation annually awards 20-30 grants to creative, visionary people across a variety of different disciplines. Dance lovers worldwide will tell you that Marshall and her dancers fit the criteria.

The underlying premise of Marshall's work is simple and engaging: Gestures and move ments—such as embraces, pecks on the cheek and caresses—communicate just as much about our thoughts, feelings and experiences as words do. In her artistic statement, Marshall says that unadorned gestures swiftly and clearly communicate the depth of our lives. She has created compelling, beautiful dances that are composed of subtle, universal gestures such as clasping a hand over someone's mouth or draping an arm over someone's shoulder.

Boye-Christensen first saw one of Marshall's works when she was teaching at Julliard. "I was blown away," Boye-Christensen says. "It was so pure and unpretentious. It was deeply rooted in something true. Work like that always leaves you feeling naked."

Boye-Christensen was delighted when she had the opportunity to add "Cloudless" to Ririe-Woodbury's repertoire, noting that she appreciates the unique challenge that executing Marshall's work presents. "You can't rely strictly on your technical training as a dancer. It's all very subtle and evocative. Susan Marshall's work makes you take a look at your physical instrument and really figure out how you're going to express that emotion."

"Cloudless" consists of a series of dance vignettes that Susan Marshall & Company dancer Kristen Hollinsworth—who helped Ririe-Woodbury's dancers learn and stage the piece—describes as a book of poems.

"Every vignette tells its own story, but they can also function as a group together," Hollinsworth says. Darrin Wright—a Susan Marshall & Company dancer who also helped stage "Cloudless"—adds that he was impressed by the incredible skill and professionalism of Ririe-Woodbury's dancers. "We're a company of six dancers, and they're a company of six dancers. So, in a lot of ways, it was a perfect fit," Wright says.

Wright says that one of his favorite things about working with Marshall is that she encourages collaboration and draws inspiration from whoever happens to be around when she's creating a new piece. Wright and Hollingsworth encouraged Ririe-Woodbury's dancers to personalize Marshall's work and add their own flourishes. Marshall welcomes performers dancing her choreography to integrate a bit of their personal story into the mix.

The range of music and props in "Cloudless" hints at the vast emotional spectrum traversed in the vignettes. The musical accompaniment ranges from a piano solo to "Crimson and Clover" by Tommy James and The Shondells, and the props range from a square table to a teaspoon. One of the most moving vignettes—a minimalist solo—features no props at all.

"Cloudless" features a captivating mix of theatricality, intimacy and intrigue. A vignette that portrays an emotionally charged tea party best showcases these qualities. A prim male character sits stick-straight in a chair with a cup of tea in his hand, staring intently at a fixed point in space, while a female character lays flat on the floor, extracts tissues from her shirt and transports them up to the male dancer's outstretched hand with a series of sultry exhales of air. The precise timing of the tissue exchange gives the tea party vignette a razor's-edge quality. One cough, sneeze or clumsy exhale, and the delicate balance is thrown off.

Although the two characters are so close they're virtually touching, the female's sensuous flat-on-her-back torso wriggles, while the male's forced, erect posture signal that they are inhabiting two completely different worlds. The comic incompatibility, the palpable tension between the two characters and the mystery surrounding their true intentions and motivations creates a spellbinding scene.


SURFACES
Ririe-Woodbury Dance Company
Rose Wagner Center
138 W. 300 South
April 23-25, 7:30 p.m.
801-355-2787
RirieWoodbury.com