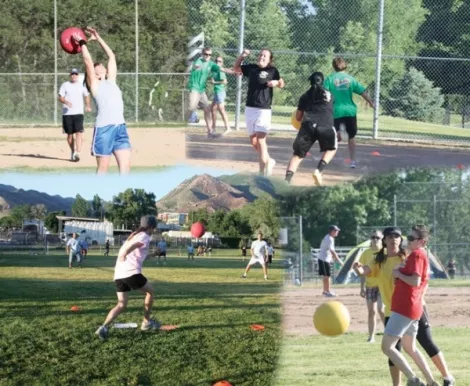 For F.B.G.M., the clinking of $1 PBR cans is a triumphant sound. As other Beehive Sport & Social Club kickball teams trickle into Fat's Grill in Sugar House for post-game drinks and grub, F.B.G.M celebrates a victory over this week's rival, The Smashers.
"You don't really want to go out and drink when you lose. We'd rather be here to celebrate," says F.B.G.M. co-captain Erin Dalley. Made up of a large group of female friends plus two males (per the club's co-ed regulations), F.B.G.M.—taken from Notorious B.I.G.'s "Fuck Bitches, Get Money"—mixes and mingles with the other teams, slapping backs and trash-talking in jest. The drinks help blur the lines between winners and losers.
This social, can-clinking climate is the fundamental tenet of the area's only year-round, multi-sport adult league. "As a business, we've said from the beginning, if people have a fun time, we stand a decent chance of sticking around," says co-founder David Marquardt. He wants to take the game by the balls, so to speak, by getting serious about having fun.
At the corporate headquarters—Marquardt's dad's basement—their core values are posted on the wall. It's a three-tiered pyramid: Fun—"The Holy Grail," Marquardt says—is at the top, followed by community and then competition.
To ensure that hierarchy is achieved, the current 170 members on 10 kickball teams are offered a "fun guarantee": If someone isn't having fun, the next sport is free. Touch football comes in the fall; registration ends Sept. 4, and the games begin on Sept. 11 and run through Nov. 6, weather permitting. Dodgeball is the winter sport.
Marquardt, a Salt Lake City native, was working the 9-to-5 grind in Virginia and playing in a sports and social club there. He wanted something different and saw there wasn't a similar club in his hometown. So he moved back, and on May 24, began his marketing campaign—which included, among other things, piñatas at TRAX stops filled with candy and Beehive Sport information.
For the first game on July 7, registration exceeded expectations. "It brought a tear to my eye that this came together and people were kicking a ball and having fun," he says, cracking a smile.
During the second week of games on July 14, coolers line the dugout and Dixie cups dot the playing field. Young professionals display a childlike spirit for the games. Marquardt uses the term "passionate ambivalence."
The kickball matches are 55 minutes long and held on Thursday nights at Sunnyside Park (1735 E. Sunnyside Ave.). Most of the "athletes" haven't played kickball since elementary school. The rules are similar to baseball, although teams cheer regardless of what's going on, and some players have yet to master the game's ins and outs. But that doesn't matter. Most are there to drink and make merry. Each game ends with an optional swilling-and-grub session at various bars, including Gracie's, Trolley Wing Company and Fat's; each location offers discounts to jersey-wearing players. The season runs seven games, with two additional playoff weeks. The championship game on Sept. 1 will be played at Spring Mobile Ballpark, directly after the Bees' final home game.
While there are certainly other leagues for kickball—namely WAKA, the World Adult Kickball Association—ultimate Frisbee, hockey, softball and more—some of them also offering post-game get-togethers—none are year-round, and most focus on athletics more than the socializing aspect. "Some of my teammates quit other leagues because they thought it was too competitive. It's more exciting to play and not get so beat up when you lose," says Blue Balls captain Carrie Miller.
"It's definitely a socializing event for people, like me, to meet new people. But it's not like it's a singles ward," Miller says with a laugh. Many of the teams have creative, tongue-in-cheek and sexually oriented names, though, like Cockblocking 4Skins; Wine 'em, Dine 'em, 69 'em; and Boot Knockers.
Blue Balls' roster includes a deejay, an Army officer and a pharmaceutical sales rep. Miller, an employee at a commercial development agency, says some of these strangers, after only a few weeks, are already hanging out off the field. About 40 "randoms" joined the league this season and were placed on various teams; other teams came together through the efforts of the captain. "What's really cool is it's bringing together all these people from my different [social] groups: high school friends, family members, ex-co-workers, my wife's family," says The Crushers captain Aaron Garrett.
Garrett embraces the carefree spirit of kickball and the league. "One of my teammates asked me how we were going to assign positions. I said it would be in a clusterfuck fashion, three minutes before the game. That sort of describes how it goes," he says. "The experience is about showing up 10 minutes before the game, getting outdoors and having a beer afterward."
BEEHIVE SPORT & SOCIAL CLUB
Year-round adult ball leagues
BeehiveSports.com