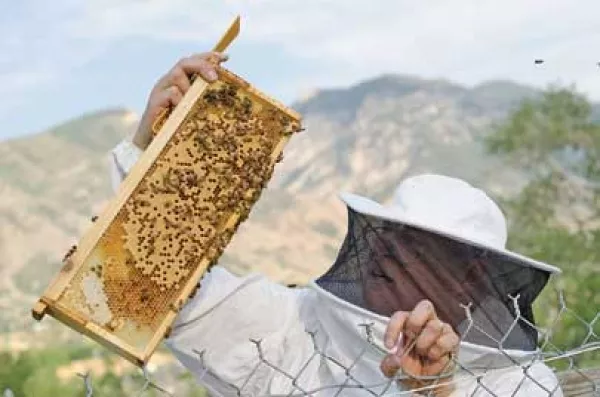 With their ominous drone and painful stingers, bees get a bad buzz. But they're both a vital part of the ecosystem and misunderstood backyard friends, as Sam Wimpfheimer can attest. Wimpfheimer is president of the Utah County Beekeepers Association (UtahCountyBeekeepers.org), which offers classes on beekeeping, soap-making and more, as well as education for beekeepers and bee enthusiasts.
How did you get into the bee business?
I started beekeeping five or six years ago because the fruit trees in my yard weren't being pollinated. The population of bees has gone down a lot. I've been involved with the Utah County Beekeeper's Association for the five or six years I've been around bees. Part of the job is interacting with the public, training and helping to get speakers. We just try to give a good product so our members enjoy it, so they can learn about the rules and regulations we have to follow in the state and how to care for bees.
How do bees maintain a healthy environment in Utah?
I have a vegetable garden and fruit trees. The bees help pollinate the raspberries, blackberries and other fruits. I try to be self-sufficient; that's what beekeeping does for you. You can tell if you don't have a healthy environment if your bees are dying. If it weren't for bees, we wouldn't have 60 to 80 percent of the fruit we eat nowadays. They help crops produce seeds. It takes four separate visits by a honeybee to pollinate an almond flower. [Without bees,] life would be awful boring and our assortment of food would be very blah.
What role do pesticides play in bee populations?
Pesticides are very hard on the bee population. You need to read the instructions on your bottles before you spray because a lot of pesticides are hazardous to a bee's life. Monsanto produces a chemical that can affect a bee's nervous system. Some of their products are thought to be harmful. And bees are very fragile; they're really susceptible to pesticides. The best time to spray is late evening, to reduce damage.
What laws, if any, should be drafted to protect bees?
There are label laws that restrict people in the use of pesticides. I think maybe there ought to be more research—not by the pesticide company, but by independent groups that can tell if a chemical will be harmful to bees before it is released to the world for use. And there are state laws that require you to be licensed to have bees.
What can the average person do to help bees thrive in Utah ecosystems?
There are a wide variety of wild bees in Utah, from one-eighth of an inch to three-fourths of an inch long, that are essential to the environment. I'm not talking about yellow jackets or hornets, just friendly pollinators. Many people are stung by yellow jackets and hornets and say they're stung by a bee, but they're not. A honeybee can only sting you once. It gives its life to protect itself. So don't spray everything just because it flies. And if you have a honeybee swarm, call a local beekeeper and they can remove them rather than destroying the swarm. They'll be happy to have the bees. You can also plant lots of bee-friendly plants.