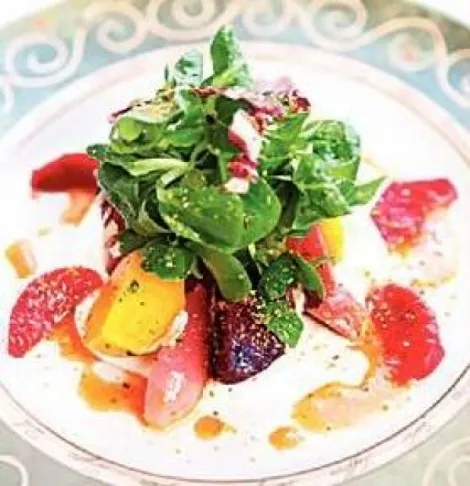 One of my favorite summer rituals is buying bunches of tiny, farmfresh beets at the Farmers Market, then cooking and eating them as soon as I get home. Golden, Chiogga, Detroit Ruby Reds—I love them all. The rush of sugar tempered with coarse salt, the tender texture, the subtle earthiness—it's enough to make me swoon. Or, maybe I'm just craving the natural minerals.

At any rate, I'm stymied by people who don't like beets. Maybe part of the problem is that the beets sold in most supermarkets are too big and far past their prime. Beets are like fresh corn in that their natural sugars turn to starch all too quickly, so they should be eaten as soon after picking as possible.

And, maybe some people just aren't sure how to cook beets. So, here's the deal. It could not be easier. Rinse and chop the greens off, leaving about an inch of stem intact and the "tails" on, so the color doesn't bleed out. Cook in salted boiling water for about 20 minutes or until tender. Test with a sharp knife. (The smaller the beets, the less cooking required.) Drain and rinse in cold water, wait five minutes, and then slip the thin skins off as soon as they're cool enough to handle. Or, simply place washed and dried beets in a baking dish; drizzle with olive oil, cover and roast in a 375-degree oven until tender. Cool and peel.

Not up for cooking beets? Bambara's roasted baby beets and blood oranges with mache, Shepherd's Dairy goat cheese and blood orange vinaigrette with roasted hazelnuts is sublime. Café Trio offers a tempting beet and arugula salad with bacon vinaigrette, and everyone's raving about Pago's cinnamon beets with dollops of green yogurt and truffle honey.