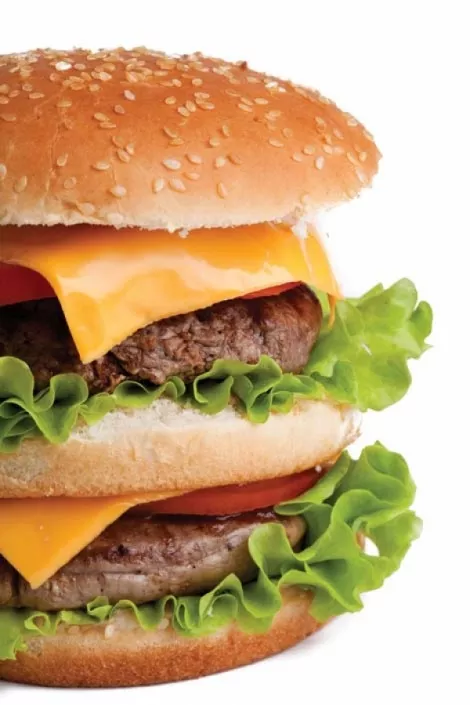 Proper attention is given, of course, to white tablecloth restaurants in these pages. But, man cannot live solely on foie gras and escargot. Despite the fact that I'm a restaurant critic, many of my meals are eaten standing up—or, at least, sans silverware. I've spent the past few months roaming from diner to cafe to mom & pop eatery and have discovered a number of worthy "hand-to-mouth" eating options—food you can get into your mouth with your mitts. It's perfect grub for on-the-run holiday craziness. And hey, no dress codes, either.
As I'm always in search of a great burger, we'll begin there. One of my most satisfying finds is Guzzi's Vintage Burger & Fries (180 E. 800 South, 801-364-4541). When you visit Guzzi's, don't be a dolt like me and ask if the bearded guy flippin' burgers is Guzzi. It turns out the place is named for Moto Guzzi, an Italian motorcycle manufacturer, which explains the abundance of motorbike paraphernalia adorning the restaurant, including some Moto Guzzis on the roof. At the unpretentious Guzzi's, you'll typically find a mix of hipsters and oldtimers shooting the breeze while waiting for their made-to-order, all-beef burger, which comes with a heaping portion of hand-cut fries. It's an honest, delicious, no-nonsense burger served up in a trés friendly atmosphere. Another good burger is to be found at Scaddy's (1842 S. 300 West, 801-906-0471), where I like the not-so-low-cholesterol egg burger and also the pepper jack grilled cheese sandwich. Service here, too, is uberfriendly, and I've never eaten at Scaddy's without being asked, "How was your lunch?"
Dylan's Drive-In in Kaysville (185 N. Main, 801-498-7777) has the same owner—and pretty much the same menu—as his Warren's restaurants, and my favorite menu item is the Rocky Mountain Reuben, although they, too, grill up a mighty fine burger and patty melt. One more superior burger is at the new east-side Tonyburgers (613 E. 400 South, 801-419-0531), which features a "secret" tri-beef blend and some of the best double-cooked fries around, to boot.
When the owners of Curry in a Hurry opened Masala Indian Grill (2223 S. Highland Drive, 801-487-2994) they hit on a smart idea: serving Indian food in wrap form. At Masala, you can get tandoori masala fish or chicken, lamb or veggie masala, or a chicken-cheese kabob, all wrapped up in fresh, warm naan. Then, tame some of the heat with a refreshing rooh-afza or mango yogurt lassi drink. Another great ethnic eating option in Sugar House is O'Falafel Etc. (790 E. 2100 South, 801-487-7747), which, contrary to what you might surmise, is not an Irish Middle Eastern eatery. There was a time when the only falafel I'd eat was at Mazza. But, I found the falafel at O'Falafel also to be worthy, with a subtle blend of spices, garlic and garbanzos, all fried to a delicious, crispy crust. And, you couldn't ask for friendlier service.
Over the past few months—since the City Center Food Court opened—I've developed quite an affinity for Bocata (28. S. State, 801-355-3538). What is Bocata? Well, it's Spanish slang for bocadillo, or sandwich. But, this isn't just any old sandwich. Brought to you by the Settebello Pizzeria folks, a Bocata sandwich is special. For starters, the bread used for these artisan sandwiches is handmade, utilizing Caputo 00 flour—the same imported Italian flour that goes into Settebello pizzas. It's formed into individual balls, tossed, given 24 hours to rise and fired in Bocata's brick oven. The result is a crisp crust and chewy center. So, a Bocata sandwich begins with great bread. But it doesn't end there. Virtually all the sandwich fillings are made from scratch, and include ingredients such as fresh oven-roasted Roma tomatoes, slow-roasted rosemary-and-garlic leg of lamb and homemade meatballs using ground pork, beef, fresh breadcrumbs and Pecorino Romano cheese. The "Drunken Chicken" marinates in Red Rock Brewing Company Hefeweizen brine, and the pork for Bocata's Cuban pork sandwich is first rubbed with cumin and orange zest before a long, slow roast with sherry vinegar and citrus. This is food-court grub at its best.
For years, people have been asking me where to get a good Cuban sandwich. My response has always been, "Beats me. Let me know when you find one." Well, I'm happy to report that has changed. In the past month, I've located not one, but two very good Cubans. The first was mentioned to me by fellow food maven Bill Allred of X96 Radio from Hell fame. It turns out his sister owns a funky restaurant in Ogden called Two Bit Street Café (126 25th Street, 801-393-1225) and they serve up a killer Cuban sandwich called the "Tampa Bay." It's made pressed, panini-style, with roast pork, ham, Swiss cheese, pickle and Dijon mayo on authentic, Cuban-style bread that's baked right in house specifically for this single sandwich. It's glorious. And, the burgers at Two Bit Street are superb, as well. Another very good Cuban sandwich—this one served up in an appropriately Caribbean atmosphere—is the "El Cubano" at Adobos Caribbean Grill in Sandy (9460 S. Union Square, 801-523-3672). Similarly to Two Bit Street's, this sandwich features roasted pork, sweet ham, Swiss cheese, mustard and pickles on pressed Cuban bread. I have to say, though, that I prefer the fresh-baked bread at Two Bit Street over Adobos. Still, both Cuban sandwiches are well worthy of your hard-earned coin.
Hey, who needs tablecloths and polished silver with hand-to-mouth temptations like these?