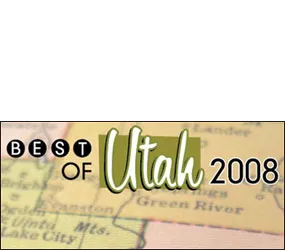 n n n

n

BEST POLE KITTENS
Studio Soiree
"You as a woman are an amazing creature who can express an emotion only as a woman can," says pole-dancing teacher, Niqui Eastman. And express that emotion with their bodies, her clients do, through classes with Eastman and her partner, Lizz Scholfield. It's all about empowerment, about exploring, and releasing, your inner sex kitten. Although it has only been open a year, Studio Soiree has already taught 200 female adherents in Salt Lake City. Men attend a core pole class, which has nothing to do with dancing and everything to do with strength. No one, Eastman says, wants to see a man sliding round a pole.
2021 S. Windsor St., Suite D, Salt Lake City, 801-486-0054, StudioSoiree.com

n
BEST SNOWBOARDING
Brighton
Nestled atop Big Cottonwood Canyon, Brighton is Utah's own snowboarding Mecca. With 1,050 acres of rideable terrain, a 15-foot half pipe, four constantly changing terrain parks and a miraculous lack of out-of-towners, it's no wonder that Brighton offers the best snowboarding for all skill levels. Its ticket prices are affordable and lines are short. It offers easy backcountry access for powder hounds in a fine slice of Utah's beautiful natural scenery. For the hardcore, Brighton sells a pass that gives 12-hour lift access for just $6 more than a regular adult pass. Finally, a resort that provides an inexpensive outlet for the masochistic and thrifty snowboarder.
Big Cottonwood Canyon, 801-532-4731, BrightonResort.com
2. Snowbird
3. Solitude

BEST SKIING
Alta
You know how you feel a certain brother/sisterhood with folks who sport an Alta sticker on their car window or bumper? Well, you are the same people who voted Alta, hands down, the best skiing in Utah. Really, it doesn't take a genius to know: Alta's unique geographical placement in the Wasatch has always ensured tfhis particular spot will get the driest, deepest and finest powder in the country. Don't take our word for it; check every popular skiing magazine for the same endorsement. The only problem with Alta—especially after a walloping snowstorm—is yup, its popularity. Get there early. Like first-chair early. The powder gets tracked out in an eye-blink. And best of all, Alta allows no stinkin' snowboards.
Little Cottonwood Canyon, 801-359-1078, Alta.com
2. Snowbird
3. Solitude
n n n

n

BEST WAY TO GO DEEP
Scuba Utah
In the landlocked alpine desert known as Utah, scuba diving may not be top of mind. But mountain lakes and water-filled craters are waiting to be explored, and Scuba Utah has you covered for all things diving and snorkeling. Established in 1971, Scuba Utah was Utah's first dive store. Its certified instructors know the secrets of the deep and offer training in an actual classroom to small class sizes. Its on-site dive pool helps you become familiar with your dive equipment and prepare for certification. If you just want to get your feet wet, Scuba Utah can rent you equipment. Finally, you get to have a life. That's right, Scuba Utah schedules local and international dives and makes all the travel arrangements. It'll float your flippers.
1942 E. 7000 South, Cottonwood Heights, 801-942-2100, ScubaUtah.com n
BEST WASATCH SPRING SKI ADVENTURE
The South Face of Mount Superior, Little Cottonwood Canyon
Newbies, read no further. This is an outing for the experienced backcountry skier. If you're good enough, get up Little Cottonwood Canyon to Alta on a spring day when there is a freeze at night, and the day will warm up nicely. Leave the car at 6:30 a.m. near the Alta Lodge and hike to Cardiff Pass. Continue up the east ridge of Mount Superior to the top. At the right moment, the south face of Superior will have two to three inches of corn-like, pellet snow on a solid base. Point your skis down and huck to Snowbird 3,000 feet below. Caution: Beware of cliff bands. Pick your route carefully. If you like to climb, take the south ridge to the top.
BEST BACKCOUNTRY POWDER RUN
Meadow Chutes of Silver Fork, Big Cottonwood Canyon
With crowds and ever-rising costs for lift tickets turning more skiers loose in Utah's backcountry, it's urgent you find the finest powder available. Well, turn up the volume on your avalanche beacon. Start by traversing the ski run at Solitude and hiking up Silver Fork. You'll wind up on the high ridge of the west ridge. Known as the Meadow Chutes, here the intrepid will find close to 2,000 vertical feet of untracked and wild powder turns. But get out there soon—French and German skiers were enjoying the scene there this year, and they plan on spreading the news all over Europe.

BEST COMMUNITY GARDEN
Wasatch Community Gardens
It may have seemed like a trick question. Wasatch Community Gardens, unlike Red Butte Garden and Jordan Park's International Peace Garden, is a hands-on place. The other two, which readers gave second and third place, respectively, are of the "stroll around and take in the beauty" variety. The first Wasatch garden, at 800 South and 600 East, in Salt Lake City's Central City neighborhood comes alive each spring and summer with a bounty of vegetables, herbs and a few giant sunflowers for accent. Volunteers work the soil regularly; in exchange, they take home produce they so lovingly nurtured all growing season. At the end of the summer, volunteers host a wonderful tomato sandwich feast. Stop by the garden and get information on how to take part. Like most avid gardeners, they love to talk about their hobby. Hands-on demonstrations and organic gardening classes are available; check the Website for details.
Multiple locations, WasatchGardens.org
2. Red Butte Garden
3. International Peace Garden
BEST ARCHITECTURAL NOSTALGIA
The Walker Center Weather Tower
There was a time when the radio tower atop the downtown Walker Center could be seen from almost anywhere in the Salt Lake Valley, telling the latest weather forecast in red or blue neon, flashing or shining steadily. Then it was removed, leaving only a stubby Walker stump. In January, builders mounted a replica of the old tower and, even if it's now mostly obscured by all the steel and glass that have sprouted up nearby, we're glad it's back. And, if you're lucky enough to have a good sightline, you can still plan for galoshes or tanktops without checking the Weather Channel.


The Wasatch Hash House Harriers
Its Website describes it as "a social running club with four simple goals: to promote physical fitness among our members, to get rid of weekend hangovers, to acquire a good thirst and to satisfy it in beer, and to persuade the older members that they are not as old as they feel." Worthy goals, all—particularly the beer part—and anything that can make physical fitness less deathly tedious than it must be is OK in our book. They also have a sense of humor, making a nice change from all those grim, solitary joggers we often see around town.
WasatchH3.com

BEST DOG-WALKING
Tanner Park
Long before there were Salt Lake City Council debates about on-leash and off-leash, or F.I.D.O.S. activists with bumper stickers reading "I have a dog and I vote!" there was Tanner Park. It's the overwhelmingly favorite place for readers to walk their pooches. No wonder. The Canyon Rim-area park is centrally located for city and suburban residents. Dog owners, always a friendly lot, seem even friendlier here and more conversational than other spots. And because Tanner has been recognized as a dog-walking place for so long, with a few notable exceptions, humans seem to understand the basic rules: Keep your dog on a leash and pick up his poop.
2760 S. 2700 East
2. Liberty Park
3. SugarHouse Park
n n n

n

BEST INVERSIONS
Quality of Life, Centered City Yoga
Anyone who has lived through a winter in Utah likely has a poor opinion of inversion, with good reason: It clogs the lungs and colors the valley a clinically depressed gray. Yoga inversions, however, are decidedly more salubrious. The handstands, headstands, shoulder stands and other upside-down positions are detoxifying, especially in Centered City Yoga's Quality of Life program where cancer fighters, survivors and their loved ones practice for free. Instructor Amy Conn launched the program after her own bout with cancer, one she overcame with the help of inversions, yoga asanas and support of her Centered City friends.
918 E. 900 South, 801-521-9642, CityCenteredYoga.comn
BEST-KEPT SECRET IN OUTDOOR UTAH
North Stansbury Island Coves and Beaches
Stansbury Island is the forgotten landmass of the Great Salt Lake. The west shore is mostly closed; private industry there dominates. But the center of the island has a challenging mountain bike ride that would rank an 8 out of 10. Really lost to the public—and mostly secret—are the amazing white sand beaches and coves on the north end of the island. The problem is accessibility. The west road is closed. You must access the area by boat or by a longer hike over the top of the island. But the adventure is worth it. Imagine being on an isolated Côte D'Azur beach with white sand, gentle waves and no one around. Drive Interstate-80 west to the second Grantsville exit to State Highway 84. Go north at the exit onto a sketchy road through mud flats to the island and the bike trailhead. From there, you are on your own.
UtahMountainBiking.com/trails
BEST PAR 3 GOLF HOLE
Fore Lakes No. 3
The Par 3 is one of the most challenging at Fore Lakes. While a straight drive, the green is surrounded by trouble. Shank to the left and your ball's out of bounds and bouncing down a road. To the right, and you'll be finagling your next shot out of a clump of trees. Drive over the green, and you're in a creek. Too short, and your ball comes rolling down the giant green slope that leads up to the green—right back at you like some infuriating miniature-golf-course gimmick. Like many holes at this beautifully manicured course, the No. 3 is a test of your short-game skills. Luckily, the Fore Lakes course is still a hidden gem out there, making it easy to get tee times without long waits. You'll have plenty of time to perfect a bulls-eye drop on the tricky No. 3.
1258 W. 4700 South, Murray, 801-266-8621
2. Mountain Dell No. 17
3. Thanksgiving Point No. 4
BEST PAR 5 GOLF HOLE
Bonneville Golf Course No. 5
The popular 18-hole Bonneville Golf Course is situated on the East Bench and is known for its fast, contoured greens and for being hilly. It offers views of the mountains and of the entire Salt Lake Valley. The course follows the foothills' natural contours, even crisscrossing a deep ravine. Its award-winning No. 5 hole is the course's most difficult. "This 457-yard monster goes uphill and requires nearly a 300-yard drive for a clear shot at the green," the course's Website reads. Basically, you tee off into hills, then in the last 150 yards, you go straight downhill. It's always a challenge to see if you can make par.
954 Connor St., Salt Lake City, 801-583-9513
2. Mt. Ogden No. 18
3. Riverbend No. 18
BEST WINTER LANDSCAPE
Grand America Hotel
During the drab winter months, when the sky is gray and dirty snowbanks pile up ever higher on the roadside, there's one place in Salt Lake City where the spirit of winter in all its glitzy glory is celebrated with true, spotless panache. The internal courtyard of the Grand America was a sight to behold last winter. While a couple of 19th century-dressed mannequins posed on iceskates, several others sat frozen in time in a sleigh. The height of kitsch and elegance, this perfectly posed winter scene has a breathless beauty to it, as if the courtyard was one enormous snow globe just waiting to be shaken.
555 S. Main, Salt Lake City, 801-258-6000, GrandAmerica.com
BEST OVERLOOKED OUTDOOR ACTIVITY
Bocce Ball, Pioneer Park
No words can quite capture the excellence of a sunny afternoon spent in Pioneer Park chucking heavy ceramic balls at one another onto a clay court, all while taking in some of the richest societal milieu the city has to offer. It's a simple game to pick up, and Bocce sets can be purchased around the city. If you're seriously awesome and take the sport seriously, nice expensive sets with traveling cases are a bit pricey but well worth the investment, as they will provide hours of heart racing, blood-pressure raising, good old fun. Just don't get too ticked off and hurl one at an opponent.
300 S. 300 West, ItalianInUtah.com


Mill Creek Canyon
Face it: Dogs chase bicycles. So, in a recreation area frequented both by bicyclists and dog-lovers, King Solomon himself couldn't have found a better solution to the bicycle-dog conundrum than did the U.S. Forest Service: Bicycles are allowed on even days, and dogs can go off-leash on odd days. Mill Creek Canyon provides a quick escape from the vexations of city life to the bucolic Wasatch Mountains, and day picnickers will find the facilities well-equipped. If you choose to drive a car, there is a small per-vehicle access fee, but picnic areas fill up fast on weekends, so call ahead for a reservation. More advanced frolickers will enjoy hiking up Desolation Trail—and, from there, the Wasatch is your oyster.
East Millcreek Road, Salt Lake City, 801-483-5473
2. Liberty Park
3. Memory Grove
BEST MOTORCYCLE RIDE FOR A LONG WEEKEND
Salt Lake City to Spanish Fork Canyon to U.S. 89 to Escalante and Boulder then Home via I-70 to Salina
Basically, you take U.S. Highway 89 to Panguitch and hang a left to Escalante. Highway 89 is dotted with little hamlets that feel a bit European. The entry to Manti with the LDS Temple looming ahead is like heading toward King Ludvig's Castle. Once in Escalante (about a seven-hour ride with pit stops), grab a room in one of several bed and breakfasts or motels (reservations suggested). In the morning, the leg over to Boulder is an amazing journey through slick-rock country. Switchbacks wind through the sandstone and put your bike yawning over the void more than once. Just before Boulder, the road narrows above 1,000-foot drops with no guardrails to break the view or to restrain your adrenaline. You've only begun. The trip over Boulder Mountain to Loa and then to Fremont on State Highway 72 is spectacular. You'll wind up heading back to Salina on Interstate 70, the most spectacular freeway segment in the world.
n n n

n

BEST REVAMPED CONCERT SERIES
Twilight Concert Series
While outdoor concerts at the Gallivan Center have always provided a good time for all, 2007 series organizers really stepped it up, did their research and brought to town a host of impressive artists including The Fiery Furnaces, Apostle of Hustle, Michael Franti, Yo La Tengo, Galactic, Sarah Borges & The Broken Singles, Robert Earl Keen, Sam Bush, Charlie Hunter Trio, David Grisman, Calexico, French Kicks, Dr. Dog, Peter Bjorn & John, and Moe! Save for a few out-of-control attendees who obviously just came to party, the evenings went off without a hitch. Killer music and great food under the night sky? Can't wait to see what Twilight has in store for us this summer.
239 S. Main, Salt Lake City, 801-535-6110, GallivanEvents.com n
BEST FAMILY HIKE INTO A SLOT CANYON
Little Wild Horse Canyon, San Rafael Swell
Get those Nintendo Wii-addicted kids out into the sandstone by heading to Little Wild Horse. Go to Goblin Valley State Park road off State Highway 24 toward Hanksville and turn right two miles before the park. Drive 5.3 miles to the trailhead. You won't need technical gear as you make the 9.4 mile loop. But the slots are amazing, many allowing you to touch both sides of the red rock while gazing at a sliver of blue sky far above. Take lots of water; the road connection between two canyons can be long and hot. Watch the weather, a sudden summer thunderstorm can mean flash floods in the narrows. People descend on the place over weekends, but watching your kids' delight is worth it.
UtahTravelCenter.com/activities/hiking

BEST MAKE-OUT SPOT
Memory Grove
Whether you prefer nooks or crannies, you and your sugar will find plenty of both among the secluded, romantic spots on hand just a few blocks from downtown Salt Lake City. There's a whole lotta lovin' going on at Memory Grove—especially considering it's a war memorial. Lying in the shadow of the Utah State Capitol, the goings-on here at the mouth of City Creek Canyon would curl many a legislator's hair—just wrap things up by closing time when the cops throw everybody out.
485 N. Canyon Drive, Salt Lake City, 801-972-7800
2. Capitol Hill
3. Ensign Peak
BEST MOUNTAIN GUIDE SERVICE IN THE WASATCH
Utah Exum Mountain Adventures
Want to climb Utah's mountains with a qualified guide? Want a service associated with the superb Grand Teton National Park Exum Mountain Guides? Exum guides go out of their ways to take the busy weekend mountaineer or skier a notch above the usual. Powder ski the chutes. Learn to do the run-out leads on the granite. Take your spouse or kids to basic climbing school. Learn to avoid and deal with avalanches. You'll find out how good you really are or can become. Exum guides have the patience and technique to make your day a great alpine experience. Utah Exum operates under a Forest Service permit.
Salt Lake City, 801-550-3986, Exum.OfUtah.com

BEST BICYCLE RIDE FOR A BUFFALO MATADOR
Marina to the Fielding Garr Ranch on Antelope Island
News flash: Antelope Island State Park is less about antelope than its bison herds. These wild and occasionally ferocious beasts (more people in the United States have been killed or injured by buffalo than grizzly bears) love to hang around the road leading from the marina at the entrance of the island to Fielding Garr Ranch. It's a lovely and scenic ride with the Great Salt Lake and the Wasatch Mountains to the east and the island's fascinating quartzite mountains to the west. Best times to ride are spring and fall. In spring, wildflowers festoon the slopes. Watch yourself if a 2-ton bison has planted himself on the road. Don't charge ahead without cape and sword, though; you may lose the battle.
Utah.com/StateParks/Antelope_Island.htm
n n n

n

BEST ART GALLERY


Kayo Gallery


Founder Kenny Riches recently moved on to embrace new experiences in New York City and Berlin, but he left his small-town gallery with the big-city aesthetic in good hands. Current director Shilo Jackson has already put her stamp on the East Broadway space without disturbing its original integrity. Warm and inviting, Kayo continues to showcase some of Salt Lake City's most promising up-and-coming artists in bold and exciting ways.


177 E. Broadway, Salt Lake City, 801-532-0080, KayoGallery.com


n

2. Phillips Gallery


n

3. Utah Artists Hands

n

BEST ROLLER SKATING
Classic Skating
There was a time that roller rinks meant only roller skating. You hung out with friends, you met boys from rival high schools. Oh, that is so '80s. Classic Skating now offers laser tag, inflatable bouncing contraptions for kids to play on and a dimecade. But at its essence, this place still means skating. The rink is big. It's loud. And every wheeled contraption you might need is available for rent or purchase—in-line skates, scooters, roller hockey equipment and custom skates and components. Well-organized birthday parties, too.
Multiple locations, ClassicSkating.com
2. Hollywood Connection
3. Liberty Park
BEST REASON TO VISIT A NUNNERY
Carmelite Fair
The annual fair at Holladay's Carmelite Monastery, held the third Sunday of each September, defines autumn in the Beehive State. Last year, the light gracing the wooded groves in front of the nuns' living quarters fell gently over the ethnic food tables and diners. The sounds of a Scottish bagpipe band, of Greek and Flamenco dancing music, and the smoke from the barbecued sausages all added to the atmosphere of celebration. Such pleasures inevitably come with a price. Leaving the fair, not only was summer over for another year, but the reverent beauty of the monastery was no longer ours to share.
5714 Holladay Blvd., Holladay, 801-277-6075 , CarmelSLC.org
BEST CHILDREN'S PARADE
East Mill Creek 4th of July
A tottering Uncle Sam on stilts, his jacket ripped down one side, received help from a woman dressed as the Statue of Liberty as the two walked along East Mill Creek's July 4th parade last year. Whether such curious symbolism struck a chord with onlookers or not, the spirit of the day was decidedly small-town American, albeit in Salt Lake City's 'burbs. Although one float caused a power outage when it shot metallic streamers onto overhead power lines, even the resulting explosion and shower of sparks that sent locals scurrying for cover, could not dampen the joviality that made East Mill Creek's 4th of July celebrations as American as apple pie.
EMCLions.org

Steiner Aquatic Center
If you grew up in Salt Lake City, you probably spent at least a few summer days lounging at Steiner Aquatic Center. But the local public swimming pool is more than just a place to cool off in 100-degree weather. Pristine and spacious with one 50-meter outdoor and one 25-yard indoor pool, Steiner is heaven for year-round athletes who—depending on the time and day—can get in a workout without sharing a lane. All ages and abilities are welcome, from heart-smart water-aerobicizing octogenarians to teenage water polo players and babes in arms.
645 S. Guardsman Way (1580 East), Salt Lake City, 801-583-9713, SportsComplex.SLCO.org
2. Cottonwood Heights Rec Center
3. Kearns Recreation Center Outdoor Pool

BEST DAY SPA
The Kura Door
Day spas are shooting up all over the Wasatch Front, but among the many, The Kura Door has wrapped itself around our readers like a soft cotton kimono. What sets this establishment, which bills itself as a "holistic Japanese spa," apart? For one thing, location. The Kura Door is located in a quiet little building in the Avenues neighborhood, not in the middle of a sprawling shopping center or noisy strip mall. It's tranquil. It's peaceful. It's private. It's trademark Japanese Ofuro Bath is a thing of beauty—60 minutes in deep stainless steel tub in steaming hot water infused with your choice of bath salts and the strains of Japanese wind flute piped softly through the speakers. It's the sweetest express detoxification ritual you can imagine. All the other niceties are there, too. Body and facial treatments, pedicures and massage. Captivating.
1136 Third Ave., Salt Lake City, 801-364-2400, TheKuraDoor.com
2. Sego Lily
3. Sanctuary
BEST RESOURCE FOR OUTSIDE CONTEMPORARY ART
Salt Lake Art Center
In a city (and state for that matter) starving for exhibitions on par with other modern art museums and major art institutions in other metropolitan areas, the Salt Lake Art Center stands as the main hot-spot for contemporary art from elsewhere. With a sweet gallery space, fresh and diverse reading room, art talks and education outreach, it's the closest thing Salt Lake has to a MoMA. Don't forget to check in!
20 S. West Temple, Salt Lake City, 801-328-4201, SLArtCenter.org
BEST TRAVELING ZOO PARTY
Wild Things
Think beyond pizza and inflatable bounce-tents; you can turn a youngster's birthday into an entertaining educational opportunity. Wild Things' Safari Van can pull up right to your party location and unload a fascinating menagerie of mammals, reptiles, insects and birds. Trained educators accompany the critters, allowing kids to learn about—and pet—a wide range of animals (depending on your budget), ensuring that the wildest things at your party won't be the guests.
801-955-3898, WildThingsScience.com
BEST PLAYER PERSONNEL BLUNDERING
Real Salt Lake
Real Salt Lake managed to land its new stadium deal—and has done nothing smart since. After leaving captain Jason Kreis unprotected in the expansion draft in 2006, the team had to pay to re-acquire him when he was selected—only to have him retire and become the team's coach in 2007. And the splashy trade for Freddy Adu led to exactly one MLS goal—a penalty kick—before Adu bailed out for Portugal. These guys make the New York Knicks look like the New England Patriots.
RealSaltLake.com
BEST TUBE LIFT TREK
Heber Valley Railroad Tube 'N Train
Snow sledding and tubing: In the winter, there are plenty of places to slide down to your heart's content but getting back up the hill ain't so much fun. Make a day of it with a train ride along the Wasatch Back to a 1,000-foot snow-tubing hill, where every trip down ends not with a long climb, but with a tow lift back to the top. Request a pre-paid lunch as part of your day, and cruise back on the train with your legs still intact.
450 S. 600 West, Heber City, 435-654-5601, HeberValleyRailroad.org
BEST SNOWKITING RESOURCE
Utah Kite Addiction
Just when you think there couldn't be any more ways to combine snow with adrenaline, along comes snowkiting—adding a little wind-powered assist to your winter sports fun. Based in the Ogden Valley, Les Vierra's Utah Kite Addiction offers Professional Air Sports Association (PASA)-certified lessons at Powder Mountain for those interested in learning how to soar through the snow and provides a free trainer kite with the first lesson. Other equipment for more experienced kiters is also available, along with guided back-country excursions.
801-391-7481, UtahKiteAddiction.com
BEST PARASITE
Cryptosporidium
Oh, there were loads of contestants in this category: guiardia, crabs, Dell Schanze … but cryptosporidium, the fever-inducingest, stomach-crampingest parasite of them all, won hands down. Its transmission vector is so cute, too—Mommy takes her innocent little baby for a little swim in the county pool and, bingo! Instant epidemic! To curb the outbreak, the county closed pools and fountains during three of the hottest weeks of summer, and kids in diapers were permanently banned—which, you know, we were kind of surprised to hear hadn't happened a long time ago. Now parents are abuzz about something called a "swim diaper." In a sane world, wouldn't people realize what an oxymoron that is?
BEST INDEPENDENCE DAY CLUSTERHUMP-EBRATION
Sandy City Fourth of July 2007
The suburban city didn't change a thing for its reliably entertaining July 4th festivities—and that was the problem. While residents may some day reap the benefits of State Street construction, the one-lane traffic last summer led to massive congestion as thousands of families poured out of the City Hall area post-fireworks. And suddenly, Sandy was like the Hotel California: You can check out any time you like, but you can never leave.

BEST GYM/FITNESS CLUB
Gold's Gym
OK, it starts off with a bit of an advantage, what with having 19 statewide locations and all. But from its birth in Venice, Calif., in the 1960s—as the brain-and-brawn-child of "Muscle Beach" stalwart Joe Gold—Gold's Gym has become the gold standard for toning and maintaining a classic physique. It was good enough for Schwarzenegger back in the Pumping Iron days; today's facilities and trainers aren't about to let members become a bunch of girly-men (or girly-girls, for that matter).
Multiple locations, GoldsGym.com
2. 24 Hour Fitness
3. Xcel Spa & Fitness
BEST PLACE TO SHOOT YOUR BOSS
Paintball Addicts
If you're someone who, at your corporate team-building exercise, let the human pyramid crumble as soon as your boss got on top, you might want to recommend the next corporate outing be at Paintball Addicts' 32,000 square foot playing arena. With excellent group rates, large parties can battle it out for hours for as little as $20 a person covering masks, guns, ample paint, unlimited CO2 and a personal referee to oversee the games. The field is great, too, for spectators, where, from the safety of a mesh net, they can watch from the sidelines as Larry from accounting gets massacred by the sales department. Urge your office manager to setup a reservation today, or come in by yourself to practice for the sweet paintball payback to unleash on your boss for making you work last weekend.
999 W. 2610 South, Salt Lake City, 801-886-8899, PB-Addicts.com
BEST YOGA STUDIO
Flow Yoga
In Utah, we are blessed with many quality yoga studios. What makes Flow the crème de la crème? Perhaps the secret lies in its all-star cast of instructors, a diverse crew whose talents inspire a loyal following among equally diverse students. New to yoga? Flow's three-week introductory course will help you establish core moves while exploring the reasons we practice in the first place. Once you're hooked, get your co-workers on board with Flow's corporate on-site courses which lend a whole new meaning to "working lunch," feeding your mind, body and soul. Namasté.
2065 E. 2100 South, Salt Lake City, 801-485-5933; 2927 E. 3300 South, Salt Lake City, 801-463-1549, FlowYogaSLC.com
2. Centered City Yoga
3. Bikram Yoga
BEST UTAH COUNTY DIVERSITY
Sri Sri Radha Krishna Temple, Spanish Fork
If you're looking for a beautiful temple set among a nice pastoral setting in Utah, and one that's not LDS and not so pointy, your best bet is the Utah Krishna's Sri Sri Radha temple just south of Spanish Fork off Interstate 15, about 20 minutes south of Provo. The beautiful domed structure regularly holds colorful Hindu plays, festivals and gatherings, always offering music and a bountiful fare of free vegetarian dishes. You can also stop by regular Sunday services or any other time for free tours of the temple and a chance to pet the llamas!
8628 S. State, Spanish Fork, UtahKrishnas.com
n n n

n

BEST DANCE SUCCESSOR
Ballet West Artistic Director Adam Sklute
After the way Ballet West handled Jonas Kåge's departure, some were skeptical that its new artistic director Adam Sklute could turn around what was portrayed by some insiders as a demoralized dance corps. Whether Sklute settles for mainstream ballets or tries to go for edgier, more ambitious works remains to be seen. But, at least judging by his first productions, The Three Musketeers and that overly sweet perennial, Nutcracker, morale is on the up. The enthusiasm of the dancers in both productions was as palpable as the upbeat energy that suffused the works. The joy in the faces of Musketeers' lead dancers, Hua Zhuang and Christopher Rudd in particular, seemed a promising sign of things to come.
BalletWest.org n

Steort's Ridge; Storm Mountain Area, Big Cottonwood Canyon
This route is so amazing that even the experts cruise it occasionally. For the occasional climber, it's challenging without being spooky. Sharp and positive quartzite holds appear every time you reach, but the route is steep enough to hide them and add excitement. The first pitch makes you force a short overhang. The second is a choice between a fun dihedral or two wonderful absolutely parallel cracks. On the third pitch, you clip a bolt and then climb straight up the outside edge. Just as the acid appears in your mouth well above the bolt, a reassuring jug hold allows you to comfortably seat a cam around the corner. Two more vertical moves, and you're there. The balcony perch at the top offers one of the best views in the Wasatch. Traverse back to the south where a short rappel takes you down to terra firma. (See Stuart and Bret Ruckman's Wasatch Climbing.)

BEST-LOOKING MASSEUR
Kyle Snyder
A massage therapist with more than six years of practice in Shiatsu, Swedish and hot stone massages, Kyle Snyder is also a Reiki master who teaches classes at his massage therapy and energy-instruction studio he operates with two partners. When he smiles at you, you'll also note he's drop-dead gorgeous. Which may help some clients get better a whole lot faster. Call it creative visualization.
Living Serenity, 352 S. Denver St., Suite 202, Salt Lake City, 801-596-2825, LivingSerenity.net
n n n

n

BEST MUSEUM
Utah Museum of Fine Arts
Lots of big cities have these crazy things called "art museums." While downtown Salt Lake City has a smattering of more ecletic offerings ( of which one, the "nonmuseum" Salt Lake Art Center, is a must-see), the area's art institution of note is located on the University of Utah campus. The UMFA pulls in a surprising number of impressive pieces (Warhol, van Gogh, Monet to name a few) which are hung in a sleek, multileveled building. Grab a bite at the F Stop Cafe when you're done.
410 Campus Center Drive (U of U), Salt Lake City, 801-581-7332, UMFA.utah.edu n
BEST LEG UP ON FITNESS
Canyon Cove Pilates
Ready for a new body? Evelin Rosa may be the one to get you there. Rosa was trained and certified by Romana Kryzanowska who herself was trained and certified by the exercise system's creater, Joseph Pilates. Rosa's upscale studio employs spring-resistant equipment to instruct the Pilates method while prompting you to concentrate on your muscles, breath and the quality (not quantity) of your movements—what Pilates called "contrology." Rosa offers the Pilates' promise to all aspiring clients: "After 10 sessions, you feel better; after 20, you look better. After 30, you have a new body."
2258 E. Fort Union Blvd., Cottonwood Heights, 801-301-3138, CanyonCovePilates.net
n n n

n

BEST ATTEMPT AT CULTURE
The Temporary Museum of Permanent Change
From the TMoPC Website: "The Museum engages a variety of audiences using a collaborative, multidisciplinary approach that includes performance art and video production, visual art, urban archaeology, anthropology, local history …" blah, blah, blah. And what have we seen from this "museum"? Just a bunch of masturbatory placards lining 300 South that pat the Sundance Film Festival on the back. Despite the promising idea, TMoPC has alienated many businesses by ignoring their input for change. Instead of accomplishing anything, the TMoPC is much like that two-bit sales rep who comes to town, promises change, and then takes the money and bolts.
MuseumOfChange.org n
BEST PAY-WHAT-YOU-CAN YOGA
Sugar Space
Yoga is all about stress relief being inclusive, and community. But the inflated price of a drop-in class or punch card at many local studios has inhibited the practice of some prospective yogis. Although most studios offer discounts or work-in-exchange-for-yoga programs, the best deal in town is interdisciplinary performing arts center Sugar Space's pay-what-you-can-afford Saturday class. All levels of experience are welcome, and if 50 cents is what you can afford, 50 cents it what you pay.
616 E. Wilmington Ave., Salt Lake City, 888-300-7898, TheSugarSpace.com
BEST ALTERNA-SKATE EVENT
Bomb the Beehive
While the Salt Lake City media went into a frenzy of covering the Dew Tour when it rolled into town in September, local skateboard enthusiasts were taking the opportunity to put on an old-school "show up and throw down" event. South Jordan's skate park hosted an informal skate jam and barbecue, and nationally known skaters including Benji Galloway and Chad Fernandez were among those who took the opportunity to take a few runs. Legendary "voice of World Cup Skateboarding" Dave Duncan even called the action.
BombTheBeehive.com
BEST PLACE TO PUTT AROUND
Dottie's
Whether you're turning 9 or 29, Dottie's miniature golf course is a good, wholesome place to celebrate another year of life. Seriously, I think we've all had enough Chuck E. Cheese or rounds at the dive bar, eh? Think about it. At Dottie's (named after original owner Dorothy Lunn) partygoers are greeted by "Ginger, the cat in a coma," which is exactly what it sounds like. Revelers are then whisked to a quirky, charming course whose design has not changed a lick since opening in the early 1960s. Best of all, this trip through time is open late on weekends. Bring your own Shasta.
1470 E. 3300 South, Salt Lake City, 801-485-3749, OldSoftware.com/dotties.html