Page 2 of 7
Best Public (Not) Radio
UtahFM.org
It was launched three years ago in reaction to programming changes at KRCL 90.9 and, through much trial and error, online "radio" station Utah Free Media (UtahFM.org) has become what the classic KRCL used to be: unpredictable, messy and constantly operating on the fly. You may not always know what you're going to get, but whenever you tune your computer or iPhone to UtahFM, it's never dull or repetitive. From Portia Early's Unsigned, Uncensored (local music) to Bill Boyd's Soul & Motown Monday (just what it sounds like) to Teresa Flowers' Obsessions (arts and moody tunes) to The Suicycles' Waiting for the Rapture (a rock & roll house party) to Dungeon Crawlers (a different spin on geek culture) and a dozen other disparate shows, UtahFM is too recklessly cool to be called "radio."
UtahFM.org


Best Music Professor
Dave Morrissey, KRCL 90.9
Tuesday-night KRCL host Dave Morrissey comes across like a hybrid of a thoughtful, erudite NPR host and a trivia-steeped music nerd lugging around crates of cool vinyl—in short, everything you want in an indie-rock (but in no way limited to just indie-rock) DJ. His outside-of-the-box track choices make even overplayed classic acts like Radiohead and Wilco sound fresh again, and his new-artist choices are consistently ahead of the mainstream and public-radio curves. If you want a real musical education, this is where you should be tuned in on Tuesday nights.
Tuesdays, 8-10:30 p.m., KRCL 90.9 FM, KRCL.org


Best Haunted House Attraction
"Machete" at Castle of Chaos
Most Utah haunted houses have some sort of homage to horror flicks among their attractions, whether it's Jason in his hockey mask jumping out from a dark corner, Freddy Krueger and his deadly fingernails chasing patrons down a tight alley or Leatherface firing up his chainsaw. But none of them have an honest-to-goodness Hollywood headliner like Danny Trejo, star of Machete and veteran of plenty of horror flicks, including Rob Zombie's Halloween remake, Hood of Horror and The Devil's Rejects. He spent four days at the Castle of Chaos in 2010, thrilling fans and scaring those ignorant of his identity. You don't want to forget Machete!
CastleOfChaos.com


Best Zine Junket
Alt Press Fest
On rough estimate, there are more than 100 different zines and small publications circulating around the Wasatch Front, mostly unknown to the masses. In a better effort to showcase them, the Salt Lake City Main Library (headed by zine catalog creator Clinton Watson) launched the Alternative Press Festival, transforming the library's main promenade into an underground literary bazaar. The 2010 festival saw thousands checking out the printed works, helping publications gain a broader audience in the process.Salt Lake City Main Library, 210 E. 400 South, Salt Lake City, 801-524-8200,
AltPress.SLCPL.org



Best TV News Hottie
Nineveh Dinha, Fox 13
Even in her third year of handily winning our semi-prestigious Best TV News Hottie category, Fox 13 reporter/weekend anchor Nineveh Dinha is still "humbled" by your votes. "This is the girl who never got asked to the prom by a guy," she says. "I'm so appreciative that people think I'm 'hot.' I don't think I am, but I'll take it and say thank you!" Still, Dinha is a serious, award-winning journalist who has her smoky eyes on other prizes—like our Best Anchorwoman and Best Reporter slots. Hope Woodside and Chris Vanocur, watch your backs.
Fox13Now.com2. Debbie Worthen, KUTV 23. Shauna Lake, KUTV 2
Best TV News Station
KUTV 2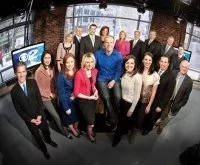 This is a new development: After countless years (literally—our archives only go back so far) of finishing in second place, KUTV 2 finally came out on top of Fox 13 in Best of Utah voting with City Weekly readers. Maybe this will make working right across Main Street from KUTV less awkward. Channel 2 recently overtook the venerable KSL 5 in local news ratings as well, proving that tenacity, good reporting, smart programming and, yes, giving away a few hundred iPads during Sweeps really can make a difference.
Connect2Utah.com2. Fox 133. KSL 5
Best PR Bombshells
Bombshell Music & Media
You might not be immediately familiar with the names Teri Mumm and Eugenie Jaffe, but if you live in Utah, you probably know their work. Appropriately named Bombshell Music & Media, this duo works relentlessly creating full-service PR campaigns for such clients as the Utah Arts Festival and Epic Brewing Company. Key ingredients to their successes are certainly smarts, ingenuity, refined tastes and their unique ability to think along distinctive, creative lines. But the cool part of Bombshell is that they integrate music and media into everything they do and figure that if they're having fun, other people will.
801-809-7687, GetBombshell.com
Best Editing of an Anti-Gay Conference Talk
Boyd K. Packer's "Cleansing the Inner Temple"
A statement made by LDS Church Apostle Boyd K. Packer at the Oct. 3, 2010, General Conference drew protests from LGBT activists. "Some suppose that they were pre-set and cannot overcome what they feel are inborn tendencies toward the impure and unnatural. Not so," Packer said. "Why would our Heavenly Father do that to anyone?" Later, the official transcript was edited, substituting "temptations" for "tendencies," and eliminating the "Heavenly Father" question entirely. Even the title got changed to "Cleansing the Inner Vessel." If the church meant to soften Packer's homophobia, it failed—the statement is hurtful either way.
Best Arts Enthusiast & Donor
Bruce Bastian
When most people think of Orem-based Bruce Bastian, they think of the Human Rights Campaign or gay-rights activism, but Bastian is one of the largest donors to the arts in Utah. As the namesake of the B.W. Bastian Foundation, the arts enthusiast has donated millions over the years to more than a dozen different visual, performance and literary arts groups. That's turned some important heads. In 2010, Bastian was appointed by President Barack Obama to the President's Advisory Committee on the Arts for the John F. Kennedy Center for the Performing Arts.
BastianFoundation.org
Best Conservative Climate-Change Advocate
BYU Professor Barry Bickmore
Being a BYU geochemist doesn't mean you just toe the line—just ask Barry Bickmore. Not only has the conservative BYU professor been an important voice on the reality of climate change, but he's also been a vocal critic of those who are out of touch with this reality. On his blog, he's stuck it to Sen. Orrin Hatch, R-Utah, for fudging his research, citing the senator's reliance on bad data from nonscientists as well as Hatch's reliance on a single paper that "disproves" humans are causing climate change. Bickmore then does exactly what Hatch doesn't—describes, in simple language, the problems with deniers' arguments.
BBickmore.wordpress.com
Best Longshot
Claudia Wright
Nothing fired up progressive Utahns more in the past year than congressional candidate Claudia Wright, an educator selected by a citizens' committee which sought a liberal nominee to challenge Blue Dog Democrat Rep. Jim Matheson. While the fire and momentum of "Bidder 70" Tim DeChristopher got the campaign started, Wright proved fully capable of selling progressive policies as common-sense reforms. Though she eventually lost in the primary, Wright deserves props for garnering 45 percent of the delegate vote at the Democratic Convention.
Best Sports Reporter
David James, KUTV 2
Put another Best of Utah win on the scoreboard for David James, the hardest-working (or is it hardest-playing?) man in local jock news. His Saturday/Sunday Talkin' Sports on KUTV is the first and last word in weekend sports, and his KFAN 1320 radio show with Patrick Kinahan (the creatively titled DJ & PK in the Morning) takes care of the weekdays—and that's not even counting his extra-extracurricular work on KJZZ 14 and Fox Sports Network Utah (soon to be rebranded as Root Sports). DJ is smart, funny and ubiquitous—how can anyone else compete?
Connect2Utah.com2. Dave Fox, KUTV 23. Mike Runge, Fox 13
More Best of Utah Categories

Goods & Services
Nightlife |Food & Drink
Active Life | The Canyons



Or Continue Reading Media & Politics: