Page 5 of 7
Best Comedy Risk
Marcus: The Hand That Feeds
Local comedian Marcus took one of the biggest risks any independent comedian could have made at this stage of his career: choosing to pass on a network-controlled comedy special and instead filming one on his own dime for a Utah crowd at Kingsbury Hall. The Hand That Feeds became one of the most popular locally produced DVDs in 2010, solidifying him as a hometown favorite and ultimately preparing Marcus for the next step.
Facebook.com/ComedianMarcus


Best Reason Not to Underestimate West Valley City
Mayor Mike Winder
It's evident that Mayor Winder, of the dairy farm clan, is downright bullish on WVC, a community that often gets a bum rap. Now 30 years old, the city's broad boulevards buzz with diversity and commerce. The city's Cultural Celebration Center and newly minted Maverik entertainment arena host hockey and world-class events. In addition to growing its fiberoptic UTOPIA infrastructure, WVC recently dedicated a traffic lane on 3500 South for its rapid transit, called MAX. A city program offers non-English speakers the chance to learn English via free classes. But perhaps most surprising was the Mormon Republican mayor's support for WVC's anti-discrimination ordinances, which forbid denying housing and employment based on sexual orientation and gender identity. "Standing up against prejudice, discrimination and bigotry is not a Christian virtue alone," he said, "for it is humanity's virtue."




Best Utahn
Jerry Sloan
As a guy who always called the shots and made the rules, Jerry Sloan raised speculation with his abrupt midseason departure from his position as Utah Jazz head coach. But amid the conjecture, one theme emerged: universal admiration for the curmudgeonly old-school coach who led the team to 1,221 regular-season victories and was the longest-tenured coach in professional sports. Sloan was a one-of-a-kind presence: fiery, determined and often foul-mouthed, yet polite and down-to-earth off the court. Whether it was due to weariness or player insubordination, he decided he was done and didn't look back. No compromises, no second guesses—the same way he ran the franchise for 21-plus years. We'll miss you, Jerry.
2. Tim DeChristopher3. Jon Huntsman Jr.
Best (Sane) Mormon Blog
Mormon Child Bride
No, this isn't a blog about polygamy, and there are no cookie recipes or photos of place settings or children, either. Rather, the author, Stephanie—a devout Mormon who's a liberal, a feminist and a teacher—blogs about her faith, her frustration with closed-minded members of her church, being an educator and, occasionally, the TV/books that she likes/hates. It's an always-revealing and often funny glimpse inside the mind of someone who speaks up for gay marriage, feminism and faith in God, eliciting praise and verbal stonings from all sides. As the sidebar on her blog says, "I'm either a complete apostate Mormon, or I'm just saying what we are all thinking." Let's hope it's the latter, and that others start speaking up.
MormonChildBride.blogspot.com
Best Word on the Street
New Graffiti Publishing
The Internet can be a wonderful marketplace of ideas, but it can be hard to window shop when you don't really know what you're looking for. That's why the guerrilla-poetry insurgents of New Graffiti Publishing have taken to introducing new local artists online as well as in the public space. Every month, the publication pairs a visual artist with a poet, author or essayist and creates a work that is taped on street-corner lampposts, inserted into magazines or made into postcards or any other format that can bombard the public space with new local artists every month. From slam poets to photographers and essayists, New Graffiti Publishing is introducing the creative works of passionate, struggling artists to the public, one flier at a time.
NewGraffitiPublishing.com
Best Homegrown Record Label
North Platte Records
The idea of their own record label started as a semi-joke between musicians McKay Stevens and Joshua James several years ago. Now, looking back, they've crafted the most successful label in Utah County, if not the entire state. How? They say it's all about community. From grass-roots marketing, sharing gigs and recording sessions, it's common to see the labelmates all pitching in. James leads the entourage, along with Stevens' The Vibrant Sound and Night Night, Desert Noises and the newest addition, Parlor Hawk.
NorthPlatteRecords.com


Best Music-Inspired Zine


Paper Noise


Nick Potter found an outlet for his musical, artistic and literary passions with the Paper Noise zine, printed for the 2010 Alt Press Fest. He made a mixed bag of obscure music available for download at PaperNoiseZine.blogspot.com, and artists created pieces—writings, comics and visual art—to be included in the zine while they listened to the mix. A second volume—mainly Potter's works—was released at Craft Lake City, followed by a collective effort for the 2010 Utah Humanities Book Festival.


PaperNoiseZine.blogspot.com




Best Advocacy Journalism


RadioActive, KRCL 90.9


Most monotone radio news shows fall flat compared to the progressive head of steam built up weeknights by the hardworking crew at KRCL's RadioActive. Troy Williams and company take pains to incorporate topical and provocative subjects along with localized pop-culture material, bringing regular listeners, young and old, to the dial, a feat rarely pulled off by anyone in local news. Williams looks out for underdogs and makes no apology for advocating for peace and justice, LGBT rights, feminism and the environment.


Weeknights, 6 p.m., KRCL 90.9, KRCL.org




Best Heart on His Sleeve


Crossing Guard Kevin Bunting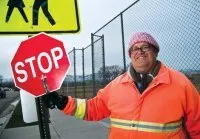 Drive along California Avenue just past Redwood Road between 7:30 and 8:30 a.m. and you're likely to see a man with a stop sign waving at you. Kevin Bunting, 55, spends two hours every weekday—one in the morning and one when school lets out—as a crossing guard, and spends the remainder of his working day delivering flowers. While he bemoans cars that try to sneak past when he's in the crosswalk escorting folks across, it's clear from the way he peers at passing cars, waving at those inside, that he innately understands the universal need to connect. Bunting's simplest of gestures defines that unknowable heart that is the human story of Salt Lake City, and we are all the richer for his presence.


Best Sports Flack


Real Salt Lake PR Manager John Koluder


Real Salt Lake's publicist, John Koluder, reminds us that public relations aren't always obstacles to be circumvented. Previously media relations manager at soccer giant Chicago Fire, Koluder's gentle wisdom makes dealing with Real a pleasure. His knowledge and passion for the game serve to only deepen media's appreciation for the Real team's evolving artistry. He's a quiet guy with, in keeping with the team's mascot, the heart of a lion.


RealSaltLake.com




Best Utah County Revolutionaries


Revolutionary Students Union


Embedded right in the heart of the reddest county of one of the reddest states in the nation is the Revolutionary Students Union, a Utah Valley University activist group that rallies against capitalist excess from the belly of the beast. Founders Greg Lucero and Chris Manor rally on issues like immigration and higher education funding. They also hold workshops on the philosophical underpinnings of the bigger issues such as imperialism, capitalism and, of course, revolution. Hasta la Victoria!


UVURSU.com




Best Local Zombies


Ritual Pictures


This little zombie studio that could has been crafting small-budget zombie flicks driven largely by the (fake) blood and (real) sweat and tears of owner Russ Adams. The studio has already debuted its first picture, Oisin, a medieval zombie piece set amid the hysteria of the Inquisition. The current endeavor, The Light of Daigh, (which is still looking for zombie-loving financial backers) plops the undead horde amidst the onslaught of the Black Plague. The studio's pictures employ local actors and sculptors looking to put Ogden on the map for future innovations in zombie gore and lore.


RitualPictures.com






More Best of Utah Categories

Goods & Services
Nightlife |Food & Drink
Active Life | The Canyons



Or Continue Reading Media & Politics: