Page 13 of 17
Best Japanese
Takashi
Since Takashi Gibo opened his eponymous eatery, it has quietly become the dining destination for serious food lovers in Salt Lake City. And, it couldn't have happened to a nicer guy. Gibo is well-known for his kindness, generosity and positive outlook. And, in tandem with his wife, Tamara—who runs the front of the house—Takashi restaurant has earned a well-deserved rep as a can't-miss eating experience. Keep in mind, though, that Takashi isn't only about sushi. Yes, there is world-class sushi and sashimi here, but what separates this restaurant from many is the wide range of contemporary Japanese cuisine, including exceptional cooked dishes ranging from simmering soups to sensational grilled entrees, as well as a stellar sake and beverage selection.
18 Market St. (340 South), Salt Lake City, 801-519-9595, TakashiSushi.com
2. Kyoto
3. Naked Fish

Best Pao De Queijo
Cheese Bread Mania
As more and more people move to a gluten-free diet through necessity or choice, they still often long for that satisfaction that comes from fresh-baked bread. Debora Hammond of Salt Lake City provides a solution that comes from the traditional Brazilian use of manioc starch (from the cassava plant) in cheese breads called pao de queijo. Cheese Bread Mania offers four varieties—original, four-cheese, sun-dried tomato and jalapeño—for sale in ready-to-bake packages of 24. You can track them down at a variety of Utah non-gluten specialty stores and Harmons supermarkets, or online.
CheeseBreadMania.com

Best Spreadable Spice
Milbury & Hodge Ginger Preserves
When native New Englander Janet Milbury visited England, she discovered the deliciousness of ginger preserves—only to return home and realize there was nowhere to obtain the product. So she took matters into her own hands, developing a recipe that became a favorite of friends. Milbury recommends it as a unique flavor stirred into morning oatmeal, as a change-up sauce for pork dishes or simply spread on toast or crackers. It's a little dollop of the U.K. served straight out of Torrey.
MilburyHodge.com
Best Pickle
Yee-Haw Pickle Company
Park City has always been a good place to get into a pickle. Now, it's also a great place to bite into a pickle, since Yee-Haw Pickle Company has come to our local ski town. These are not pickles for prudes, however. We love the incendiary Hot Damn Dills and the vampire-abating Giddy-up Garlic Dills. Each bite is a beautiful explosion of flavor and sound—they're truly crunchy.
YeeHawPickles.com

Best Place to Belly Up in Moab
Moab Brewery
We'll always have a soft spot for Eddie McStiff's, the first microbrewery in Moab, but Moab Brewery is celebrating its 15th birthday in 2011, and it consistently makes the best brews in the mountain-biking mecca. Go for a Dead Horse Ale or Derailleur Ale, and if you're at the brewery, be sure to pair your pint with some of Moab Brewery's tasty Texas pit-smoked tri-tip.
686 S. Main, Moab, 435-259-6333, TheMoabBrewery.com
Red Iguana
Yes, there may come a day when Red Iguana won't win
City Weekly
's Best Mexican award; that's when pigs will fly. A perennial readers' favorite, Red Iguana is the longtime champ in this category for its wide-ranging, always-appealing Mexican cuisine and a menu that travels from Oaxaca with its magnificent
moles
to Veracruz (
pescado a la Veracruzana
), and from Tampico's
carne asada
to New Mexican chile Colorado. Amazingly, given the big crowds at Red Iguana, the servers are always smiling, professional and friendly. There's usually a line out the door, but it's always worth the wait.
Multiple locations, RedIguana.com
2. Frida Bistro
3. Blue Iguana

Best Pop-Up Restaurant
Mist:SLC
During its one-month limited engagement, MistSLC—a "pop-up" or "guerrilla" restaurant—wowed even the most jaded of Utah foodies with intelligent, precise, delicious cuisine that was just as artful as it was edible. Chef Gavin Baker and his crew, including local guest chefs, blew into town and blew away discerning diners with 16-course extravaganzas that left everyone wanting even more. We hopefully await the return of Mist in 2013.
TheMistProject.com

Best House Salad
Cannella's
The unique Italian house salad at Cannella's make us wonder why everyone doesn't put ground Italian sausage into their salads. This is a crowd-pleasing mix of iceberg and romaine lettuce tossed with mozzarella cheese, sliced beets, garbanzo beans, spicy pepperoncini, cucumbers and, of course, cooked Italian sausage—all topped with creamy house dressing. This isn't just a salad; it's an event.
204 E. 500 South, Salt Lake City, 801-355-8518, Cannellas.com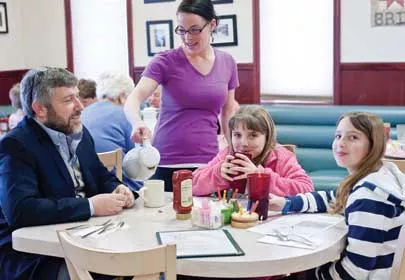 Mazza
Newcomers to Salt Lake City
m
ight not know that there was a time that was pre-Mazza. Ali Sabbah's marvelous Middle Eastern eatery just seems to always have been here. Well, we're lucky that there are now actually two Mazza restaurants, each serving up not just fantastic food, but also a wonderfully eclectic wine and beer list, which includes gluten-free beers and libations from Morocco, Lebanon, Israel and elsewhere. So, consider pairing Moroccan Ksar Blanc wine with Mazza's
maghmoor
or chicken & cauliflower
kabseh
. Or, perhaps, a nice Nabise Reserve from Lebanon with a plate of beef & okra or the delicious lamb & rice
dolaa
. Be sure to save room for the buttery, rose-water-flavored
ma'mool
cookie for dessert.
1515 S. 1500 East, Salt Lake City, 801-484-9259; 912 E. 900 South, Salt Lake City, 801-521-4572, MazzaCafe.com
2. Cafe Med
3. Cedars of Lebanon

Best Beef on Wheels
Better Burger Truck
For a truly bodacious burger, you'll need to track down the mobile Better Burger Truck. The Better Burger boys make their burgers from scratch using grass-fed cows raised near Moab. They are thin, quarter-pound patties, served on Stoneground Bakery buns with a choice of cheddar, Swiss or pepper-jack cheese, and come with tomato and pickles. There is also a veggie burger, created by Ian Brandt of Sage's Café and Vertical Diner. But maybe the best option is the delicious, lean turkey burger, made from perfectly seasoned local, all-natural turkey.
BetterBurgerTruck.com

Best for Lamb Lovers
MacCool's Lamb Ribs
Lamb and mutton are, of course, staples of traditional Irish fare. So, naturally, you'll find lots of lamb at MacCool's Public House, from lamb shanks and lamb burgers to not-so-traditional lamb quesadillas. Our favorite use of lamb, though, is MacCool's outrageously delicious lamb ribs: a full rack of Denver-cut lamb spareribs. First, they're slow-roasted until tender, then grilled to create a crunchy crust and served with MacCool's secret sweet & spicy barbecue sauce and melted blue cheese. This is truly luscious lamb.
Multiple locations, MacCoolsRestaurant.com