Page 14 of 17
Best Family Diner
Brittons
This homey family restaurant in Sandy has a way with names. Take the hog burger, a patty between two grilled-cheese sandwiches. Then there's garbage hash, which, despite its name, is a tasty compilation of eggs and vegetables. Along with its long-admired breakfast menu and its penchant for Brit-inspired fish & chips, what holds this place together is its family atmosphere. Children are all but embraced by the waitstaff, and as families fill up the large, round booths, the level of mirthful joy rises in tandem with the fluffy pancakes being whipped up in the kitchen.
694 E. Union Square, Sandy, 801-572-5148, BrittonsRestaurant.com
Brittons
Log Haven
The folks at Log Haven aren't quite ready to rest on their laurels, though the restaurant is a perennial winner for Best Romantic Restaurant; they keep coming up with new ways to keep the romance rolling. To wit, Log Haven's new "dinner and dance" nights, where patrons can enjoy a gourmet meal and live music while also learning to tango, ballroom dance, salsa and such. And, of course, Chef Dave Jones' own longtime love affair with creative cooking lends a romantic flavor to every dish.
6451 E. Millcreek Canyon Road, Salt Lake City, 801-272-8255, Log-Haven.com
2. Pago
3. Tuscany

Best Chicken & Waffles
The Garage
The Garage in North Salt Lake is a no-brainer if you're in the market for live music, friendly service, cold beverages and stick-to-the-ribs bar food. But the term "bar food" doesn't really do justice to menu choices like the terrific Philly cheesesteak or our favorite Garage eating option: chicken & waffles. It's a big platter piled with three pieces of deep-fried, crispy, crunchy, tender chicken along with a ginormous waffle, served with butter and maple syrup. All that's left to do is to order up a cold PBR alongside, and you're golden at The Garage.
1199 N. Beck St., Salt Lake City, 801-521-3904, GarageOnBeck.com

Best Park City Fine Dining
Slopes by Talisker
How many local restaurants can you name where the fresh linen tablecloths are ironed between each seating? There's just one we know of: Slopes at Talisker in the Park City Waldorf Astoria. The elegant and opulent Slopes decor is a perfect match for Chef Clement Gelas' deceptively intricate cuisine. For example, his "display of winter beets" appetizer is a work of art, an absolutely gorgeous mélange of yellow and red beets with shaved baby carrots, pistachio-dill pesto, olive-oil-braised jicama, frisée and micro cilantro. It's so gorgeous you'd like to hang it on your living room wall, just like all the other fine food at Slopes.
Waldorf Astoria, 2100 Frostwood Drive, Park City, 435-647-5566, ParkCityWaldorfAstoria.com/the-restaurant

Best Saturday Mornings
Downtown Farmers Market
We're turning beet red, but in all the years we've published Best of Utah, only once did the Downtown Farmers Market turnip as a winner. Maybe some thought it corny or didn't want to pork fun at them. Others weren't sure if our honey of an editor would lettuce. As the Farmers Market charts its 20th year in 2012, readers would give us a peas of their mind if we eggnored how much the market beans to this community. With more than 250 vendors—including farmers, bakers and local artisans—the market gives us all a raisin to get out of bread on Saturday mornings.
Pioneer Park, 350 S. 300 West, Salt Lake City, SLCFarmersMarket.org

Best Hawaiian Lunch Plate
Big Sai's Hawaiian Bar-B-Q
Don't let the diminutive size of Big Sai's Hawaiian Bar-B-Q deceive you: This tiny place is all about big flavors and small prices. The main attraction here—aside from über-friendly smiles and service—is the "lunch plate," a quintessential part of Hawaiian cuisine. Popular plate options include teriyaki chicken and beef, Kalua pork, Laie chicken wings and our favorite: loco moco, which is two grilled beef patties topped with two fried eggs and smothered in brown gravy with, of course, macaroni salad on the side. Not for the faint of heart, but super delicious!
2672 N. Hillfield Road, Layton, 801-774-7247

The Copper Onion
It's no
surprise that the Copper Onion should impress
City Weekly
readers as Salt Lake City's best downtown restaurant. After all, even
Food & Wine
recognizes the talent there. Chef/owner Ryan Lowder is currently a nominee for that magazine's People's Best New Chef for 2012. The Copper Onion simply hits all the right notes: Service is professional but not overly formal, the wine and drink list is stellar, the ambiance is one of constant buzz from happy customers, and the food is simply sensational. You just haven't lived until you've enjoyed The Copper Onion's ricotta dumplings or the Wagyu beef stroganoff.
111 E. Broadway, Salt Lake City, 801-355-3282, TheCopperOnion.com
2. Eva
3. Bambara
Best Bosnian
Old Bridge Cafe
Ibro and Milojka Sameric are proud to introduce Utahns to the cuisine of their homeland, Bosnia, the war-torn country from which they fled. At Old Bridge Cafe, for less than you'd spend at most fast-food eateries, you can enjoy housemade, from-scratch items like cevapi sausage, Bosnian-style goulash, incredible fresh-baked pita, zeljanica and even Bosnian fruit sodas like blueberry Fructal, along with Turkish coffee. All that, and some of the friendliest folks around.
249 E. 3300 South, Salt Lake City, 801-466-4330, OldBridgeCafe.com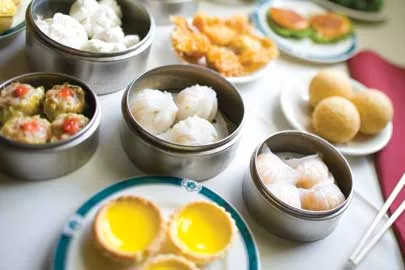 Red Maple
In a town with mountains of mediocre
kung pao
chicken and sweet & sour pork, Red Maple Chinese restaurant stands out for its authentic cuisine. Midday on weekends, the restaurant is packed, mostly with Chinese customers, enjoying the best
dim sum
in town. The rest of the time, Red Maple dishes up exquisite dishes such as clams with black-bean sauce, salt & pepper shrimp, scallops and seafood soup, stewed chicken feet and dozens of other palate-pleasing menu items. Be sure to try the sensational
siu mai
dumplings.
3361 S. Redwood Road, Salt Lake City, 801-747-2888
2. Little World
3. Mandarin
Red Maple