Page 4 of 17
Best New Park City Microbrewery
Shades of Pale Brewing Co.
Shades of Pale is just getting started—there are four beers available so far—Jack Wagon Wheat Beer, 4-Play Porter, Publican Pale Ale and Perfect Stranger, a kolsch-style brew. But the brewers aren't satisfied with simply making tasty hand-crafted beers. They also offer some Park City-related options for adventures on every label, from nearby hikes (including their degree of difficulty) to helicopter trips of the area—anything to build up a thirst for more Shades of Pale.
1950 Woodbine Way, No. 5, Park City, 435-640-9047, ShadesOfPale.com
Best Sommelier
Louis Koppel, Spencer's for Steaks & Chops
A great sommelier is about a lot more than mere wine knowledge. First and foremost, a sommelier is a server. Yes, he or she schleps plates and buses tables with the rest of the crew. Spencer's sommelier Louis Koppel is nothing if not service-oriented. He knows how to read a table quickly and determine his customers' interest (or lack of) in wine and which wines to pair with Spencer's dishes (which are not just steaks), and he does so in a very friendly manner that never seems condescending or intimidating. He has the wine chops to work just about anywhere in the country; we're lucky he works here (and for City Weekly recently as a freelance wine critic).
255 S. West Temple, Salt Lake City, 801-238-4748, SpencersForSteaksAndChops.com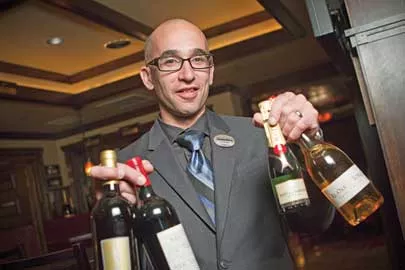 Louis Koppel, Spencer's for Steaks & Chops
The Pie Pizzeria
Even though the Salt Lake City market has recently been flooded with trendier pizzerias, with their imported-brick ovens and traditional Margheritas and whatnots, The Pie continues to dominate this category with its crusty, cheesy, deliciously familiar and satisfying 'za. The restaurant's funky atmosphere brings you back again and again to revisit your college days, and if you're lucky enough to live within a reasonable distance, you can order for delivery.
Multiple locations, ThePie.com
2. Este Pizzeria
3. Settebello

Best Little Texas in the Mountains
Huntsville Barbecue Company
The presence of the Shooting Star Saloon, Utah's oldest bar, remains a great reason to visit Huntsville, near Pineview Reservoir, east of Ogden. But if you aren't in the mood for the star burger at that venerable beer spot, you also have top-notch barbecue mere steps away, courtesy of the Huntsville Barbecue Company. The joint boasts of lots of slow-cooked, dry-rubbed meats to choose from: brisket, ribs, chicken, pulled pork and sausage. And when you pair those meats with a slew of housemade sauces and sides, it evokes a little slice of the Lone Star State in one of Utah's prettiest little mountain towns.
235 S. 7400 East, Huntsville, 801-745-2745, HuntsvilleBBQ.com

Best Stiff Upper Crumpet
Elizabeth's Bakery & Tea Shop
In its first iteration, the teapot-festooned Elizabeth's Bakery & Tea Shop achieved local fame with its take on traditional English cuisine. Elizabeth's has moved and now shares premises with the London Market. The reasons to patronize Elizabeth's continue to be its excellent versions of such English classics as Cornish pasties—meat-, potato- and rutabaga-stuffed, lard-based pastry shells—and the Yorkshire Eccles cake, a sugar-crusted pastry encasing sultanas. So, hip, hip, hooray as Elizabeth's doggedly keeps the Union Jack flying in the Beehive State.
439 E. 900 South, Salt Lake City, 801-433-1170

Best Indian Freezer Debut
Instant Karma
Park City Indo-Persian restaurant Good Karma's decision to branch out into local supermarkets with a select range of flavorful products reflects both the faith Chef Houman Gohary and his wife, Blanca, have in their subtly favored dishes, and the hard work ethic that has made their Park City restaurant one of the staples of quality cuisine in that town. Currently, their range of appetizers and side dishes, from spinach with butternut squash and garbanzos to a superb green-chili chutney, is available in only three grocery stores—all Dan's Foods—outside of Park City. But Blanca Gohary, who spearheads their expansion store by store, will soon be found in select Whole Foods, providing samples of their wares.
435-313-5232, InstantKarmaFoods.com

Cafe Trang
Cafe Trang is the granddaddy of Vi
e
tnamese restaurants in Salt Lake City. Family-owned and -operated, Cafe Trang has been serving fresh spring rolls,
pho
, lemongrass chicken and fat "house special" noodles since 1987. Since that time, many of the offerings have been refined; Trang's now also serves Chinese, Thai and even sushi items at its four locations in Salt Lake City, Park City, Draper and Murray. But the smart money is on the Vietnamese favorites that Cafe Trang introduced Salt Lakers to 25 years ago.
Multiple locations, CafeTrangRestaurant.com
2. Indochine
3. Mi La Cai
Best Asian Groceries in Sandy
Ocean Mart
When you walk into Sandy's Ocean Mart, the first thing you notice is the small food-cart-style restaurant with whole fried duck and split pigs' heads in the window. From there, as you wander the aisles, it's impossible not to be struck with awe at the sheer variety of cheap, fresh vegetables, meat, fish, crabs, lobsters, frozen fish from Vietnam and more. Few Asian grocery stores offer the assault on the senses that Ocean Mart does. Hang around the meat counter long enough, and someone might give you a good recipe for chicken feet to boot.
115 W. 9000 South, Sandy, 801-255-1118, OceanMart.net

Best Mountain-Fresh Outdoor Dining
Cafe Diablo
Long celebrated for its eccentric menu, notably rattlesnake cakes—patties made from rattler meat—Cafe Diablo, open seasonally, is situated in one of the most beautiful locations in the Beehive State in which you could hope to dine. As you sit on the patio at dusk, next to the herb garden, under the fabulously colorful Utah sky with the mountains beckoning in the distance, and chow down on coconut calamari & marmalade salad, you'll realize you're in a restaurant like no other.
599 W. Main, Torrey, 435-425-3070, CafeDiablo.com

Best Beefalo
Bombdiggity's
This Riverton diner's got a secret to its sizzling burgers—its hamburger buns are stuffed with delicious beefalo patties. A hybrid cattle and American bison breed, the beefalo are raised by rancher and Bombdiggity's owner Doug Reid, who brings the tasty meat patties fresh every day to the restaurant. Reid has been tending his herd for the past four years and hopes the taste sensation will take off as a healthier alternative to commercial beef patties, since his meat is raised all-natural—with neither hormones nor growth additives. Reid and droves of loyal Riverton customers already know what many Utahns will soon be finding out: Beefalo, it's what's for dinner.
1481 W. 12600 South, Riverton, 801-446-2554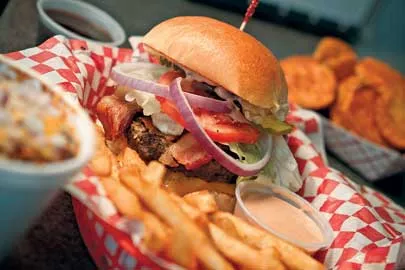 Bombdiggity's