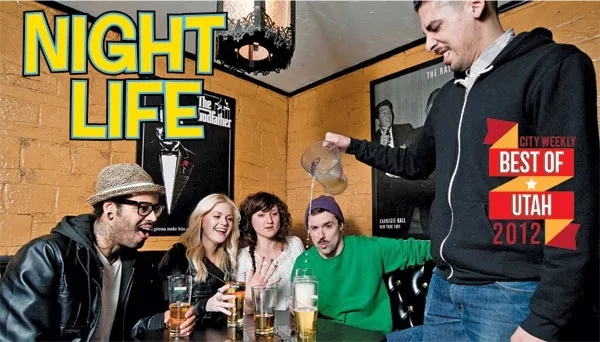 Best Millcreek Lounge Act
Tony's Bar
Maybe it's the ambient lighting at this Millcreek watering hole that gives Tony's Bar (above) its intimate feel. It could also be posters of the Rat Pack, Muhammad Ali and Bob Marley's "Redemption Song" that line the walls, offering a distinctive lounge environment. In either case, when in search for a laid-back evening, grab some buddies and head to Tony's. With a sizeable dance floor and a few pool tables adorning its game room, Tony's provides a little something suitable for everybody.
3165 S. 1300 East, Salt Lake City, 801-466-0838
Best Retro-Modern Bar
The Spot
The quirky exterior hasn't changed since the Age of Aquarius (the long-ago name of the club, not the actual Age of Aquarius), but inside, The Spot is the perfect marriage of new and old. The décor is clean and sleek, but seemingly straight out of a jet-set cocktail lounge circa 1968—and, fittingly, the bartenders know how to mix a swank drink or three. Throw in a kickin' jukebox and sound system, plenty of pool tables (not to mention room to actually play) and a friendly roaming dog, and The Spot is the best neighborhood bar nowhere near anyone's neighborhood.
870 S. Main, Salt Lake City, 801-355-7768
Best Stories You'll Hear in a Bar
When the Lines Go Down
"True stories, told live" is the motto of podcast and storytelling nonprofit The Moth. In January, Leland McCarthy decided to take the idea of live storytelling to Mo's Neighborhood Grill for free Sunday story evenings. It's the starkness and vulnerability of stories told each night under a different theme—examples thus far include "stories about the law," "accidents" and "on the road"—that make the experience so evocative. And unlike The Moth, which hosts prominent literary and cultural personalities, WTLGD is free and open to anyone to tell their true tales in five to eight minutes.
Mo's Neighborhood Grill, 358 S. West Temple, Salt Lake City, Facebook.com/WhenTheLinesGoDown

Best Enchanted Evening
Salt Lake Symphony's Vienna Ball
If for only one evening, stepping on the Union Ballroom floor is like stepping back in time and onto another continent. Under the baton of Salt Lake Symphony's guest conductor, Robert Baldwin, each February the ensemble plays waltz-laden sets of exquisite music as a fundraiser. Ballroom dancing is one thing, but it's another thing entirely to be dressed to the nines and move about the floor with grace as a live symphony serenades you. And since Salt Lake City gets only a few balls, this symphony knows it had better make it count.
SaltLakeSymphony.org/vienna.php

Best Live Music Club

The Urban Lounge
A bastion for the best live-music shows in town, The Urban Lounge presents a range of styles, from hipster-heavy indie tunes to alt-country to electronic dance. More often than not, touring bands express their love and gratitude for the venue and its concert-goers, and we like to think they really mean it. Over the past year, Urban has upgraded its sound equipment, making for a more memorable live experience. At times, the patrons on the dance floor congeal into an ecstatic dance blob. But if dancin' ain't your thing, there's plenty of room on the periphery to sip a cheap brew.
241 S. 500 East, Salt Lake City, 801-746-0557, TheUrbanLoungeSLC.com
2. The State Room
3. The Depot

Best Patio for Political Peeping
The Green Pig Pub
You might find yourself intrigued by the Occupy movement, or interested in the Salt Lake City Council's weekly doings, but not to the point that you're going to camp in Pioneer Park or actually sit through a city-council meeting. A better option? Occupying a table on the Green Pig's rooftop patio, where you can literally keep an eye on the beautiful Salt Lake City & County Building. As for what they're actually doing inside? Pick up a copy of City Weekly to peruse while you nibble a Cuban sandwich and throw back beers.
31 E. 400 South, Salt Lake City, 801-532-7441, TheGreenPigPub.com

Bourbon House

The Bourbon House owners navigated Utah's byzantine, asinine liquor laws for months before they were allowed to open in the former home of D.B. Cooper's and Monk's House of Jazz, and fans of the bar are sure grateful they put out the effort. Not only does Bourbon House have a better bar than the space's previous incarnations, it also has a stellar menu featuring to-die-for appetizers like bacon-wrapped tater tots, and deals like buy-one, get-one-free Philly cheesesteaks every Friday. Make sure you try the refreshing pickle back, a shot of Jameson Irish whiskey chased with a shot of, yes, pickle juice.

19 E. 200 South, Salt Lake City, 801-746-1005, BourbonHouseSLC.com

2. The Devil's Daughter

3. SugarHouse Pub
Bourbon House
Best Downtown Musical Diversity
Bar Deluxe
Bar Deluxe has survived under various owners and various names (Remember Ego's? Shaggy's Livin' Room?) for years, but it's currently making a name for itself as one of the more endearingly experimental music venues in town. One night you might find the gypsy mayhem of Juana Ghani, another you can take a reggaeton dance class, and the next you might spy a hot burlesque revue or find a CD release party headlined by a local band like Lady Murasaki or a national headliner like hip-hopper Cappadonna of Wu-Tang Clan fame.
666 S. State, Salt Lake City, 801-532-2914, BarDeluxeSLC.com

Best Sugar House Expansion
SugarHouse Pub
A year ago, we recognized SugarHouse Pub as being the Best Addition to Sugar House. You can probably consider the bar's expansion, more than doubling its size, the year's best addition. The pub retains its mellow charm in the new half, while offering a new second bar to belly up to, as well as a bunch of new tables. The best part? Each side of the bar has its own sound system, so if you don't like the tunes playing in one, you can go through a door and change your evening's soundtrack without changing bars.
1992 S. 1100 East, Salt Lake City, 801-413-2857, Facebook.com/SugarHousePub
Bonwood Bowl

It's easy to imagine what Bonwood Bowl was like when it first opened more than 50 years ago—in fact, it's easy to imagine that it hasn't changed at all. From the dining area filled with red-vinyl booths to the lounge/bar in the back to the old-school bowling balls, Bonwood feels like a throwback to a different era. Yet it's just as welcoming to teenagers or families as it is to league players throwing back beers. It's 42 lanes of the best kind of nostalgia: the kind that invites all ages into its retro vibe.

2500 S. Main, Salt Lake City, 801-487-7758, BonwoodBowl.com

2. Fat Cats
3. Jupiter Bowl