Page 4 of 7
Trails Gentlemen's Club
Di
s
cerning gentlemen (and women) know their favorite gentlemen's club and have voted for the 10th year in a row to honor Trails as their happy place when it comes to sin, skin, cheap beer and tasty pub fare. Trails keeps Utahns happily distracted from their workaday cares by emphasizing stimulus overload, as you can also watch the big game on the sports screens when not under the hip-shaking hypnosis of the club's beautiful dancers. You can also check out regular events like party-bus pub crawls, Playboy parties and the annual calendar-release party.
921 S. 300 West, Salt Lake City, 801-363-2871, TrailsClub.com
2. Southern Xposure
3. Duces Wild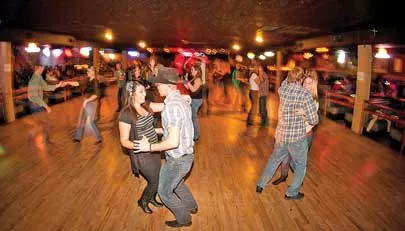 Brewskis
If you want to get a real feel of Brewskis' classic-pub vibe, stop in before the sun goes down and the nighttime crowd—which is always guaranteed—fills up every square foot of the joint: It's a bar that you, your dad and granddad would agree is the real deal, not some pre-fab wannabe built on Axe body spray and MGD 64. The only thing Brewskis takes as seriously as beer (more than 20 on tap), live music (killer sound system) and sports (screens everywhere) is food: "Best Damn Pizza in Town" is a slogan and a promise that can't be argued on either count. If you've never been here, you've never been to Ogden.
244 25th St., Ogden, 801-394-1713, BrewskisOnline.net
2. The Wine Cellar
3. Copper Club
Best Knee-Slapping Fest
Salt Lake Comedy Festival
Utah has always had a thriving comedy scene, with its usual highs and lows based on the current talent, but never has there been a central gathering of those performers within the confines of our oddly shaped state. On May 31-June 1, 2011, a group of local comedians headed up by X96's Richie Steadman brought in local and national talent for a two-day festival over several locations for Salt Lake City's first-ever comedy festival. Along with a selection of workshops that helped the talent with everything from writing to stage presence, the fest held improv and stand-up competitions for audiences to see the best that Utah had to offer. They're planning on it again for 2012.
SaltLakeComedyFestival.com
Best Classic Utah Nightclub
The Westerner
Few remember when Redwood Road was a two-lane affair, or when most of the entire west side of the Salt Lake Valley, from the Jordan River to the Oquirrh Mountains, was dry farms, fields of vegetables and vacant land. Or that the city where the gigantic Westerner Club still operates was once called Granger. Boasting one of the largest dance clubs in the land and plenty of countrified revelers (sometimes several generations of them) to fill the spacious hall, The Westerner has outlasted nearly every trend and folly for a fistful of decades.
3360 S. Redwood Road, West Valley City, 801-972-5447
The Westerner
Best Dive Karaoke Scene
Willie's Lounge
Willie's likes to think of itself as "the finest dive bar in Salt Lake City" (just check out the joint's website), and the place certainly lives up to that claim, thanks to cheap drinks and its working-class vibe. And if you happen to be there around 9 p.m. on a Saturday night, you'll witness dozens of hipsters crowding in for a chance to take the mic and sing their favorite Wham! or Queen cut. We once even saw a guy break out his own harmonica to wail along to some ZZ Top. Drop by often enough, and you start to expect the unexpected.
1716 S. Main, Salt Lake City, 866-612-2920, WilliesLounge.net
Area 51
Alan Moss knows how to throw a good party, and he's been doing it for more than 14 years with his award-winning club, Area 51. One of the longest-running dance spots in Salt Lake City, this is a multibar, multidance-floor super club of epic proportions. Area 51's party platter includes cheap drinks, an outdoor patio, fetish balls, karaoke nights, theme nights and, of course, throngs of dancing-crazed partygoers.
451 S. 400 West, Salt Lake City, 801-534-0819, Area51SLC.com
2. W Lounge
3. Metro

Best New Festival
Urban Arts Festival
Derek Dyer and company took over the once art-driven Pierpont Avenue and returned it to its roots for an all-day artistic event, which included graffiti demonstrations, skate displays, live music, arts and crafts for sale, and community writing—all for free with a suggested donation, all of which went to the Skate 4 Homies and Youth City organizations. The festival's success has already guaranteed a return, which will most likely be held at the new Utah Arts Alliance hub near The Complex.
UrbanArtsFest.org
Best Poetry Open Mic
When She Speaks I Hear the Revolution
Honing in on the spirit of the '90s Riot Grrrl movement that helped shape the music and art of the Pacific Coast, the monthly poetry and spoken-word gatherings—held the fourth Saturday of the month at Jitterbug Coffee, provide a unique forum for some of Salt Lake City's most prolific, yet overlooked, authors and voices. These events don't just touch topics like feminism, race, sexual orientation, society standards, stereotypes and controversial stances. They unabashedly and brazenly embrace them. Those who step up to the open mic share their thoughts to the audience through poetry, prose and acoustic performances, and will stand firm with whoever dares to join them on the mic.
Jitterbug Coffee Hop, 1855 S. 700 East, Salt Lake City, RebelGrrrl.wordpress.com
Best House Music
W Lounge
W Lounge is easily the best place in Salt Lake City for vibrant house music that will make you want to get up and groove. No wonder it has become the perennial home of the City Weekly Music Awards' DJ Spinoff events. Open four nights a week, you can always expect great music and friendly staffers to get your dance party started. Come for the music, stay for the dancing and inexpensive drinks, and return for consistently good times.
358 S. West Temple, Salt Lake City, 801-359-0637, Facebook.com/WLoungeSLC
W Lounge
Best Holdout on 25th Street
The Kokomo Club
There's no denying that Ogden's Historic 25th Street has cleaned up its act since its "glory days" as a railroad town's red-light district, and some of us are happy to remember its gritty heyday in the face of its growing gentrification. Thankfully, the 51-year-old Kokomo Club remains there to help blast people to the past. It's a classic Western joint, with a huge bar, a rough & tumble clientele that blends bikers, rednecks and power drinkers; and no intention of sprucing up the place. You couldn't improve on the classic sign anyway, so check it out if you have a chance. But bring cash: The Kokomo don't take your stinkin' credit cards!
216 25th St., Ogden, 801-621-9991