Page 5 of 7
Best Food Pairing Options
Proper Brewing Group
There are quite a few brewery-based restaurant groups out there, but Proper Brewing Group continues to set the bar. At the center of the operation is Proper Brewing Co., providing the base that all of the others feed upon. Add in Avenues Proper, a gastro brewpub; Proper Burger; the Stratford Proper Restaurant; dessert shop Sweet Sundaes; and the all-local craft beer pub Craft by Proper and you get the idea that this isn't your standard restaurant group. (Mike Riedel) Avenues Proper Restaurant & Publick House, 376 E. 8th Ave. 385-227-8628; Proper Burger Co., 865 S. Main, 801-906-8604; Craft by Proper, 1053 E. 2100 South, 385-242-7186; Stratford Proper, 1588 E. Stratford Ave., 385-522-2637; Sweet Sundaes, 1594 E. Stratford Ave., properbrewingco.com

Best Dinner With a Dragster
Garage Grill
Even from the street, you can see that this Draper eatery is something a little different; it seems more like a place you pull into for an oil change than for a meal. But that's just part of the presentation for a place that showcases a rotating collection of amazing vehicles—muscle cars, NASCAR and Indycar racers, vintage cars and more—in a way that gives it the vibe of an automotive museum. And in case you think an interest in big engines and top speeds means the food is an afterthought, fancy burgers share the menu with gorgeous salads, pasta, seafood and much more. (SR) 1122 E. Draper Parkway, Draper, 801-523-3339, thegaragegrill.com

Best Former Neighbors
Coffee Garden
While we're happy that our friends at Coffee Garden are thriving in the 9th & 9th area, we do miss having them as neighbors to the City Weekly offices. Who knows how many stories they helped break, deadlines they helped meet and reviews they helped fuel with their arsenal of tasty caffeinated beverages? It's nice to know that we can still get their particular brand of coffee when we're checking out movies at The Tower or doing some 9th & 9th shopping. We miss you, Coffee Garden, but we're glad that you didn't move too far away. We also hope it wasn't our fault you left ... (Alex Springer) 878 E. 900 South, 801-355-3425, facebook.com/coffee-garden

Best Coffee Shop Music
The Rose Establishment
The Rose Establishment offers more than just creative foodstuffs, coffee and alcoholic bevs. Depending on who's staffed up, the music is always in interesting rotation. Former manager Cody Kirkland recalls a range of Yo La Tengo to LCD Soundsystem to Carly Rae Jepson to Kendrick Lamar. It hasn't changed much since he passed on the reins. I've recently heard Joy Division, standard indie fare like The Cleaners From Venus, whatever tear-jerking album Mitski or Angel Olsen just released, and even pop heavy-hitters like Ariana Grande. It's a background selection that is charismatic and listenable, even as it is smirkable. There's a self-aware humor in the air that—I think—diffuses any charge of lofty hipsterism The Rose could face. (EM)

Friendliest Coffee House
Coffee & Cocoa
Every coffee house has a vibe, coupled with some type of persona they're trying to emulate, but the crew at Coffee & Cocoa are a hodgepodge crew (meant as a compliment) of authentic individuals simply serving up some great brews with an unforced smile. Whether you're the type of coffee house-goer that likes to gab about what's in the news or simply grab your drink and get to work, the staff is game for either, making their service the right blend for introverts and extroverts alike. Their outdoor "office" space doesn't suck either. (AP) 6556 S. Big Cottonwood Road, Ste. 100, Cottonwood Heights, 801-947-0848

Best Place to Get Your Creative Groove Back
The Coffee Shop in Riverton
More than just proficient brewmasters, the baristas at The Coffee Shop in Riverton are also gifted in making all visitors feel like VIPs. But for writers, the ambiance is especially extraordinary for those needing to bust through creative blocks. Tucked into a comfy couch, you sip a latte so tasty it is even named "The Delicious," while engrossed in the eclectic music and assortment of communal art journals. Groove resuscitated, you tap away for hours on a laptop coddling a coffee and muffin, barely aware of the hustle around you. (CF) 12571 S. Pasture Road, Ste. A, Riverton, 801-403-5588, facebook.com/rivertonthecoffeeshoput

Best Group Effort
Watchtower Café Kickstarter
Watchtower Café is one of the most beloved hangouts of our local geek community, and earlier this year the owners launched a Kickstarter campaign to fund their relocation. The crowd-funding campaign started slowly, but it was a blast to see locals rally to meet their financial goal before its deadline. It was one of those efforts that I knew would get funded, but the drama of those final moments made participating in the process all the more entertaining. To add even more romance to this story, owners Mike Tuiasoa and Cori Christine were married soon after reaching their goal, so heart emojis all around. (AS) 1588 S. State, 801-477-7671, watchtower-cafe.com

Best Pastries With a View
Beaumont Bakery & Café
Beaumont Bakery serves the best French pastries ever. Made in-house daily, delicacies such as croissants, crullers, cruffins and kouign amann are browned to a deep golden and elegantly flaky. The truffle bun, filled with fluffy scrambled eggs and garnished with watercress, is a sumptuous and satisfying breakfast entrée. The avocado toast, topped with tangy aioli and a coating of cotija cheese along with mixed greens and roasted corn on the freshly made seeded bread, is a very flavorful combination. The "in-house, roasted on the bone" turkey sandwich with purple onion, cucumber and horseradish mayo on cranberry spice bread is a delectable flavor favorite. The sugar cookie texture offers an ingenious combination of chewy and soft deliciousness. It's all housed in a classy, inviting setting that encourages conversation—there's even several green upholstered couches to sit on and a majestic mountain view. (Carolyn Campbell) 3979 Wasatch Blvd., Millcreek, 801-676-9340, facebook.com/beaumontbakerycafe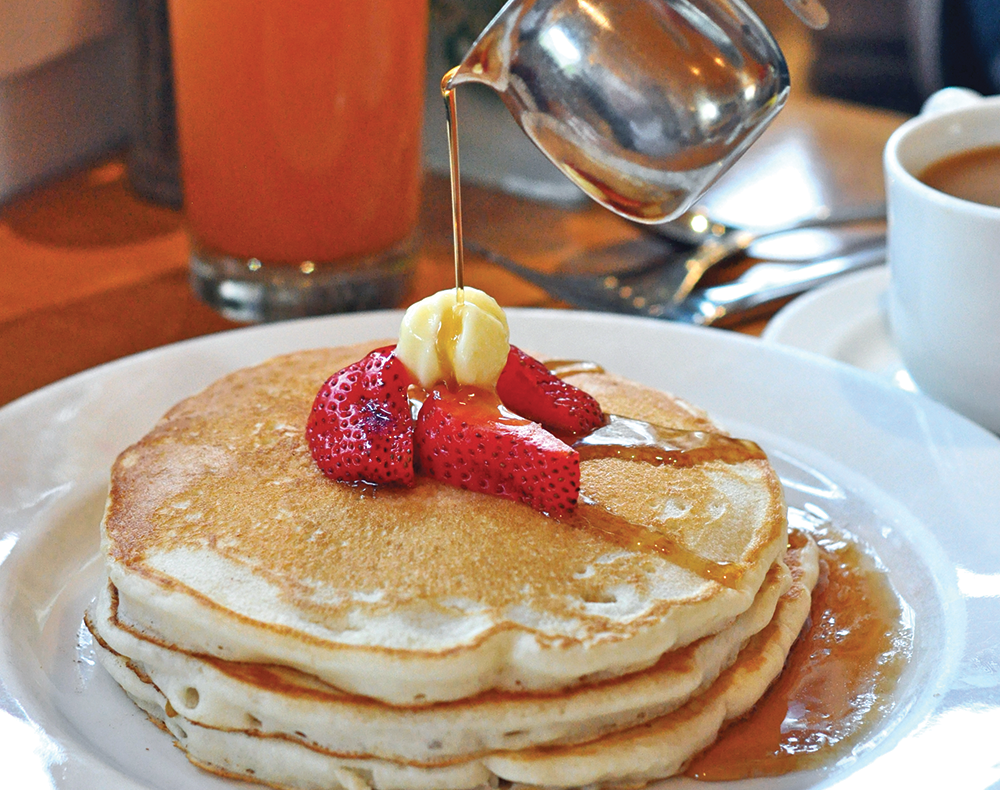 Best Sourdough
Finn's Café
While the friendly service, welcoming environment and Scandinavian-inspired menu are what has made Finn's Café an institution, their sourdough recipe is what makes them a fascination. When a baker decides to add sourdough to their menu, it's a bit like throwing down a gauntlet and daring customers to try it out—and Finn's gets double reputation points for using their sourdough recipe for pancakes. Both Finn's original sourdough and their sourdough pancakes are delightful, and it's hard for me to choose which iteration is their finest. You'll just have to try both and see what you think for yourself. (AS) 1624 S. 1100 East, 801-467-4000, finnscafe.net

Best Middle Eastern Bakery
Karim Bakery
Along with bags of freshly-baked flatbread, cases full of baklava and shawarma wraps and takeaway containers of homemade hummus and baba ghanoush, Karim Bakery also boasts the pastry delights of Syria with trays of knafe ($13), a sweet-and-savory, soft-but-crispy treat that's a fixture of bakeries and sweets shops across the Eastern Mediterrenean. Made with noodle-thin pieces of pastry dough, syrup and cheese, knafe is best eaten fresh out of the oven, and here you can indulge at one of the shop's tables, or take the tray home to heat up for dessert. (PH) 2575 S. State, South Salt Lake, 801-645-4533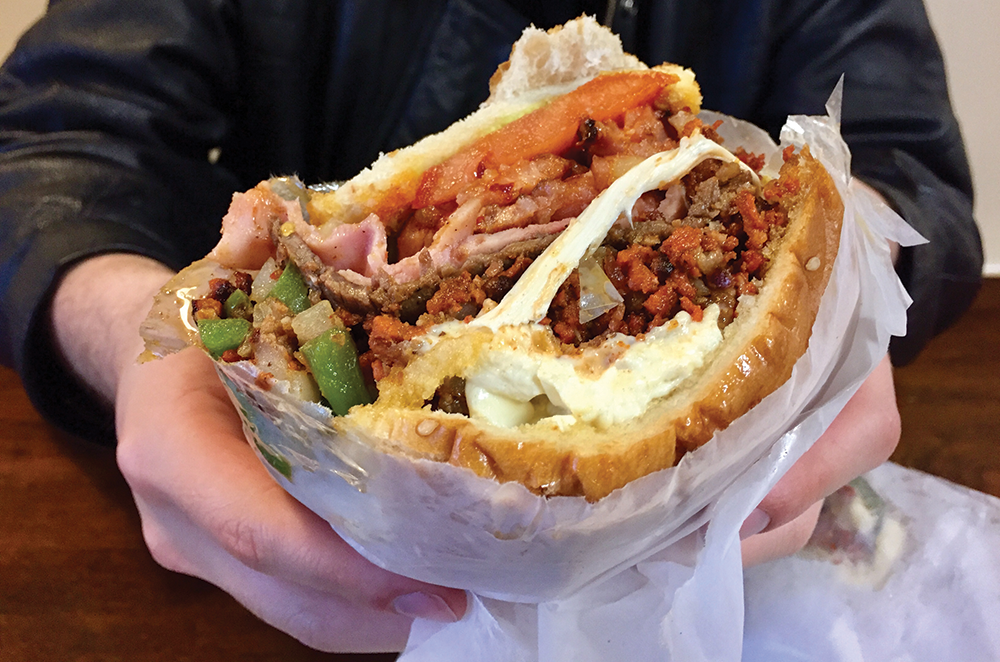 Best Edible Engineering
Big Tortas
In my travels, I have seen many sandwiches that I would classify as gonzo, depraved or straight up profane. The Sur 39 at Big Tortas is all of that and more. I often revisit my experiences here to see if I can figure out how they manage to fit nearly an entire cow and pig on one sandwich and still have enough room for cheese, avocado, lettuce and tomato. The bread never breaks apart mid-bite, and the innards never slide out the back during a bite. I don't know how the team at Big Tortas is able to do this, but it's nothing short of engineering magic. (AS) Multiple locations, bigtortas.com

Best Garlic Delivery System
Grandma Sandino's Sauces & Bread Mixes
The correct answer to "how much garlic is too much garlic" is "there's no such thing." For anyone who agrees with that sentiment, and just can't get enough of the "stinking rose," there's an array of Grandma Sandino's products—developed over the course of 30 years—that's just right for you. From bottles of vegetarian Sicilian Garlic Sauce to herb rubs and garlic bread mix, you'll find a kindred spirit who knows that clove is a many-splendored thing. (SR) grandmasandinos.com

Best Off-The-Beaten-Path Mexican Restaurant
Salt Flats Café
When someone thinks of Wendover, they probably think of casinos with their glitzy signs and slot machines. Eventually, they'll think of Wendover for its marijuana store, too, perhaps. But on the Utah side (where no sinning is allowed), you can find a surprisingly tasty spot for Mexican food. The place is packed during the Bonneville Salt Flats' infamous speed week, but that doesn't mean that's the only time you should go here for a cheesy burrito and horchata. Stop by for breakfast as well before you drive back across the border to win your next fortune. (RH) 85 Skyhawk Drive, Wendover, Utah, 435-665-7550

Best Mexican With a Twist
Maria's Mexican Grill
Maria Castillo was a server when she met Sergio Vazquez, a cook, at the restaurant where they both worked. They married and each worked for 20 years in the restaurant industry before founding Maria's Mexican Grill on Salt Lake City's 3300 South. Maria's ambitious menu offers dishes ranging from street tacos to Mexican steak to super nachos. They pride themselves on using fresh ingredients which combine to make every plate's presentation a visual delight. Even the rice is made fresh daily. An original recipe, the Puntas de Filete features top sirloin sautéed with bacon, jalapeno, green onions and tomatoes, then topped with Monterey jack cheese. Another popular dish, the Holy Mole enchiladas includes three chicken enchiladas, each with a different housemade mole—green, white and red. The enchiladas Suizas includes two enchiladas stuffed with creamy chicken, smothered with green tomatillo sauce and accompanied by sour cream, avocado and queso. Maria's salads, which include your meat of choice grilled to perfection and served on a bed of romaine lettuce, and seafood entrées, such as shrimp fajitas and crab enchiladas are also to die for. (CC) 3336 S. 2300 East, 801-883-9774, mariasmexicangrillslc.com

Best Taco Cart That's Not a Taco Cart
Santo Taco
Those who maintain a distant curiosity with the taco carts that sporadically dot our metropolitan intersections will be interested in Santo Taco. Its menu boasts many of the same options at roughly the same price—which is a pretty big deal for a place that has overhead costs to think of. Santo also boasts a hip street corner vibe on the inside, so the only thing that really separates it from being a taco cart is the fact that it's not a taco cart. Their tacos al pastor are a masterclass in Mexican street food, and they make pretty decent beef tongue and beef head tacos as well. (AS) 910 N. 900 West, 801-893-4000, santotacos.com

Best Westside Goat Meat Fix
El Cabrito
Although Americans have been feeding off pro-beef propaganda for years now, the rest of the world caught on long ago that goat is the better red meat. If you're hankering for a taste, this humble Mexican eatery in Rose Park delivers a slow-roasted barbacoa de chivo that's less bone-y than other preparations and so tender that it induces an almost narcotic bliss in the eater. First-timers might want to start with a generously sized taco de chivo ($2.50) but the real move is going for the full platter ($10.49), with meat piled high next to rice, beans and a side of fluffy yet slightly crisped tortillas. (PH) 956 W. 1000 North, 801-363-2645

Best Carne Asada Fries Burrito
Beto's
I'm originally from San Diego, where we call the carne asada fries burrito a "California burrito." Where I come from, people take this burrito seriously, and clearly they do at Beto's as well. Monterey cheese is laid along the surface of the humongous flour tortilla, providing great taste but also an adhesive to maintain the structural integrity of a densely-packed combo of grilled beef, sour cream, guacamole and piping-hot fries. The result is like a carefully choreographed ballet, every part playing its role to send the consumer into higher planes of emotional rapture. I don't live in California anymore, but with one of these in my hands, I feel right at home. (PH) Multiple locations, betosmexicanfood.com

Best Pocket Full of Sunshine
RicArepa Xpress
The arepas from RicArepa Xpress are, simply put, milestone moments. There's your life before trying these Venezuelan sandwiches, ignorant of their existence and not knowing what you're missing, and then there's your life after. I'm honestly not sure which is better—not knowing about them and being unaware of such a beautiful composition or knowing about them and craving them every other day. Arepas are where the textures of crisp and soft intersect with the flavors of sweet and savory—otherwise known as the nexus of the universe. If you're a sandwich completionist and haven't tried this place out, get here quick—but I take no responsibility for your subsequent cravings. (AS) 4616 S. 4000 West, West Valley City, 801-966-9393, facebook.com/ricarepaxpress

Best Sliced Meats For Your Sandwich
Caputo's Market & Deli
Caputo's Market & Deli has been slinging fine Italian goods for decades. Their lifespan is a testament to their quality of food, namely the meats. You can be sure to find designer chocolates, olive oils and other goods at Caputo's, but if you need that quick hunger fix, you'll want to head to the deli. The menu is full of worthwhile sandwiches featuring salami, prosciutto, ham, pastrami, well, you get the idea. Pair it with a pasta or salad and you'll be coming back in no time. (RH) Multiple locations, caputos.com

Best Aggressive Expansion
The Store
For years, this local grocery store hung out on the fringes of Millcreek, appeasing the neighbors with its locally-sourced products and quaint vibes. Then 2019 hits and the place locks down two highly strategic locations, one in Central Ninth, and the other in The Gateway. While many might see The Store as just another market, let me take a moment and remind you that when The Store is nearby, it also means great products from June Pie, Abigail's Oven and Leatherby's are also nearby, so show some goddamn respect. (AS) Multiple locations, thestoreutah.com

Best Way to Kill a Saturday Summer Morning
Pioneer Park Farmers Market
The Pioneer Park Farmers Market is a true summertime gem. You can buy anything—fresh fruit and veggies, bread, BBQ sauce, art, coffee, souvenirs. One of the first times I went, there was a guy showing off an owl in an attempt to raise some cash, which officially makes the market far cooler than other, owl-less outdoor bazaars. There's even a bike valet, for those interested in combining their shopping with a little exercise. The big emporium runs from June to October, but there's also a Tuesday night market from August to November, and a Rio Grande winter farmers market that stretches from November to April. (KL) 300 W. 300 South, slcfarmersmarket.org

Best Sunday Study Spot
Lin's Market
You wouldn't think a supermarket would be an ideal place to buckle down for an hours-long study sesh, but this is where a taxi driver took me when I had to get work done on a Sunday morning in Cedar City this summer, and I gotta say, it was just the place I needed. Chairs and tables were all set up in a little cafeteria room. There was fast and reliable Wi-Fi. Best of all, I was able to help along my study efforts by purchasing a giant rack of ribs from the deli counter, devouring it with glee in between edits on an article. (PH) 150 N. Main, Cedar City, 435-586-3346, linsgrocery.com

Best Produce Pals
Harmons Neighborhood Grocer
It was the corporate decision that left many scratching their heads: Determining that City Weekly didn't align with their customer base, Smith's parent company, Kroger, yanked our humble publication from its stores. Accounting for about a quarter of our total distribution, it was quite a blow. Customers took notice, and channeling their inner Karen, have talked to Smith's managers hoping to get us back. In the meantime, Harmons stood up, allowing our scrappy weekly inside their stores. Whether you're visiting to pick up some gourmet cheese, take part in one of their stellar cooking classes or to pick us up, Harmons has your back—just like they did ours. (EL)

Best Supermarket With Flair
Rancho Market
Where can you get Mexican pan dulce, Yemeni tea, Central Asian-style lavash bread, halloumi cheese and goat meat all in one place? Here, and only here. First opening as a Mexican-focused grocery in 2006, Rancho Market has since expanded to stock foods and ingredients for a variety of Middle Eastern and African cuisines, reflecting Salt Lake's increasingly diverse population. Mexican food is still the specialty, and management keeps it legit with panaderias where you can select baked goods with tongs and a tray, as well as Nuestra Cocina in-store restaurants featuring delicious, bubbling molcajetes. Truly a Utah treasure. (PH) Multiple locations, ranchomarkets.com

Best Bulk Shopping Spree
Cache Valley Outlets
Pepperidge Farm, Creamies, Fat Boys and Gossner's cheese, oh my! Cache Valley is home to multiple outlet stores and factory rejects that are sold for low prices. Logan is also home to All About Socks, a sock outlet store, and Logan Outlet, a store that sells discounted goods from big chain retail stores like Walmart and Target. It's easy to fill up your carts (and freezers) on a budget. From Providence to Preston, take the outlet tour and experience the backroad beauty of Utah the freeway doesn't let you see. (EGW) 1300 Main, Logan, cachevalleymall.com

Best Tea Party
The Grand America Hotel
During the afternoon, the lobby of the Grand America Hotel is transformed into a social occasion right out of a regency drama. Layered serving dishes of cucumber sandwiches and other finger foods are carried out like exotic birds, and a wide variety of imported teas are daintily poured into fine china teacups. The posh décor of the Grand America is a fine backdrop for such a sophisticated event, and it's a must for anyone who wishes they could be in a Jane Austen novel. As someone who rarely gets the chance to try scones with clotted cream, I appreciated how finely this event attuned me to my more cultured side. (AS) 555 S. Main, 801-258-6707, grandamerica.com

Best DIY Tea Party
Shahrazad Market and Restaurant
This humble Middle Eastern market has a restaurant in the back, serving up a wonderful range of Arabic, Somali and Iranian dishes. But Shahrazad's grocery selection is just as enticing, especially if you're planning an upcoming dinner party with sweets and tea. The shop has a whole aisle dedicated to different types of teas, and there's also plenty of spices on sale that you can use to spruce up your cup—cardamom and cloves are a must, but also consider a bottle of rose water or orange blossom water to make any hot drink or dessert sing. (PH) 1615 W. 2100 South, 801-975-9977, shahrazadslc.com

Best International Snack Selection
Chinatown Supermarket
Looking for cuttlefish snacks from Korea? Or maybe some four-layer Orion turtle chips? How about Filipino-style banana ketchup to put on your hot dogs and cheeseburgers? Find all of this and more within the aisles of the Chinatown Supermarket. Along with staples like produce and meat, this massive grocery outlet also boasts a dazzling selection of Chinese baked goods, Korean snacks, Japanese candy and Southeast Asian holiday treats. There's also adjoining restaurants selling chicken and rice dishes and Korean pastries, ensuring customers will never go hungry. (PH) 3390 S. State, South Salt Lake, 801-906-8788, chinatownsupermarkets.com

Best Customized Healthy Meals
Fueled Fresh Kitchen
National chains and supermarkets have been all over the trend of ready-made meals for busy lives. So maybe you'd like an option with a genuinely healthy focus, served up locally? Draper's Fueled Fresh Kitchen not only offers terrific breakfasts, smoothies, salads, wraps and more in their restaurant—all with options for special dietary needs from vegetarian to gluten-free—but allows guests to build their own bowls for take out, to be ready for your week. Pick a bowl, wrap, burger or salad, pick your preferred ingredients, and let them put it all together in a way that makes eating healthy delicious and easy. (SR) 12259 S. 450 East, Ste. B, Draper, fueledfk.com

Best Deal On a Vegetarian Buffet
Govinda's Buffet
Off a side road on the outskirts of Spanish Fork, the Sri Sri Radha Krishna Temple offers up a daily buffet from 11:30 a.m.-6:30 p.m. It only costs $6, and it's a fairly simple setup with metal buffet warmers and cafeteria table seating. Road-trippers cruising I-15 or anyone else who happens to find themselves with a growling stomach in Spanish Fork would be hard-pressed to find a healthier or more satisfying all-you-can-eat deal. Feast on vegetarian curry, basmati rice, lentil soup, salad and mango juice until your chakras are aligned. (PH) 311 W. 8500 South, Spanish Fork, 801-798-3559, utahkrishnas.org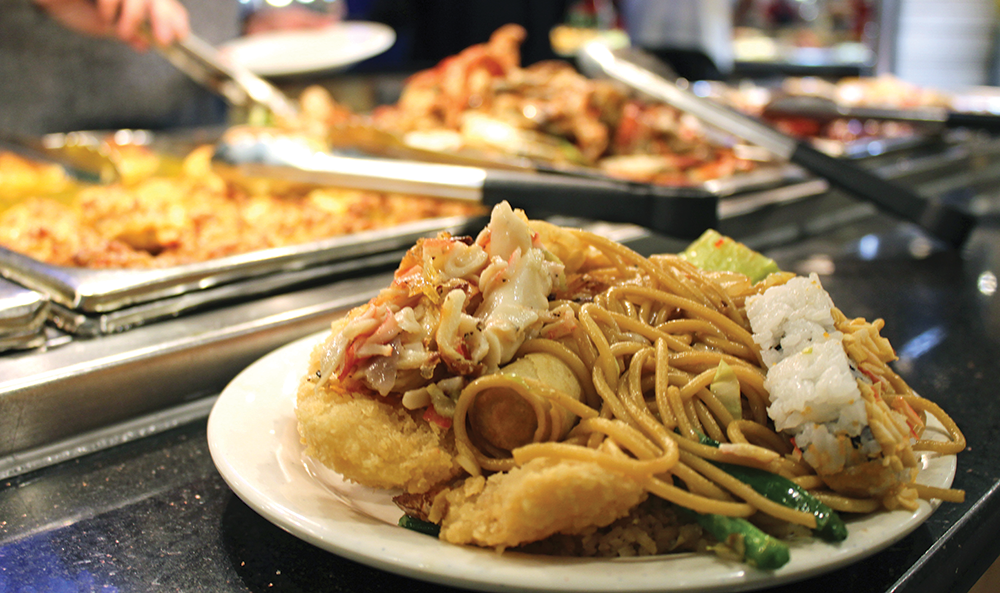 Best Cultural Exchange
King Buffet
Mixing the all-you-can-eat method with Chinese food is one of the best examples we have of cross-cultural cooperation, and no dish on the King Buffet menu exemplifies that cooperation more than the cheesy crab casserole. This casserole is a Chinese buffet staple, but it has a particular poignancy when you think about the barrage of casseroles that assail Utah dinner tables every Sunday—there's something inherently homey about a casserole, good or bad. Although I grew up with both imitation crab and casseroles, only the mad geniuses behind a Chinese buffet would think to combine the two without knowing the harmony it would represent. (AS) Multiple locations, kingbuffetutah.com

Best Noodle Joint
One More Noodle House
We have no shortage of noodle shops in our fair state, but this is the one that always gets me through the winter. Their menu is vast, and it maintains fair representation from every major area of the flavor spectrum. Everything from spicy to sour can be found in the heady broths that are brewed within, and their housemade noodles strike a perfect balance between soft and toothsome. The more I want to branch out, the more my affection for the numbing spicy beef noodle soup calls out to me. Is it weird that I'm actually looking forward to winter now? (AS) 3370 S. State, Ste. N5, 801-906-8992, onemorenoodlehouse.com

Best Momos
Himalayan Kitchen
Although Himalayan Kitchen has a great menu of Indian and Nepalese cuisine, they first won my heart with their traditional momos. They were one of the first things that I tried during my inaugural trip to Salt Lake's Living Traditions Festival, and they've since come to embody everything I love about festival street food. These fist-sized dumplings are flavorful and satisfying whether they're stuffed with veggies or spiced bison, and their portability makes them ideal for eating while exploring. I'm a longtime fan of any food that consists of dough stuffed with meat, but I'll always be a bit nostalgic about the momos from Himalayan Kitchen. (AS) 360 S. State, 801-328-2077, himalayankitchen.com

Best Pockmarked Granny Tofu
Szechuan Garden
When you hear that something is called Pockmarked Granny Tofu, your first instinct might be to run away—those are a lot of fearsome words in one dish. Dubious as the dish's literal translation is—it goes by mapo doufu in its native tongue—it's not to be missed. For my money, I think Sandy's Szechuan Garden is the best place to give these silken tofu cubes tossed in a blend of numbing Sichuan spices and ground pork a try. After the tofu has soaked up all that spicy flavor, you get these silky little fireworks of Sichuan magic. (AS) 1275 E. 8600 South, 801-233-0027, szechuangardensandy.com

Best Dinner and a Show
Mark of the Beastro
While the main draw of visiting 666 S. State is to partake in some tasty plant-based comfort food—vegan chicken and waffles anyone?—the space is so much more. Mark of the Beastro is part of The Beehive, an artistic collective that also happens to include a venue space for art shows, concerts and other forms of esoteric performing arts. For example, The Beehive screens one horror movie per night for the entire month of October. Let the tasty food at Mark of the Beastro lure you in, then stay for some performances you won't get anywhere else. (AS) 666 S. State, 385-202-7386, facebook.com/markofthebeastro

Best Gourmet Vinegar
Redstone Olive Oil
Dedicated foodies have long been devotees of great extra-virgin olive oil, and the name of Redstone Olive Oil should clue you in that they've got you covered there with delicious imported offerings. But if you want to combine that oil with dazzlingly different vinegar to dress your salad, it's one-stop shopping. Try Cranberry Pear White Balsamic Vinegar, or Cascadian White Raspberry Balsamic Vinegar. And if your tastes run to the darker old-school balsamic, sample one that's been aged 18 years. Generic brands just won't be an option after this. (SR) Store locations in St. George, Draper and Farmington, redstoneoliveoil.com

Best Smoothie Splurge
Just Organic Juice
Located in the heart of Sugar House (as well as Draper), JOJ offers an array of organic beverage items. Juices and smoothies are plentiful and are on board to help replenish the damage you did over the weekend (or over the years). You might experience momentary sticker shock when you dish out $8 for a smoothie, but it's a huge, organic smoothie that you'll finish to the last drop. Looking to shed a few pounds? Ask about their cleanse packages, available from easy to extreme. (KR) 2030 S. 900 East, 801-953-0112; 438 E. 12300 South, Draper, 801-613-9287, justorganicjuice.com

Best Balls
Quickly Utah
During my visit to Quicky Utah, I couldn't help but notice how spherical most everything on the menu was. A lot of this has to do with the fact that Quickly specializes in boba tea, fried octopus balls known as takoyaki and other spherical street foods. There's no harm in serving up ball-shaped street foods, but I can't help but think the innuendo gets stretched a bit thin when you have to ask for a chubby to upgrade the size of your boba tea. There's nothing wrong with phallic food, but you should probably know what you're getting into with a trip to Quickly. (AS) 3521 W. 3500 South, 385-274-4938, quicklyutah.com

Best Breakfast Treat Ready to Go
City Cakes Donuts
As more and more Americans switch to specialized diets, whether for health or social consciousness reasons, they also look for ways not to miss out on the wonderful things they've always enjoyed. Utahns have a special friend in that respect in City Cakes, where their brick-and-mortar stores offer vegan and gluten-free options for cakes, cookies and much more. But if you can't make it to their stores, you can still grab their delicious chocolate glazed donuts packaged and ready-to-go at grocery stores like Harmons. (SR) 1860 S. 300 West, Ste. D, Salt Lake City, 801-359-2239; 192 E. 12300 South, Draper, 801-572-5500, citycakescafe.com

Best Breakfast Fare With a Flair
The Cotton Kitchen
Let's face it: As delicious and comforting as breakfast food is, there's a sameness to it. I mean, how many ways can you offer eggs, pancakes or potatoes? The folks at Cotton Kitchen are determined to find out, it seems. Instead of scrambled eggs, how about lox benedict, where the poached eggs are accompanied by cured salmon, chipotle hollandaise and microgreens? Or a breakfast platter where your everyday hash browns become a potato hash with quinoa? Even the breakfast sandwich puts your eggs and bacon or sausage on a brioche with dijon aioli. The most important meal of the day just became the most interesting one, too. (SR) 3158 E. 6200 South, Holladay, 385-274-4749, cottonkitchenutah.com

Best Local Chicken Sandwich Throwdown
Pretty Bird vs. Mr. Charlie's Chicken Fingers
It doesn't take a Twitter war to know that the real battle for fried chicken supremacy should be fought by Pretty Bird and Mr. Charlie's Chicken Fingers. The hot behind chicken sandwich at Pretty Bird is a smokin' blast of Nashville attitude and the chicken finger sandwich at Mr. Charlie's is a classic example of exceptional simplicity. This battle is so close in my mind that the winner changes daily, but both of these tasty testaments to fried chicken are worth your time. If you are planning to conduct a throwdown of your own, just remember one simple guideline—don't be a dick to the people who make these. (AS) Pretty Bird, 146 S. Regent St., prettybirdchicken.com; Mr. Charlie's, 554 W. 4500 South, 801-803-9486, mrcharlieschickenfingers.com

Best Southern Comfort
Sauce Boss
This place started out as a local food truck that made a name for itself cooking up Southern-inspired soul food. Not long ago, owner and executive chef Julius Thompson opened a brick and mortar store in Draper, and I've become quite a fan—they serve housemade pork rinds and housemade Awesome Sauce as a pre-meal snack, for hell's sake. Sauce Boss is one of the few local places that isn't serving up some repurposed version of Southern food—this is the good stuff. Deep fried catfish, pork neck bones and maple hot sauce await you at this welcoming testament to the simple elegance of Southern comfort food. (AS) 877 E. 12300 South, 385-434-2433, saucebosssouthernkitchen.com

Best All-American Meatloaf
Union Grill
This is a beautiful bistro with an Old West feel and a modern, family-friendly flair. Their "Momma's Meatloaf" ($14.95 for dinner) is the perfect thing to indulge on a long day, cold night or after a marathon round of Red Dead Redemption II. Big slices of spiced beef loaf are covered in a thick gravy, served with a seemingly never-ending pile of mashed potatoes coming out of every nook and cranny of the plate. It's home-cooked ecstasy away from home, and if you're really feeling like a cowboy then take it with a side of French onion soup for an extra $1.50. (PH) 315 24th St., Ogden, 801-621-2830, uniongrillogden.com

Best Upgraded Classic
Impossible Burger at Apollo
While they're known for their house classics—the signature Apollo served on a cornmeal-topped bun, the Athenian topped with a feta slab and the Utah burger piled high with pastrami—there's always room for improvement, and Apollo knows this. Enter their take on the oh-so-buzzy Impossible burger. Many national retailers have jumped on the plant-based patty with varying levels of success. Here, it was fast-tracked to fit right in with the established eaterie's tried-and-true menu. Smothered with a generous helping of their top-secret Apollo sauce, Apollo's iteration is a true thing of beauty. Burger King wishes. (EL) Multiple locations, apolloburgers.com

Best Chomp Champ
Poplar Street Pub
What does it take to be a champion? Pastrami and chorizo. On a burger. That's what. Although Poplar Street Pub has a well-rounded menu of pub-friendly staples, their champion series burgers are known for pushing the burger bun to its limits. Champions of note include the Cuban burger, which combines the world's greatest sandwich—the Cubano—with a cheeseburger. Their pastrami and chorizo burgers are nothing to scoff at either. In a state where pastrami burger empires rise and fall, the iteration at Poplar Street remains stoic and unafraid. Poplar Street isn't afraid to share this sensibility with their vegetarian customers—their veggie burgers are equally worthy of the championship title. (AS) 242 S. 200 West, 801-532-2715, poplarstreetpub.com

Best Reader Recommendation
Doc Brundy's
Every so often I'll get lucky enough to have someone recommend a place that I'd have never found in a million years, and Doc Brundy's is one such recommendation. It's part restaurant, part arcade and part duckpin bowling alley, and it's one of Spanish Fork's best kept secrets. The décor and vintage arcade games are enough reason to pay the place a visit, but they've got an all-American menu that features meatloaf, bison quinoa meatballs and crispy buffalo cauliflower wings, all made from scratch. A big thank you to Evie for the recommendation. (AS) 260 N. Main, Spanish Fork, 801-804-3029, docbrundys.com

Best Fancy Offal
Post Office Place
Despite offal's recent reinvention as haute cuisine, it can be a tough sell if you don't know what you're doing. Luckily, the tongue carpaccio, crispy pig ears and grilled beef heart at Post Office Place have been developed with no small amount of care—if you're in the market for such rough cuts, you could do a hell of a lot worse. I prefer the tongue carpaccio of the three, but I have yet to meet an unconventional meat that Post Office Place can make into a work of art. If you happen to need a few drinks before you take the offal plunge, they've got an extensive craft cocktail menu to keep you covered. (AS) 16 W. Market St., facebook.com/postbarslc

Best Shawarma
Ishtar Grill
You know you're in a legit Middle Eastern restaurant when most of your fellow diners on a recent visit are speaking Arabic. Ishtar's shining star is the shawarma—there's beef and lamb and chicken to choose from, and both are wonderfully flavorful and juicy, served with either fresh bread or atop magically soft piles of spiced basmati rice. There are also plenty of other specialty dishes that would be rare to find anywhere else in Utah, the most impressive of which are Gulf staples like chicken mandi and lamb qoozzy—both baked in a special way and served with rice, platters fit for a feast. (PH) 725 E. 3300 South, Millcreek, 801-803-9434, ishtargrillslc.com

Best Old World Pretzels
Petra's Backstubchen
There are the things you buy from the grocery store freezer, and then there are real pretzels, the way they were designed to be so that they became the very symbol of bakers' guilds in Germany. Petra's Backstubchen represents the history of its namesake—yep, there's an actual Petra, a German native transplanted to Utah—who brings family recipes to our shores for cakes, strudels, cookies and, yes, amazing pretzels you can't wait to pair with your favorite brew. Find them online, or in Lee's Marketplace and The Store locations, in case you just can't wait for a delivery. (SR) petrasbackstubchen.com

Best Spaetzle Seduction
Siegfried's Delicatessen
You never forget your first spaetzle. Mine happened to take place at Siegfried's Delicatessen while working a college job at ArtTix. I was already a fan of their bratwursts and pretzels, but one day when I was feeling especially peckish, I asked for a helping of their homemade spaetzle. Ever since, it's been a mainstay—whenever I go in to Siegfried's, I can't leave without taking some of this stuff with me. It's borderline perfection as a side dish to one of their famous bratwursts, but there's also something starchy and satisfying about ordering a pretzel, dipping it in some of that spaetzle gravy and thoroughly enjoying those tasty net carbs. (AS) 20 W. 200 South, 801-355-3891, siegfriedsdelicatessen.com

Best Corn Dog Mavericks
The Corn Dog Co.
Corn dogs have been a part of my diet since forever, and I've seen many talented folks reinvent, reboot, deconstruct, reconstruct and psychoanalyze corn dogs over the years. It wasn't until I tried out the Honeydog at a food truck called The Corndog Co. that I felt like corn dogs could be classy. This St. George-based food truck changes the corn dog DNA simply by throwing some honey in the mix. It's already in their corn dog batter, but then they drizzle a bit of local honey on the dog once it comes out of the fryer for an extra burst of golden sweetness. (AS) thecorndogco.com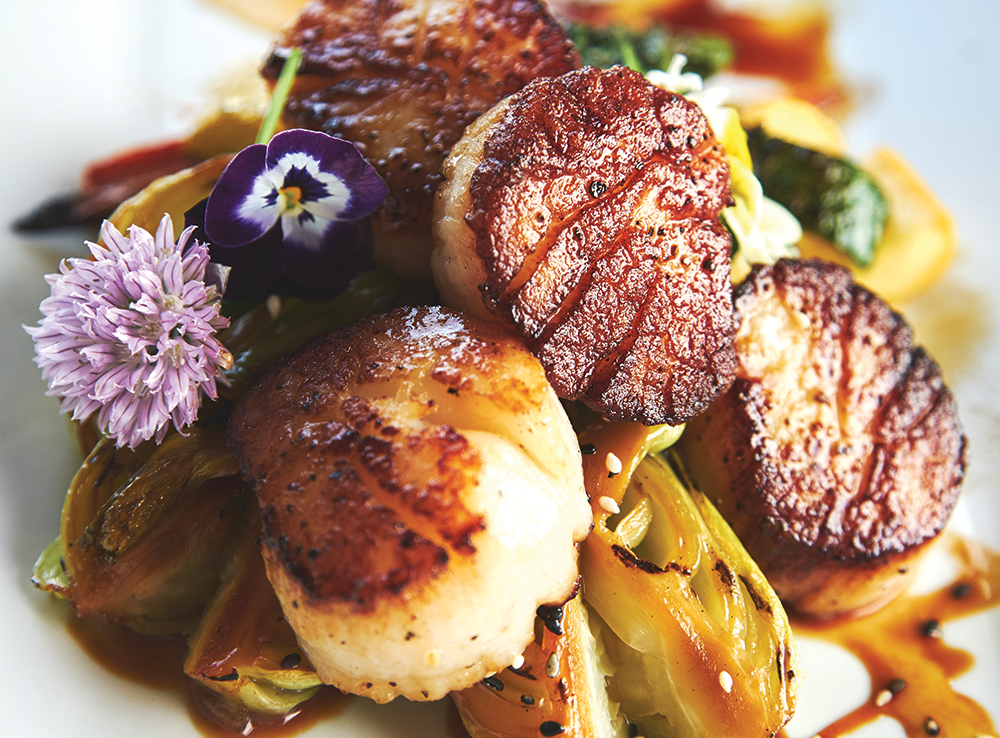 Best Surf and Turf
Harbor Seafood & Steak Co.
Those looking for an old-school surf and turf place with a mind toward locally-sourced ingredients and sustainability have hit paydirt with Harbor. All the Wagyu beef they use for their filet mignon, sirloin and ribeye is sourced from our very own Snake River Farms, and they're committed to serving only the freshest of sockeye salmon and Maine scallops. We've got our share of steak and seafood joints, but Harbor is among a select few locally-owned and locally-sourced destinations. With a cocktail menu that complements their luxurious entrees, Harbor has something for every fan of a traditional surf and turf restaurant. (AS) 2302 E. Parleys Way, 801-466-9827, harborslc.com

Best Food Court Renaissance
The Gateway
The best thing The Gateway did for itself was to get rid of its traditional food court. Now it seems like every time I visit, they have some newfangled eatery that I have to check out. The investment in creative places like Punch Bowl Social and Dave & Buster's were the big fish that the outdoor mall needed to usher in local establishments like The Store (thestoreutah.com) and Momi Donuts (momidonuts.com). We're getting an opportunity to see a culinary and commercial ecosystem develop at The Gateway, and it's exciting to see what new place will pop up next. (AS) 400 W. 100 South, shopthegateway.com

Best Oyster Initiation
Kimi's Chop & Oyster House
There's a right and wrong way to try oysters for the first time. I made the mistake of getting oysters in a po' boy sandwich from a no-name beachside seafood shack in San Diego and I never really got over it. Learn from my mistake, dear reader. Whether you're a newcomer or an oyster-eating veteran, the best way to eat oysters is on the half-shell with some lemon and housemade cocktail sauce, and the best place for such a delicacy is Kimi's. They're $4 apiece, but $19 for a half-dozen isn't a bad deal for some fresh oyster goodness. Whether you're ordering them as an appetizer or getting a whole dozen for a meal, this is the way oysters were meant to be consumed. (AS) 2155 S. Highland Drive, 801-946-2079, kimishouse.com

Best Pie, Meat Category
Sagato Bakery
This Midvale bakery takes its inspiration from a combination of New Zealand, Australian and Polynesian cuisine, and it's awesome. I can't avoid picking up one of their lamington cakes when I go in, but lately I've been enamored with their mince meat and cheese pie. It's the right mix between a pot pie and a pastry—hearty enough for a meal, but easy to carry around with you. They also have chicken and steak meat pies, but the ground beef of the mince meat lends itself to the flaky crust and melty cheese just a tad more assertively. (AS) 44 W. 7200 South, 385-557-1728, sagatofoods.com

Best Pie, Sweet Category
Tradition
Much like pizza, breakfast burritos and poutine, it's hard to make cherry pie taste bad. But that blessing can also be a curse—it's just as hard to make a cherry pie stand out from its cloying pedigree. Not so at Tradition, where their spiced cherry pie is doing fantastic, innovative and shocking new things. Most cherry pies wash out the natural tartness of their cherries with all that bright red goop, but the pie at Tradition lets you actually taste its star ingredient. It accomplishes this by mixing up some cayenne and black pepper to ratchet the filling's natural flavors to a dangerous degree. It's the kind of flavor that perfectly balances sweet, sour and spicy, giving your taste buds one helluva post-meal workout. (AS) 501 E. 900 South, 385-202-7167, traditionslc.com

Best Sweet Spot
Maven District
While the plant-based French bakery Passion Flour (passionflourslc.com) might have gotten there first, the Maven District has blossomed to include brick-and-mortar stores for Chip Cookies (chipcookies.co) and Normal Ice Cream (normal.club). I'm sure we've broken some kind of cosmic law in having such sinful talent within such close proximity, but whatever barrage of green kale and wheatgrass smoothie shops we have to endure elsewhere to tip the balance back to normal will be worth it. With its vegan-friendly options, Maven District has become a gathering place for sugar lovers of all walks of life. (AS) 200 East and 900 South, mavendistrict.com

Best Dessert Bromance
Penguin Brothers
The team at Penguin Brothers has worked tirelessly to perfect cookie ice cream sandwiches that are worth naming after some of our greatest cultural icons. You can't really go wrong if you let your inner nerd guide you through the clever monikers assigned to the menu items. The Rong Burgundy, for example, smushes strawberry Nutella ice cream between two cinnamon and sugar snickerdoodles, and the Inception puts cookie monster ice cream between a chocolate chip and double fudge cookie—if you weren't thinking of cookies, you've officially been incepted. Although their signature menu is great, don't underestimate the power of making your own combo. (AS) Multiple locations, thepenguinbrothers.com

Best Pockets of Deliciousness
Jafflz
In a fast-moving world, we crave the convenience of food we can take on the go—but it's really not worth the artificiality of familiar frozen food pockets. Fortunately, there's a healthier, tastier alternative in Jafflz, the Park City-based operation founded by a one-time private chef from South Africa. These made-from-scratch gourmet stuffed rounds offer something perfect for literally any meal, from ham-and-egg pockets for breakfast, to enchilada or vegetarian curry for lunch or dinner, to cinnamon apple pie pockets for dessert. A simple, scrumptious, self-contained treat is as close as the palm of your hand (and some local grocers). (SR) jafflz.com

Best New Dessert
Jala Ice Cream Sundae at Afghan Kitchen
The food at Afghan Kitchen is scrumptious. That isn't much of a secret anymore. Whether it's the chicken korma, the lamb shank kabuli, or the Afghan shami kabob, the owners of the joint on Main Street know how to make a dish flavorful. But one of their desserts stands out—the Jala, or Afghan ice cream sundae. This isn't any normal ice cream sundae. It comes with housemade rosewater flavored ice cream served on top of shaved ice, banana and glass noodles. That's right, noodles. It might sound strange, but the various textures between the ice cream, shaved ice and noodles lend themselves to a stellar dessert option. (RH) 3142 S. Main, 385-229-4155, afghan-kitchen.com

Best Dessert That Looks Like an Entrée
Oma & Opa's Spaghettieis
Found in Germany and at Provo's Farmers Market, Oma and Opa's Spaghetti Ice Cream is a delectable frozen treat with strawberry "marinara" sauce and noodles made of delicious vanilla ice cream. The treat can be found Saturdays throughout the season at the Provo Farmers Market as well as spiced apple juice and roasted nuts. (EGW) Center Street, Provo, 417-812-6280, facebook.com/oma.opas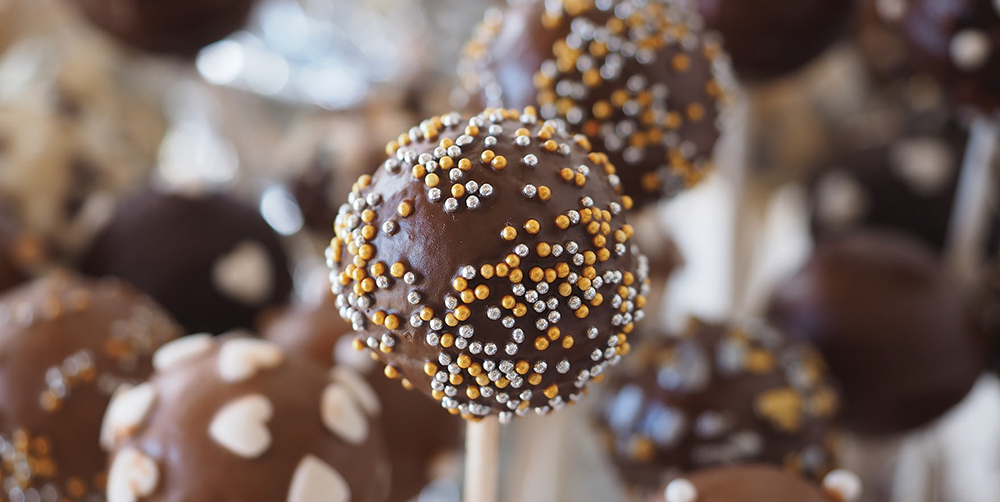 Best Chocolate Concoctions
C. Kay Cummings Candies
A rare breed in 2019, Cummings chocolates continues their 80-year family tradition of hand-dipping caramels, richly flavored cream centers and whole roasted nuts in heavenly milk and dark chocolate coatings. They pay individual attention to each single piece, making every milk chocolate almond cluster or three-flavor Neapolitan or salted caramel truly a gourmet delight. Available year-round, the layered gourmet caramel apples are a singular delicacy where the tart Granny Smith apple flesh is a delectable complement to the smooth, rich made-from-scratch caramel and other delicious toppings. The apples are available in an assortment of flavors ranging from Butterfinger to cinnamon and sugar to toffee, chocolate or Oreo. And there are even black "poison" apples (fashioned from licorice caramel drizzled with delectable red candy "blood") offered during the month of October. (CC) 2057 E. 3300 South, 801-485-1031, finecandies.com

Best Tiki Room-Approved Treat
Dole Whip at Tracy Aviary
Call me a stickler for nostalgia, but the Enchanted Tiki Room remains one of my favorite Disneyland attractions. Overseen by Uncle Walt himself, the South Seas musical romp became the park's first audio-animatronics show back in 1963. Pair it with a Dole Whip soft-serve, and you've got yourself a truly evocative experience. Those looking for something similar close to home needn't hop on a plane to Anaheim. Instead, you can head over to Tracy Aviary's Bird Feeder Café, where along with sandwiches and wraps you'll find the mythical frozen concoction. Order one up and tour the grounds for an upgraded Tiki Room feel—the birds here are 100% real. (EL) 589 E. 1300 South, 801-596-8500, tracyaviary.org

Best Microwaveable Bakery
Kodiak Cups
Park City-based Kodiak Cakes serves up a wide range of baking mixes, oatmeal packets and crackers packed with whole grains and protein. But if you want something to give an extra boost to your work day, bring along a Kodiak Cup, where all you need is water and a microwave oven to let you enjoy a portable, delectable muffin, brownie or even s'mores. Gluten-free options are also available, so that even more folks can know what it's like to have a day that gets a boost from fresh "baked" goods that you can gobble down with a spoon. (SR) kodiakcakes.com

Best Custards With a Cause
Fillings & Emulsions
Whether you're lured in by macarons (offered in unique flavors like blueberry mojito) or by the selection of Cuban meat pies (an homage to chef and owner Adalberto Diaz' roots), an array of Willy Wonka-approved treats call Fillings & Emulsions home. It'd be easy for Diaz to rest on his laurels, but recognizing the devastation caused by children being separated from their families along the U.S./Mexico border, his crew held a benefit bake sale over the summer. Dubbed "Families Belong Together," it yielded $45,000 destined to RAICES, the Refugee and Immigrant Center for Education and Legal Services. Delectable treats with a hearty side of good karma? It doesn't get any sweeter than this. (EL) 1475 S. Main, Salt Lake City, 385-229-4228; 326 W. Center St., Provo, 801-607-1593, fillingsandemulsions.com

Best Dessert You Can Pretend Is Breakfast
Crumbl Cookies Waffle
The rotating menu of specialty cookies at Crumbl is always a delight, giving customers a reason to come back every week just to see what new concoctions they've developed. But keep an eye on those weekly specials for the return of the waffle cookie—a typically decadent offering that combines a waffle flavor with a drizzle of maple syrup and a dollop of butter cream frosting. Look, plenty of breakfast options are basically desserts—you're not fooling anyone, muffins and donuts—so why not dig in to something that's honest about what it is? (SR) Various locations, crumblcookies.com

Best Donut Enticement
Fry Me to the Moon Food Truck
When you're talking about the comforting appeal of fried food, it isn't hard to get people interested. Fry Me to the Moon presents fried delights from corn dogs to loaded French fries, but folks can't get enough of their signature donuts. And they know it, too, which is why the truck is emblazoned with the slogan "Home of the Free Donut"—because once you've tried one, good luck saying no to even more. (SR) frymetothemoonslc.com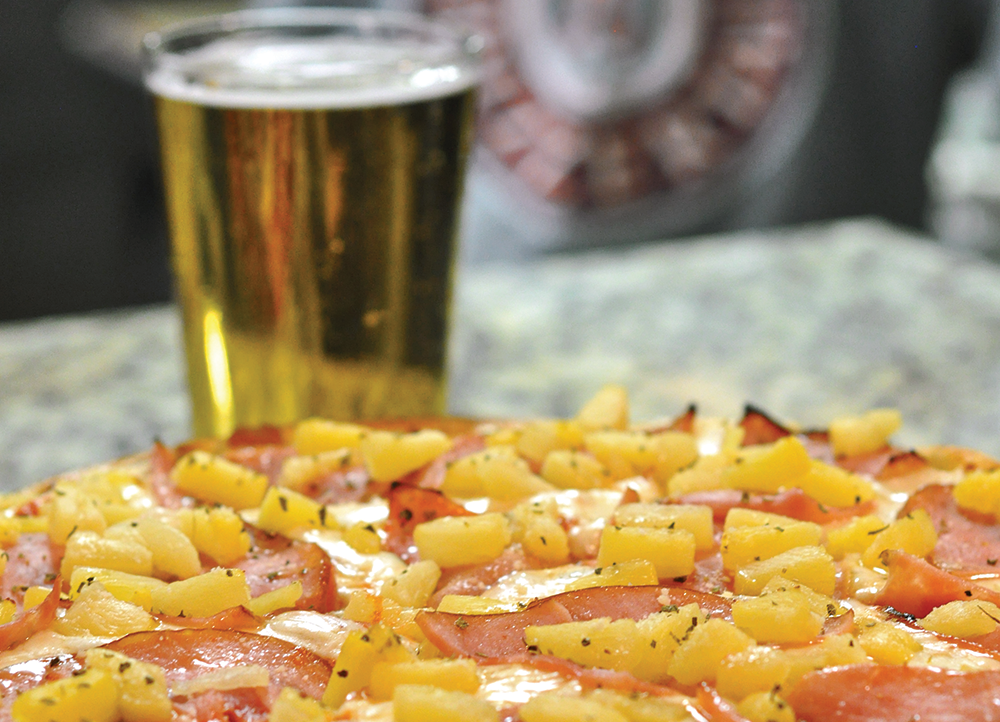 Best Drink Deal
The Pie Pizzeria
Two words: Dollar PBR. Yes of course, the pizza here is awesome, and it's a rad place to hang out (even when it's totally packed and there's 10 kids clambering around stuffing their faces at a family-sized table crammed right next to yours). But what really blows me away are the $1 Pabst Blue Ribbon pints. The PBR flows from the tap, nice and refreshing, all a drinker could ask for after a long day's work. Did I mention it only costs $1? Yep, that's right. Another round, barkeep! (PH) 1320 E. 200 South, 801-582-5700, thepie.com

Best Reason to Learn How to Snowshoe
The Yurt at Solitude
Last winter, I learned that you can get me to snowshoe up a mountain pretty damn quick if you tell me the destination is a four-course meal cooked up by professional chefs. The Yurt at Solitude is a fantastic opportunity for food lovers to try some high-end food and wine pairings, but it's the guided hike through the woods around the resort that makes this evening memorable—there's nothing quite like a spirited Alpine romp through the mountains to work up an appetite. For maximum effectiveness, book this little dinner date as part of an extended ski trip. (AS) 12000 Big Cottonwood Canyon, solitudemountain.com

Best Out-of-the-Way Beer and a Bite
Ray's Tavern in Green River
If you're travelling through southeastern Utah and need a bite, look no further than Ray's Tavern off of Interstate 70 in Green River. The quaint local pub offers typical bar fare with burgers, fries, steaks, housemade apple pie and a selection of wine and beer. Yes, finding places in Southern Utah that offer wine and beer can be difficult, but Ray's Tavern has you covered. And the food is just what you need before your next exploration among Utah's red rocks. (RH) 25 S. 150 West, Green River, 435-564-3511

Best Lunchtime Cocktail
Mojito at Black Sheep Café
Not all of us will find ourselves at the tail end of a two-day PTA convention questioning our life choices. But if you do, and you're also an SLC native, you'll likely be wondering where one might find a drink in Happy Valley. Well, you're in luck! The full bar and cocktail menu at Black Sheep Café might seem like a mirage when you're standing in the world of Stepford-esque PTA moms. But if you keep walking, two blocks east of the convention center, their refreshing beverages are sure to melt away the stress of the day. I mean, if you can find a good mojito in Provo, you can do anything, right? (AP) 191 N. University Ave., Provo, 801-607-2485

Best Place For That Sunday Mimosa
London Belle Supper Club
Everyone loves brunch. It's an experience, not just a meal. But you know that. So now you need to find a spot with a hangover curing mimosa. Look no further than one of Main Street's newest establishments known as London Belle—named after one of Utah's most infamous madams in the early 1900s, Belle London. There are extravagant bloody mary bars you can go to, but London Belle's various mimosa flavors offer a nice change of pace. There's kiwi, strawberry, passion fruit, rose ... you name it, you can try it. (RH) 321 S. Main, 801-363-8888, londonbelleslc.com

Best Bloody Mary on a Budget
Red Rock Brewing's $2 Bloodys
So you've spent all your hard-earned money on mimosas. Well, Red Rock Brewing has just the thing: $2 bloody marys. They're not big bloody marys—they are just $2 after all. But while at brunch with your friends, you'll be feeling better in no time if you ask your server to keep 'em coming. If you are there for brunch, try the Eggs in Purgatory or the pulled pork huevos rancheros and wash it down with a few bloody marys. And if you get tired of those, yes, they do have $2 mimosas. (RH) Multiple locations, redrockbrewing.com

Best Grub and a Tune
Garage on Beck
Garage on Beck might be unassuming to passersby. Heck, it's located right next to one of the Salt Lake Valley's polluting refineries. But once you're inside, you're in for a treat. The place features frequent live music on its indoor stage and out back, you'll find plenty of seating and chances to play games such as cornhole. Stop by on a Wednesday for half-priced burgers after 5 p.m. and $3 whiskey shots or come by for Taco Tuesday. Don't worry about the refinery to the west, because once you've loaded up on booze and tasty burgers, you're heart might be telling you, "Only in moderation, please." (RH) 1199 Beck St., 801-521-3904, garageonbeck.com

Best Place to Drink on the Cheap on a Weekday
O'Shucks Bar & Grill
Who says drinking on weekdays is inappropriate? You don't have to just be a weekend warrior to enjoy downtown. Tuesdays at O'Shucks is where it's at. Think $3 goblets (known as schooners) of beer. How many of those you need to feel you got the best bang for your buck is up to you. But this bar, paired with a sushi bar across the way, can be your one-stop shop to make you feel like Tuesday is the new Friday. If you didn't get enough on Tuesday, come by for Wine-Down Thursday and throw back a $3 glass of wine. (RH) 22 E. 100 South, 801-596-8600

Best New Pub Crawl District
Sugar House/Ballpark Neighborhoods
The brewery business is booming. Don't blink because if you do, there might be another brewery opening shop in the Sugar House and Ballpark neighborhoods. What makes this even more convenient? UTA's S-line and those pesky scooters that make it easy to get around. So if you're thinking of checking out some of the Beehive State's newest brews, don't miss stopping by the likes of SaltFire Brewing Co., Level Crossing Brewing Co., Wasatch Brewery, Roha Brewing Project, Kiitos Brewing and Shades Brewing. And that just scratches the surface. (RH)

Best Locals-Only Beer Garden
Craft by Proper
It wasn't always easy to find a great craft beer in Salt Lake City. You really had to dig through dozens of bar menus to find the right pint. Nowadays, you can't walk into a pub without tripping over a craft brew, but there's one place that specializes in tripping you up with locals only options. Craft by Proper's hyper-localized concept was conceived by the boys and girls at Proper Brewing Co. themselves, these folks want to spread the love of Utah's beer no matter who makes it. If it's made here, it's welcome there and so are you. (MR) 1053 E. 2100 South, 385-242-7186, craftbyproper.com

Best Environmentally Friendly Beers
Uinta Brewing Co.
Beer, in general, is a pretty environmentally friendly way to make a living. From grain to glass the process of making beer takes little from the environment that it doesn't give back in some regard. Uinta Brewing Co. has been dedicated to taking on the task being environmentally friendly for well over 10 years. Besides donating their spent grains to local farmers, the brewery operates on wind-generated power and solar panels on the brewey's roof cut its electrical costs even further. Now that's green beer! (MR) 1722 S. Fremont Drive, 801-467-0228, uintabrewing.com

Best Adult Beverage Neighbors
Red Rock Brewing/Mountain West Hard Cider
When you have two different companies that are chasing the same customers, you're bound to run into a few problems in the pursuit of those customers. Now place those competitors side by side on the same street; you can almost smell the impending dysfunction. Luckily that's not the case at all. Red Rock Brewing and Mountain West Cider have one of the most refreshingly cordial relationships in the state. While these two entities compete for your hard-earned adult beverage dollars, they've managed to strike a personal relationship that often makes customers think that they're all one big happy family. (MR) Red Rock Beer Store, 443 N. 400 West, 801-214-3386, redrockbrewing.com; Mountain West Hard Cider, 425 N. 400 West, 801-935-4147, mountainwestcider.com

Best Pub to Pay it Forward
The Buy a Beer Board at RoHa Brewing Project
As you walk into the pub located at the RoHa Brewing Project you can't help but notice the rainbow peppered board at the back of the bar. It's been there since Day 1; names and brief messages left on colored Post-it Notes for the lucky individuals that have anonymously purchased beers waiting for them. "When people spy their name, they're quick to collect the beer and just as quick adding another name to fill its spot," co-owner Rob Phillips says. "It keeps the pub's atmosphere friendly and light." Is there a beer waiting for you? (MR) 30 E. Kensington Ave., 385-227-8982, rohabrewing.com

Best Boozy Reminder of the Northeast
SaltFire Brewing Co.'s Big in Japan New England IPA
If you're like me and from the northeastern U.S., sometimes you get tired of sipping on lagers and pale ales. The bland blondes and substantial stouts leave you wanting something hazy and juicy. Enter SaltFire Brewing Co.'s Big in Japan, a New England IPA packed with tangerine, berries and hints of herbal and pine notes. Bring your own speaker and play the Alphaville classic song of the same name as you try the brewery's other members of its NEIPA line. Just be wary of your ability to accurately compare—these bad boys are all high-point, 7.1% ABV brews. Puny draft beers, they are not. When it's in stock, be sure to get your hands on one. (KL) 2199 S. West Temple, South Salt Lake, 385 955-0504, saltfirebrewing.com

Best Beer Missionary
Epic Brewing Co.
Spreading the love of Utah suds throughout the world is no easy task, but Epic Brewing Co. seems to be up to the challenge. After starting up Utah's only strong beer brewery in Utah, Epic's owners expanded the brewery's reach to Denver, Colo., after a few years, then bought Telegraph Brewing in Santa Barbara, Calif. All of this extra brew space has allowed Epic to expand into half of the U.S. and has also taken them international; adding Mexico, South America, Europe, Japan and parts of Asia to the Utah brewery's reach. Those are missionaries I can get behind! (MR) 825 S. State, 801-906-0123, epicbrewing.com

Best Bizarre Beer Concoctions
Firkin Fridays at the Bayou
What the firk is a firkin? It's a small beer cask that holds about 7 gallons of suds. That in and of itself isn't too impressive, it's what's going on inside the barrel that brings the fun. Brewers over the years have found that these compact barrels are perfect for experimenting with. No matter if they're filled with simple beers or insane beer hybrids, the firkin is never boring. The Bayou has embraced the firkin concept, contracting with a dozen breweries from around the area to provide a unique beer drinking experience every Friday. Does cardamom work in an IPA? Or raspberries in a stout? Head to the Bayou to find out. (MR) 645 S. State, 801-961-8400, utahbayou.com

Best Taste of the Grill in Your Cocktail
Traeger Smoked Simple Syrup
Utah-based Traeger is perhaps best-known for its wood pellet grills—an innovative backyard system for grilling, roasting, smoking and more—plus a variety of ready-made sauces. But what if you want the perfect adult beverage to complement whatever you've got cooking up on your Traeger grill? Local grocers offer a chance to pick up this unique simple syrup, which lends drinks a hint of smokiness in addition to the vanilla and clove flavors with which it's infused. You'll wonder if you'll ever go back to a simpler simple syrup. (SR) traegergrills.com

Best Vodka Controversy
Five Husbands
Five Wives vodka has become as much of a Utah Pride staple as excessive body glitter and dubious sunburns. Wanting to up the rainbow ante this year, Steve Conlin and the rest of Ogden's Own Distillery's misfits unleashed a limited-edition Five Husbands iteration, complete with a hunky rendition of Conlin and crew on its label. Provoking some expected pearl-clutching, the product made national headlines, provided a stellar Pride float theme and buzz around it ensured all 3,000 or so bottles available at DABC stores sold out. Cheers to that. (EL) ogdensown.com

Best Way to Vent Your Frustration with the DABC
DABC Online Feedback
We've all been there. You know, when you can't find your favorite spirit at a local liquor store and you have to go out of our way to find a store, or you're fed up with Utah's wacky liquor laws. Well, now you have a way to let someone know instead of screaming into the void. Last year, the state's Department of Alcoholic Beverage Control unveiled an online response system so you can let them know your frustrations. Hours too short? Not enough staff? Get online and fill out a survey. It might not change much, but at least you'll feel better about yourself. (RH) abc.utah.gov/feedback

Best Brewery That Puts the Happy in Happy Valley
Strap Tank Brewing
With nearly 90% of its residents adhering to the state's predominant faith, it almost seems like a fool's game to open up a brewery in Utah County. Luckily, the masterminds behind Strap Tank knew better, and have brought their Flathead American Lager and Laser Shark Haze Pale Ale—as well as their stellar pub grub—to a recently opened second location in Lehi. Beer Nerd columnist Mike Riedel put it best when he said Strap Tank "reawakened a passion for craft beer that Utah County hasn't seen since the pre-Prohibition era." We'll drink to that. (EL) 596 S. 1750 West, Springville, 385-325-0262; 3661 Outlet Parkway, Lehi, 385-352-8194, straptankbrewery.com

Best Home State Pride
Shades Brewing
If you haven't signed onto the local microbrew revolution, it's time to wake up, smell the hops and head to your nearest tasting room. Need a little more convincing? Chances are good that acclaimed, award-winning beers can be found in your own backyard. Beehive brewers brought home six medals—including one shiny gold for Shades's Brewing's kveik—last October during the annual Great American Beer Festival. "Our beers give customers what they didn't know they were missing," Shades' mission statement goes. The brand-spanking new blue ribbon on their sour Kveik Thai Tom Kha is definitely a testament to that. (EL) 154 W. Utopia Ave., South Salt Lake, 435-200-3009, shadesbrewing.beer

---
Readers' Choice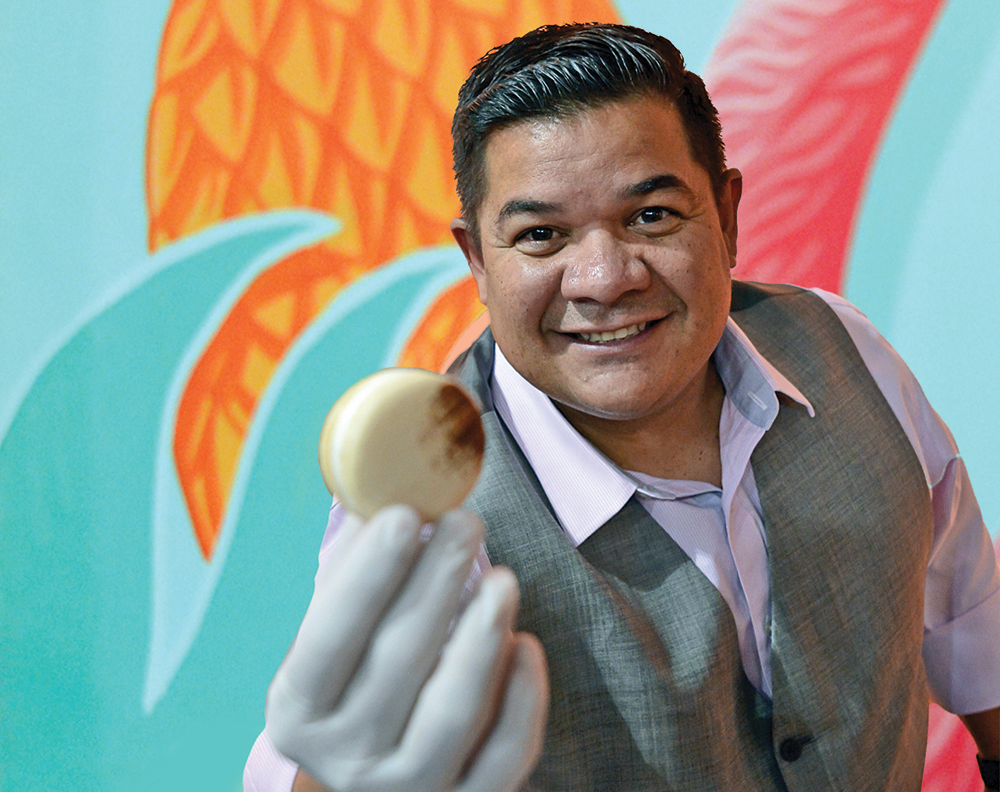 Best Bakery
Fillings & Emulsions
Adalberto Diaz has long been considered one of the best pastry chefs in all the land. In 2012, he was named the American Culinary Federation Pastry Chef of the Year. He's also frequented Food Network's baking competitions and was the runner-up for Best Baker in America. Perhaps his most distinguished award is being honored with City Weekly's Best Bakery—or so we'd like to believe. At Fillings & Emulsions, you'll find stashes of delicious cakes, tarts, pies and other baked treats. 1475 S. Main, 385-229-4228, fillingsandemulsions.com
2. Eva's Bakery
3. Tulie Bakery

Best Atmosphere
La Caille
The Starz hit drama Outlander follows the story of a World War II nurse, Claire Randall, who inadvertently travels back in time to the mid-1700s. Claire acclimates to the gorgeous landscapes, high-class society dinners, and even to wearing a corset. When patrons step foot in La Caille, they are similarly transplanted from suburban Sandy to an entirely distinct era. La Caille's castle dining experience is unlike any other Utah has to offer—you'll even find peacocks ambling the grounds. 9565 S. Wasatch Blvd., Sandy, 801-942-1751, lacaille.com
2. Tuscany
3. Log Haven

Best Breakfast
Penny Ann's Café
In 2011, the doors opened at Penny Ann's Café—or PAC for short, a nod to the University of Utah entering the Pac-12 athletics conference in the same year. Owner Penny Ann, the café's namesake, and her sister, Cindy, have been dishing up countless heaps of the infamous, impossibly thick "Heavenly Hot Cakes" made with housemade sour cream. Their pancakes have become so popular that two additional locations have been added in the last half decade. Multiple locations, pennyannscafe.com
2. Ruth's Diner
3. Pig & a Jelly Jar

Best Brunch
Ruth's Diner
When a diner has been around nearly three-quarters as long as Utah has been a state, you know they mean business. For 89 years, Ruth's Diner—nestled inside Emigration Canyon on a trolley dining car—has become a local haven for weekend brunch. Where else can you find a decent cinnamon roll these days? The traditional breakfast item forgotten among newer breakfast joints is a staple at Ruth's, where they prepare it with delectable lemon cream cheese and warm maple syrup. 4160 Emigration Canyon Road, 801-582-5807, ruthsdiner.com
2. Sweet Lake Biscuits & Limeade
3. Roots Café

Best Chinese Restaurant
Mandarin
The dynasty created by Gregory Skedros, his daughter, Angel, and son-in-law, Paul, has given Mandarin a stronghold on this Best Of category for years. While of Greek origin, the Skedros family is diligent about bringing in seasoned Chinese chefs, all the while mastering the complicated recipes themselves. If you're a newbie at the Bountiful establishment, try the Mediterranean lamb—a blend of Greek and Chinese influences, and the epitome of Mandarin. 348 E. 900 North, Bountiful, 801-298-2406, mandarinutah.com
2. Red Maple
3. Shanghai Café

Best Coffee Shop
Beans & Brews
More than 11,000 Dunkin' Donuts pepper the globe, making it one of the nation's largest coffee house chains. Less than a handful are in Utah. If there's one thing we take pride in, it's our loving fealty to local businesses, especially our homegrown coffee chains. Beans & Brews first opened in 1993 near Liberty Park and has since permeated the community like milk poured into a latte. Multiple locations, beansandbrews.com
2. Coffee Garden
3. 3 Cups

Best Downtown SLC Restaurant
Copper Onion
Copper Onion, named after two major exports found in Utah, is the all-occasion spot. Want to impress your dinner date? Have an important business lunch? Just want a quick cocktail at the bar? Copper Onion's your place. The shared plates are the way to go—sauteed mushrooms, patatas bravas, ricotta dumplings and crispy goat cheese salad. 111 E. 300 South, 801-355-3282, thecopperonion.com
2. Takashi
3. HSL

Best Desserts
Gourmandise
Gourmandise's spectacular showcase has patrons salivating like Augustus Gloop when he laid his eyes on Willy Wonka's chocolate river. "This stuff is fabulous ... I need a bucket to drink it properly!" The Gourmandise oompa loompas—uhh, staff—is well equipped to fulfill every craving with an assortment of individual sweets, soft cookies, tasty cakes and other mouth-watering pastries. Multiple locations, gourmandisethebakery.com
2. Fillings & Emulsions
3. Last Course

Best French Restaurant
La Caille
La Caille est le meilleur restaurant français dans l'état. Read by a French beau or belle, those words from the language of love—even if you don't understand them—are reason enough to book a reservation to La Caille. Its cuisine speaks for itself, especially their delicious filet mignon which is prepared with a potato puree, Brussels sprouts, broccolini and foraged mushrooms. La Caille also has just about the most diverse du vin options in their wine cellar in Utah. 9565 S. Wasatch Blvd., Sandy, 801-942-1751, lacaille.com
2. Franck's
3. Eva's Bakery

Best Gluten-Free
City Cakes
Specializing in gluten-free and vegan baked goods, City Cakes is the one-stop shop for all of your baking needs—dietary restrictions or not. Owner Nanette Wessels' creations are plentiful with a selection of cookies, cupcakes, donuts, scones, brownies and cinnamon rolls. City Cakes also prepares incredible wedding cakes, ranging from simple to extravagant. 1860 S. 300 West, 801-359-2239, citycakescafe.com
2. Good Food Gluten Free Bakery

Best Greek Restaurant
Manoli's
Manoli Katsanevas essentially grew up in the kitchen, starting in the back-of-house at his family-owned Crown Burger age 13. His dream of restaurateuring was realized in 2015 when he opened Manoli's with his partner, Katrina Cutrubus. Katsanevas has assembled an eclectic seasonal menu featuring traditional Greek mezes (shared plates) headlined by sensational grilled lamb riblets. Cutrubus' housemade loukoumades (Greek donuts) and soft-serve ice cream are treasures, too. 402 E. 900 South, 801-532-3760, manolison9th.com
2. The Other Place
3. Greek Souvlaki

Best Indian Restaurant
Bombay House
From open to close, day after day, you'll find a line out the door for a precious table (there are no reservations, so come early), and just as many customers picking up to-go orders. It's mayhem, but Bombay House's staff is accustomed to the organized chaos required to fulfill their customers' demand. What is all the hubbub about? Bombay's traditional tandoori oven is a well-oiled, finely-tuned Indian cuisine machine that churns out fresh naan, lamb, chicken and shrimp like no other. Multiple locations, bombayhouse.com
2. Kathmandu
3. Himalayan Kitchen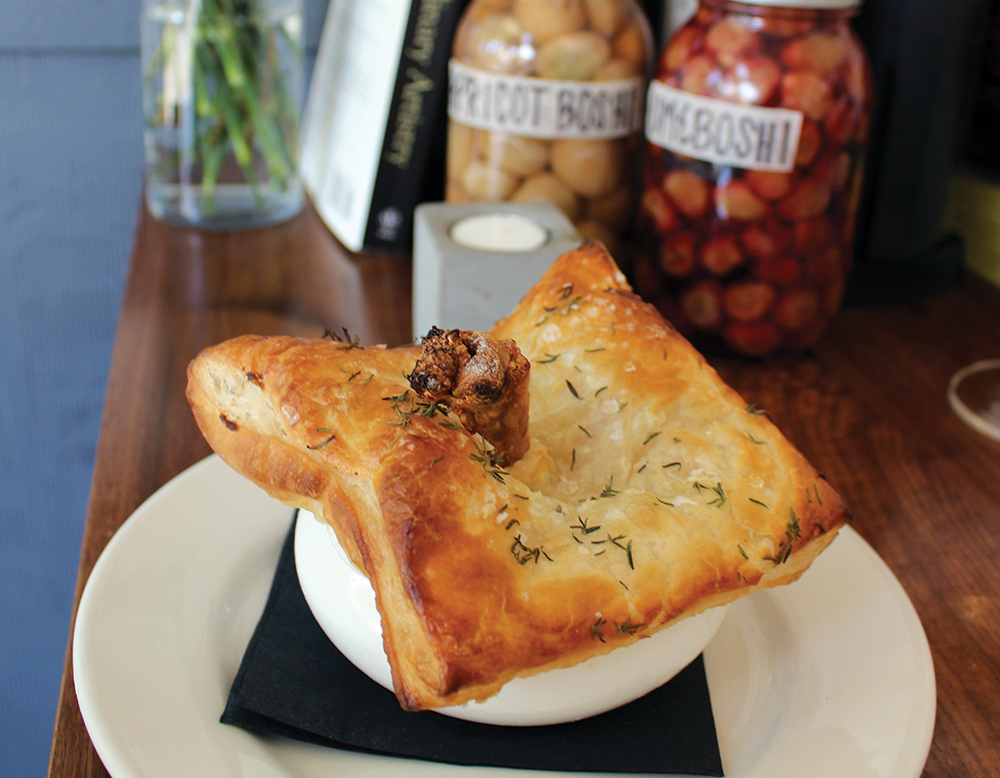 Best New Restaurant
Oquirrh
How much more Utah can you get by naming your restaurant Oquirrh? The idea of community was paramount for the new Salt Lake City eatery operated by Andrew and Angelena Fuller. Ingredients are locally sourced to bring together an eclectic, innovative menu, and dishes are presented as beautifully as they are delicious. For a first-time visit, the confit chicken pot pie prepared with winter mushrooms and mirepoix will get you hooked. 368 E. 100 South, 801-359-0426, oquirrhslc.com
2. Mr. Charlie's Chicken Fingers
3. Ginger Street

Best Innovative Menu
Table X
Chefs Nick Fahs, David Barboza and Mike Blocher are alumni of Culinary Institute of America in New York City. There, they learned teamwork and cohesion, and together they continually push the envelope in creating an ever-changing and improving menu. Every appetizer and entrée is a work of art, but if you want to really be impressed, give the Chef's Tasting a go—it's a chef-selected five-course meal and includes a beverage to boot. 1457 E. 3350 South, 385-528-3712, tablexrestaurant.com
2. SLC Eatery
3. Zest

Best Italian Restaurant
Sicilia Mia
Immigrating to Utah in 2013, Sicilia Mia founder Francesco Mirenda and his family quickly established themselves as the premier purveyor of Italian fare in town. Since the first location opened in Holladay, four additional iterations of Sicilia Mia have joined the fold. Want an age-old Sicilian dish? The cacio y pepe is simply cheese and pepper with spaghetti, yet spectacular. What makes it extra special is the server serenading diners with an Italian folk song as they mix the ingredients in a melted cheese wheel. Multiple locations, siciliamiautah.com
2. Celeste Ristorante
3. Carmine's

Best Japanese Restaurant
Takashi
When people from Monterey or San Francisco come to Salt Lake and praise Takashi as the best sushi restaurant they've ever encountered, you know there's something special going on. Takashi and Tamara Gibo's restaurant focuses on the minute details—you'll often find Takashi during lunch teaching his sushi chefs creative and tactful tricks, if he's not preparing dishes himself. For a dish outside of the box, the Barracuda along with subtle spices offer a powerful, smoky flavor. 15 W. Market St., 801-519-9595
2. Kyoto
3. Sapa

Best Mexican Restaurant
Red Iguana
Why would you locate a second restaurant a block away from the first? Lucy Cardenas and her husband, Bill Coker, took a gamble when they opened restaurant No. 2 a hop, skip and a jump away from the original Red Iguana, which was famously documented by The New York Times in 2011. Their roll of the dice certainly paid off—Red Iguana swelled to more than 150 employees to meet demand. The recipes draw inspiration from various regions of Mexico and the Southwestern U.S. and are prepared with fresh chilies, cinnamon, garlic, cumin, onions, cilantro, dried fruit and vegetables (their famous mole alone boasts more than 70 ingredients). Multiple locations, rediguana.com
2. Blue Iguana
3. El Chihuahua

Best Middle Eastern Restaurant
Mazza
At Mazza, they believe that excellence in cuisine can only be achieved by using the highest quality, freshest ingredients and cutting no corners. That might be why they've owned the Best Middle-Eastern category for 18 years running with exquisite dishes such as falafel, shawarma, kebobs, dips and salads. Mazza's 9th & 9th and 15th & 15th locations also dish up no-hormone, no-antibiotics, no-funny-business lamb, beef and chicken. 912 E. 900 South, 801-521-4572; 1515 S. 1500 East, 801-484-9259, mazzacafe.com
2. Laziz Kitchen
3. O'Falafel Etc.

Best Ogden Restaurant
Tona Sushi
Historic 25th Street is home to not only the best restaurant in Ogden, but arguably the state of Utah, as well. Tona's masterful sushi creations are as much an art piece as anything else—from the inside out, every layer of their rolls are thoughtfully prepared to give your taste buds a delectable jolt. If raw fish isn't your thing, Tona has plentiful options of udon noodles, bento boxes, soups and salads. 210 25th St., Ogden, 801-622-8662, tonarestaurant.com
2. Slackwater
3. Roosters Brewing

Best Park City Restaurant
Riverhorse on Main
In the culinary hotbed of Park City, Riverhorse is recognized as the creme de la creme. It's known for pushing the boundaries on creativity, style, flavor and class. Riverhorse has also expanded on Main Street with the recent addition of Park City Provisions—a café, deli and specialty market with many of the same treats and ingredients you'll find in their flagship restaurant. 540 Main, Park City, 435-649-3536, riverhorseparkcity.com
2. Handle
3. Hearth and Hill

Best Restaurant Patio
Cliff Dining Pub
The past two years, Cliff Dining Pub has won awards for Best New Restaurant and Best Salt Lake Valley Restaurant. Voters agree that the contemporary American menu is exceptional. They also unanimously agree Cliff's amazing patio is the best in town—the Draper eatery is perfectly situated with a spectacular view of Salt Lake Valley's sublime sunsets. 12234 Draper Gate Drive, Draper, 801-523-2053, cliffdiningpub.com
2. Ruth's Diner
3. East Liberty Tap House

Best Restaurant to Impress Newcomers
Red Iguana
Want your out-of-town friends or family to recognize the Utah dining scene for something other than Jell-o and funeral potatoes? The place to razzle and dazzle visitors is only a five-minute drive from the airport to North Temple, where Red Iguana has been dishing up the finest Mexican food in town since the 1980s. While any dish is sure to impress, the signature moles are a knockout. Multiple locations, rediguana.com
2. Takashi
3. Valter's

Best Salt Lake Valley Restaurant
Pago
Utah born and bred Scott Evans is the founder and president of Pago Restaurant Group, which includes Pago, Bar George, East Liberty Tap House, Hub and Spoke and Trestle Tavern. If you've dined at most or all of those establishments, you'll find some common themes—all emphasize sourcing local, ever-changing and innovating menus, and high-quality products. Pago, now in its 10th year, sets the example for its sister restaurants. 878 S. 900 East, 801-532-0777, pagoslc.com
2. Provisions
3. Copper Onion

Best Thai Restaurant
Chabaar
A Thailand native, Anny Sooksri grew up feasting on Thai street food and enjoyed the colorful ways vendors interpreted their offerings. Sooksri drew that inspiration when she created a sisterhood of Thai restaurants—Siam Noodle Bar, Tea Rose Diner, Fav Bistro and Chabaar Beyond Thai. Each has their own personality, though Chabaar is lauded for its broad-based, Thai-fusion menu that respects the classics while building upon modern tastes. 87 W. 7200 South, Midvale, 801-566-5100, asooksri.com
2. Sawadee
3. Tea Rose Diner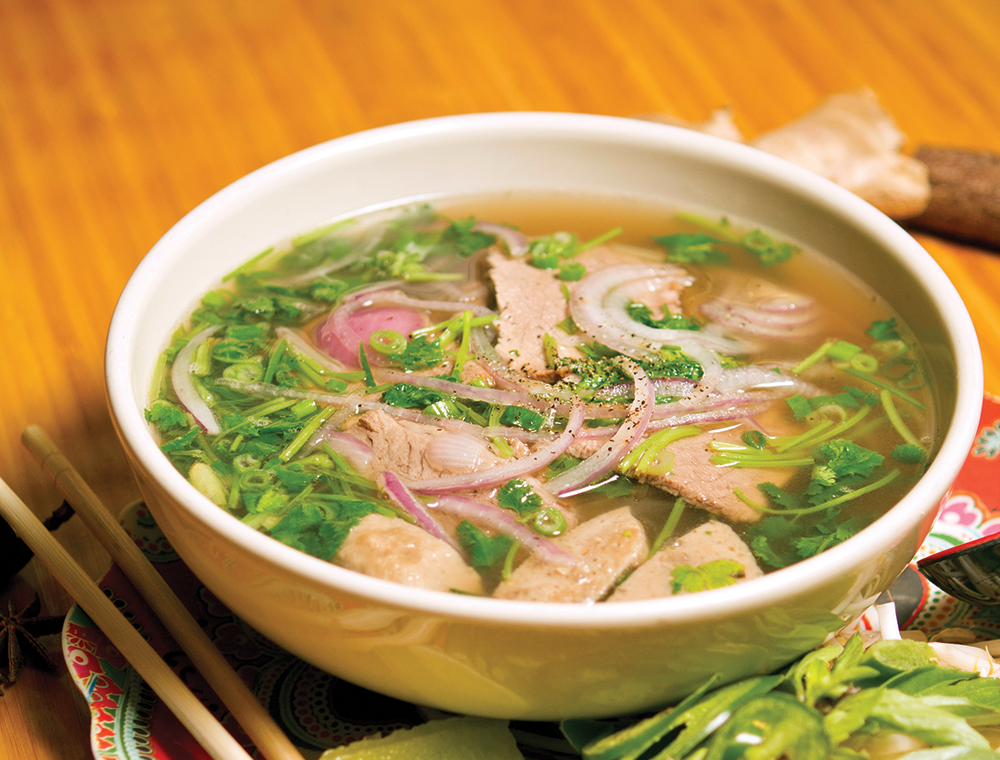 Best Vietnamese Restaurant
Oh Mai
Crispy exterior. Juicy and savory interior. That's how a banh mi should be, and that's what Oh Mai does oh so well. They pride themselves on their exceptional, affordable sandwiches such as The Sinner, a blend of braised pork belly, black pepper, lettuce, cucumber, cilantro, pickled carrots, soy sprouts and jalapeño. Their pho is a knockout, too. Multiple locations, ohmaisandwich.com
2. All Chay
3. Little Saigon

Best Utah County Restaurant
Communal
At Communal, they don't just preach family-style eating, they live it. It's evident in their community tables, their commitment to working with local purveyors, farmers and artisans and a menu dedicated to groups, not just individuals. Parties at Communal have the option of two starters, two proteins, three sides and a dessert—the way eating with friends and family should be. Shared. 102 N. University Ave., Provo, 801-373-8000, communalrestaurant.com
2. Black Sheep
3. Strap Tank Brewery

Best Vegetarian Restaurant
Vertical Diner
There's nothing bland about the quirky and festive Vertical Diner that puts the fun in vegetarianism and veganism. Their vegan "wings" and "chicken sandwiches" are beloved items on an exceptional menu that focuses solely on organic products. For a morning treat, the gluten-free banana pancakes are a delight, and the lunch tacos are great as well—they're assembled with jackfruit, fresh vegetables, kimchi, guacamole, garlic aioli and a cilantro-lime vinaigrette. 234 W. 900 South, 801-484-8378, verticaldiner.com
2. Zest Kitchen & Bar
3. Bolt Cutter

Best Wine List
BTG Wine Bar
After years across from the Salt Palace, BTG Wine Bar is settling into their new location in the Eagle Building on 400 South. Patrons can still sample all 75 of their wines (in 2 ounce tasters or ... by the glass) and order in bites from their amiable neighbor Caffé Molise. That much is the same. But BTG's new digs offer a more spacious, modern and somehow classier experience than ever before. 404 S. West Temple, 801-359-2814, btgwinebar.com
2. La Caille
3. Current Fish and Oyster

Best Brew Pub
Squatters Pub
Just like the Best of Utah, Squatters is turning the ripe age of 30 this year. Their secret to success? Not resting on their laurels and always finding room for innovation (their Hop Rising tropical double IPA is a testament to this), expanding their impressive beer line and pairing the brews with some of the best pub grub around. Think: their famous blackened tilapia salad, house specialty "Black & Blue" burger and thick jambalaya. Multiple locations, squatters.com
2. Red Rock Brewing Co.
3. Wasatch Brewery

Best Appetizers
Eva
Eva bills itself as a "small restaurant with big flavors," and boy do they deliver. Striking the perfect balance between cozy and downtown chic, the eatery is known for its small plates like the phyllo-wrapped greek mac and cheese, harissa carrots with black sesame dukkah, (non suffering) succotash and some of the best crispy calamari in the land. The secret for the latter is in the housemade pepperoncini aioli, I'm told. 317 S. Main, 801-359-8447, evaslc.com
2. Cliff Dining Pub
3. Blue Iguana

Best BBQ
R&R BBQ
From their outpost at the Vivint Smart Home Arena to their Provo location, R&R has taken a smoky grip on the BBQ scene, leaving locals with sauce-stained ear-to-ear grins. Whether it's their pulled pork, delectable brisket or spicy andouille sausage, you really can't go wrong here. Also of note, their sides—ranging from BBQ baked beans to potato salad and hush puppies—are strong enough to take center stage. Multiple locations, randrbbq.com
2. Benji's BBQ Shack
3. Pat's BBQ

Best Brewery
Fisher Brewing Co.
Building on the legacy of the OG A. Fisher Brewing Co., and following a 50 year hiatus, Fisher Brewing Co. has emerged as a sudsy phoenix rising. Their Granary District brewhouse is the definition of cool, with its selection of craft ales and lagers, a revolving door of local food trucks and sweet branded merch. On the move? Fisher offers their best beers to-go in growler and crowler form. 320 W. 800 South, 801-487-2337, fisherbeer.com
2. Kiitos Brewing
3. Uinta Brewing Co.

Best Burgers
Lucky 13
No surprise here. The ballpark-area eatery has been raking Best of Utah awards ever since its inception a decade ago. Overwhelmed with menu choices? Take a step back and eenie meenie miney mo it. Lucky 13's Celestial burger with its grilled onions and house-smoked bacon is the stuff of legend; you can never go wrong with the everything-and-the-kitchen-sink Pigpen; and their garlic-infused Breath Enhancer will fill you up and ward off vampires at the same time—win win! Throw in a basket of Cajun fries, and you'll truly be in hog heaven. 135 W. 1300 South, 801-487-4418, lucky13slc.com
2. Proper Burger
3. Crown Burger

Best Burrito
Blue Iguana
A highly contested category year after year, our readers have spoken and named downtown eatery Blue Iguana the best burrito purveyors in all the state. Just what makes these burros best? They're filled to the rafters with housemade proteins like carnitas, tinga and charbroiled carne asada. Those wanting to channel their inner Takeru Kobayashi can give Blue Iguana's 5-pound burrito challenge a go. Along with infinite bragging rights, if you manage to finish this monster, dessert is on the house. 165 S. West Temple, 801-533-8900, blueiguanarestaurant.net
2. Lone Star Taquería
3. Sweeto Burrito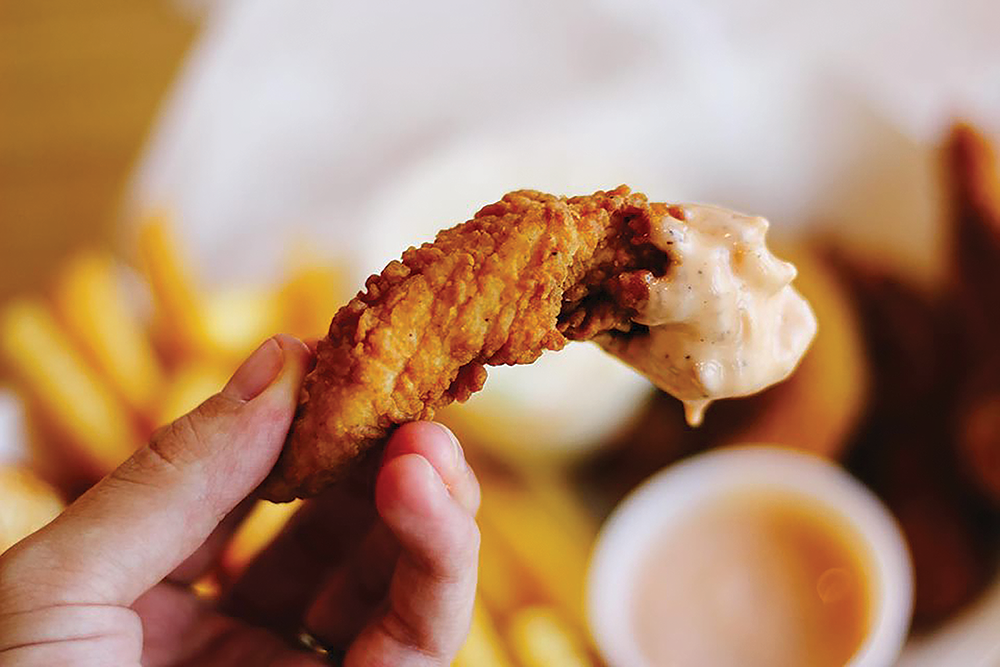 Best Chicken Item
Mr. Charlie's Chicken Fingers
With a menu boasting Alabama-style fried chicken stemming from antibiotic- and cage-free chickens, it's easy to see why this Murray eatery took the top spot this year. A favorite of rapper Post Malone, Mr. Charlie's 5-finger plate (five chicken fingers accompanied by slaw, toast and two sauces) is the epitome of downhome comfort food. Party packs of 25-100 chicken fingers are also available for those looking to go cluckin'crazy. 554 W. 4500 South, Murray, 801-803-9486, mrcharlieschickenfingers.com
2. Curry Fried Chicken
3. Pretty Bird

Best Cookies
Ruby Snap
Any which way you toss it—the chocolate-cinnamon Margo, blueberry-lemon Zoe or the seasonal roasted butternut squash—you can't go wrong at Ruby Snap. Serving up the good stuff for more than a decade, owner Tami Steggell has perfected the art of delightful cookie making. Looking for an after-hours fix? Ruby's cookie dough is available in the freezer section of all Harmons, Lee's and Smith's. 770 S. 300 West, 801-834-6111, rubysnap.com
2. Crumbl
3. Chip

Best Culinary School
Park City Culinary Institute
Whether it's community cooking classes, a mixology certification or a complete career move you're after, you're sure to find a solid foundation at Park City Culinary Institute. Best part is, students can choose to go at their own pace, be it a few hours a week or the 9-hours-a-day accelerated program. Along with the educational programs, the institute offers chef's demonstrations and tasting dinners, hands-on workshops and team-building competitions. 201 Heber Ave., Park City; 1484 S. State, SLC, 801-413-2800, parkcityculinaryinstitute.com
2. Salt Lake Institute of Culinary Education
3. SLCC Culinary School

Best Distillery
High West
After drawing parallels between distilling and the fermentation process, biochemist David Perkins got a boozy lightbulb over his head—and backed by his wife, Jane—packed up, moved to Park City and started High West. From that first humble 250-gallon still, a Utah success story was born, and the distillery is now responsible for signature products like Rendezvous Rye and High West 7000' vodka. Pay their flagship Park Avenue saloon a visit (or their SLC International Airport location for that matter) and experience Western hospitality for yourself. Multiple locations, highwest.com
2. Ogden's Own Distillery
3. Dented Brick Distillery

Best Doughnuts
Banbury Cross
Cake, glazed, frosted and sprinkled—any which way you toss 'em, Banbury Cross has perfected them and offered them to the sweet-toothed masses since 1986. Whether you're visiting the store or grabbing a to-go baker's dozen from the drive-thru window, you're sure to be a hit at your next office meeting, family gathering or, you know, just by yourself. No judgement here. Their maple bars are the stuff of legend. 705 S. 700 East, 801-537-1433
2. The Big O Doughnuts
3. Daylight Donuts

Best Ethnic/Specialty Market
Caputo's Market & Deli
It would be easy for Matt Caputo to rest on the laurels of products offered at the family namesake's market—Old World cheeses, fine chocolate, freshly baked breads, etc. Instead, he's building upon the legacy of father Tony, and increased Caputo's imprint by transforming it into a one-stop shop of food (and foodie culture) goodness. Add some attainable sophistication to your life by attending one of their many classes, like Craft Chocolate 101, Tour of Italy or Intro to Salumi. [Insert chefs kiss here] Multiple locations, caputos.com
2. Ocean Mart
3. Black Cherry

Best Local Spirit
Five Wives Vodka
From supporting a bevvy of community events (their yearly Pride float is a mobile party like no other) to breaking ground on a new 30,000-square-foot facility, it's no surprise Five Wives reigns supreme in this category. So, just what makes their vodka so special? It's handcrafted with a blend of Wasatch Mountain spring water gathered five gallons at a time from a spring in Ogden canyon. Cheers to fun times with the Five Wives crew—and the memorable inaugural rager their new building's opening is sure to usher. fivewivesvodka.com
2. Dented Brick Vodka
3. High West Campfire

Best Food Truck
Cupbop
Kudos to the food truck that's graduated to an impressive seven brick-and-mortar locations. Still paying homage to their mobile roots, Cupbop's Korean BBQ in a cup goodness can be found on wheels at regular food truck events across the city, like the Gallivan Center's Food Truck Thursdays. Give their Hot Bop bowl a go and toss in a couple of mandoo (Korean-style potstickers for good measure). You can thank me later. Multiple locations, facebook.com/cupbop
2. Waffle Love
3. Cluck Truck

Best French Fries
Bruges Waffles & Frites
Hand-peeled and cut daily from fresh Idaho potatoes, Bruges' frites are to die for. Try them with any of the housemade dipping sauces or go heartier with a selection of Old World faves, like the curry ketchup-topped Belgian dog or beer-braised Flemish stew. Just make sure to leave room for dessert, as their waffles are no joke. Multiple locations, brugeswaffles.com
2. Lucky 13
3. Crown Burger

Best Gyro
Greek Souvlaki
Given City Weekly's Greek ownership, this category is one that gets in-house attention year after year. Our readers have spoken, and it turns out nothing beats the original. Established in 1972, legend says Greek Souvlaki was the first restaurant to bring gyros to the Beehive State. With five locales under their zóni—and multiple other eateries that followed suit—it's clear they were onto something. Try their Philly gyro. Your tastebuds will thank you. Multiple locations, greeksouvlaki.com
2. Crown Burger
3. Yanni's Greek Express

Best Hard Cider
Mountain West
The cheese stands alone in this category. One sip of Mountain West's Ruby or Desolation Prickly Pear hard ciders, and it's easy to see why they're the undisputed champs. Made using ingredients sourced from the Mountain West region, the resulting sips are crisp, refreshing and naturally gluten-free. Check out their tasting room and give one of their cider cocktails—like the Waterpocket Blanco Rum-infused No. 1—a go. 425 N. 400 West, 801-935-4147, mountainwestcider.com

Best Local Beer
Kiitos Coffee Cream Ale
It's impressive to see the growth of Utah's craft beer scene and Beehive-bred brewers' presence during the Utah Beer Festival's 10 years (and running), so in true Oprah spirit, if you are involved in the local brewing scene, you get an award! You get an award! You all get an award! That being said, our readers have spoken and voted Kiitos best of the best. So raise a pint (preferably filled with Belgian Wit, Fruit Milkshake Ale or any of Kiitos' fine brews) and say, cheers! 608 W. 700 South, 801-215-9165, kiitosbrewing.com
2. Red Rock's Elephino
3. Wasatch Apricot Hefeweizen

Best New Food Trend
Curry Pizza
A few years ago, it was doughnuts, then bacon on literally everything followed by the ramen explosion. Now, our ever-intrepid readers determine it's the reign of curry pizza. Call it the ultimate comfort fusion—a variety of curries, seemingly limitless toppings all on salty dough. The a-ha moment came when a small Southern Utah restaurant decided to put their 15 curries to good use and diversified a little. The experience resulted in Curry Pizza's glazed paneer, mushroom goat curry and chicken tikka-topped Bhinda special. 2927 S. 5600 West, West Valley City, 801-890-0415; 125 N. State Road 24, Bicknell, 435-425-2500, currypizzautah.com
2. Cookie home delivery
3. Poke

Best Pizza
The Pie Pizzeria
Another highly contested food category. At the end of the day, what's not to love about pizza? Whether its thin-crust, deep-dish, by the slice or a whole pie, it's hard to mess it up. Within that nuance, certain eateries just get it right and manage to strike an immediate chord with local diners. Enter The Pie, the OG eatery that's been serving up the tasty triangular stuff since 1980. House specialties that sure know how to satisfy include the cheeky "Holy shitake," the "Xtreme veggie" and the aptly named "Mountain of meat." Multiple locations, thepie.com
2. Lucky Slice
3. Nomad Eatery

Best Ramen
Jinya
Ladies and gentleman, we have reached ramen bubble. Utah diners are fortunate enough to have witnessed the Japanese noodle explosion, and the local culinary scene is all the better for it. Priding itself on serving "unfussy Japanese," this Los Angeles transplant has quickly taken a hold and lived up to its motto with a menu filled with comfort items like tonkotsu red, spicy umami miso and the self-explanatory "slurp-up cilantro." 675 E. 2100 South, 801-883-9466; 5905 S. State, Murray, 385-474-6818, jinya-ramenbar.com
2. Tosh's Ramen
3. Yoko Ramen

Best Salads
Aubergine & Co.
Yawn, right? Not here. Since its founding in 2014, Aubergine & Co. has found a way to reinvent the green stuff and present it in innovative (and filling) ways. Kale, Romaine, quinoa, goat cheese, blueberries and green apple coexist in the "Very Berry," while red cabbage, almond wild rice, raising and grilled chicken compose the "Warm Rainbow"and honor the establishment's mantra, "eat better, feel different." Multiple locations, aubergineandcompany.com
2. Mollie & Ollies
3. Café Rio

Best Sandwiches
Moochie's
No surprise here. Across its four locations, Moochies is known for serving the best meatball sandwich in the vicinity, which comes topped with ooey gooey provolone; the ribeye monster known as the house Philly cheesesteak; and a nostalgically delicious hot pastrami and Swiss. Their cold sandwiches, like the Italian deli and the veggie feta and tomato, ain't half bad either. Multiple locations, moochiesmeatballs.com
2. Feldman's Deli
3. Grove Market

Best Seafood
Current Fish & Oyster
Contemporary and innovative, it's no surprise Current took the fishy top spot again this year. Be it their East Coast oysters or West Coast Kumamotos, yummy poached tuna melt or elevated ale-battered fish and chips, lunch here is a true experience. Later in the day, a delectable caramelized organic salmon, pan-roasted scallops and wild-caught Pacific halibut take center stage during dinner under executive chef Alan Brines' watchful eye. For those looking for an end-of-week treat, their prix fixe Sunday suppers are sure to satisfy. 279 E. 300 South, 801-326-3474, currentfishandoyster.com
2. Harbor Seafood & Steak Co.
3. Market Street Grill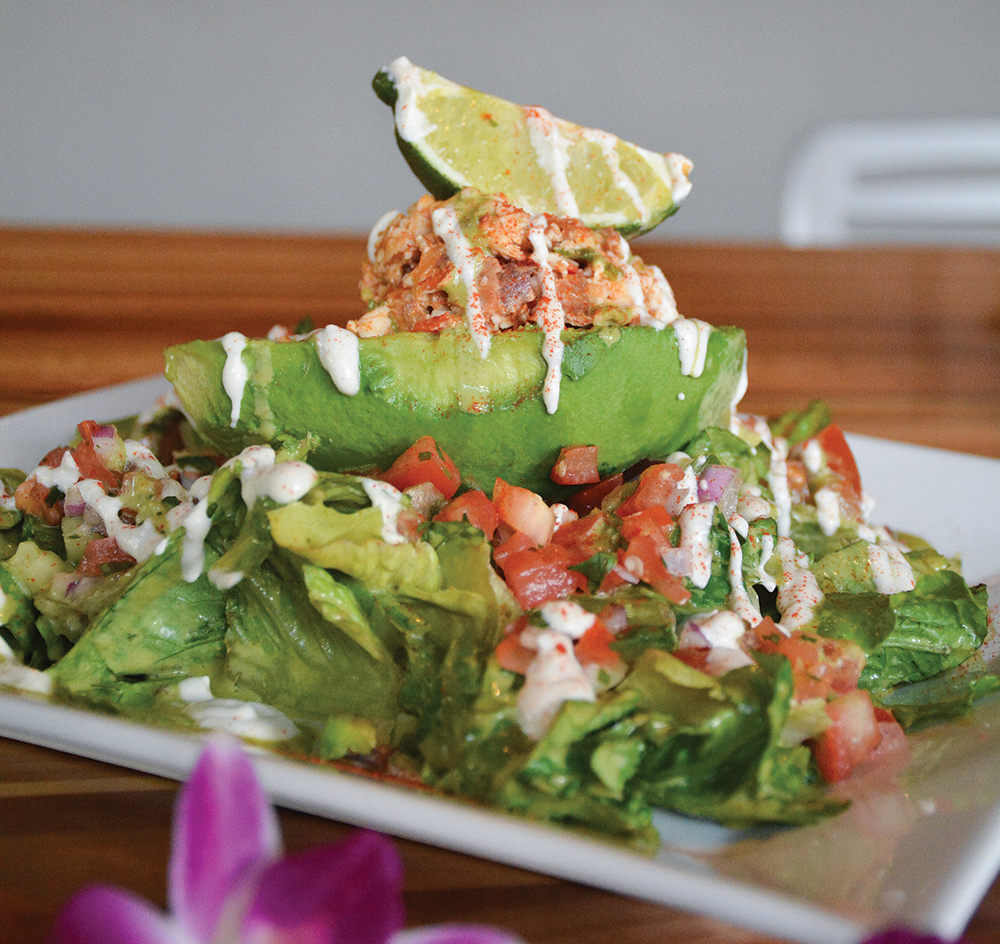 Best Vegan
Zest Kitchen & Bar
If your mental image of a decent vegetarian dish is bagged salad, you need to get with the times. Enter Zest with its black bean and chia seed sliders, buckwheat pancakes with fruit compote and tasty hummus of the day. Their daily brunch is also of note, laden with a totally organic 100% plant-based items. Wash your meal down with a cold-pressed mimosa or, yes, a vegan bloody mary. 275 S. 200 West, 801-433-0589, zestslc.com
2. Bolt Cutter
3. Bud's

Best Soups
Soup Kitchen
A local staple since 1974, Soup Kitchen has set the warm and hearty soup standard across the land. Order yourself an 8-ounce portion (or a 128-ounce if you plan on throwing a soup rager), and leave some room for a half sandwich or salad (the chicken breast avocado is a standout). As the weather turns, Soup Kitchen's tried-and-true staples, like cheese broccoli, cream of tomato and split pea and ham just scream comfort food. Best part is, all soups are preservative free and made fresh daily. Multiple locations, slcsoup.com
2. Porcupine Pub & Grille
3. Feldman's Deli

Best Sushi
Takashi
Another evergreen champ. What's not to love about the downtown eatery? The brainchild of namesake Takashi and his wife, Tamara Gibo, the always-crowded space has been serving up the good stuff for 15 years. If you're a regular, this distinction comes as no surprise. If you're a newbie overwhelmed by the array of mouth-watering options, just drop your finger anywhere on the menu and be sure a memorable dining experience is guaranteed. Room for dessert? Their renown panna cotta is City Weekly den mother Paula Saltas' favorite. 18 W. Market St., 801-519-9595
2. Sapa
3. Tsunami

Best Tacos
Taqueria 27
Owned by husband and wife team, Todd and Kristin Gardiner, T27 has set the taco standard across its five locations. Whether you're there for brunch (give the turkey chorizo and eggs tacos a go) or late-night dinner, you'd be hard-pressed to go wrong here. T27 invites you to think outside the prefab taco shell, and venture into exciting culinary territory. One laden with pork belly, grilled pear and duck confit taco iterations. Multiple locations, taqueria27.com
2. Taco Taco
3. Lone Star Taquería

Best Use of Bacon
Lucky 13
There are a few Best of Utah categories that seem to have found an evergreen champion—and this is one of them. What's not to love about bacon? Specifically, what's not to love about adding bacon to any of Lucky 13's mouthwatering dishes? Be it the house-smoked BLT, the blue cheese-topped bacon stinky burger or the true pièce de résistance, the behemoth Pigpen, this right here is the ultimate foodie marriage. 135 W. 1300 South, 801-487-4418, lucky13slc.com
2. Garage on Beck
3. White Horse

Best Wings
Trolley Wing Co.
Twice baked and all-around delicious, wings here are elevated to art. Start with your choice of wing, choose from nine classic flavors (the jamaican honey garlic is to die for) or create your own and go to town (sriracha Carolina Parm? Yes, please). Traditional wings not your thing? Trolley Wing Co.'s vegan iterations are top notch and indistinguishable from their animal protein counterparts. 2148 S. 900 East, Ste. 5; 736 Blue Vista Lane, Ste. 200, Midvale, 801-312-9532, trolleywingco.com
2. Wing Nutz
3. Wing Coop

---
PEOPLE
PLACES + ENTERTAINMENT
GOODS + SERVICES
EAT + DRINK
NIGHTLIFE + BARS
COMMERCE