It's not news that the world of music is a lot different than it was 20 years ago. Through countless streaming and music-downloading websites, music fans are only a few mouse clicks away from thousands of songs in countless genres. And social media has forever changed the way that bands build their fanbases and get the word out about their work.
But in many more ways, the music world is still very much the same. In essence, live concerts are still all about the relationships between the performer and the audience. No matter how advanced music-making technology gets, a song always starts as a spark in a musician's mind. And it doesn't matter whether you have 100 likes on Facebook or 1,000: You don't get anywhere without putting in the necessary hard work.
No matter how many times we change the name of our battle of the bands, now dubbed Best of Utah Music (formerly the City Weekly Music Awards, aka CWMAs), it's still designed with two main goals in mind: supporting the creativity of the people who work every day to make the Utah music scene great, and giving those musicians a platform to connect with more listeners.
For the 2015 Best of Utah Music, we may be shaking up the name, but we're keeping many of the big changes implemented during the 2014 CWMAs. Our nomination panels are made up of a diverse range of local music writers, radio hosts, venue owners and scene-makers, and the judging panels at the showcases will continue to counterbalance the popular vote, thereby creating an even playing field for musicians who are still building a fanbase.
Online voting narrowed down the 60 band, rapper and DJ nominees into the top 10 from each category, whom you can read about on the following pages. We couldn't have asked for a better lineup for this year's newly minted Best of Utah Music, as this is some of the top musical talent to come out of Utah.
The ultimate winners will be determined both by in-person voting at the showcases and judging scores. You'll learn the names of the winning Band of the Year, Rapper/Rap Group of the Year and DJ of the Year in the March 5 issue of City Weekly, as well as on the Twilight Concert Series stage this summer.
The Utah music scene is filled with more groundbreaking musicians than can be included in one competition. Attending a showcase will provide a potent taste of the musical ability and boldness that is putting our local music scene on the map.
So, take a minute to read about this year's Best of Utah Music participants, not only those you've heard before, but also the ones you're unfamiliar with. After all, a local band you dance to at a Best of Utah Music showcase could end up being your new favorite band, or, at the very least, the creator of a musical moment you'll never forget. —Kolbie Stonehocker, Music Editor
One World Media Productions
Minx
Minx
When the dynamic electro-pop duo of Ischa (vocals) and Raffi (guitar) say they were busy in 2014, they really, really mean it. Minx can always be counted on to push their projects to that next level, but for their latest undertaking, a combination full-length electronic album and film titled Together Forever, they really outdid themselves. Teaming up with Selecta (of Muscle Hawk) and Salty Horror Productions, Minx applied their creativity to every aspect of the film/album—including stage setup, costumes, concept creation, songwriting and more—and the result is a sexy, spooky homage to silent movies that explores the dark side of love in sensual detail. MinxBand.com
Big Wild Wings
One of the most striking aspects of Big Wild Wings' debut album, Speaking in Cursive—released in November—is the interplay between its many opposites. Hard-hitting alt-rock is wrapped in melodic piano and beautifully delicate atmosphere; Lyndsi Austin can sing with ethereal airiness as well as roof-raising power; and moments of melancholy seem to give way to sun-dappled hope. It all combines to create a moody sound that'll appeal to fans of The Cure and Regina Spektor and—as evidenced by Big Wild Wings' steady gigging schedule—the trio is continuously improving and exploring it. BigWildWings.bandcamp.com

Trevor Christensen
Fictionist
Fictionist
When Fictionist was dropped from Atlantic Records in 2013—thwarting plans to release an album with the label—there was no way the Provo four-piece was going to let it keep them down. Instead, they regrouped and collaborated with Nate Pyfer of June Audio to put together their first album in years, a self-titled full-length released locally at the Rooftop Concert Series' massive fifth-anniversary celebration show in October. Going their own way seems to have suited Robbie Connolly and company well: Their newfound creative freedom shines through in sparkling, masterfully crafted art-rock/synth-pop songs like "Lock and Key" and "Not Over You." Fictionist.com
Emily Snow
The Ladells
The Ladells
If a live performance by Provo band The Ladells could be summed up in a word, it would be "unpredictable." When the quartet played at Muse Music Cafe for the venue's 2014 Battle of the Bands (which they won), The Ladells unleashed a level of unrestrained madness that was a total blast to watch, especially when lead vocalist Max Punck ran into the audience swinging (carefully) a very real hammer. And The Ladells' sound is equally chaotic, a gloriously rough-edged brand of loud, fast, guitar-driven glam-punk, which will also be heard on the band's upcoming album, Vamp. Soundcloud.com/The-Ladells
VanLadyLove
Provo indie-rock five-piece VanLadyLove take their name from a list of their favorite things: "a van, a good lady and a whole lotta love." No news on the lady front, but in the past year, a van and love have definitely been instrumental to the band's upward climb, in the form of VanLadyLove's frequent local and national touring, as well as the band members' genuine passion for what they do. And whatever they're doing seems to be working. In 2014, VanLadyLove marked two significant notches in their belt: Their latest EP, the synth-laced and pop-tastic Love Matter, was included on VH1's staff-picked Best Albums of 2014 list, and they were honored as the Artist on the Verge act at the 2014 New Music Seminar in New York City. VanLadyLove.com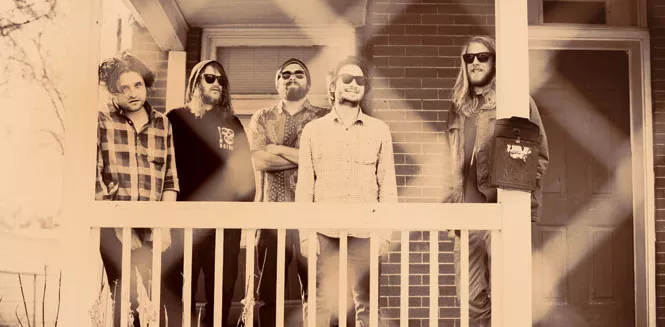 Kari Ann Haskell
Dark Seas
Dark Seas
It doesn't seem to matter to Dark Seas that Utah is a few hundred miles away from any ocean; these five dudes know exactly how to conjure up a guitar-heavy surf-rock sound that's obscured beneath a hefty layer of hazy psychedelia. In the past year, Dark Seas hit the road hard with a few tours throughout the West Coast and the Midwest, and also shook the rafters of several local venues, where they played some great shows put on by the folks of Psych Lake City. All that time put in on the stage has resulted in Dark Seas becoming masters of working audiences into a frenzy during their live shows, which can turn even the most reserved music lover into a flailing, whooping maniac. DarkSeas.bandcamp.com
Static Waves
Provo rockers Static Waves didn't win Velour's 2014 Summer Battle of the Bands, but the horde of screaming teenage girls in front of the stage would probably disagree. And it's no surprise why: Static Waves' upbeat, infectiously catchy style of synth-laced rock—largely influenced by The Killers and Coldplay—seems tailor-made for dancing or blasting in the car, and, boy, can the five-piece put together a chorus that sticks in your head. In September, Static Waves performed a sold-out show at Velour for the release of their self-titled debut EP, which features polished, well-made tracks such as "Prisoners" and "Pull Me Closer." Not bad for a band that celebrated their first anniversary in January. StaticWavesMusic.com
Jesse Lindenberg
Secret Abilities
Secret Abilities
It's tough to pick just one aspect of Secret Abilities' sound that makes them such a fun band to listen to. Tink Safeer has a hell of a voice (and it's great when she and co-lead vocalist Davin Abegg really let loose together), which is a perfect match for Secret Abilities' refreshingly gimmick-free, surf-y, punk-fueled "awkward rock." Add to that a style of songwriting by Abegg that combines a love for beasties and spooks with sincere lyrics about heartache—as heard on Secret Abilities' excellent Music to Break Up By, one of the best local albums of 2014—and you've got the secret to their success. SecretAbilities.bandcamp.com
Trevor Christensen
Bat Manors
Bat Manors
Every so often, a band comes along that can create moments so achingly beautiful that you can't help but gasp, and Bat Manors is one of those bands. In fact, the Provo chamber-pop's debut full-length album, Literally Weird—a standout local album of 2014—is so stunning that you'll want to hold your breath and lean in to hang on every note. Bat Manors' lineup is basically a who's-who of top-shelf Provo indie music: Just frontman/main songwriter Adam Klopp has ties to Salazar, Lake Island and more. One of the most magical moments of the year was when Klopp's voice floated through Velour as he sang "Cabin 4" at the venue's annual Slumber Party. BatManors.com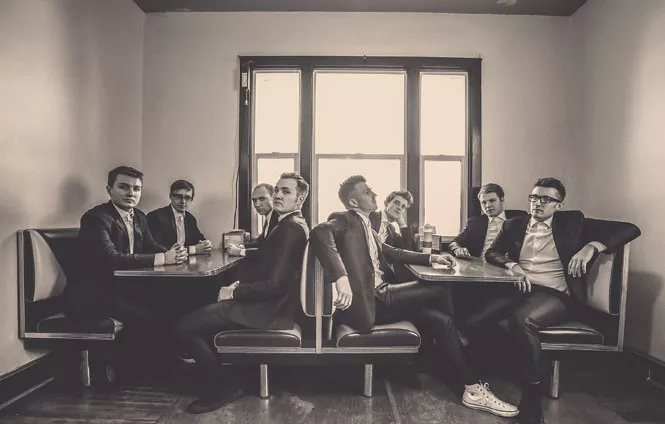 The Strike
These eight dapper gents rarely make a public appearance without being dressed to the nines in suspenders, bowties and button-down shirts, but The Strike are currently making a big splash locally and nationally for more reasons than just their fashion sense. Headed by charismatic frontman Chris Crabb, The Strike play a soulful, upbeat style of funk-pop that's impossible not to dance to—as heard on their latest EP, 2014's We Are the Strike—displaying influences that range from Michael Jackson to Stevie Wonder. And they know how to turn every concert into an all-out party—their performance at the Rooftop Concert Series was one of the highlights of the summer. WeAreTheStrike.com