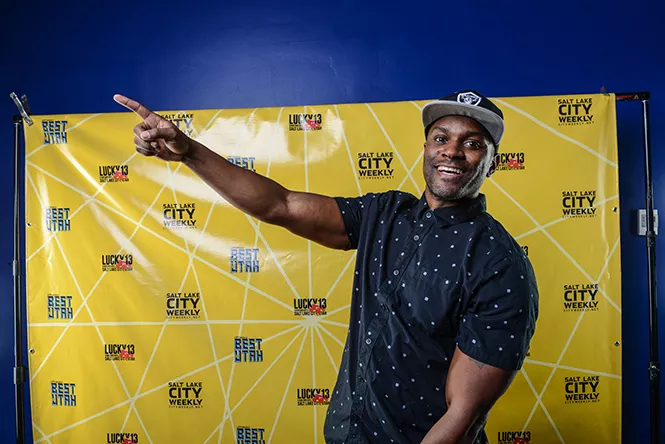 During a panel at September's Salt Lake Comic Con, comedian Jay Whittaker—a member of the popular Geek Show Podcast crew and a regular participant at Comic Con—made an off-hand comment about re-locating to Los Angeles. Yet here he is, sitting down at the Coffee Garden on Salt Lake City's Main Street, to talk about where he is, both professionally and geographically.
"Yeah, about that," Whittaker says with a laugh. "Yes, I have moved—but I haven't. There is a limbo."
It's understandable if Whittaker is conflicted about where to call home. In Utah, he's built a successful career as a comedian and actor, establishing friendships like his Geek Show co-hosts; it's also where his 10-year-old son lives. Yet the Southern California native also has his parents and friends in the L.A. area, and continues to pursue a full-time career as an entertainer, staying in California for perhaps a week at a time and working on everything from comedy gigs and film and TV acting, to commercials and voice-over work.
"When I say 'home,'" Whittaker explains, "if I'm in Salt Lake and I say it, I'm talking about L.A.; when I'm in L.A. and I'm talking about 'home,' I'm talking about Salt Lake City. With me, I'm always homesick. I don't wish any malevolence on the state of Nevada, but if there were ever an earthquake, and the state of California became right next to Utah, I'd be in heaven."
In part, this two-state life was born out of a conversation with his son, at a time when Whittaker was considering finding another day job to supplement his income as a comedian and actor. "He just said, 'You do jokes. You're really good at that. Just do that.' I said, 'Now you realize if I just do jokes and acting, I'm probably going to have to travel more.' He said, 'I know, but it makes you happy and that's your thing.' So my 10-year-old is giving life advice.
"He actually said, 'I think it will be a good investment.' He should be my agent."
As much as his son's words of wisdom altered Whittaker's professional life, he also mentions an evolution that goes back a little farther—to the summer of 2016. For several months, Whittaker—an Air Force reservist—was based in Mississippi for training. That time provided what he describes as a much-needed opportunity to start "dissecting a lot of things about my life." One epiphany was that his Twitter handle at the time—"TokenJay"—indicated a way of thinking about himself that needed to change.
"Because Salt Lake is not as diverse, there were times I felt like the token black dude," he says. "While I was in Mississippi, I was just amongst black people all over again. It made me realize I'm not a token; I'm just me, and that's all you need to be. You don't need to be this novelty. Just be yourself."
He pauses. "This is the corniest shit I've ever said."
Whittaker acknowledges that being a black actor is different depending on whether he's trying out for roles locally, or in Los Angeles. "You go on an audition in L.A., you see 50 guys that look exactly like you," he says, "which leads to some awkward questions with your father: 'Why did I see, like, four doppelgangers?' Here, there's obviously not that many people of color, but it is still competitive. There are some great black actors out here."
Working in California isn't even necessarily a function of not being able to get work in Utah. Whittaker praises his Utah-based agent, and similarly compliments the state's comedy scene— Wiseguys in particular—as a place where comedians "actually get paid." He also landed a role in a Disney Channel series, Andi Mack, that films in Millcreek. Yet he says "I have a problem sitting still. I like to move at 'the speed of Jay,' as a lot of people say, constantly looking for my next hustle. ... Many years ago, I was a comic. Now I really feel like I'm a comedian, an actor, a voice-over person, a podcaster. I've got some music I'm working on as well."
That perpetual motion might keep him bouncing between two states, but he credits his support system in both places, and wonders if it's actually better that he continue to define home as where he isn't, rather than where he is. "I don't know if I'll ever reach that mentality," he says. "I feel like the day that I do, that's the day I'm hanging it up. Home is where the hustle is. ... If my son's taken care of, and he's happy, and he thinks he's getting a good return on his investment, I'm good."
Besides, Los Angeles and Salt Lake City might not be so far apart in one sense: "Either way, my lungs are getting clogged, because the air is so shitty in both cities."