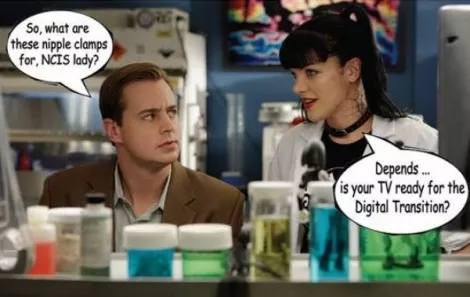 Panicked letters have been flooding in about the Feb. 17 (maybe) Digital TV Transition—not to The Only TV Column That Matters™, of course, but I'm always here to help. The following is a compendium (means summary) of concerns compiled into convenient FAQ (means Frequently Asked Questions, or Frost Ain't Qualified) form. Prepare to have your Fears All Quelled (another FAQ).
Why is this change happening?
Because your government hates you. Also, because analog frequencies need to be freed up for "public safety communications," so they say. According to some highly reliable talk-radio shows heard around 3 a.m., however, the government will actually use the extra analog spectrum capacity to collect information on every subversive move you make—like listening to talk radio at 3 a.m. Also, it's because digital TV affords viewers a far sharper picture of tampon commercials during The Tyra Banks Show, if not the barely concealed horn nubs on Tyra's giant forehead.
Will my older TV set still work?
Yes … as a shelf for your Letters to the Editor newspaper clippings and ribboncandy dishes. If you're a cable or satellite subscriber, you'll still receive the fine premium programming like Rock of Love Bus and Huckabee you're used to, as well as a whole lot of promised digital "extra channels" which either don't really exist or are just around-the-clock feeds of local news reporters hiking up pantyhose and adjusting clip-on ties during station breaks. You could also buy a new TV, or a digital converter to work with your older set and antenna. But since you haven't already after years of prodding, it's safe to assume you never will and we all look forward to your Letters to the Editor.
Will the Digital Television Transition open up a vast new world of quality programming and unlimited viewing choices?
Ha ha ha ha ha ha ha ha ha ha ha ha ha ha ha ha ha! …. Hooo, whew … Ha ha ha ha ha ha ha ha ha ha ha ha ha ha ha ha ha ha ha ha ha! You mean, besides the 100-plus hours of Law & Order per week across several different channels (not even including HD and on-demand) cable already offers? Going all-digital will allow stations to "multicast" up to six separate programming streams instead of just one in space-hogging analog. So you know how well your local station fills nonnetwork space on one channel? Imagine that genius times six—Judge shows, infomercials and According to Jim reruns to pristine, digital eternity! So, no.
Didn't that new president fella push the digital switchover from Feb. 17 to sometime in June, when there's nothing good on anyway?
The President of Change did indeed ask that TV stay the same for a few more months, even though the digital switchover has been coming for 10 years and the government has already spent millions of dollars in Public Service Announcing—it isn't cheap to get the cast of NCIS together for a 30-second spot to say "They're gonna turn off your talkiebox, Gladys! Convert to digital or you'll never see Mark Harmon again." In select cities, CBS even sent that goth girl doorto-door with conversion boxes and nipple clamps; no expense has been spared.

But, the proposed delay wouldn't be mandatory, meaning some local stations will switch on Feb. 17, some will hold out until June 12, some will do it randomly inbetween, and some will just send neighborhood improv troupes to your house to act out your favorite shows live because it'll be less of a bureaucratic clusterf—k to coordinate. CW