Enrique Limón
Vanilla sky: Per a September 2015 city press release, Echelman's installation was meant to "transform the urban context of Regent Street and invite people in to discover the urban corridor."
Now reanimated, Regent Street is modern and alluring—but something's still missing.
Take a stroll down the artery that links 100 and 200 South, running parallel to Main and State streets, and you're bound to spot theatergoers—the area's signature building, the Eccles Theater, raised its curtain about a year ago. Or you might be enticed by the scent of artisanal pizza wafting from the Fireside on Regent restaurant, which sits near the north end of this mid-block road that feels more like a grand pedestrian walkway.
But what you won't see is a once-envisioned dazzling and malleable fiber sculpture hanging overhead. In fact, you won't see any piece of public art despite a redevelopment plan that specifies an installation.
That's because negotiations between the artist, Janet Echelman, who was unanimously selected by an ad hoc committee, and the city have disintegrated.
City Weekly detailed the selection process and the subsequent deal collapse in an exhaustive April 2016 cover story. A year and nine months later, not a dime of the $2 million earmarked for art on Regent has been spent.
Echelman is optimistic that the two sides can patch up their differences and press on.
Hailing from Boston, she hadn't discovered her trademark medium until she was on a Fulbright fellowship in southeastern India. While walking on the beach one day, panicking that her paints wouldn't arrive in time for an exhibition, she applied her artistic eye to fishnets lining the shore. Hoisting the webs up on poles, she discovered a unique mode of expression.
Now her monumental pieces hang everywhere—from Portugal to Canada, and in the U.S. from Boston to Seattle. Salt Lake City was to be the site of her next installation.
"I have already been through a competitive process and been selected, so I would strongly urge the city to follow the results of that public process and correct the mistake of what happened," she says via email.
But the city is starting the process anew. It claims that Echelman asked for more money and time to complete the project before any documents were formally signed.
"They tried to continue negotiations with her, but they felt like—along with her contract requirements and the current construction and timeline of the street—it wasn't coming together and it wasn't feasible to move on and so the contract negotiations were terminated," says Amanda Holty, communications manager for the Salt Lake City Redevelopment Agency.
Echelman disputes this characterization. She says her bid did not change from the time she submitted her design brief.
"I was completely surprised by the cessation of my project," she writes. The unanimously selected project, as she understood it, was put on hold because of the impending mayoral election. "I believe that now that the new mayor is in play, my project should be re-started and proceed to completion despite the delay."
Although the fallout seemed to coincide with the election, negotiations collapsed around Dec. 11, 2015, before Mayor Jackie Biskupski was sworn into office.
Echelman also disagrees that her proposed contract, as well as the requested time extension, should have been insurmountable hurdles.
As she saw it, the city drafted a standard contract that didn't fit the "unique nature of this unique project," in part because the work would drape from both private and public spaces on Regent Street.
"I provided a template contract to the city to assist in developing the appropriate contract for this project, as I have invested in years of legal work that has resulted in a contract we have used to complete this type of project in multiple cities," she says.
Regarding the fuzzy due date, Echelman says the Salt Lake City Arts Council is at least partially to blame. The council, she contends, "dragged their feet and thus delayed the start of my work yet were not offering an equivalent extension of the time." She also admits the complexity and scope of the project is unlike any the council has commissioned before.
"I recommended lengthening the time allotted to allow for the proper coordination with the private and public building owners whose property the artwork would attach," she writes. "I confirmed that I could deliver within the original time period of the design brief from which I was selected."
Echelman has partnered with Salt Lake City-based Ore Design. She considers this a boon to the proposed installation, which she hopes will become a reality. "I believe [Ore] will be an outstanding construction partner to realize my design, and allow for the highest-quality construction of my design with a cost-effective way of providing expert local oversight to implementation of all elements," she says.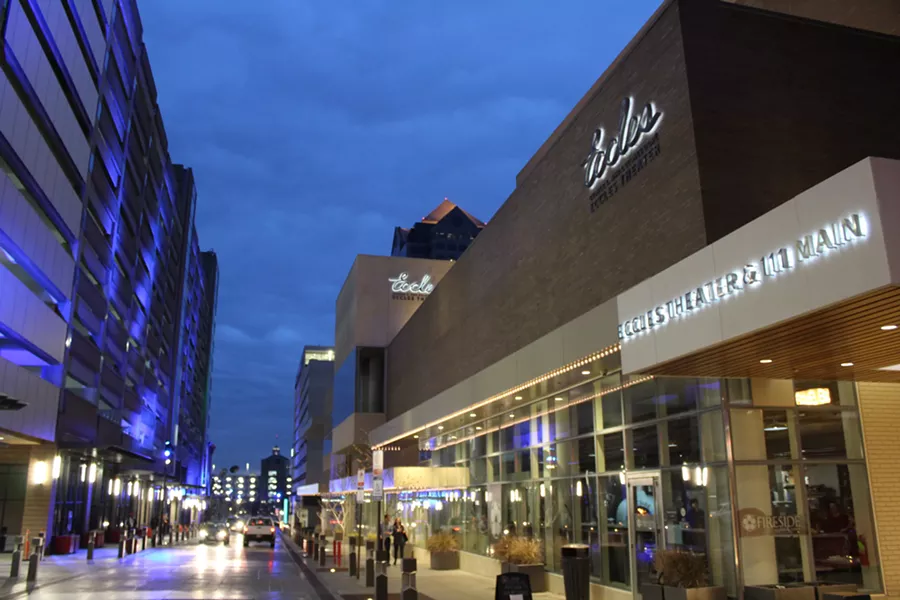 Regardless, if Salt Lake City is to hang an Echelman from its cityscape, the artist will have to bid again.
Dana Hernandez, Salt Lake City's public art program manager, says her department still has an obligation to complete an art project on Regent.
"The city believes in creating a vibrant place for people to live and visit, and part of that is arts and culture. The most accessible art form there is is public art because it's meant for everyone," Hernandez says. "I would imagine that citizens can see and appreciate what public art does to enhance our daily lives in general."
The invitation to bid, or "request for quotation" as they're called, is in its final stages, and Hernandez is awaiting approval from city attorneys before it is uploaded to the web. That could be as early as this month. The applicant window will be open for about a month. Afterward, it will be Hernandez' job to weed out any of the entrants who don't apply properly. The rest will be passed along to the recently assembled Artist Selection Committee, which comprises nine panelists, seven of whom are voting members.
Of those, three are art experts, three represent nearby property owners and one is an RDA representative. The two non-voting members come from the mayor's office and the Downtown Alliance/Cultural Core.
The city must have the project funds committed by next August, when the artist should have an activated contract. Depending on its complexity, the art piece could take another year before it's completed.
And the city has learned from some of the missteps of 2015.
"In order to prevent any types of issues arising this go around, we've done a tremendous amount of work in terms of planning, revising the process, instituting new procedures that can help us start in a really good place," Hernandez says.
This time—contrasted with last—the arts council will draw up an explicit contract with a fixed dollar amount, so applicants will know there is no opportunity to go above the $2 million amount.
The budget includes artist fees, permitting, easement costs, construction and travel if the artist is not from the state. "All of the costs that would be associated with executing the project would be encompassed in the $2 million budget, and we're trying to make that as clear as possible so that people know they can't expect any additional funding," Hernandez says.
In 2015, the city offered an additional $700,00 on top of the $2 million, if the piece had a technology component. At the time, the thought was a big wall on the Walker Center garage might make for a good canvas for a technological projection. The $2 million is coming out of bond funds for the Regent Street improvements, Holty says, and the extra $700,000 no longer is available.
Even still, the funds are substantial enough to attract a talented artist, like Echelman, who can create something remarkable, Hernandez says.
"This is a really great opportunity for Salt Lake City to showcase that they actually do value the arts and how adding a project of this scope and scale could enhance and change the landscape of our city in a good way," she concludes. "This is our first opportunity to have the funding available to even broach that kind of a project. It shows that Salt Lake City is growing up a little bit."