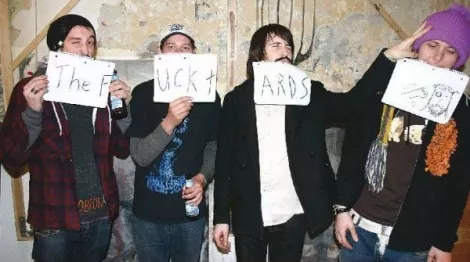 What do the Fucktards sound like? "Like shit in a Coke bottle," says drummer Tea Cup Caterpillar (Laser Gold, Fuck the Informer) "Hold it up to your ear and shake it real fast," adds lead vocalist Kermit the Brown Eye (publisher of The Leviathan).

Apparently, you have to agitate it a little. And that's what the Fucktards have always done: Agitate. The Salt Lake City band's last performance, due in part to a ban from Kilby Court and a drummer who "quit at least 12 times," occurred in 2003 at Todd's Bar & Grill (now The Cell Block). Six eventful years later, the foursome is back and here to stay—at least for now. Part of the allure of the Fucktards is their off-kilter nature. I once saw a concert at Kilby where Kermit doled out trophies to the audience for very inappropriate reasons. And I heard a rumor about how they stapled trash to their former drummer at one show. He proceeded to fling dried Ramen about as they played, resulting in the Kilby ban. The Fucktards refused to clean up. They don't give a fuck, thus their name.
Their first reunion show is the SLUG 20th anniversary party and as Kermit explains without apologies, "Hopefully, we'll just play five songs and take their money. SLUG has no idea what they're getting into." The group originally started as a complete joke, snowballing into what Kermit describes as "an even bigger joke that wasn't ever supposed to happen. And I'd like the snowballing to have a bigger effect."

New bassist Petey the Spray Wizard (Deadbeats, Pleasure Thieves) brought the idea of a comeback to Kermit who gladly jumped on the 'Tards wagon, albeit a bit skeptically.

"I didn't know if we'd be able to catch the old magic," says Kermit.
"And it turned out better," Tea Cup adds. "Turns out we are all wizards," Kermit says with a grin. Old fans will remember and new fans will experience the Fucktards classic hits "I Popped Mother Mary's Cherry," "Christ Punchers" and a new song, "We're the Fucktards," a cover of an old Chipmunks song with, um, different lyrics. Involving your girlfriend. Sorry. Kermit says he's singing it whether or not the rest of the band is ready.

"It's starting to dry out and get solid," the Spray Wizard confirms. At least the music is. This band will never "dry" out— hopefully. As Tea Cup says,"You ask our inspiration? It's not about bands; it's drinking. It's all the inspiration we got: It's booze."

Not even grain alcohol can soften the band's recent cold-blooded old times. Original Fucktards member Beard opens up for the first time anywhere about his recent medical experiences during a routine check-up, "We're gonna do a prostate exam, but first, let's look at that penis," says Beard, "The doctor literally said that. Then he said turn your head and cough and out of the corner of my eye I saw him put on a glove. I really didn't know what it was. Thirty-one years young, and it had never happened before. I feel violated."

Hopefully, the Fucktards can conquer this latest violation. Chances are they will. These miscreants say they're looking forward to making a severe impression on the community. "I think if this is the scene," Kermit says holding his palm up sideways and then putting his other up a foot away in pistol shape, "then the Fucktards are a gun shooting bullets into it to see how many people we can make mad. We're the Columbine of the music scene," he finishes with an all-too jovial smile. You've been warned.
THE FUCKTARDS
SLUG Magazine's 20th anniversary
Trapp Door, 102 S. 600 West, Friday, Feb. 27 10 p.m.