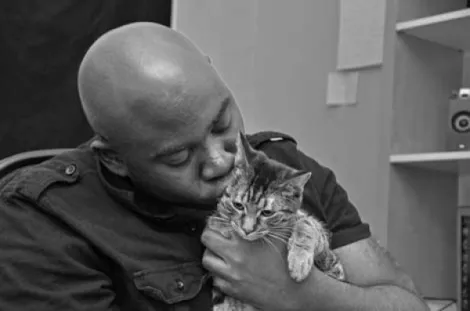 It was an unusually hot day on May 27, 2009—eventually climbing to 93 degrees with a searing sun and few clouds. Despite the heat, Kenneth Dewey Christensen, 75, was in search of soup. As six lanes of traffic buzzed by, he drove his motorized wheelchair about four blocks from his daughter's home in West Valley City to Jim's Family Restaurant, near Bangerter Highway. "The soup wasn't ready yet, so he said he would return later," reads a police report that details Christensen's tragic final hours.
Christensen began his journey back to Jim's just before noon, but he never got to eat soup. He crossed 4000 West safely and continued on his way east until a dark-blue Volvo traveling at about 40 mph suddenly hopped the curb, crashed into Christensen's Hoveround and only came to a stop after smashing into a bus-stop shelter. The driver of the Volvo had tried to merge from the far-right lane to the middle lane, saw another vehicle coming into that lane, quickly swerved right to avoid a collision, lost control and crashed.
There was a pool of Christensen's blood near the destroyed bus stop, and broken glass everywhere. Though he was still alive when paramedics arrived, Christensen soon died at the hospital due to chest and leg injuries.
Gabi Idowu, then 23, emerged from the Volvo he'd just purchased, his face scratched by the air bag. Of that moment, he later said in court, "I couldn't believe that I just hit somebody. At the time, I felt that he was already dead." He became hysterical. One witness told police, "I saw the young black man standing over the elderly man screaming that he 'killed him' repeatedly. Me and another lady continued to calm him down. I believe he was in shock."
Other witnesses told police, and later Idowu's defense attorneys, that they thought Idowu was just in shock. But in the hours after the crash, police trained to detect drug use suspected something else.
"I watched [Idowu] stand up from where he was sitting. The driver almost stumbled and almost fell down," wrote the lead detective, West Valley City Police officer Daren Getz. "The driver didn't appear normal. His speech and mannerisms caused me to believe he might have some type of impairment."
When a Breathalyzer administered at the scene of the crash registered zero, police thought maybe Idowu was under the influence of a central-nervous-system depressant, or downer, and booked him into jail on $125,000 bail. After drug-test results later showed negative for all substances, the theory was expanded to include the possibility that perhaps Idowu had been using a stimulant that would not appear on the initial blood test. Documents show authorities worried Idowu may have been under the influence of khat, an herbal stimulant that's not uncommon in some parts of Africa but that's exotic and almost unseen on the streets of West Valley City. For Idowu to possess such a drug is unlikely: A permanent legal resident of the United States since he was 13, Idowu has never traveled back to his homeland and doesn't have contact with anyone who travels to Africa.
By the time a second toxicology test was completed, prosecutors had shifted their rationale for his incarceration to include the possibility that Idowu had been text messaging when he crashed into Christensen. That theory, too, turned out to be false. As a judge who heard all the evidence later said, the crash was just an accident that could have happened to anyone. The case eventually flopped and all criminal charges were dismissed, but not before Idowu spent 87 nights in the frequently overcrowded Salt Lake County Metro Jail.
Idowu, who believes stereotypes about immigrants and black people played a role in his ordeal, wonders whether his experience in the justice system could happen to anyone, or just to people with dark skin or green cards.
"There's a difference between tragedy and tragic. … This accident was tragic. A horrible thing happened … and that is tragic. Tragedy in the Shakespearean sense is when someone has done something wrong and horrible results flow from it," says Idowu's defense attorney Charles Stewart. "What Gabi was involved in in this accident was tragic. The events that unfolded later were tragedy."
Global Citizen
In trying to explain to Idowu how he had come to be accused of such a high crime as felony vehicular homicide, an attorney once told him, "What you've got to understand is you're exactly the opposite of what they expected you to be."
Babatunde Gabriel Idowu—everyone calls him Gabi—is uncomfortable talking about himself these days. After months of feeling stereotyped by prosecutors and others for being black and an immigrant—as if immigrants don't know how to drive—he's wary that anything could be misinterpreted or used to defame him. Eventually, after being urged that details of his life may dispel stereotypes rather than reinforce them, he started talking, slowly and softly, as is his nature—Idowu speaks more like he was raised in Texas than in Nigeria.
Idowu was raised in Lagos, Nigeria, a city of many slums and traffic jams, but also sandy beaches, skyscrapers and wealthy communities. Today, almost 8 million people are packed into an area half the size of Salt Lake County.
His parents divorced and his father immigrated to the United States when he was a teenager and Idowu was young. His mother worked secretarial jobs and raised her only child with help from her mother. "I never had to want for food or things, but we weren't exactly filthy rich," Idowu says. "My family worked very hard to take care of me."
Their government-built home—with air conditioning, television and a car out front—had been owned by his grandfather and inherited by his mother when Idowu was 4 years old. He attended school in the well-kept neighborhood of Victoria Island, an area with shopping malls, luxury condos and apartment buildings. "It was typical suburbia," Idowu says. "All the houses looked the same."
At 13, Idowu flew to Dallas for a two-week vacation with his father and stepmother. His father asked him to stay permanently, and he agreed. He later got a green card and permanent-residency status. He got good grades in high school. His hard-driving father, a college graduate and computer consultant, urged him to choose a university based on the scholarships he was offered.
Idowu—although gay, black and non-Mormon—accepted a scholarship to Brigham Young University. His father had urged him to apply there. The no-drinking policy wasn't a problem, since Idowu only occasionally drinks wine coolers. "I was offered a scholarship. I wasn't going to turn down money," Idowu says. "By the second year, reality set in that I just didn't belong … being a minority in more ways than one." After a bad relationship breakup, he lost focus, lost his scholarship and moved to Salt Lake City in 2007. "My father was livid … and I didn't know what I wanted to do."
He couch surfed with friends for a few months and then moved to downtown Salt Lake City. He got a job typical for a young student—he asked that details of his work life not be published—and was accepted to the University of Utah. After learning he would have to pay out-of-state tuition, he withdrew and waited the requisite year to qualify for cheaper in-state tuition. He was accepted at the U in the fall of 2009.
"But then my accident happened."
Eye of the Beholder
Before West Valley City Police Officer and drug-recognition instructor Darren Mower had even met Idowu at the scene of the crash, Officer Getz told Mower "that Babatunde might have some impairment that wasn't a result of the crash," Getz wrote in an incident report. Mower observed that Idowu's speech "was at a very low volume, and he was slow to respond and speak." Idowu voluntarily gave a blood sample and declined medical help.
The drug recognition expert (DRE) program began in the 1970s as a way to assess drug impairment, since a Breathalyzer can only detect alcohol. Under international standards, officers training to become a DRE receive 72 hours of training, must pass an exam and conduct 12 evaluations under supervision of a trainer before becoming fully certified.
At the scene, Mower conducted what is called the "horizontal gaze nystagmus" test, in which the officer holds out a pen or light and asks the suspect to follow the pen as the officer moves it back and forth. If the eyeballs flutter or do not move in unison, that could be an indication of drug use, as could pupils that are not dilated equally. Mower noted that Idowu's pupils were even and "tracked equally," but they fluttered.
Mower asked Idowu to blow into a Breathalyzer. It showed .000. Fearing that the chaos of a now-gathered media scrum and many witnesses could bias further field sobriety tests, Mower asked Idowu to go to the West Valley City Police Department for further investigation. Idowu agreed. That was the last free choice Idowu made for several months.
At the station, DRE officer Dusty Hamlin conducted the full battery of DRE sobriety tests. Conducting the Romberg balance test, Idowu was asked to stop the test when he estimated that 30 seconds had passed; he allowed 47. Idowu swayed while he counted. He stepped off the line three times while doing the heel-to-toe test. Out of six tries, he only touched his nose correctly twice. Hamlin also conducted the nystagmus test, finding that Idowu's eyes fluttered during horizontal gazes. All these clues, in addition to comments that Idowu was walking near walls or furniture, allowed Hamlin to conclude that Idowu was on a depressant.
Hamlin noted but did not comment on Idowu's elevated pulse—measured at 110, 118 and 112 beats per minute, well above the average resting heart rate. Mower, who earlier had conducted only the nystagmus test at the crash scene, not the full battery of assessments, nevertheless wrote in his report, "It is my opinion as a certified DRE instructor that Babatunde Idowu is under the influence of a CNS depressant and he is unfit to safely operate a motor vehicle."
Idowu was booked into the Salt Lake County Metro Jail. He wouldn't feel aches and pains from the crash for another two days, which he chalks up to lasting effects of shock. Minor head injuries, like those one might get after hitting an airbag at approximately 40 mph, are one cause of nystagmus that is not drug related.
When Idowu was taken to court for his initial appearance five days later, he rode the prisoner bus in handcuffs and shackles.
Read police documents from the case on Page 2.

Exotic African Drug
"The timing will show that a lot of things were handled the wrong way," Idowu says of the Salt Lake County District Attorney's Office, emphasizing the word "timing."
His bail was set at $125,000. His mother couldn't help raise the bail, not with the crushing exchange rates. Idowu says she also fell ill around this time. Idowu's relationship with his father had been strained since he left BYU. Idowu's friends came to jail to visit him, but they couldn't bail him out, either.
Idowu accuses the District Attorney's Office of withholding evidence and trying to trick him into pleading guilty. All along while awaiting his toxicology results in jail, he felt that he would be free once prosecutors could see that his blood was clean. That hope dissolved July 10.
On that day, Assistant District Attorney Kristin Zimmerman filed a new charge alleging that even if Idowu was not driving under the influence of drugs, then "in the alternative," he was driving while text messaging. Either way, the penalties sought were the same: third-degree felony automobile homicide, meaning up to five years in prison. A felony conviction can also prompt immigration officials to seek deportation.
Idowu was so anxious to get out of jail and avoid prison—although neither was a guaranteed result of his plea—he was tempted to negotiate with prosecutors to plead guilty and avoid further incarceration. "At that point, I was desperate. I would have said yes to anything. … If a deal meant I was going to get out, I would have taken it, but [public defender Raymond Shuey] said he didn't feel comfortable with that."
Shuey, who declined to be interviewed, urged Idowu not to agree to a plea in abeyance. The attorney had found a witness who corroborated Idowu's version of events involving a speeding vehicle that forced Idowu to swerve to avoid a collision.
After Shuey turned down the plea deal that same day, Idowu learned that the toxicology results showing his clean blood had been completed—weeks earlier. Documents show police received the results on June 16; they say they sent them to the District Attorney's office the same day. That was weeks before the text-messaging allegation was filed. "If I had pleaded guilty that morning, my blood tests would not have mattered," Idowu says. "They were anticipating that. … It would have worked if I didn't have [Shuey]."
Zimmerman and justice division administrator Paul Parker see that situation differently. First, Zimmerman says she wasn't hiding evidence and blamed "support staff" for not forwarding the toxicology report to Shuey earlier. Second, it's not uncommon, Parker says, to begin tentative plea negotiations prior to the toxicology results being returned; often prosecutors "assume the worst" and make a deal based on that. If the defendant turns it down, no biggie, the case moves forward. "That's almost the normal course of things," Parker says.
Zimmerman says her memory of plea negotiations is fuzzy because, "It was my understanding always that [Idowu] wasn't interested" in a deal, she says.
Parker added this: "Remember, the 16th [of June] to the 10th [of July] in our world is probably not a long time. If [West Valley City Police] got [the toxicology report] on the 16th, sometimes it could take three or four days to even give it to us—at best—and sometimes a couple more days for it to end up on our desk, so [delay] is not that odd." A three-week delay may not be long for prosecutors, but it felt very long to Idowu, who was in jail hoping that the report would be the turning point in his case.
Regardless of the timing, the report had little effect on the case.
Idowu's African ancestry was apparently on the minds of police, as indicated by a comment on the report written by lead detective Getz: "The toxicology report noted that the [Bureau of Forensic Toxicology] does not test for khat."
Zimmerman acknowledges that she was present in a meeting with police where khat was mentioned, but she doesn't know who mentioned it first, or why Idowu, long suspected of having slow movements after the crash due to a depressant, was suddenly suspected of taking khat, which in the words of Walter and Memory Lewis, authors of Medical Botany, causes symptoms including "increased alertness, elevated mood, general excitement [and] hyperactivity." Most references to khat in the United States are in news-media accounts of African child soldiers.
West Valley City Police spokesman Sgt. Mike Powell defended the mention of khat in police documents.
"It is my understanding that that was a recent drug that had been found on the streets in that same proximity of time," Powell says, but could not provide specifics.
Regardless, the question remains as to why police would mention by name an herbal stimulant when it was their theory that Idowu crashed his car because of a depressant. Powell acknowledged that Idowu's African ancestry and his presumed African culture played a role in the
khat
suspicion, and defended that.
"I mean, it's kind of like asking the question, culturally based, if a Native American is involved in a similar situation, would we test for peyote? Something to that effect. If there's something that might be indicative for a particular culture, I don't see why there wouldn't be an inquiry."
Powell says race did not influence the case.
"If you use the term ... 'race,' I think that's the wrong alley to go down, but I would say culture has a large influence in what people do and don't do."
Overall, Powell says, the department is "pretty confident" that the case was "thoroughly investigated" and "done well."
Stewart, who estimates he's been involved in about 200 DUI cases, has never heard of khat mentioned in any case, before or since. "The fact that he is from Africa may have played a part in trying to find this exotic drug," says Idowu's friend Isaac Ansasakyi. Idowu believes the same.
Idowu stayed in jail while prosecutors waited for his blood to be processed by a laboratory in Pennsylvania that could detect khat and many other substances the initial screen may have missed.
Passport Expired
On July 21, nearly two months after entering jail, Idowu was given his first opportunity to ask for a bail reduction. Pretrial Services recommended supervised release. Zimmerman, with Christensen's adult daughter, Clover Daniels, at her side, opposed it. Third District Judge Judith Atherton said she saw the case considerably differently as a result of the toxicology results and Pretrial Services' recommendation to release Idowu on supervision. Zimmerman responded, "Based upon the information that I have, the DRE information, the observation of the officers and witnesses, the state is still supporting that he not be released."
Shuey then called a retired police officer who had recently been Idowu's next-door neighbor, as well as Idowu's manager at his job and a former manager. Each said Idowu naturally speaks slowly and softly and that none of them had ever seen or heard of Idowu using drugs.
Zimmerman then asked that Christensen's daughter be allowed to speak. Atherton then said a bond hearing is only about Idowu's potential danger to the community or flight risk, and asked what Daniels—who didn't know Idowu and hadn't witnessed the crash—could possibly have to say about either. After resisting at first, Judge Atherton allowed Daniels to speak.
"I feel like it's unsafe for my children to be out if he's out because I feel like he's going to redo it," Daniels said, before voicing fears that perhaps "next time" Idowu might kill an entire family.
Atherton, even after hearing that Idowu's Nigerian passport had expired, reduced his bail to $25,000. But that was a "distinction without a difference" from $125,000, defense attorney Stewart says, because Idowu couldn't raise that bail, either.
Ansasakyi, who was present for that hearing, says Daniels' bizarre comments did not appear to sway Atherton. He thinks it was simply Idowu's status as an immigrant that sealed his fate. "When you're not a citizen, a full citizen of this country, I think they do certain things," he says. Even though Atherton and prosecutors were well informed of Idowu's finances—defendants must prove they are indigent to receive a public defender—Ansasakyi says it's presumed that an immigrant defendant "might hop a plane and leave."
Things Fall Apart
Though Idowu would stay in jail another month, his eventual freedom was coming into perspective. Getz' reports show that back in June he'd discovered that Idowu sent a text message 2 minutes and 29 seconds before the first witness called 911 to report the crash. Idowu acknowledges—and did so to police from the beginning—that he had sent text messages several blocks before the crash when he was stuck in traffic in a construction area, but tossed the phone onto the passenger seat once the flow of traffic picked up.
On Aug. 21, two days after receiving the second toxicology report from the lab in Pennsylvania—which detected only minimal amounts of caffeine—prosecutors moved to dismiss the case. Records do not show that anything new to support or undermine the text-messaging allegation was discovered since that charged had been filed, and yet that charge was dropped, too. Zimmerman says the case was dropped because she didn't believe "I had a reasonable likelihood of success at trial."
The dismissal is the only evidence justice division administrator Parker provides to support his claim that the District Attorney's office lived up to its responsibility to presume Idowu was innocent. "We're not going to hold on to a case just because we filed it," he says.
Idowu was released Aug. 21. He went to Sizzler to celebrate. "I'd been seeing those commercials on TV and it looked so good," compared to the twice-daily bologna sandwiches he had eaten all summer.
Shortly after, infractions were filed against him in West Valley City Justice Court, including an accusation that his negligence caused the crash. He used the settlement money from his totaled Volvo to hire Charles Stewart to defend him. Idowu says he again turned down a plea deal offered by prosecutors. "I said, 'No, if you're ready to offer me a fantastic deal, then you know you fucked up … so I decided to go to trial." That had mixed results: In a bench trial, Judge Keith Stoney acquitted him on the negligence charge but found him guilty of failure to signal, failure to maintain control of his vehicle and weaving. Stoney issued a sentence of just 18 months unsupervised probation and suspended all fines. Idowu appealed the convictions to the district court, but they were upheld in September. By the time that trial happened, prosecutors were reduced to argue that perhaps Idowu was distracted by text messaging while driving because he "was waiting for [a] response."
Poisoned
As angry as he is about his treatment in the justice system, Idowu is as much focused on what got him there. It's much easier for him to talk about jail and court than it is the crash itself. The dramatic hysterics witnesses saw Idowu display right after the crash have subsided, but feelings of guilt have not and anxiety about driving still lingers. "I have to deal with the fact that I killed a man. And that sort of poison doesn't go away," Idowu says. "That stays with you forever."
Idowu is not the only one struggling to process what has happened. Christensen's daughter declined to be interviewed for this story because "it's opening old wounds that haven't healed." At the conclusion of Idowu's appeal in 3rd District Court, Daniels addressed the judge on how her father's death has impacted her family. "I haven't been able to find a job because my whole life is consumed with hoping and praying that [Idowu] will get some justice," she said. "Now, I know he served 90 days in jail, but what are my kids and my mom serving? … Every night I still have nightmares. … My father was a good man. He devoted his life to not just me, but to help raise my kids."
Idowu says he's never been given an opportunity to privately or personally apologize to Christensen's family due to hostility. At that last court hearing, with Daniels in the room, he said, "I can't apologize to the family because my presence does more damage than good, but I can only wish them the best from here on."
Idowu is still vexed by the police and prosecutor actions in his case. He's interviewed other police agencies on how they investigate fatal accidents when a driver blames another vehicle for cutting them off and causing the accident. He's researched numerous other cases of fatal auto-pedestrian car crashes in which police immediately concluded that it was just an accident.
So what makes Idowu different from other defendants involved in tragic, accidental crashes? In answering that, Idowu seizes on two issues. "Racism was not the first thing that came to mind … but after a month and a half of sitting there … I began to think that race had everything to do with this case. … So, yes, it is a race thing, but first, it's a money thing. They do the same thing to everybody."
By that, he means, he believes prosecutors intentionally use pretrial incarceration to entice and induce defendants to plead guilty. Those who can afford their bail, he says, avoid the temptation to admit to something they haven't done in exchange for shortening the court process.
For her part, Zimmerman denies that Idowu's race or immigration status was a factor in the case. She says the evidence from the scene—like Idowu's slow movements and speech, the fact that he drove off the road and onto the sidewalk, the lack of evidence that he tried to brake—is what steered her handling of the case. Asked whether the mention of khat demonstrated that police may have acted on stereotypes and whether that may have colored their perception of Idowu and his speech or movements, Zimmerman endorsed West Valley City Police's performance. "I think the conclusion they reached [that Idowu was on drugs] was based on the evidence they saw."
Idowu is hoping now to return to his education and continue his life. He'll visit his mother in Nigeria this winter for the first time since leaving his home country at 13 years old, but he's excited to return to Utah afterward. "I came to Utah to make something of my life, just like everybody else," he says, and now he hopes to continue that process.
Police documents from the Idowu case
Follow Jesse Fruhwirth: