Page 2 of 3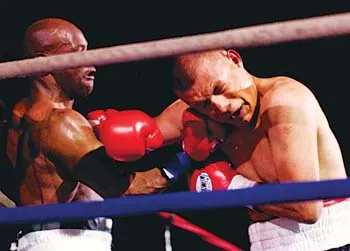 ROCKET SCIENTIST
In January 2007, Stidham perceived a threat to his livelihood in the form of politician Greg Hughes. Hughes sponsored one of several bills that legislative session aimed at moving the PSUAC out of the Department of Commerce. Hughes' critics saw it as an attempt to kill off MMA by a politician who, at that time, was managing a boxer. Hughes says his concerns about the commission emerged after he attended PSUAC meetings and saw how it favored Stidham over boxing promoter and Hughes' friend Eddie "Flash" Newman. Hughes told Stidham that he wanted to support MMA's growth and needed the promoter's help to mold the new commission.
Hughes asked his friend Bill Colbert, a Draper councilman, to be the PSUAC's new director. He chose Colbert because, although the former missile scientist knew nothing about the fight scene, he could build a new commission "from the ground up." Hughes also nudged a friend, lobbyist Alan Dayton, and Hughes' legislative colleague Ty McCartney, both MMA virgins, to become commissioners. Rich Montanez, a former highway patrolman and a member of former Utah Gov. Norm Bangerter's security detail, returned to the commission. Two years later, self-confessed fight fan Taylor Leavitt, son of former Utah Gov. Michael Leavitt, and Democratic party activist and one-time Utah Committee of Consumer Services Director Leslie Reberg were also appointed to the commission.
Along with the political maneuvering in early 2007, Stidham had other worries. "Suddenly everyone was opening [MMA] gyms," Tony Saiki recalls. Promoters would recruit fighters for their own shows in the locker room at Stidham's show.
One new competitor was nationally renowned fighter Jeremy Horn. "He's a very respected fighter who started putting on events," Riche recalls. "I think that scared Mike. If [Horn] got it right, they could take over the sport."
While many in the MMA community "thought Mike's show was a dive," Weiss says, "from the start there was jealousy. He was doing something a lot of people wish they could have done." But then Stidham made a move, Weiss says, "that set it all on fire."
On March 10, 2008, Stidham asked the PSUAC to enforce non-compete clauses in his contracts, which barred fighters from fighting for another promoter for three years or within 500 miles. The commission denied his request.
Undeterred, on March 20, 2008, Stidham posted on his MMA chat site, "If you have accepted payment to participate in Ultimate Combat Experience, you have agreed to not compete with this organization." If other promoters wanted to use UCE-registered fighters, Stidham was offering licensing opportunities.
That infuriated other promoters, who say they were faced with potentially having to pay Stidham thousands of dollars so fighters from their own gym could fight on their cards. Stidham says he spent "tens of thousands of dollars putting fighters on TV. They go to bars and people recognized them. I was developing characters. Then I should let Jeremy Horn swan off with them?"
Weiss recognizes the downside of Stidham's venture. "It could never grow past amateur, real green type fighters." He adds, "It was hard for Mike to see the fighters move on."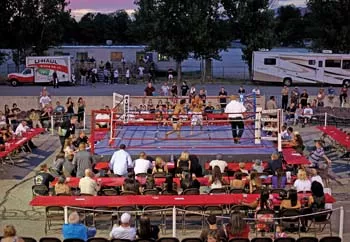 "SLEEPING WITH THE ENEMY"
On March 26, Horn and his partner, former fighter and promoter Jennifer Howe, along with another promotion agency, Throwdown, and seven fighters who had all fought on Stidham's cards, sued Stidham over the restrictive contracts, alleging he was seeking to "improperly chill the free flow of the MMA industry." Their complaint said that 46 fighters who had signed the non-compete had gone on to fight for other promoters. The judge ruled the non-competes were "invalid and unenforceable" and constituted "an unreasonable restraint of trade."
Some fighters boycotted UCE because of the contracts. Stidham argues the fighters were misinformed. "They heard I was trying to limit what they were doing. I was trying to protect those guys, help them by preserving their value."
In the midst of his battles with other promoters, Riche and Stidham's relationship ended in a screaming match over money. Riche called Tony Saiki, crying. "He loved the show, he put his heart and soul into it," Saiki says. Riche went to work for an Orem-based gym and fight promoter. "It was like a death in the family," Laura Saiki says.
Post-Riche, with a growing number of promoters providing fighters more cards to fight on and others joining Stidham's critics, Stidham found it harder to get good fighters. As the quality of his fights declined, the audiences attending the fights shrank.
Howe argues that where Stidham went wrong was in thinking that "his show built fighters. It's a wonder he hasn't realized fighters built his show." Stidham argues that while he couldn't have done the show without the fighters, equally, fighters couldn't have built up characters and reputations without the platform UCE provided them.
Weiss paid for his loyalty to Stidham, however, by being blacklisted by other promoters. One promoter told him, he says, "Hank, you're sleeping with the enemy."
SEWING CIRCLE
Despite Stidham's misgivings, 18 months after the legislature cut loose the commission from the Department of Commerce, the promoter posted how grateful he was to Greg Hughes on his MySpace page. The commission, which now operates out of the Governor's Office of Economic Development, was making "Utah a friendly place for promoters," he wrote. That was despite the fact he and Colbert had their differences, whether over fight cards handed over at the last minute, making it difficult for Colbert to assess if fighters were equally matched—an issue Eddie "Flash" Newman is also guilty of, says Colbert—or how expensive it was for the commission to supervise Stidham's weekly fights. But fighters like Weiss appreciated Colbert starting "to regulate it as a professional sport."
In June 2010, Stidham and Colbert's relationship hit a new low when the promoter accused the regulator of stealing from him by overcharging almost a total of $2,000 for 20 events. Four witnesses supplied Stidham with affidavits accusing Colbert of not only knowingly overcharging but refusing to pay Stidham back. Colbert, who blames the issue on a recording fee charged by the Association of Boxing Commissions, says they misinterpreted what he said.
At this point, Stidham says, Colbert came after him over the smallest matter, such as Colbert's insistence Stidham bring stools in for fighters to sit on rather than chairs.
Colbert upped the ante on Aug. 20, 2010, when he canceled Stidham's main event for being a mismatch. A seething Stidham posted the cancellation on the Internet, and added a post script: "Bill Colbert is a moron." Weiss is critical of Stidham's inability to be tactful or diplomatic. "Mike felt friction from some people and he has a tendency to fight back bitterly and not think it through. He has the mentality, 'I don't need you.' "
Stidham suffered bad news closer to home the following month when his cameraman, Tony Saiki, quit after six years "in the trenches." Tony Saiki cites Stidham's self-destructive behavior as a key reason for their departure.
When the Saikis left, they took Stidham's camera equipment, claiming he owed them around $30,000. Tony Saiki says Stidham had always told them it was collateral for the money he owed them, something the promoter says "is an absolute fabrication. We pay our bills. That's what we do. We wouldn't be around nine years later if we didn't."
The Saikis sued Stidham and the promoter counter-sued, alleging they had taken his equipment, fight footage and caused him to lose earnings from a national TV contract. A judge had a Salt Lake County constable repossess the equipment from the Saikis' home in the KOA mobile home campground on North Temple. Now the Saikis and Riche co-produce and Riche hosts another show, the action sports documentary series The Rockwell Chronicles on CW 30.
Stidham says the Saikis did what so many others who fall out with him do. "They ran to [my critics], formed a sewing circle, and swapped nightmare stories about me."