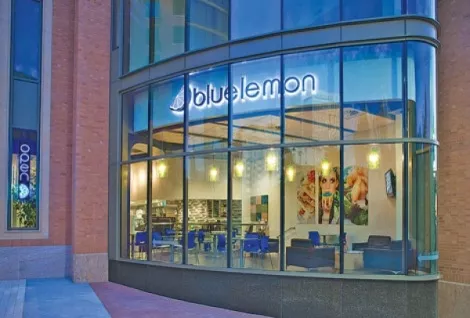 Diners flock to
Blue Lemon
for the simple and delicious fare, but the people watching isn't bad either.
While eating "express gourmet"—the locally owned eatery's term for healthy fast food—diners look out from Blue Lemon's wall of windows at South Temple's badge-wearing proselytizers, camera-toting tourists and construction crews bustling in front of Temple Square and the City Creek development. Inside, however, is equally appealing, with the IKEA-meets-Starbucks décor—at once chain-like and Utahn. The modern spot is split: a restaurant with cafeteria-style seating and line ordering on one half, and a bright cafe under those north-facing windows on the other. But this eatery is more than a room with a view.
With spring fever on the rise, Blue Lemon's making changes to its menu, readying it for warmer months ahead. "We want to make things lighter, but stick to what we do best," says general manager Brandon Price.
Taking its already "pure, clean food, with a twist," it's retired heavy sauces, mashed potatoes and risotto cakes on several dishes, opting instead for vinaigrettes, roasted potatoes and lightly sautéed veggies. As the name might suggest, the menu is filled with citrus notes, as well as sweet infusions—candied pecans have found their way into many dishes.
The light meals are served quickly, with a goal of delivering food within six minutes of ordering. That means sweet butternut squash soup, a delicious grilled salmon al fresco sandwich—salmon BLT with sauce verte—or the popular roasted beet and arugula salad are served within minutes and plated beautifully, especially for the price.
When the food is served, the people you've been watching might just shift their focus to what's on the other side of the window—on your plate.
BLUE LEMON
55 W. South Temple
801-328-2583