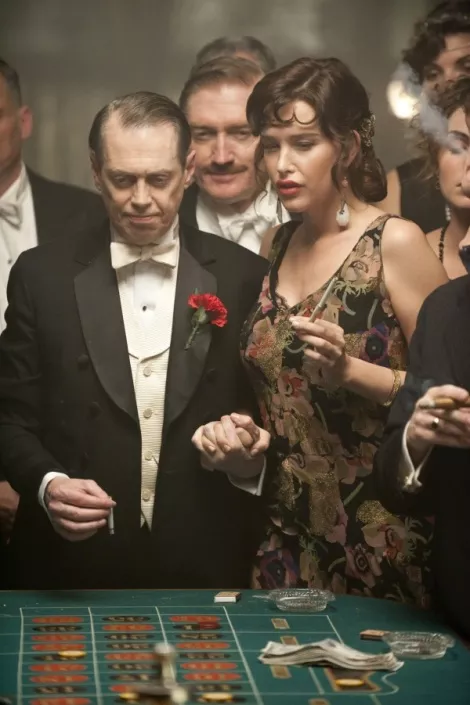 Boardwalk Empire
Sunday, Dec. 5 (HBO)

Season Finale:
It's not like HBO has been a bone-dry dramatic wasteland since
The Sopranos
ended three years ago, but
Boardwalk Empire
(created and produced by
Sopranos
alum Terence Winter; the much-hyped Martin Scorsese connection only applies to his direction of the first episode and an executive-producer credit) is the premium net's first new series since to inspire the same critical drooling. More than the zillion-dollar period dressings, it's all about Steve Buscemi's portrayal of "Nucky" Thompson, a corrupt-but-sympathetic political power player in Prohibition-era Atlantic City—he's miles from handsome or charismatic, but Buscemi sells it as well, if not better, than James Gandolfini did Tony Soprano. Catch up on
Boardwalk Empire
; the sure-to-be-even-more-dense second season is coming in 2011.
The Walking Dead
Sunday, Dec. 5 (AMC)
Season Finale: Like Boardwalk Empire, AMC's ambitious The Walking Dead has looked and felt more like a multi-hour movie than simply a TV series. Unlike Boardwalk Empire, no one can accuse The Walking Dead of piling on distracting subplots: For a couple of weeks around the middle, the zombie drama got a bit same-y and drag-y—not a good sign in a six-episode debut season. But, last week's welcome break in the dirty-survivors-arguing-amongst-themselves action, wherein the ragtag band discovered the bunker of a CDC scientist who's working on (and apparently going insane over) a cure for zombie-ism, set up a bleak season finale: The infection is global, and there's no coming back once you're a "walker." So, Season 2 is going to be … fun?

The Hasselhoffs
Sunday, Dec. 5 (A&E)
Series Debut: Oh, quit wincing. You knew it was only a matter of time before some cable network handed David Hasselhoff his own reality show—the real question is, what took so long? As the title implies, The Hasselhoffs is a "family" show, starring daddy Hoff and daughters Taylor-Ann (20) and Hayley (18); like Pop, both aspire to be double-threat (terrible) actors/singers. Since E! pretty much owns the Worst Reality Shows Ever title—even The Hoff can't top Leave It to Lamas or Married to Rock—A&E can rest easy knowing that they've only unleashed a minor new atrocity onto TV. So, when's that Dee Snider thing coming back?
Men of a Certain Age
Monday, Dec. 6 (TNT)
Season Premiere: I still don't get the appeal of a dramedy about three middle-age dudes (Ray Romano, Scott Bakula and Andre Braugher) who can't get their lives or haircuts together, but I'll take it over another Everybody Loves Raymond rerun—is there a point during the day when that damned show isn't on at least one channel? Anyway, Men of a Certain Age returns following the season premiere of The Closer tonight. Enjoy.

The Comeback
Nightly (Sundance Channel)
Return via Reruns: The Comeback ran for one 13-episode season on HBO in 2005, starring Lisa Kudrow (Friends) as actress Valerie Cherish, a D-lister who had a minor-hit sitcom in the '90s. The Comeback was presented as "raw footage" of a reality show called The Comeback, which was chronicling Valerie's Hollywood comeback as a minor character on a same-network new sitcom called Room & Bored (which is just as bad as it sounds). Got all that? Despite being as brutally funny, uncomfortable and scathing as anything from Larry David or Ricky Gervais, and Kudrow's ballsy performance, The Comeback never made it to Season 2. The Sundance Channel now runs uncensored episodes of The Comeback every night (it's also available on DVD), and features then-rookie actress Malin Akerman (Watchmen, The Proposal) frequently barely dressed and/or naked. Now you're sold.