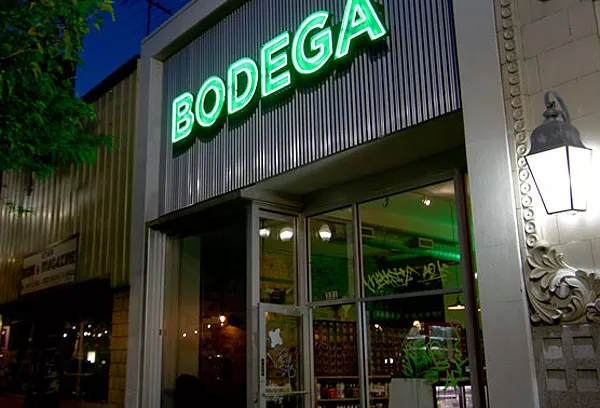 When I lived in New York City, one of my favorite haunts was Chumley's, a historic pub located at 86 Bedford Street in Greenwich Village. I still remember the address because Chumley's had no signage. It was established in 1922 and served as a speakeasy during Prohibition, and I guess nobody ever got around to putting up signs after Prohibition was repealed. But when you walked through the arched wooden door and into Chumley's dimly lit, boozy space, you felt like you were part of something special. You belonged.

Flash forward a couple of decades and the speakeasy—totally unnecessary in contemporary America—seems to be making a comeback. The Title 32B bar in Hearth on 25th (195 25th St., 801-399-0088, Hearth25.com) recently opened in Ogden as well as The Rest at Bodega in Salt Lake City. Both are faux speakeasies: places with food and drink that have a speakeasy vibe, but that anyone 21 or over—and, in the case of Bodega, willing to deal with some red tape—can legally enjoy.

If you're not familiar with Bodega, allow me to break it down. It's really three businesses under one roof. First, there's a tiny, kitschy convenience "store"—no more than a counter papered with vintage Playboy covers, plus a few shelves sporting ramen and other junk foods, aspirin, sodas, votive candles and the like.
A couple steps from the Bodega counter is a diminutive beer bar, about the size of a standard office cubicle. Bodega offers breakfast sandwiches, chips & salsa and tacos, most of which are priced at $3.

The third Bodega component—and the one that most interested me—is The Rest. Looking downstairs from the Bodega entrance, you'll see a half-lit "restroom" sign. That signifies The Rest, Bodega's reservation-only, sort-of-secret restaurant and bar. You need a key to gain entry, and don't plan to show up without a reservation (maybe unless you're famous).

I have to say that, despite my fear of hipsters, I really like Bodega and The Rest. Don't let the hoops you need to jump through in order to get a reservation (more about that later) deter you. I've found the staff—from owner Sara Lund and bar manager Caleb Cannon to the servers I've encountered—to be very friendly and welcoming. I'm not the coolest dude downtown, but I felt perfectly comfy at The Rest.

Once you're seated at a booth or table in the subterranean dining room—where, by the way, you'll feel as if you've left Utah behind—I suggest you order a craft cocktail like the classic French 75, made with gin, lemon juice, simple syrup and sparkling wine, served in an old-fashioned Champagne coupe ($11). While sipping your cocktail, take in the amazing art of Jake Buntjer, whose mind-expanding artwork provides an interesting contrast to the overabundance of taxidermy in The Rest. Lund told me she was inspired by places in Manhattan like La Esquina, an eclectic Mexican cafe with an underground dining room that InStyle called "speakeasy meets Mexican hideaway."

The appetizers we tried at The Rest were very good. Crab cakes ($15) were, as I overheard a server describing them to a nearby party, "very crabby." They're made with generous amounts of lump blue crab meat, bound together with sweet potato, smoked corn and red pepper, and served with a tangy lemon aioli. Even better were the confit chicken wings ($10). I'm not sure if this appetizer is misnamed or if the kitchen had run out of wings, but we were served what I'm pretty certain were three chicken legs, not wings—even a manager said "they sure look like legs"—which was actually preferable. Plump, juicy legs were braised in duck fat and served with a zippy, delicious barbecue sauce of red pepper, sesame and ginger. I could've eaten a dozen of those "wings." And, the free warm jalapeño cornbread that kicks off dinner at The Rest might be the best I've ever eaten.

I really enjoyed the honey-glazed beer-can chicken ($35 for two). It's a whole roasted chicken with a cider gastrique, wild mushrooms, warm, creamy potato salad and grilled asparagus. For an extra $10, you can get a growler of Bodega IPA with it. The chicken—which requires 45 minutes to prepare—comes to the table whole, including the PBR beer can for presentation, before being whisked away, carved, then returned to your table. The chicken was tender and juicy, and I loved every bite.

Unfortunately, the smoked hobo trout seemed pretty skimpy for $18, served with shaved cauliflower, apple, almonds, brown butter and croutons. Maybe that's why it's hidden in tinfoil when it comes to the table. A more satisfying selection is the 36, a pastrami sandwich ($16) so named because the pastrami braises for 36 hours. The warm pastrami is served on a quality rye bun with Squatters' Boracho IPA-braised sauerkraut, melted Gruyere, housemade pickles and outstanding waffle-style potato chips. After dinner, hot beignets ($7) in the library lounge are a must.

Now, about those reservations. We phoned Bodega and got browbeaten by a rude female employee for not making reservations online. It turns out, if you go to the Bodega website and click on a mysterious button in the lower-right corner, then click on "Reservations," you'll be taken to a form to fill out and a lengthy list of policies: no kids ("We play loud music. We serve cocktails. We encourage cursing and debauchery."), no arriving late and the admonishment to "look your best," not to mention a required $25 deposit. This might be enough to deter many people from The Rest, but if you can put up with the reservation runaround, you'll be rewarded with good food in a fun, unique setting.

THE REST @ BODEGA
331 S. Main
801-532-4452
Bodega331.com