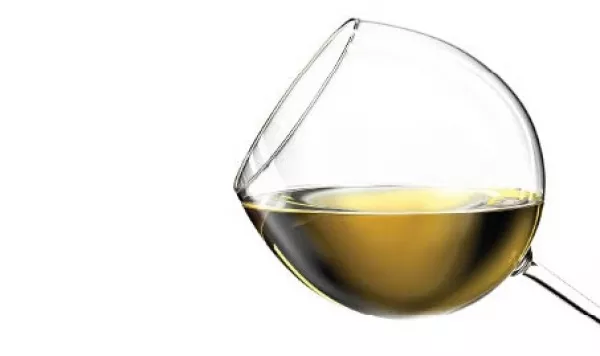 The newly opened Finca restaurant was firing on all cylinders May 19 as owner Scott Evans and his stellar crew hosted a wine dinner featuring the wines of Spain's Bodegas Las Orcas. In attendance to mingle among the attendees and give insights to his wines was charming winemaker Raimundo Abando, accompanied by Bon Vivant Imports president Brad Jensen.
Evans referred to Abando as "the honorary mayor of Laguardia," referencing the fact that he seems to know just about everybody—and every secret—in the Rioja town where his winery and vineyards are located. They're nestled in the foothills of the Sierra Cantabrian Mountains, which has a Mediterranean climate, clayed and calcareous soil and optimal rainfall for grape growing. The primary varietals grown by Las Orcas are Tempranillo, Graciano, Grenache and Viura, all grown in smallish family vineyards. This is in stark contrast to the majority of Rioja winemakers, many of who source not only their grapes, but also grape juice, from a jumble of producers and growers around Rioja. They are then blended into wines for the world market that, frankly, tend to be uninteresting and inferior. The small wine-production levels and family-owned vineyards of Bodegas Las Orcas, however, ensure high-quality wines, even though they are very reasonably priced. One of the reasons that Bodegas Las Orcas wines are relatively economical is that most of them are not aged in oak. Oak aging directly affects a wine's bottle price.
Seated with a group of fellow wine lovers—some old acquaintances and some new—the evening began with a lovely white wine: Solar de Randez Blanco 2010 ($12.53), made entirely from the Viura grape (also known as Macabeo). The fruit comes from Abando's wife's family vineyard with vines that are 60 to 80 years old. Allowed to rest on lees for six days and aged in stainless steel, the wine has a very round and robust mouthfeel and was excellent with a couple of Finca tapas: house-cured salmon and fish croquettes with rustic grilled bread.
Beef-filled empanadas paired really well with the next wine, Solar de Randez Joven ($9.99), which is a young, 100 percent Tempranillo wine intended for youthful drinking (hence "joven," which means "young" in Spanish). It's unoaked, which, as mentioned, helps keep the cost down, but with rich red and black cherry aromas and dark fruit flavors, and hints of anise and black pepper on the finish.
Next up was another Tempranillo wine, Solar de Randez Crianza 2007 ($17.99). This was a favorite of some of the folks at our Finca table—a wine showing bright fruit, with peppery- spice notes that worked nicely with an irresistible tapa: grilled pork-belly skewers with a mint-spiked green sauce. That was followed by a flatbread pizza with Spanish chorizo and grilled kale, paired with Solar de Randez Reserva 2001 ($22.99), a beautifully textured Tempranillo aged for 24 months in French oak, lending lovely vanilla notes.
For me, the highlight of the evening was chef Phelix Gardner's outrageously delicious carne de asador, which was medium- rare-grilled bavette steak, sliced and served with a rockin' Romesco sauce and awesome Spanish-style roasted potatoes, which paired beautifully with Pagos de Valdeorca 2004 ($37.88), the Bodegas' most distinctive wine. It's also 100 percent Tempranillo in an intense, yet smooth, package. Velvety tannins help frame rich cherry, blackberry and cola flavors, combined with coffee, tobacco and smoky notes. This wine would be terrific with lamb and pork dishes, but really hit the bull's-eye with Finca's grilled bavette. Kudos to Finca and Bodegas Las Orcas for supplying such a splendid evening.