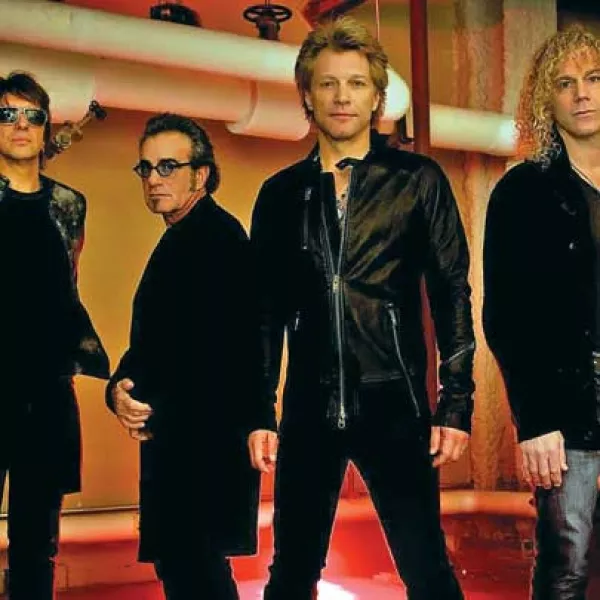 In today's world of auto-tune and Justin Bieber, I have somehow been blessed with a young son who is a huge fan of '80s rock music.
Eli is a bigger fan of '80s hair metal than I am. He frequently wears a Def Leppard bandana to school. He loves Mandatory Metallica on KBER. It gives me a thrill to hear him sing along with Iron Maiden.
We are both looking forward to the Bon Jovi concert later this month. We saw the New Jersey rockers the previous time they came through Utah two years ago. During that show, Eli shocked a group of college-age girls seated in front of us by knowing every word to every song.
I have a sort of selfish appreciation of Eli's musical loves. It means I always have an option on the car radio when he's with me instead of a constant stream of Katy Perry, Macklemore or whatever musical abomination is popular at the moment.
My worry is what happens when he tires of emulating my musical tastes. I remember enjoying a number of bands my dad listened to—The Beatles, ELO, The Eagles and Pure Prairie League. When I turned 12, my taste whiplashed as I embraced acts like Bon Jovi (it's all coming full circle, right?). I vividly remember seeing the band in the old McNichols Arena in Denver, Colo., on the Slippery When Wet tour. That's a concert my father wouldn't be caught dead at, which is good because I probably would have died from embarrassment had he been there. Kids want to be just like their parents, until they start to mature and decide that parents are stupid.
I can see Eli's musical change coming, and there's not a thing I can do about it. Already, I've had to listen to countless playings of "Thrift Shop" and other music that, to be truthful, sounds nothing more than people yelling at me.
What I fear most is that Eli's falling out of love with 1980s music is another sign of the inexorable march of time—a signpost of my advancing age, like the growing number of white hairs in my beard or the increasing volume of my creaky knees in the morning.
Until that happens, I am going to sit back and enjoy the ride. I know it's going to end, sooner rather than later—to think otherwise is to be "Livin' on a Prayer." But this Wednesday, together, while we still can, while it's still "cool," we'll sing, "I'm a cowboy, on a steel horse I ride/ I'm wanted (wanted) dead or alive."
BON JOVI
EnergySolutions Arena
301 W. South Temple
Wednesday, April 17
7:30 p.m.
$16.50-$472