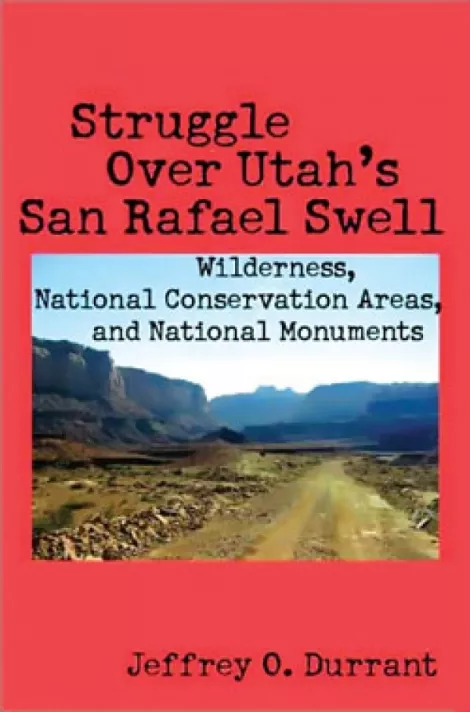 It sometimes can be difficult to understand why our government does things the way it does, or why we as a society are unable to address serious challenges in a productive manner. Many try to blame it on one bad influence: lobbyists, crooked politicians, interest groups, etc. But the real answers behind such situations are often much more complicated. Public policy can end up in strange places because many different interests are weaving their ways through a labyrinth of laws, regulations, court challenges, grass-roots campaigns and parliamentary procedures.
Unraveling such enigmas requires patience and perseverance, and both qualities are on display in two recently released books that show democracy in all of its glorious messiness by examining how our political system and those participating in it have shaped environmental issues affecting Utah.
Jeffrey O. Durrant's Struggle Over Utah's San Rafael Swell: Wilderness, National Conservation Areas, and National Monuments looks at changes in the way public lands are managed in Utah, while in Nuclear Waste Stalemate: Political and Scientific Controversies, Robert and Susanne E. Vandenbosch look at why, after decades of planning, there is still no long-term solution for disposing of high-level nuclear waste. Neither book is an easy read, since both are chock full of policy-wonk material and hard science. But both offer the reward of gaining a better understanding of how things came to be the way they are, and where they might be headed when it comes to public lands in Utah or storage of nuclear waste in or near Utah.
Durrant, a Brigham Young University professor, writes, "The San Rafael Swell is a rich example of how uses of public land have changed over time." He goes on to explain those changes, including the nature of the job of the Bureau of Land Management, the meaning of "wilderness," and the many different forms of recreation that have become popular on public lands.
"A place can, and often does, have numerous meanings," Durrant writes. He gives a full hearing to different views of the Swell, points out what they have in common, and even urges everyone to be a little more civil in the debate. After all, while "environmentalists have fought to define the San Rafael Swell in terms of poetic musings, local citizens have worked to define it in terms of their heritage, their descriptions also emanating from deep within."
After his thorough examination, Durrant concludes that, even with the Bush Administration in power, "We can safely assume that the clock isn't going to turn back on multiple-use management … we can expect more restrictions, controls, and limitations on public land, not fewer."
Nuclear Waste Stalemate looks at an issue that has come close to affecting Utah. At various times, plans for repository sites in either Skull Valley, Utah, or Yucca Mountain, Nev., have been advanced well beyond the mere proposal stage. The Vandenboschs point out that while the federal government has been looking at nuclear-waste disposal since the 1970s, it has yet to find a place to store high-level nuclear waste and, as of now, has no plans to start putting it anywhere before 2017.
This futility seems frightening when one considers that America currently has 70,000 tons of spent fuel in 39 states that would need to be transported over a period of 24 years. Scarier still is the worldwide research that reveals "that most countries are considerably behind the United States in terms of facing up to high-level waste disposal." And this at a time when the role of nuclear power may need to be increased as a response to global-warming concerns.
That's not to say that the Vandenboschs try to put that spin—or any other spin—on the extensive research they have compiled and presented in an objective manner. It's just the inevitable conclusion upon finding out how the ins and outs of the current system have created yet another situation where America has been unable to resolve a serious issue.
STRUGGLE OVER UTAH'S SAN RAFAEL SWELL: WILDERNESS, NATIONAL CONSERVATION AREAS AND NATIONAL MONUMENTS
Jeffrey O. Durrant, University of Arizona Press, 2007
NUCLEAR WASTE STALEMATE: POLITICAL AND SCIENTIFIC CONTROVERSIES
Robert Vandenbosch & Susanne E. Vandenbosch, University of Utah Press, 2007